Is the Nevada Homeschool Network the Right Choice for You?
Homeschooling in Nevada requires you to be at the source of the latest information about legislation, available resources, curricula, required subjects, and hours.
You can access lots of data by becoming a member of the Nevada Homeschool Network (NHN) or another homeschool association, group, or co-op. DoNotPay breaks down the benefits of the NHN and home-based education.
Why Should You Join a Nevada Homeschool Association?
Homeschool associations support homeschool parents and students and provide valid information about various administrative and academic issues, including:
Going through the homeschooling process alone can be challenging and stressful. Becoming a member of a homeschool organization gives you access to appropriate support, open communication with other members, and practical guidance. You can also meet other homeschooling families in the events organized by these groups.
Exchanging opinions, experiences, and practices with other parents can help you:
Learn about new and available resources
Reduce the homeschooling cost
Improve your teaching style and materials
Find out about available homeschool teachers
What Is the Nevada Homeschool Network?
The Nevada Homeschool Network is a statewide homeschool association advocating for:
Homeschool freedom
Families' rights to manage their children's education in a way they deem fit
Types of Membership Levels in Nevada Homeschool Network
The Nevada Homeschool Network offers three membership types. Check out the following table to understand the difference:
The NHN Membership Level
Details
Basic member
As an NHN basic member, you can:
Supporting member
Becoming a supporting member of the Nevada Homeschool Network means that you will:
Donor
If you want to be a Nevada Homeschool Network donor, you will:

Have access to the NHN information and legislation alerts
Need to make a donation by:
How To Contact the Nevada Homeschool Network
You can contact the Nevada Homeschool Network in two ways:
Get in touch with the organization by email or traditional mail
Follow the NHN on social media
Contact the Nevada Homeschool Network
If you've got any questions before joining the NHN, you can ask them by:
To email your message, you should:
Open the NHN Contact page
Scroll down to Send Us a Message section
Enter your name, email address, and subject
Type in your message
Enter the capital of Nevada
Click on the Send button
If you prefer sending regular mail, use the following address:
Nevada Homeschool Network (NHN)
PO Box 19533
Reno, Nevada 89511
Join the NHN Community on Social Media
A quick way to get accurate information and stay updated on the latest developments is by following the Nevada Homeschool Network social media accounts:
The NHN Newsletter section of the website also offers valuable deets about how to homeschool your child properly.
What About Other Nevada Homeschool Groups?
Numerous homeschool organizations offer their services and support, so if you're still having doubts about whether you should homeschool your child, rest assured that you won't have to handle the entire process alone.
Check out the following groups if you find the NHN's services underwhelming:
How To Start Homeschooling in Nevada
While Nevada is not on the list of the easiest states to homeschool in, it's still pretty lenient. As in most states, you need to create and file a notice of intent to homeschool once you decide to switch to home-based education.
Since teaching your child at home entails meticulous planning and complete dedication, dealing with paperwork can be overwhelming. , and we can create the letter of intent instead of you!
Get a Rock-Solid Notice of Intent To Homeschool
DoNotPay helps you with the initial homeschool-related documents so you can focus on more creative and rewarding aspects of the process. We can generate a letter of intent to homeschool in no time.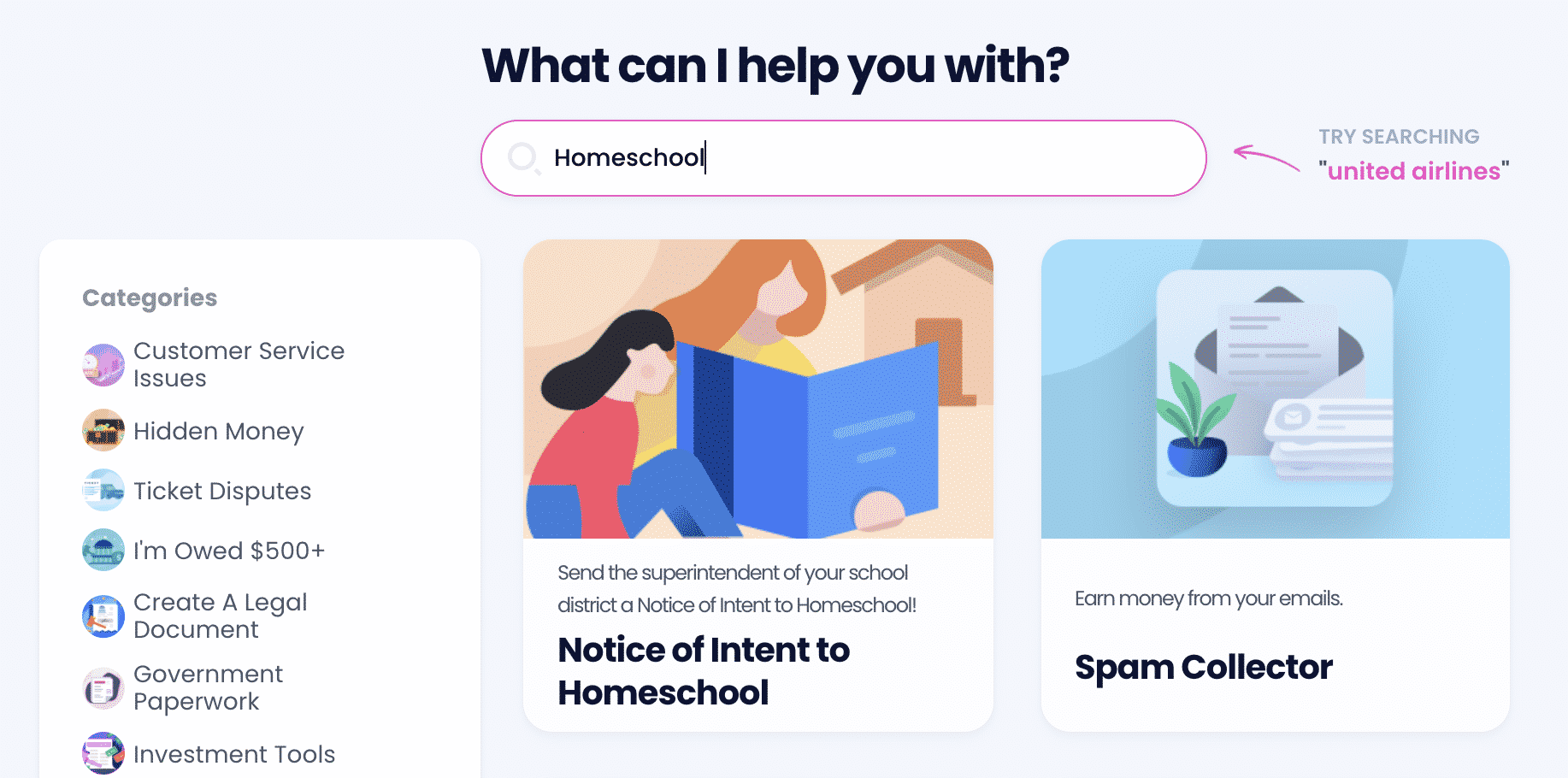 Here's how simple our process is— and:
Pick the Notice of Intent to Homeschool product
Provide information about your family and school district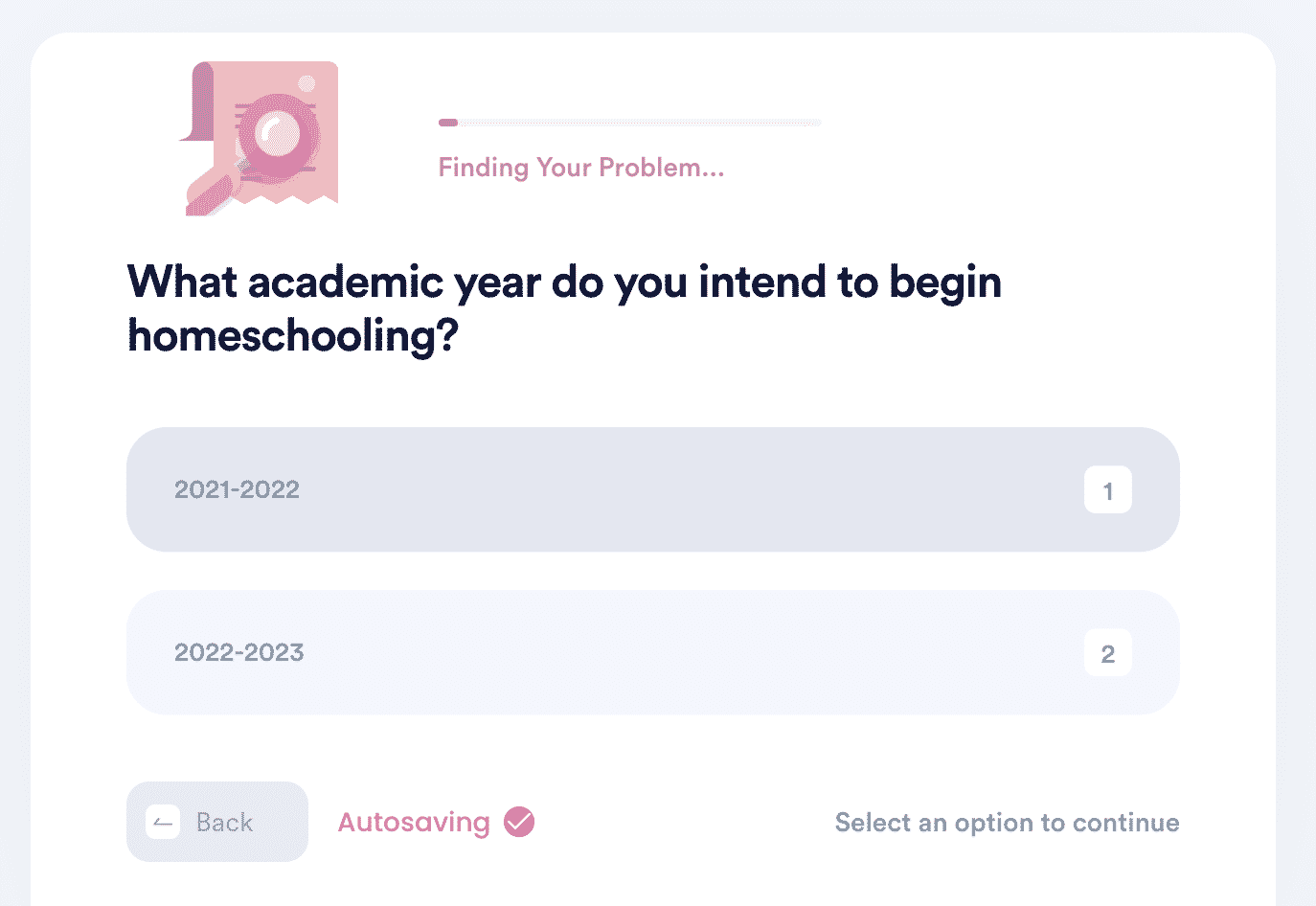 Besides generating your notice of intent in a flash, we can also:
Help you get the document notarized
Send the notice of intent on your behalf
Create a PDF file you can file yourself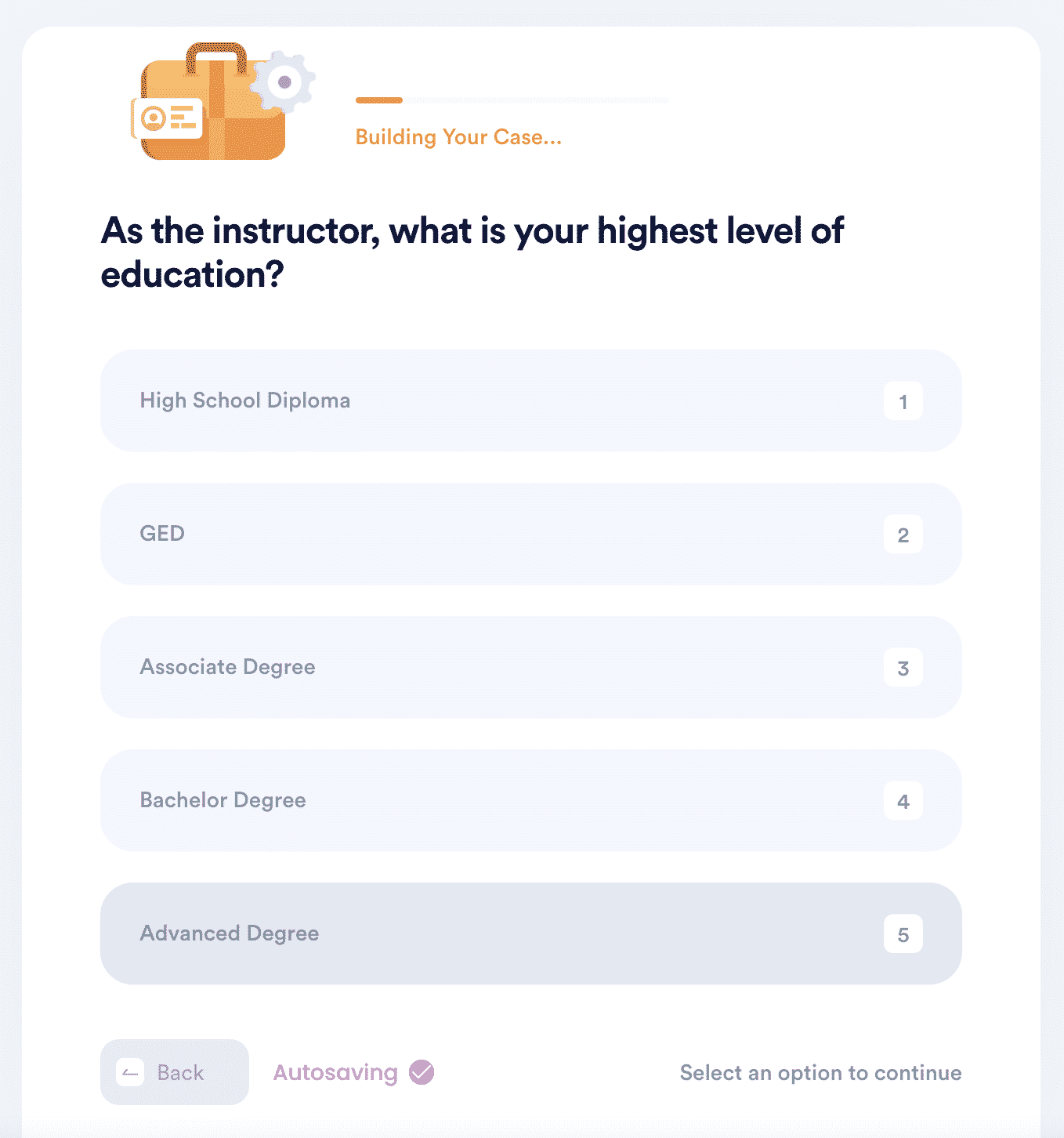 Check out our learning center to get answers to some burning questions about homeschooling, including:
Can DoNotPay Help Me With Any Other Admin or Legal Issue? You Bet It Can!
DoNotPay's robust products can assist you in fighting companies, individuals, and institutions that have wronged you in any way. Once you subscribe to our platform, we'll ensure that you never have to deal with any of the following again:
Our Product Range Offers So Much More
Subscribing to DoNotPay will bring you peace of mind as you won't have to go through tedious task completion on your own anymore. With our AI-powered app, you can get what's rightfully yours in the blink of an eye.
If you want to claim warranty or insurance, find your missing assets, get compensated for a canceled flight or a violent crime that you were a victim of, track your missing parcel, or draw up a child travel consent form, divorce settlement agreement, power of attorney, or any other legal document, you can count on us to lend you a helping hand.
Sign up today to get access to the entirety of our product range and forget about dealing with time-consuming and energy-draining chores!