Is Homeschooling Good or Bad? DoNotPay Offers an Answer
Homeschooling your child instead of sending them to a public school can be the best decision of your life or a complete failure, depending on the circumstances. The future of a homeschooled student depends on how well their parents perform as teachers and organizers. It's essential to consider all aspects of home-based education and then decide whether it's a satisfying solution for your child.
We'll tackle the following issues:
Is homeschooling good or bad for students?
How does it work, and what does it include?
What are the advantages and disadvantages of this educational approach?
How can help you compose a top-notch letter of intent to take your child from a public school in a jiffy?
How Does Homeschooling Work?
You can't determine whether homeschooling is worth a try if you aren't familiar with how it works. To understand the process better, check out the table below:
Phases
Details
Checking the basic homeschooling requirements in your state
To know whether you meet homeschool criteria in your state, you should check local homeschooling laws in the state statute. They contain precise information and answer crucial questions, such as:

Do you need any qualifications to teach your child?
Can someone else homeschool the student if you don't have the required qualifications?
Can you create a homeschool curriculum for your child, or do you need to buy it?
What should the curriculum include?
Can you teach your child at home, or do you have to send them to an umbrella school?
What are the minimum homeschool hours you must complete in a day or year?
Are there any core (mandatory) subjects you must include in your child's homeschooling program?
Are knowledge assessments required?

Opting for a specific homeschooling method
Most states offer several homeschooling solutions, such as:

Traditional homeschooling at the student's place
Online homeschool programs and courses
Blended learning programs—a combination of two or more homeschooling approaches
Unschooling

Research your options and determine which one would suit you and your child most. Consider all factors, such as time flexibility or additional expenses

Withdrawing your child from a public school if necessary
If your child is about to go to school, you can start homeschooling them without prior notice. The situation is different if they are already attending a regular school because you need to send a letter of intent to homeschool to the school principal and follow the rules of your homeschool district
Creating your child's learning schedule and curriculum
Due to the increasing number of homeschoolers, teaching resources for homeschooling parents are more available. You should choose the ones that fit your child's needs, interests, and affinities to make a perfect curriculum. You should also:

Keep records
Make the student's portfolio
Add other extracurricular activities such as field trips or sports to the program
Manage knowledge assessment
Keep track of the student's progress
Is Homeschooling Good or Bad?
The answer is—it depends on many factors.
Not every child responds well to such a huge change, nor is every parent able to cope with the responsibilities of homeschooling. Despite this, many students find it easy and get incomparably better results once they switch to home-based education.
The best way to get a clearer picture is to analyze the advantages and disadvantages of the homeschool method.
Reasons Why Homeschooling Is Good
Here are the reasons why you should consider homeschooling:
It's possible to customize the program according to your child's needs
You can provide better assistance for your child if they have learning disabilities or special needs
The teacher and student choose when, where, and how they will organize classes, which brings more freedom and flexibility
Homeschool programs can be more interesting for kids and motivate them to study harder and achieve better results
You get to spend more quality time with your child, bond with them, and have full control of their studying routine and learning schedule
Children can avoid peer pressure and bullying if they are facing such issues in a public school
Reasons Why Homeschooling Is Bad for Children
Not everything is so great about homeschooling. Here are some significant disadvantages you should have in mind:
You are fully responsible for your child's education
The child won't socialize with other students as much as they would in a regular school
You will have more duties as a homeschooling parent and fully participate in their education, which can cause delays in completing other daily tasks or chores
It may be more difficult for the child to engage in some regular school activities, such as sports
This method can be too expensive for some parents, as the costs range from $300 to $1,000 per school year
Need a Quick Letter of Notice To Homeschool? DoNotPay Has Got Your Back
Have you decided that starting homeschool is the right choice for you and your kid? If yes, it's time to prepare a killer letter of intent and launch the project. What if you don't have satisfying writing skills? Don't worry, as you don't even need to lift a finger—DoNotPay can compose a personalized notice in your stead in less than three minutes!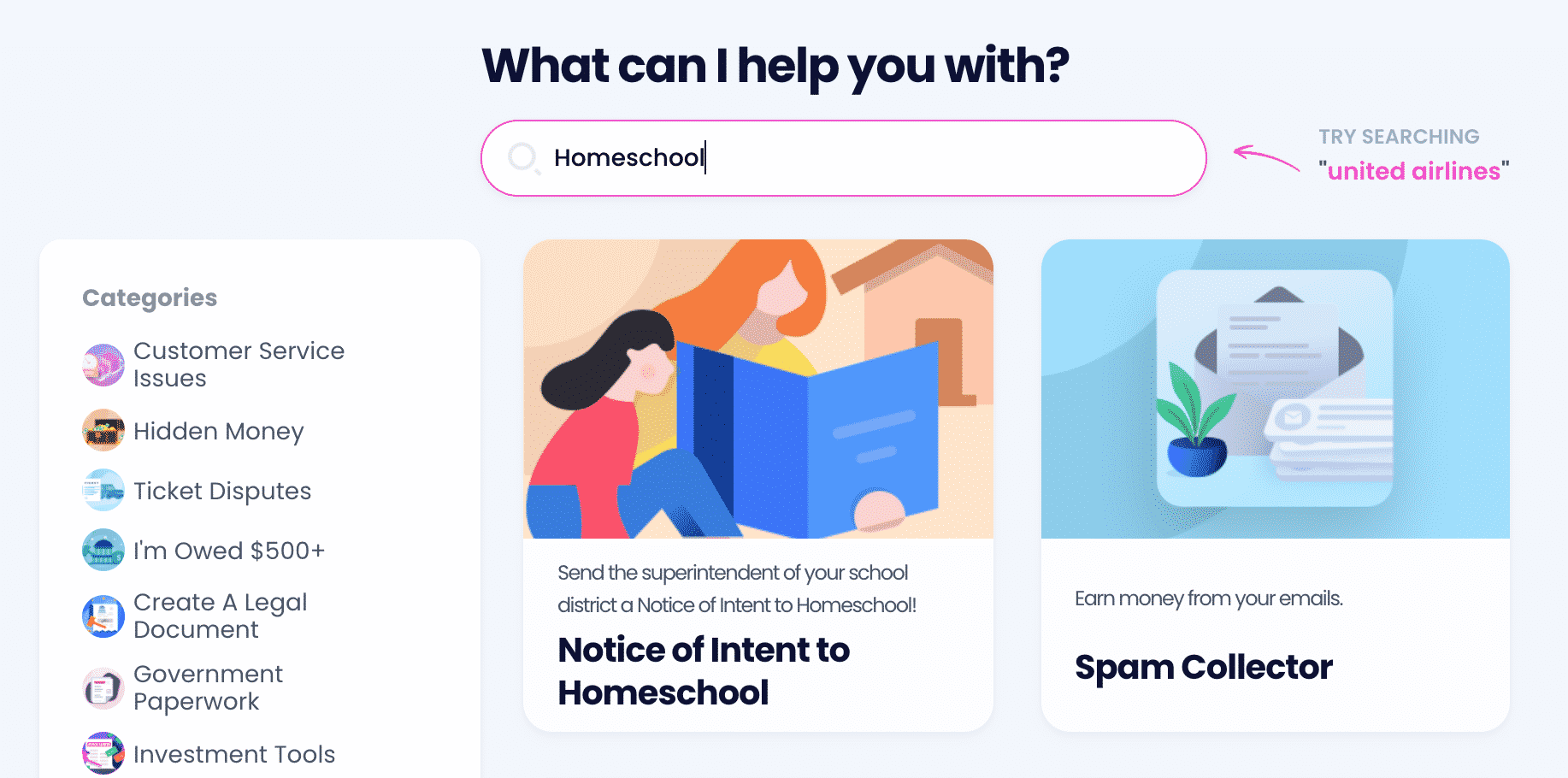 As soon as we process your request, you will get a complete document containing all the crucial elements. All you should do is download and print it or tell us to send it to the chosen school official in your stead!
Here's the drill:
Choose Homeschool Notice of Intent
Provide us with the necessary details
You'll get the digital version of the letter by default, but we can also send it for you and facilitate notarization if local laws mandate the step.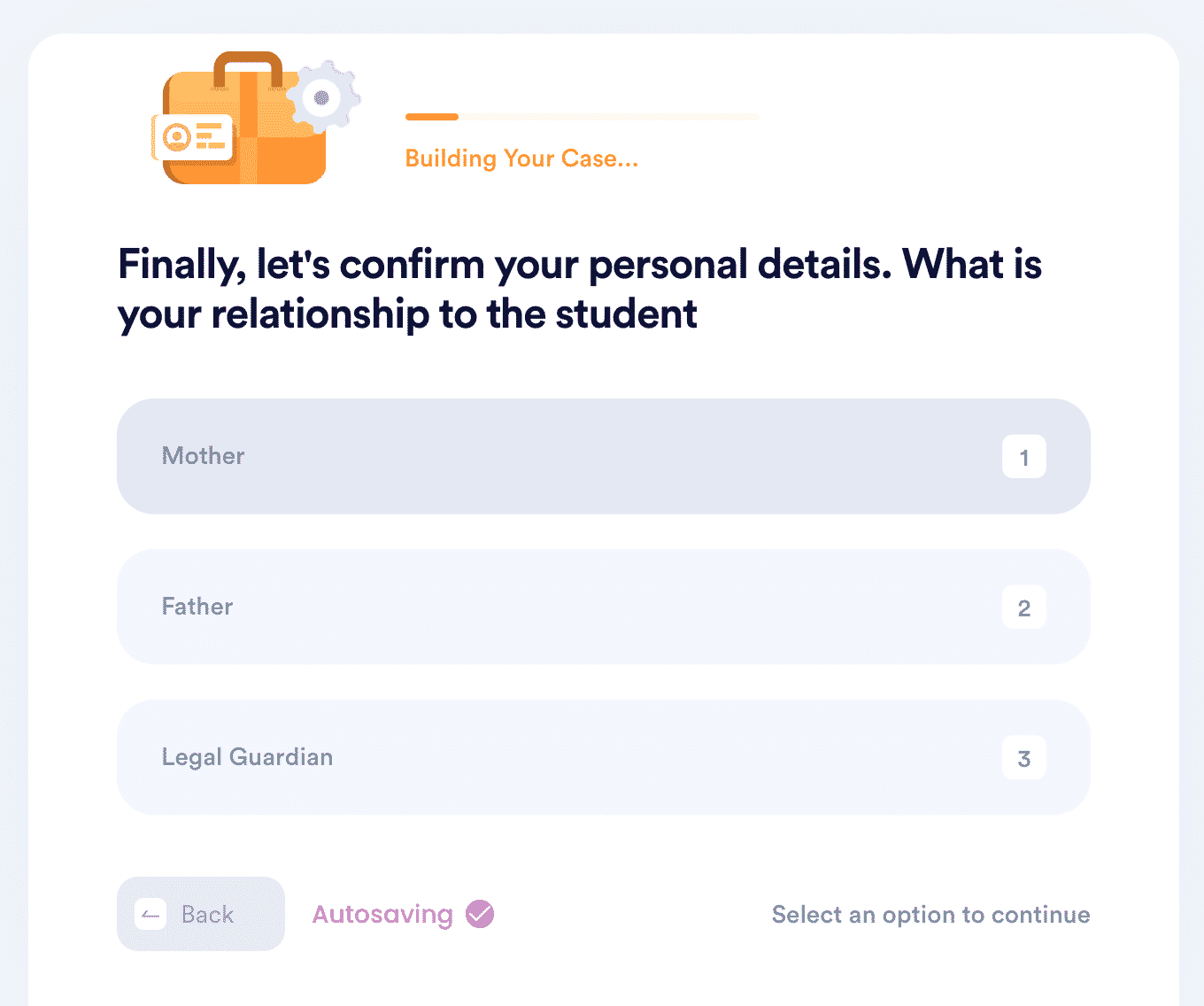 Don't Let Admin or Legal Issues Wear You Down—Hand Them Over to DoNotPay
Do you believe you may have some missing assets? Use DoNotPay's nifty product before the government claims them! Have you ever wanted to enter sweepstakes without purchasing anything? Our app will sign you up for them quickly! Trying to figure out how to reduce your property taxes or utility bills? DoNotPay can show you the way. Want to avoid getting charged for free trials that never fail to auto-renew into paid subscriptions? We'll help you cancel them before they expire.
Anything else you may need? Check out how our app can:
Check Out Our Other Robust Products
It doesn't stop there—DoNotPay can help you send a defamation demand letter, create passport photos, get gift card cash back, get any document notarized, request access to public records, claim insurance and warranty, request a college application fee waiver, appeal parking tickets, and much more.
Sign up now to get access to any of our products for one low monthly fee!