Prepare for Homeschooling in an RV
Homeschooling your child can be challenging without the right info about the process. You should get familiar with legal requirements, available curricula, required subjects, and the cost before you begin.
If you're thinking about homeschooling in an RV, you should know that lots of families have chosen this educational path. This article provides information on how to get started with homeschooling when you hit the road.
Legal Requirements for Homeschooling in an RV
As every U.S. state has different laws on homeschooling, you need to learn the requirements of the state you and your family reside in.
While some states don't need you to file a notice of intent to homeschool or report on your child's progress, others require you to:
Notify your school district of your intent to homeschool your kid
Submit monthly or annual grading and testing
Road schoolers need to follow the homeschooling law of the state where their parents officially reside in. What you can do is:
Explore different state laws
Find out which states are the easiest for homeschooling
Choose your state of domicile whose laws are RV lifestyle-friendly (e.g., Texas or Florida)
What Other Criteria You Should Check
When homeschooling in an RV, you should also inquire whether the state you reside in offers:
Keep in mind that you should also investigate:
Laws of the state you plan to spend more than a month in—Some homeschool associations and co-ops suggest following the laws of that state. You might also want to check if, for instance:

Someone else could teach your child besides yourself
You can take your kid from their current school at any time, e.g., in the middle of the year

Diploma requirements—Some colleges might:

Require a homeschooled student to present a diploma from a regular school
Be willing to evaluate your child using other methods
To prevent delays and issues, a homeschool parent should check the requirements of a specific higher education institution their child would like to attend.
Different Styles of Homeschooling in an RV
You should learn about different homeschool styles and choose the one that fits your child's and family's needs. The following table breaks down some homeschool options:
Homeschool Approaches
Details
Traditional homeschool
A parent teaches homeschooling using a selected homeschool curriculum while their child sits:

Keep in mind that since the homeschool curriculum and subjects are usually of a traditional format, i.e., similar to the ones used in a public school, they might not:

Be suitable for different lifestyles
Take advantage of all opportunities presented during road schooling

Unit studies
This homeschool approach includes teaching children about one topic using:

Different subjects
The internet
Field trips
DVD homeschool material
Art supplies

Roadschool parents:

Use this homeschool style a lot because they could adjust their teaching to a specific location they're visiting
Need to prepare more than when using traditional pre-packaged curriculum and resources
Additional Approaches to Homeschooling in an RV
The following table shows other methods many road families use to teach their children:
Explore These Styles
Specifics
Unschooling
This form of homeschooling uses a child-directed learning approach, i.e.:

Your child learns from their environment
You—as their homeschool teacher—assist with learning and provide instruction only when your child asks you to

This approach is suitable for homeschooling in an RV since the environment:

Changes quickly
Offers plenty of natural learning opportunities and topics to explore on the move, e.g., through trip planning, cooking, field trips, or repairs

Eclectic education
Many road schoolers use this teaching approach since you can combine different learning styles. It means that you could teach different subjects using, for instance:

A traditional method when you have time to focus on the whole learning process and prepare the material
Unschooling or unit studies when you're busy or want your child to improve their independence skills
Online homeschooling when you've got a stable internet connection
How To Get Started With Homeschooling
Have you decided to homeschool your child? In most states, you'll need to take the following steps to meet legal requirements:
File a letter of intent to homeschool— to create and submit a notice of intent smoothly
Keep in mind that in some states, you'll need to wait for the school district to send you an approval letter before you can withdraw your kid from school and start homeschooling.
DoNotPay Generates a Watertight Notice of Intent To Homeschool
If you're not familiar with your state laws and don't have the energy or time to go through them, you can rely on DoNotPay. Our AI-powered app knows what requirements you need to fulfill and ensures your specific needs are also included in the notice of intent.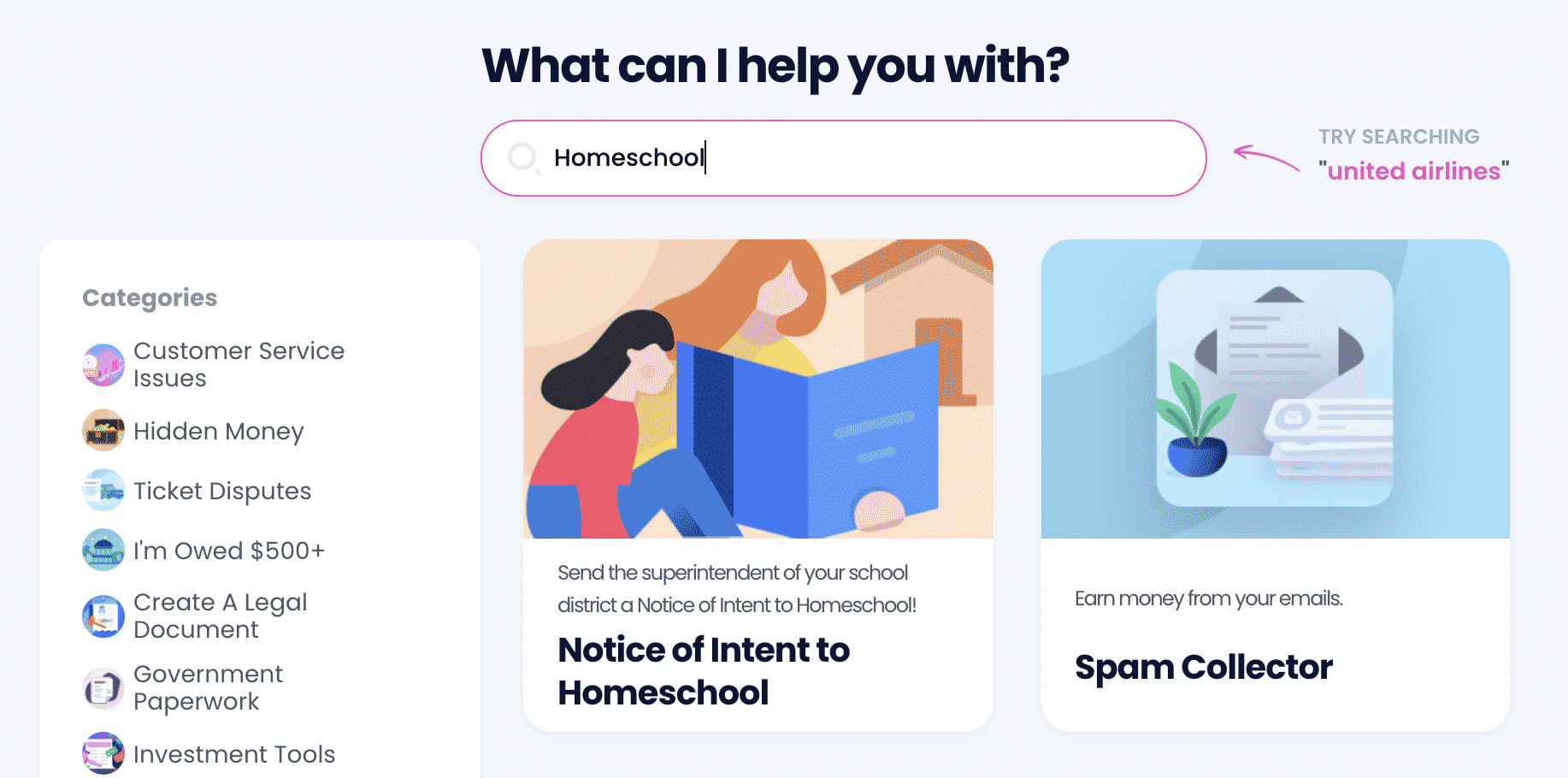 Would you like to receive a reliable notice of intent in a matter of minutes? and follow these simple steps:
Access the Notice of Intent to Homeschool product
Provide data about your kid, school district, and yourself
You could also choose if you want us to assist you with the:
Notarization of the document—We can connect you with an online notary immediately
Filing procedure—We can send the notice of intent on your behalf
If you'd like to submit the document yourself, DoNotPay will send you a PDF file you can print and mail or hand-deliver.
DoNotPay Helps You Check Different State Laws
To understand what requirements you need to fulfill across the U.S., take a look at our guides in the following table:
Can DoNotPay Help Me With Any Other Admin or Legal Issue? You Bet It Can!
DoNotPay's robust products can assist you in fighting companies, individuals, and institutions that have wronged you in any way. Once you subscribe to our platform, we'll ensure that you never have to deal with any of the following again:
Our Product Range Offers So Much More
Subscribing to DoNotPay will bring you peace of mind as you won't have to go through tedious task completion on your own anymore. With our AI-powered app, you can get what's rightfully yours in the blink of an eye.
If you want to claim warranty or insurance, find your missing assets, get compensated for a canceled flight or a violent crime that you were a victim of, track your missing parcel, or draw up a child travel consent form, divorce settlement agreement, power of attorney, or any other legal document, you can count on us to lend you a helping hand.
Sign up today to get access to the entirety of our product range and forget about dealing with time-consuming and energy-draining chores!