How Can a DVD Homeschool Curriculum Help With Your Classes?
Getting started in homeschooling can be daunting. Where should you look for necessary information about the legal aspects, requirements, hours, and costs? Teaching methods and mandatory subjects complicate the process even further.
What about a DVD homeschool curriculum? Is it suitable for your child, or should you combine it with other curricula? DoNotPay analyzes whether it can make home-based education more effective and engaging.
Why Do Parents Use a Homeschool DVD Curriculum?
You might be wondering why anyone would choose to homeschool their child using a DVD homeschool plan with all the recent technological advancements. While online curriculum might seem more accessible and easier to manage, remember that some homeschool parents and families:
Don't have a stable internet connection at home, and online classes require good internet speed
Choose to homeschool their children in different places, and a DVD plan allows them to travel freely
You could use this method as:
The sole homeschool curriculum
A supplement to certain subjects and materials
How To Use a DVD Homeschool Curriculum
Many parents use DVDs for distance learning homeschool since their child can use the provided video lessons throughout the whole day or when the parents are away.
You and your kid should:
Put in the DVD with lessons in a DVD player
Go through the guide to understand which texts, workbooks, and other material refers to the lesson
Most DVDs come with a parent resource guide you could use to:
Benefits of a DVD Homeschool Curriculum
If you're exploring different ways to homeschool your child, check out the advantages of a DVD homeschool curriculum in the table below:
Benefits of a DVD Homeschool Curriculum
Details
Taking classes at a suitable pace
A homeschooled student can:

Take video classes at their pace
Rewind and pause problematic concepts
Ask you for further clarification if they don't understand some areas

Balancing the workload
A DVD homeschool curriculum offers a homeschool teacher—or a parent—an opportunity to balance their workload. It is especially helpful when teaching more than one child
Building independent learning skills
While your child can go through video material alone, they can still turn to you for guidance
Keeping data
Visual material can help:
How Much Does a DVD Homeschool Curriculum Cost?
Using a homeschool DVD curriculum can be a cost-effective method. If you have children of different ages, they can use:
The same DVD multiple times—Keep in mind that used DVDs are not updated
Some additional free resources online—Make sure information on educational videos you're using for your distance learning is still relevant
The price of an accredited DVD homeschool curriculum varies depending on the grade level and publisher, and it ranges from $600 to more than $1,200.
You should focus on quality rather than the price. To inquire about available curricula, you could:
Read homeschool DVD curriculum reviews online
Ask other parents in homeschool co-ops, groups, or associations if they can recommend any
Start Homeschooling With a Letter of Intent To Homeschool
Choosing a homeschool curriculum should be a part of the planning phase before withdrawing your child from school. Home-based education also comes with a bit of paperwork.
The first step you need to take is drafting a notice of intent to homeschool. Most U.S. states mandate notifying your school district of the intent to homeschool your child.
If you're not sure how to prepare a letter of intent or don't have time to study state laws, !
DoNotPay Prepares a Notice of Intent To Homeschool in a Flash
We are proficient in state and local rules and can help you create a letter of intent to homeschool in a matter of minutes!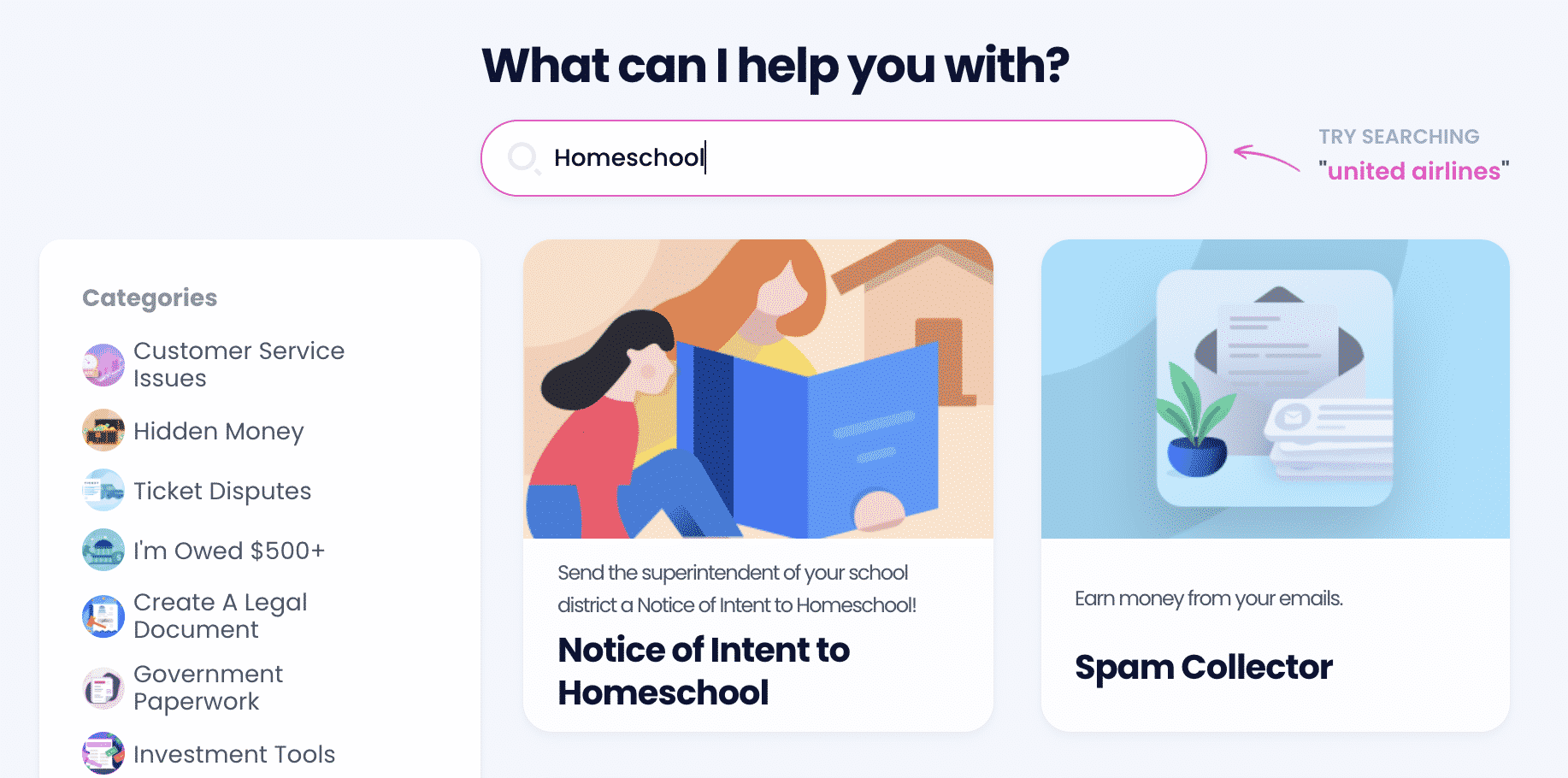 Would you like to receive a valid yet affordable and quick notice of intent? and:
Pick our Notice of Intent to Homeschool product
Enter information about the homeschooled student and school district
Let us know if you want us to:

Help you have the letter notarized
Send the notice of intent to the school district superintendent in your stead
Deliver the letter to you in PDF format so that you can file it yourself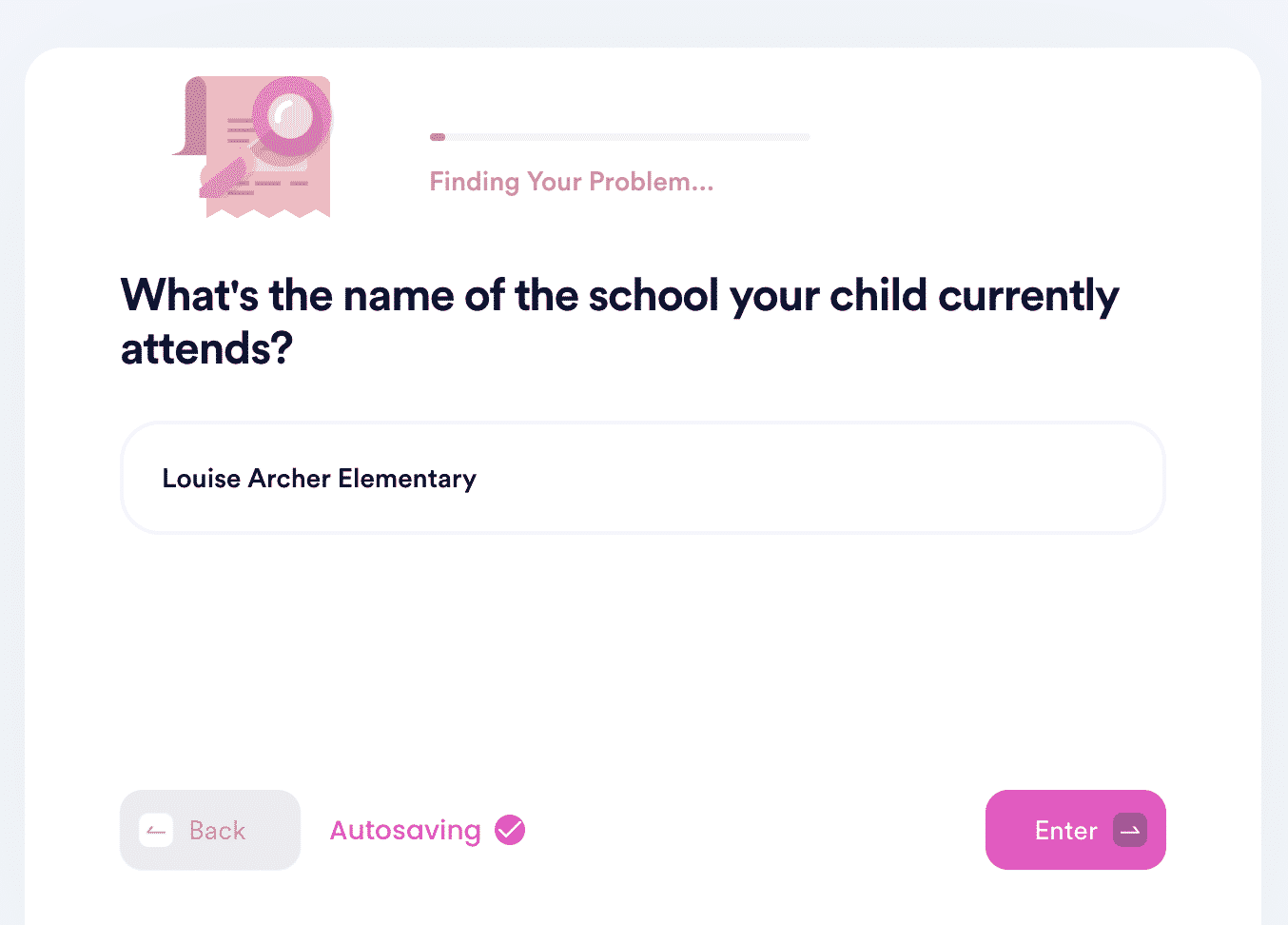 DoNotPay Answers Various Homeschool-Related Questions
To understand the ups and downs of homeschooling and give your child the best education, read our helpful articles on:
Can DoNotPay Help Me With Any Other Admin or Legal Issue? You Bet It Can!
DoNotPay's robust products can assist you in fighting companies, individuals, and institutions that have wronged you in any way. Once you subscribe to our platform, we'll ensure that you never have to deal with any of the following again:
Our Product Range Offers So Much More
Subscribing to DoNotPay will bring you peace of mind as you won't have to go through tedious task completion on your own anymore. With our AI-powered app, you can get what's rightfully yours in the blink of an eye.
If you want to claim warranty or insurance, find your missing assets, get compensated for a canceled flight or a violent crime that you were a victim of, track your missing parcel, or draw up a child travel consent form, divorce settlement agreement, power of attorney, or any other legal document, you can count on us to lend you a helping hand.
Sign up today to get access to the entirety of our product range and forget about dealing with time-consuming and energy-draining chores!