Learn How To Keep a Child From Unbuckling a Seatbelt
A child who, whether accidentally or intentionally, unbuckles their seatbelt can bring you a lot of trouble, from being issued a seatbelt ticket—which can cost between $10 and $500—to getting demerit points. Fortunately, with the right approach, you can prevent that moving violation from happening.
This guide provides tips on how to keep a child from unbuckling a seatbelt! With these tips, you'll be able to go back on the road without any worries!
How To Keep a Child From Unbuckling a Seatbelt—Tips and Tricks
If your child is struggling to stay still in the car, try one of the following tips:
The Right Approach Can Make All the Difference
Whichever method you opt for is more likely to work if you:
Praise your child if they haven't taken their seatbelt off
Remind your kid that everyone has to buckle up as soon as they enter the vehicle—even if your state allows you to not wear a seatbelt in the back seat or at all—all passengers should buckle up to provide an excellent example for the kid
Go back, park the vehicle, and remind your child that you're not going anywhere until they buckle up
Why Is Teaching Your Child To Keep Their Seatbelt on Important?
Teaching your child to keep their seatbelt on is important because of many reasons, such as:
What Happens if Your Child Unbuckles and You Get Pulled Over?
If an officer pulls you over and discovers that you're driving with a child without a seatbelt, you will:
Are There Any Ways To Get a Seatbelt Ticket Dismissed?
If you end up getting a seatbelt ticket because your child unbuckled their seatbelt—don't fret! You can check the options at your disposal in the table below:
| Action | Explanation |
| --- | --- |
| Ignore the ticket in hopes that the officer got your name and address wrong | This is unlikely to happen and puts you at risk of having to go to court and pay court fees on top of your ticket fine |
| Go to court to defend yourself | You can also ask a witness to join you, but it mustn't be someone obviously close to you |
| Defend yourself in a trial by written declaration | A trial by written declaration does not require you to show up at court to defend yourself—you can present a written statement instead. States that allow trial by written declaration are: |
| Appeal your seatbelt ticket with DoNotPay | Our app can help you avoid lengthy court procedures and get your ticket dismissed. All you need to do is and answer a few questions to get a personalized seatbelt ticket appeal letter! |
No More Pesky Seatbelt Tickets—Appeal Them With DoNotPay!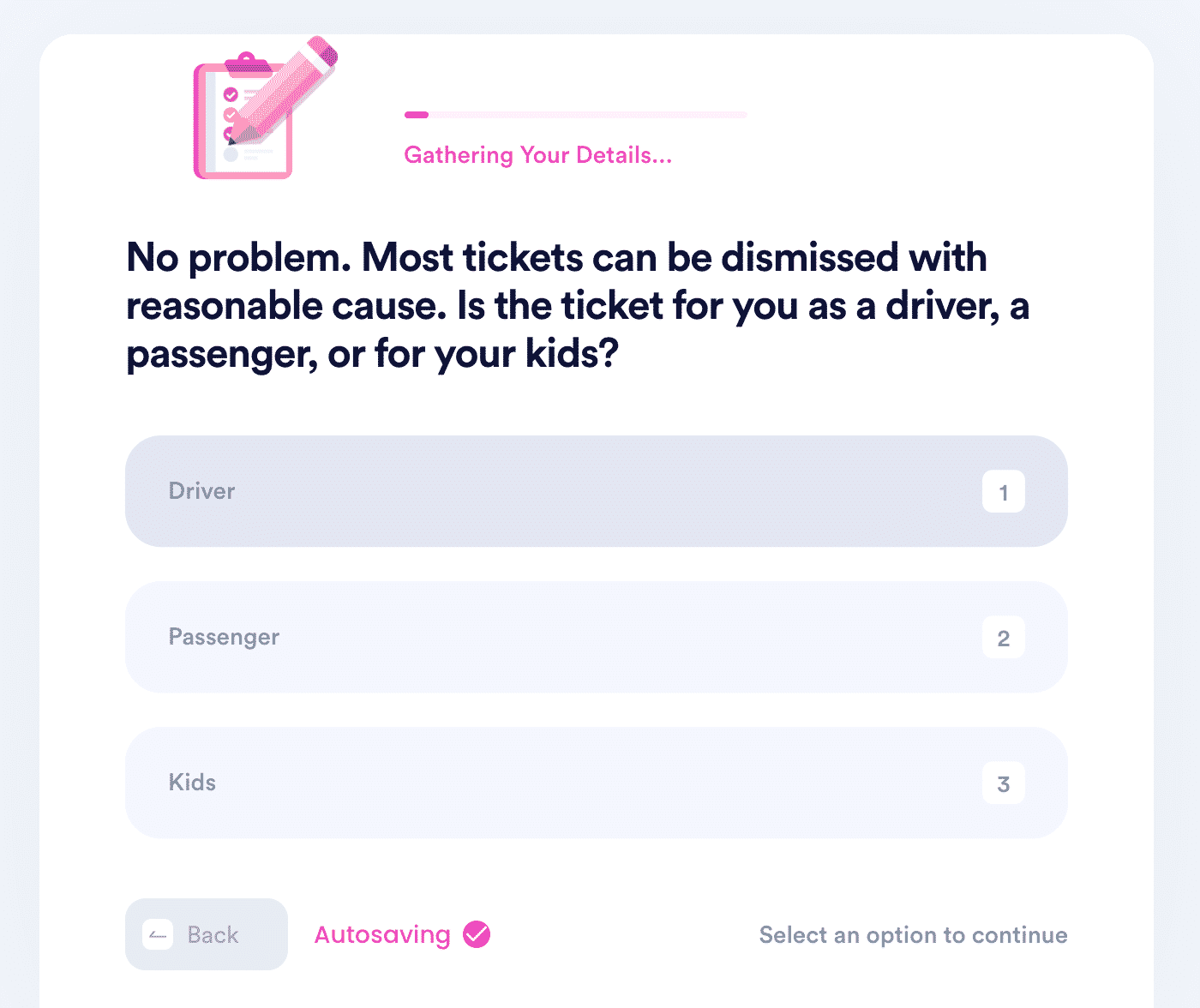 Suppose your child took their seatbelt off and an officer pulled you over. You got a seatbelt ticket, but it costs you an arm and a leg, and going to court is not an option. If you're unsure what to do—try DoNotPay! Our app provides a straightforward process that results in a personalized appeal letter in a matter of moments!
To get started, follow these steps:
Search for the Seatbelt Ticket feature
Select "Kids"
Provide more details about your ticket and attach a photo of it
As soon as you complete all steps, our app will generate your appeal letter and mail it directly to the ticket authorities on your behalf.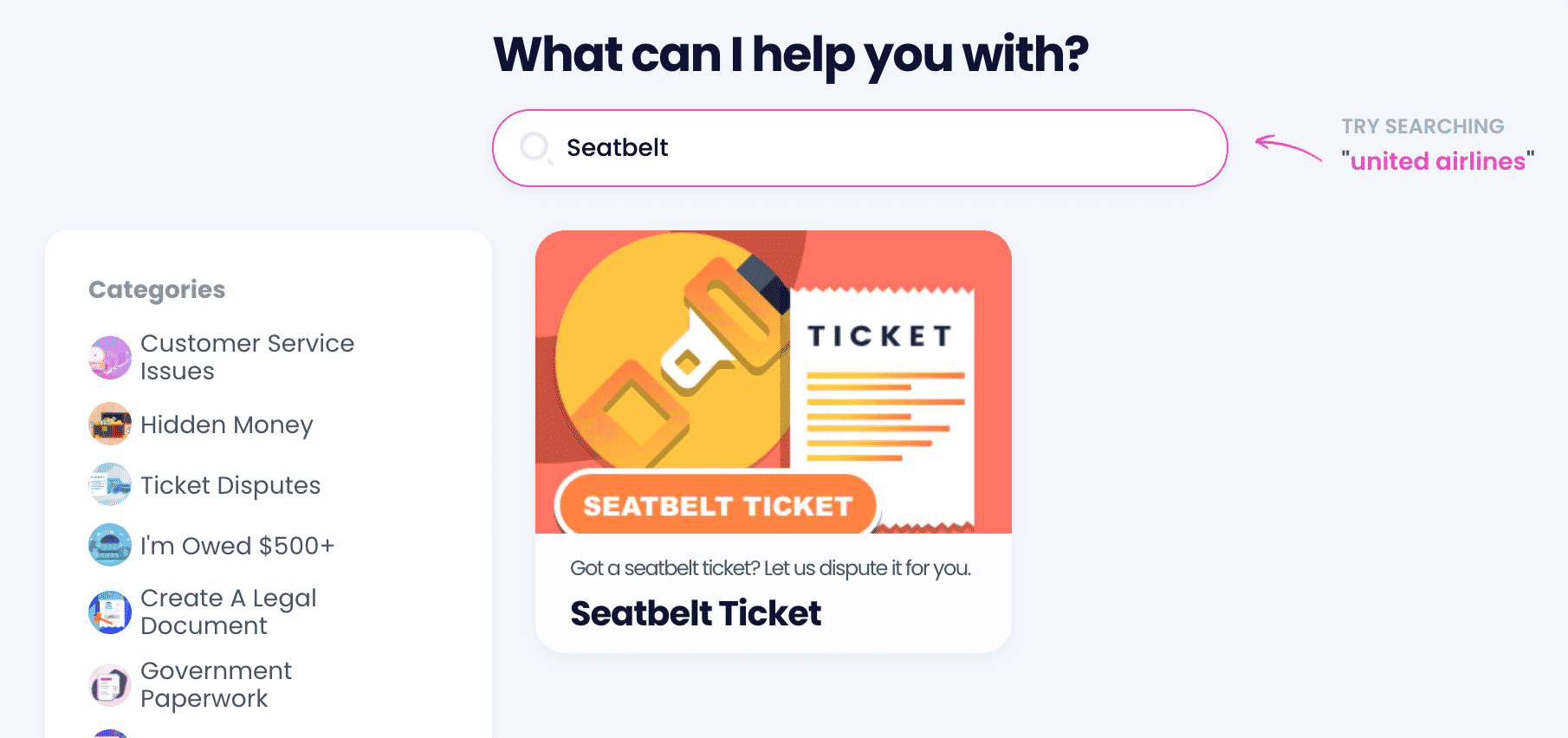 Learn About Seatbelt Laws for Children by State
Do you want to learn about seatbelt laws for children in your state? Check the table below to find your state and get all the information you need:
What's Next?
Once you complete the task at hand, you don't have to stop there—we offer a myriad of products that can relieve you of the stress that comes with dealing with admin and legal hurdles.
DoNotPay can assist you in drawing up a divorce settlement agreement, child travel consent form, power of attorney, and other legal documents, contacting government representatives, getting tourist visas, fighting workplace discrimination, getting a burner number, appealing banned accounts, getting access to public records, scheduling a DMV appointment, and much more.
Tackle Any Energy-Draining Task With DoNotPay
With DoNotPay by your side, you don't have to worry about how you'll cover your utility bills at the end of the month—we'll provide swift assistance as soon as you sign up!
Wondering what else our app is capable of? Check out how we can: