How To Avoid Getting a Seatbelt Ticket in NJ
Not getting fined for a seatbelt violation in New Jersey is easy if you get familiar with the seatbelt laws.
Why is buckling up so important?
Studies show that car crashes are one of the leading causes of death in the United States. Wearing a seatbelt is crucial—airbags alone are insufficient to protect drivers and passengers in the event of a car accident. In NJ, more than 1,500 unbuckled motor vehicle occupants died on the road in the past ten years.
Make sure you read this comprehensive guide if you want to learn all about the seatbelt laws and ways to fight a seatbelt ticket in NJ.
What Is the New Jersey Seatbelt Law?
Adults who sit in the back seat of a passenger vehicle were not obliged to wear a seatbelt under previous New Jersey seatbelt law. As of 2010, anybody riding in a passenger vehicle must wear a seatbelt regardless of whether they are in the front or back seat.
This law applies to:
All passenger vehicles (pickup trucks, vans, utility vehicles, SUVs, etc.)
All passengers who are at least eight years old or 57 inches tall
It is the driver's responsibility to make sure all occupants under 18 are properly fastened.
Not wearing a seatbelt isn't a moving violation in New Jersey, and no points are assigned to passengers who fail to buckle up. A citation for a seatbelt violation will not affect insurance premiums and amounts to $46. This includes any court costs you may have.
Are There Any Exemptions to the New Jersey Seatbelt Law?
Drivers and front-seat passengers who are adults are not required to wear a seatbelt in vehicles that are:
Not manufactured with a seatbelt system
Built with fewer safety seatbelt systems than required for all passengers to buckle up
Driven by a rural carrier of the United States Postal Service (USPS) while on duty
Passengers or drivers who are not able to use a seatbelt for physical or medical reasons need to have a written document signed by a licensed physician as proof.
Children Seatbelt Laws in NJ
Take a look at the table below to check out seatbelt law requirements for children based on their age, weight, and height:
Age and Weight/Height
Requirements
Less than two, weighing less than 30 pounds
Must be restrained in a rear-facing car seat with a five-point harness in the back seat of a vehicle
Less than four, weighing less than 40 pounds
Must be secured in the back seat of a vehicle in a rear-facing car seat with a five-point harness until they reach the upper limits of the rear-facing seat.

After that, they may be placed in a forward-facing child restraint system equipped with a five-point harness

Less than eight, less than 57 inches in height
Must be secured in a rear or front-facing child seat with a five-point harness, or a belt-positioning booster seat
Less than eight, more than 57 inches in height
Must wear a standard adult seatbelt
If you're driving a vehicle that does not have a back seat, you must secure the child according to the rules listed in the table above, only in the front seat.
Keep in mind that you are not permitted to put a rear-facing car seat in the front seat of a vehicle that has an active airbag located on the passenger side. If you have the option to deactivate the passenger-side airbag, you may do so.
Can I Get Pulled Over for Not Wearing a Seatbelt?
The answer depends on whether you are seated in the front or back. Police officers have the authority to stop a vehicle only if the front seat passengers aren't buckled up. They may not stop it simply because the backseat passengers are not wearing a seatbelt—the vehicle must have been pulled over for another reason, resulting in the discovery of a back seat passenger who was not buckled up.
Can I Dispute My NJ Seatbelt Ticket?
If you think you didn't deserve a ticket and don't want to pay the fine, you can get your seatbelt ticket dismissed by the court by:
Mounting due diligence defense
Creating a reasonable doubt
If you're not sure how to do any of these, . We specialize in drafting all kinds of legal documents, including appeal letters.
Make Your Seatbelt Ticket in NJ Go Away With DoNotPay
DoNotPay writes persuasive appeal letters for overturning citations. You provide us with information about the event by filling out a questionnaire. We will analyze it, draft a personalized letter in minutes, and send it to the relevant authorities on your behalf.
What you need to do is follow these simple steps:
from any web browser
Click on the Seatbelt Ticket product
Attach a photo of your ticket
Answer a few questions from our chatbot regarding the violation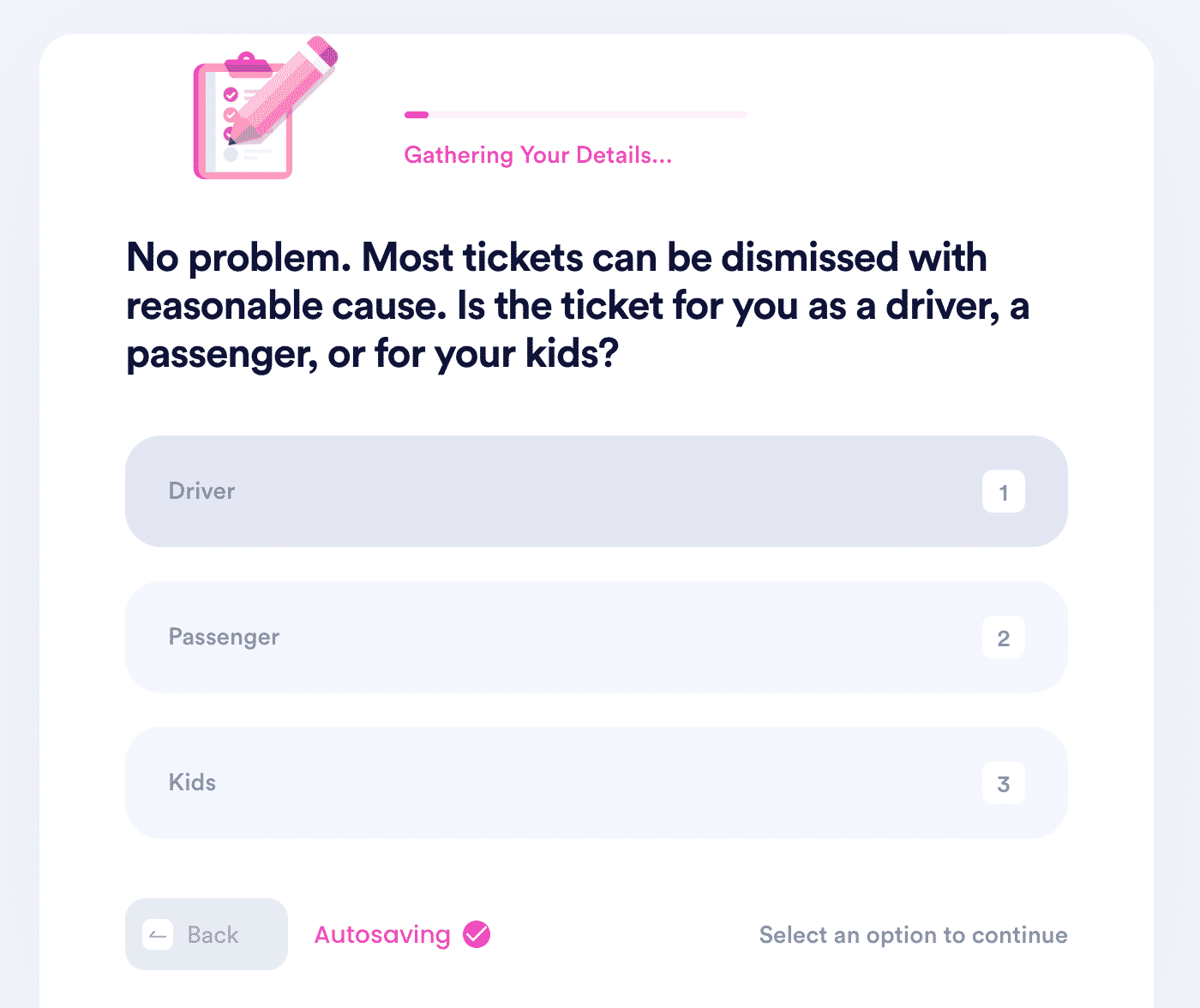 If you plan on visiting another state soon, make sure you get familiar with its seatbelt laws. Our seatbelt guides for each of the U.S. states are shown in the table below:
Struggling Financially? DoNotPay Can Help You Out!
If you're on a tight budget and have trouble covering your bills, there are a few things we can do for you. DoNotPay is a great tool to both earn and save money.
If you or a family member is a student, you can use our app to search and apply for scholarships and request a college fee waiver. In case your financial aid application is rejected or the university offers little, we can help you file an appeal. Education can be expensive on all levels, so you may consider homeschooling your child.
Is your property tax bill through the roof? Discover ways to lower your property taxes with DoNotPay.
When you're strapped for cash, you can enter sweepstakes, get gift card cash back, or sign up for clinical trials in your area.
What Else Can You Expect From DoNotPay?
DoNotPay is a versatile app, helping users handle tasks and issues while saving time and money.
With our help, you can prepare for various government tests, contact embassies and consulates, appeal banned accounts, and send online faxes within minutes.
Count on DoNotPay when you need to mail letters, apply for tourist visas, or file anonymous HR complaints.
Fighting workplace discrimination and dealing with annoying neighbors will also be much easier with the world's first robot lawyer by your side.