Should You Homeschool a Child With Anxiety? Find Out the Answer!
Should you homeschool a child with anxiety? This is a common question among parents, and we'll shed some light on it in this article.
Deciding whether to keep your child in school or start homeschooling them can be troublesome. While there can be various reasons for you to consider this educational option, you need to get familiar with the homeschooling process first.
You may begin with gathering information on legal requirements, initial steps, and the cost of the whole process.
Anxiety at Traditional Schools
It's not easy to recognize signs that your child feels anxious about school or something else. Here are some common anxiety types children can feel that you should pay attention to:
Social anxiety—Notice whether your child spends most of the time alone, avoids group projects or activities, and doesn't feel comfortable with their peers
Performance anxiety—Keep in mind that your child shouldn't feel extremely nervous about tests and any other type of assessment
Separation anxiety—While most children feel reluctant to separate from their parents, siblings, and home, you should be aware of how much your child is unwilling to leave home and why
The above-listed types can be an indication that your child is struggling in the school environment.
What you could do next is to:
Reach out to your child's classroom teacher to discuss taking further steps to ease the anxiety and stress
Consider homeschooling, i.e., taking your kid out of school, even if it's in the middle of the school year
If your child is experiencing any other type of anxiety, you may want to visit a child psychologist or psychotherapist to find the root of the problem and get the best solution.
Homeschooling Might Be the Right Choice for a Child With Anxiety
The traditional classroom environment and curriculum might be one of the major causes of your child's anxiety.
Most schools must follow strict instructions required by state laws and school districts. This doesn't leave enough space and time for personalization.
Unlike regular schools, homeschooling provides an opportunity to reduce your child's stress by:
Choosing teaching materials
Selecting a curriculum and subjects that meet your child's interests and needs best

Teaching your child at home

yourself or hiring a homeschool teacher to do this
Introducing a more flexible instructional approach and schedule compared to the state and school district criteria
Why Should I Homeschool My Child With Anxiety?
Here are some additional reasons why homeschooling might be better for your child than public or private school:
Homeschooling vs. A Traditional School System
Specifics
More physical activity
A

parent can homeschool

their child and make more time for:

Field trips
Outdoor activities

Homeschooled students can get up during lessons more and walk around if they feel like it. Increased physical activity—especially time spent in nature—can benefit your child's mental and emotional wellbeing

No regular testing or homework
Since you—or another person you hire to homeschool your kid—will teach one-on-one classes, there's no need for regular:
More space for individual needs and freedom
A good way to homeschool your child is to encourage them to communicate their:

Feelings and opinions about discussed matters—They don't have to worry about other kids laughing at them
Individual needs and interests—If they want you to repeat a lesson or spend more time on a subject area, you can accommodate their wish

When learning in a comfortable environment, kids feel relaxed and safe enough to express themselves openly

No bullying or peer pressure
One of the most common reasons

why parents homeschool their children

with anxiety is to avoid peer pressure and bullying in the learning environment
Personal growth
The freedom of creating a curriculum customized for your child's needs provides room for your child to:

Explore different topics
Discover themselves
Thrive philosophically, spiritually, and emotionally
How To Start Homeschooling
If you're wondering what steps to take to homeschool your child, here's a list you should follow:
Get familiar with your state laws—You need to find out what is required to homeschool your child in your state to start the process successfully
Explore different curricula and programs—While you should pick or make one that suits your child's interests and learning pace, you also need to include all state-required subjects, tests, etc.
Find available resources for homeschool parents—You can join state homeschool co-ops, groups, or associations
Prepare a letter of intent to homeschool—Many states require you to notify your school district of your intent to homeschool your child before you can start homeschooling
If you plan on being your child's homeschool teacher, to draw up a perfect letter for your school's principal or school district's superintendent. We can also send the document in your stead!
Use DoNotPay To Draft a Notice of Intent To Homeschool
No need to look for templates or write the letter of intent to homeschool yourself—Our app can generate this document in a matter of minutes!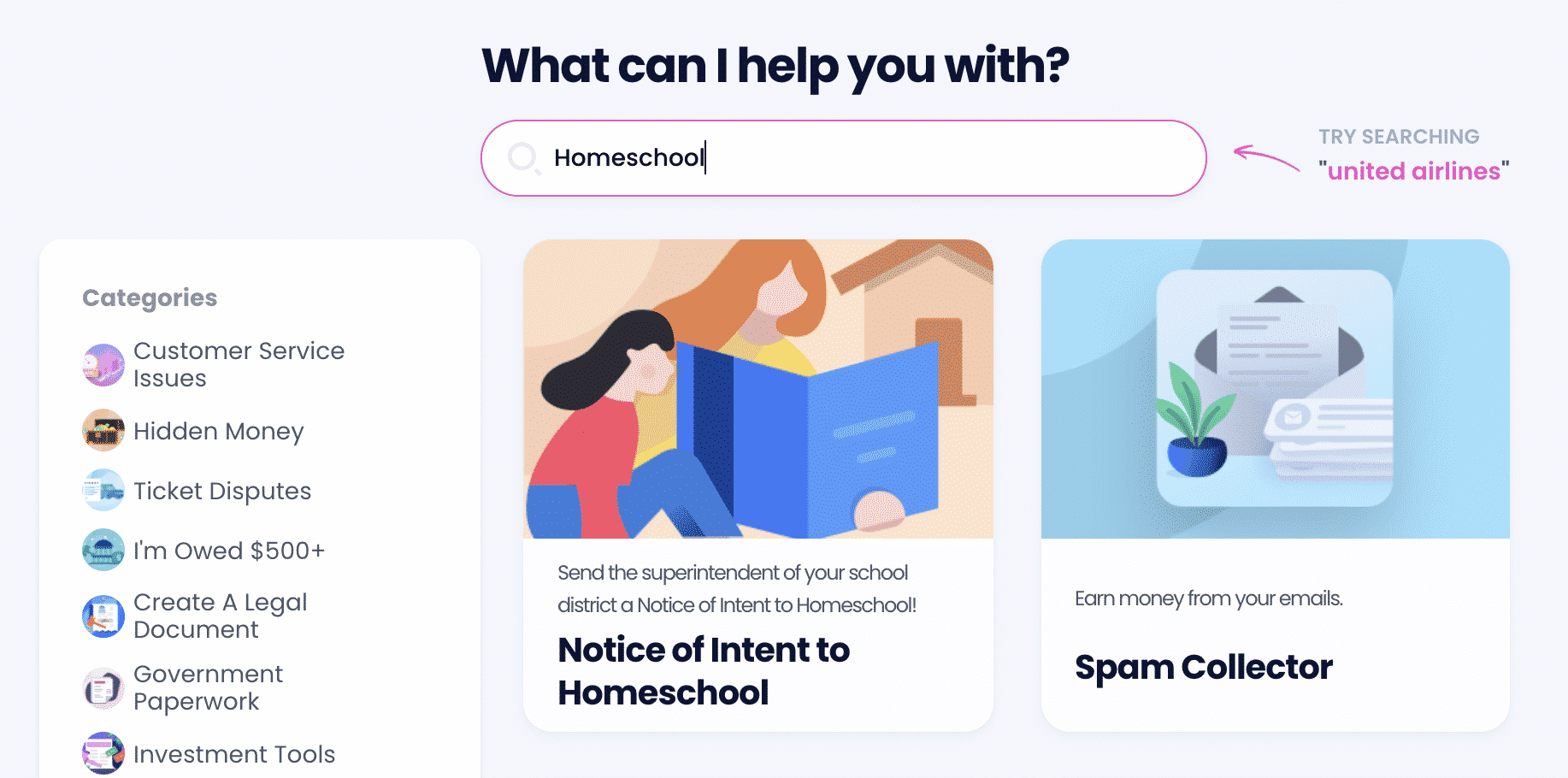 Sounds good? and follow these steps:
Access our Notice of Intent to Homeschool product
Provide information about your child, school district, and yourself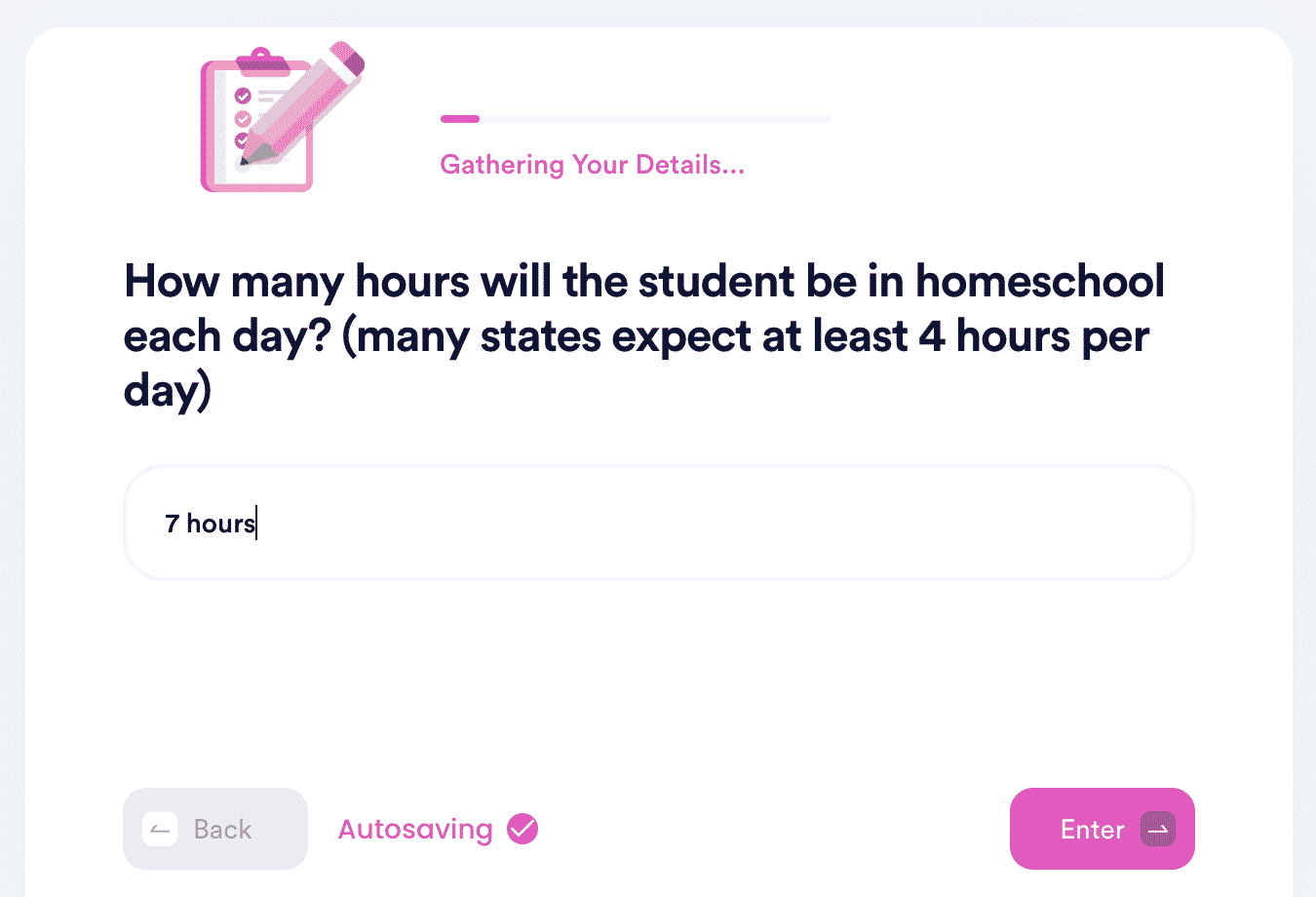 When we get the necessary information, we'll even let you pick if you'd like us to:
Get the letter notarized remotely
Send the (notarized) notice to the right address on your behalf
Generate a letter in a PDF file and send it to you so you can file it yourself
Our AI-powered app ensures your notice of intent meets state laws and your specific needs.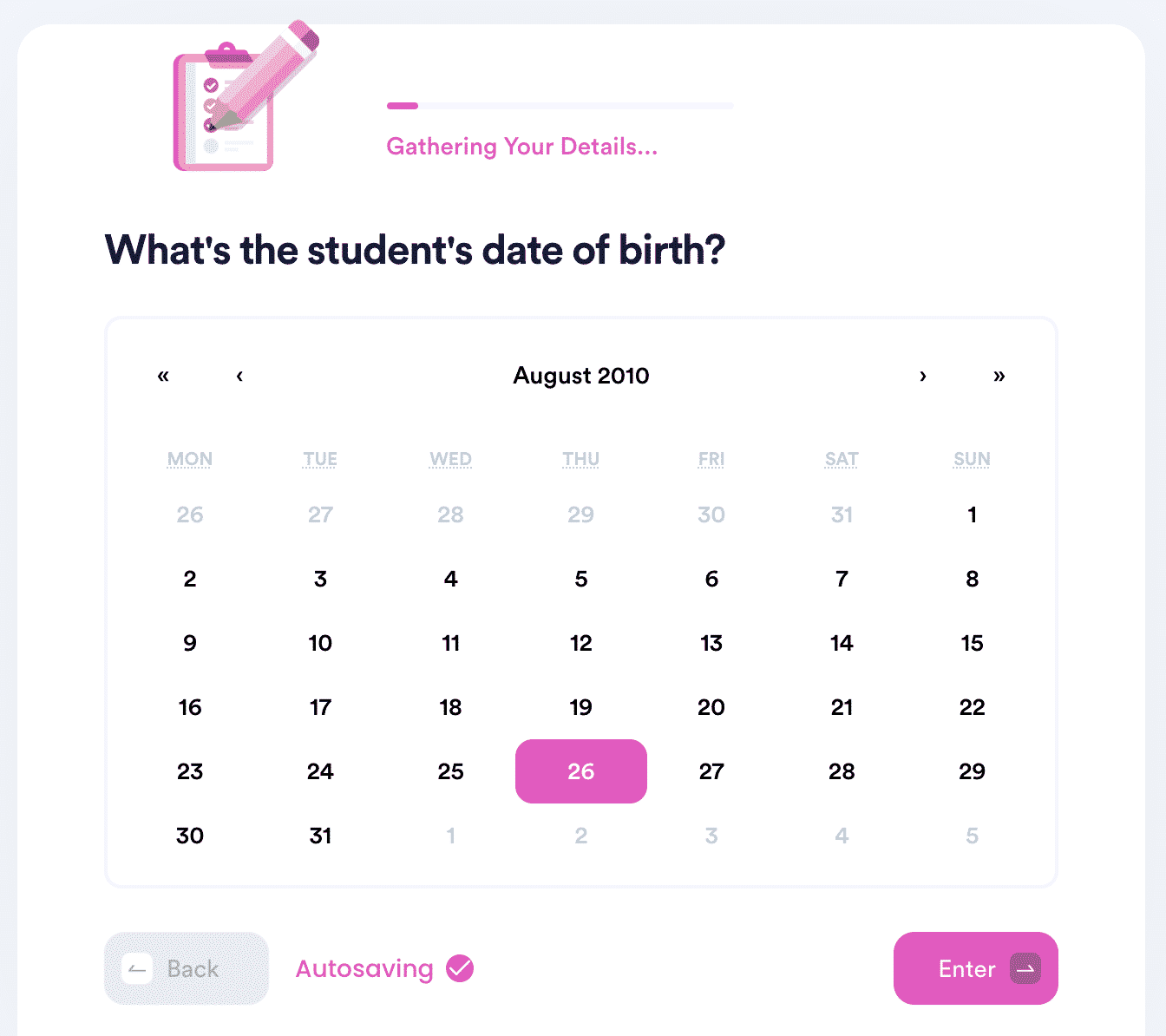 Learn About State-Specific Homeschool Requirements
Check out the following table and click on your state (or the one you'd like to move to soon) to get more information on specific procedures you need to follow to homeschool your child:
There Is No Shortage of Tasks DoNotPay Helps You With
If you find finishing administrative tasks tedious, you can rely on our app to assist you through the entire process and make it a smooth-sailing experience. Check out the table below to find out what DoNotPay can help you do:
| Deal With Companies By | Get Rid of Pesky Spammers By | Get Help With Your Studies By |
| --- | --- | --- |
| | | |
Buried in Paperwork? Not for Long!
Is creating legal documents giving you a migraine? Not everyone is acquainted with the law and legal jargon, which is necessary when writing documents, such as:
Divorce settlement agreements

Powers of attorney
Luckily, DoNotPay can draft your legal documents in minutes! Why waste hours doing it yourself or hire a lawyer when you can have our app do it in no time?
Creating anonymous HR complaints and demand letters for your inconsiderate neighbors is also something our app does best!