An Extensive Guide to Financial Assistance for Homeschooling Parents
If you decide to take your child out of school to homeschool them, this new lifestyle comes with a price. You will be the one purchasing school material both for teaching and learning. Is there financial assistance for homeschooling parents to reduce the pressure on their wallet?
Use DoNotPay to get information about financial aid available for home-based education. We can also help with the required paperwork and send a letter of intent to homeschool to inform the superintendent of your decision to teach your child at home.
Do You Get Paid To Homeschool Your Child?
Parents do not get paid to teach their children at home because homeschooling is a choice. If you decide to homeschool, you should know that this option is considered private schooling.
In case you are homeschooling under an umbrella school, you might get credit taxes or deductions in some states. You should check the state laws and inform yourself more about the topic.
One more option is available in some parts of the country—having your child enrolled in public school but completing the syllabus from home. In that case, you will need to cover the expenses as you would for any other public school.
Financial Assistance for Homeschooling Parents—Available Options
Even though you won't get paid for homeschooling, you can look for financial support to deal with expenses. The best place to look for financial assistance is the Home School Legal Defense Association (HSLDA). This organization offers Compassion Grants to homeschool families dealing with various difficulties.
Take a look at the table below for details:
Homeschool Grant Type
Grant Purpose
Who Can Apply
Homeschool Curriculum Grant

To help homeschooling families pay for:

School materials
Curriculum for core subjects
Homeschool co-op fees
Homeschool courses
The technology used for school
Diagnostic testing and therapies for homeschooling special needs children

A parent or legal guardian who needs to:

Be privately funding their homeschool program
Do most of the teaching at home (not utilize a daily drop-off co-op)
Be able to choose their child's subjects (not have to use a curriculum chosen by school)
Be homeschooling at least one child between six and 19
Show significant financial need
Have homeschooled for three months before applying

Disaster Relief Grant

To help families who went through a natural disaster recover and continue homeschooling

Homeschooling families whose homes or school materials have been damaged by a:

Hurricane
Wildfire
Tornado
Earthquake

"Meet the Moment" Grant

To fund struggling families and improve the quality of student's educational experience during the COVID-19 pandemic

Representatives of a co-op or homeschool organization that:

Is located in the U.S.
Is not a for-profit business
Can explain how the group is organized
Needs funding for a program or activity fitting the grant purpose
Does not receive government funding
Serves families who are homeschooling at least one child
Has a bank account that can be used for depositing a check
Agrees to complete a survey in the future describing the group and explaining how the funds were used
Can You Get Federal Financial Assistance for Homeschooling Parents?
You cannot expect much financial aid from federal resources at the moment, but the situation should change in the future. Your best option to get financial assistance from the Department of Education is signing up for a charter school. Bear in mind that this option is not typical homeschooling.
These schools are a bridge between parents and the Department of Education and offer federal testing (SATs and Exit Examination) to children. Most of the schools' programs are online, and they receive funding for course books and co-curricular activities.
Is State Funding for Homeschooling Available?
Whether you can turn to your state for help with homeschooling costs depends on the location. There are only a few states that don't offer any benefits to homeschooling parents. The payoffs for teaching at home are substantial in most districts.
State financial aid is usually available to students with special needs. North Carolina is a good example because it grants disabled homeschooled students $8,000 per year.
Other parts of the county have different benefits available, and you should do state-specific research for homeschooling financial support.
Before you apply for state financial aid, you will need to send a letter of intent to homeschool to a superintendent of your school district. DoNotPay can take over this task!
DoNotPay Generates a Letter of Intent in a Jiffy
Homeschooling is not a paperwork-free process, so delegating some administrative chores will help you focus on more creative and rewarding aspects of home-based education. DoNotPay is at your service and can draw up a letter of intent to homeschool for you. We will compose an airtight legal document in a matter of minutes. You only need to:
Choose the Notice of Intent To Homeschool product
Provide us with essential information about your school district
Answer some questions about yourself and your child
You can choose to get your letter of intent notarized with DoNotPay's help. If you wish, we can mail the letter on your behalf, or you can download the PDF and file it yourself.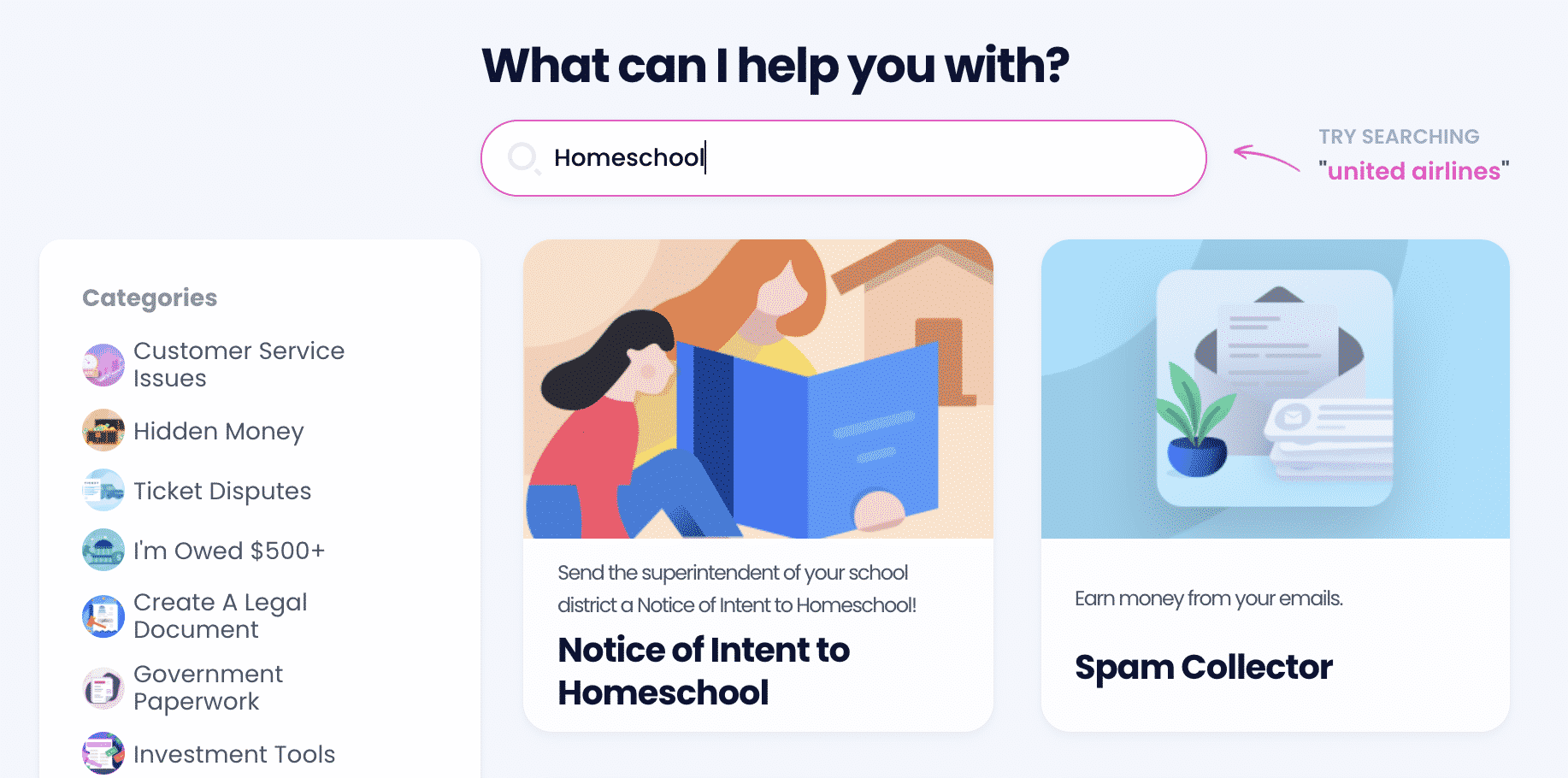 If you visit our Learning Center, you can find answers to more homeschooling questions, such as:
DoNotPay Offers Quick Solutions to Tedious Problems
Are you overwhelmed by your never-ending to-do list? We're happy to jump in with a perfect solution to deal with everyday tasks the easy way!
Once you subscribe to DoNotPay, you'll be able to schedule DMV appointments, lower your monthly bills, and contest parking tickets without breaking a sweat!
If you are looking for further assistance, our app will show you how to deal with the following tasks effortlessly:
Rely on DoNotPay's Legal Assistance Any Time!
If a company refuses to cooperate, use DoNotPay—the world's first robot lawyer—to sue it in small claims court! Getting the justice you deserve is only a few clicks away!
You can also use our app's various features to do the following: