Homeschool or Private School—We Solve Your Dilemma
Parents get dissatisfied with the performance of public schools for many reasons. They may hate the way public institutions deal with their children's learning difficulties or be worried about exposing their kids to bullies and uncontrolled violence. Choosing the right educational alternative usually narrows down to homeschool or a private school.
Which one of these two options is the best for your child? What aspects do you need to have in mind when deciding which approach to take? What are the advantages and disadvantages of both alternatives? Wonder no more—get all the answers in our extensive guide! We will also explain how to use DoNotPay for creating an excellent letter of intent to homeschool in record time.
Homeschool Education and Private Schools Explained
Getting familiar with both terms—homeschool and a private school—is crucial for deciding on the appropriate learning option for your child.
Homeschooling
Homeschooling is usually a form of parent-led education. By choosing it, you remove your child from a public school and teach them yourself at home. Unlike regular schooling, this option allows you to choose a program, schedule, and curriculum that would fit your child's needs and interests.
A homeschooled student needs to:
This approach is the best for parents who have children with learning disabilities or special needs that can't be met by public schools. It's also great for kids with social anxiety or families that frequently relocate due to job requirements or other factors. If parents are too busy or don't have specified qualifications, they can hire someone else to be their kids' teacher.
Private Schools
Opting for private schools means enrolling your child at an educational institution and having them taught by trained professionals in exchange for a tuition fee. Private schools have their specialized curriculums in whose creation you can't participate, but you can research and choose the one that matches your educational philosophy.
The class size is usually smaller than in public schools, and teachers can dedicate more time to each child. Besides core subjects, private institutions often offer a wide spectrum of extracurricular activities based on their students' wishes.
Factors You Should Consider When Choosing Between Homeschool Education and a Private School
Do both schooling options sound attractive? Here are the three most important aspects you should have in mind when opting for one of them:
Homeschooling requirements—As a homeschooling parent, you must meet the essential criteria proposed by the homeschool state law. Some states are quite easy to homeschool your child in, while others have strict requirements you must meet to start this learning approach. Check your state's laws to ensure you can switch to this method
Expenses—Private schools are much more expensive than homeschooling your child. According to the National Center for Education Statistics, parents must set aside from $7,000 to $25,180 for such schools per year. Homeschooling parents can find free or cheap learning resources and don't need to pay tuition, which decreases their expenses significantly
Reasons to opt your child out of public schooling—If your child struggles with dyslexia, dysgraphia, or any other type of disorder that makes their school activities difficult, homeschooling is a better choice. This way, you can dedicate yourself to them completely and provide the education that public or private school teachers can't. Should your child have problems with bullying or a dissatisfying public school program, private schools may solve these issues
Advantages and Disadvantages of Homeschooling and Private Schools
The purpose of the following table is to help you make a final decision by checking out the benefits and drawbacks of both possibilities. Find more details below:
Method
Advantages
Disadvantages
Homeschooling

The total control parents have over their children's education
Possibility of choosing or creating a personalized curriculum for students
Ability to set up the child's schedule according to their needs and other obligations
Possibility of starting homeschool mid-year
Higher emotional safety
More productivity
Firmer family relationships and more quality time for parents and their children
No homework
Optional testing
More developed independent learning skills

Challenge for homeschooling parents as they must bear full responsibility for all aspects of their children's learning routine
Loss of income as one of the parents must give up on their regular job to dedicate themselves to the child's education
Less social exposure than in public or private schools
Increased stress of parents who may think they aren't good enough to teach their kids
Poorer choice of extracurricular activities than in regular schools

Private schools

All necessary materials already provided by the institution
A bunch of handy and interesting learning resources
Skilled and certified professionals with years of experience
Available scholarships for students
Zero tolerance for inappropriate behavior, violence, and use of alcohol and psychoactive substances

High expenses
Lack of experiences with different cultures and people, as most students come from similar backgrounds
Insufficient transportation opportunities
Less time at home and with the family
Ready To Homeschool? Send a Letter of Notice Written by DoNotPay!
Have you decided to start homeschooling your child instead of paying a small fortune for private schools? Congratulations! Now it's time to inform the school authorities of your school district about your decision.
Don't struggle with writing a letter of intent to homeschool yourself—DoNotPay can do it for you! We need less than five minutes to generate your document, and you can choose to download it or have us send it in your name!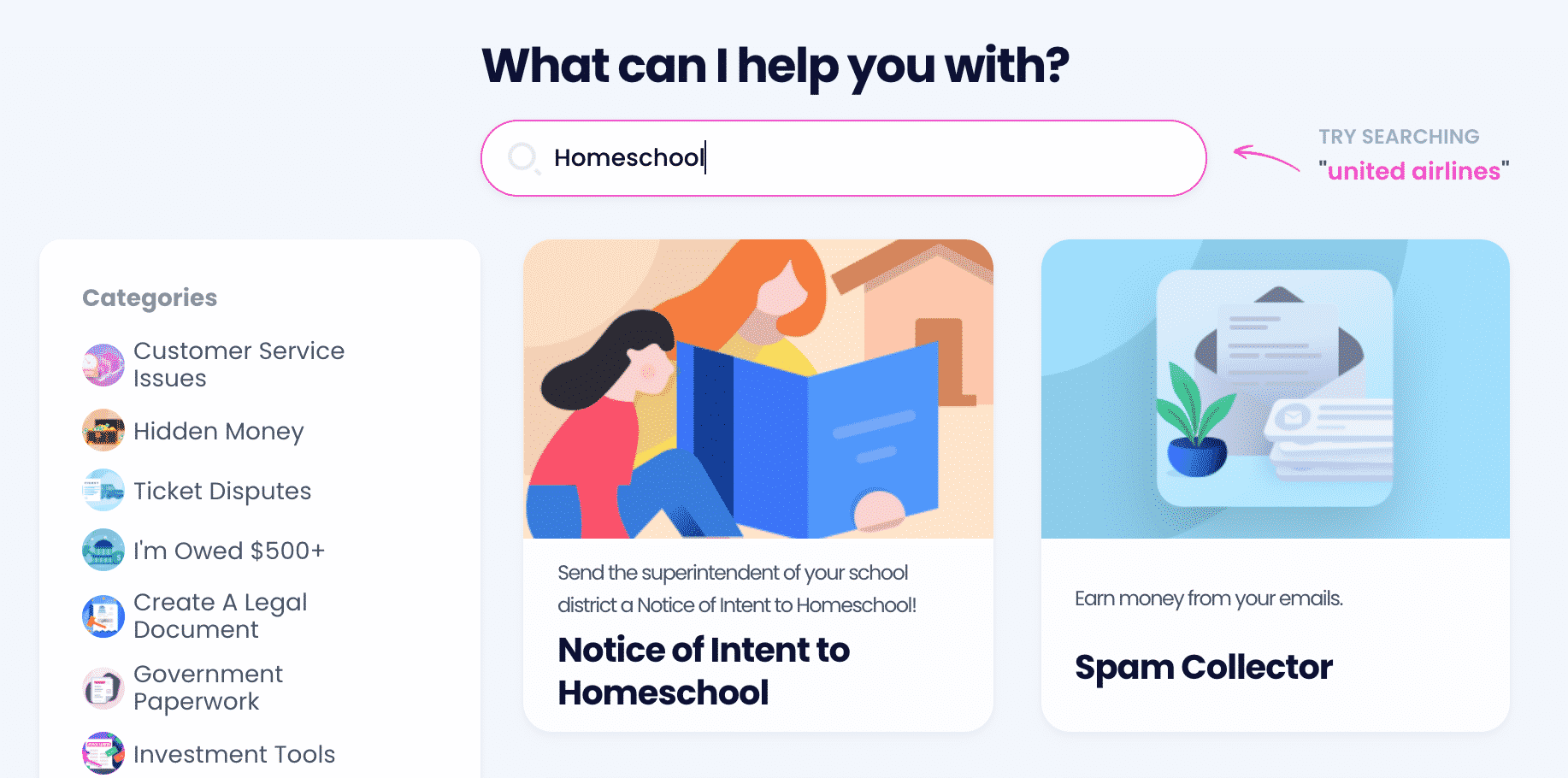 Here's how our app works:
Choose Homeschool Notice of Intent
Pick your school district
Provide our chatbot with answers to a few simple questions about you and your child
We can also help you find an online notary and schedule a meeting with them if your state law says you need to have the letter notarized.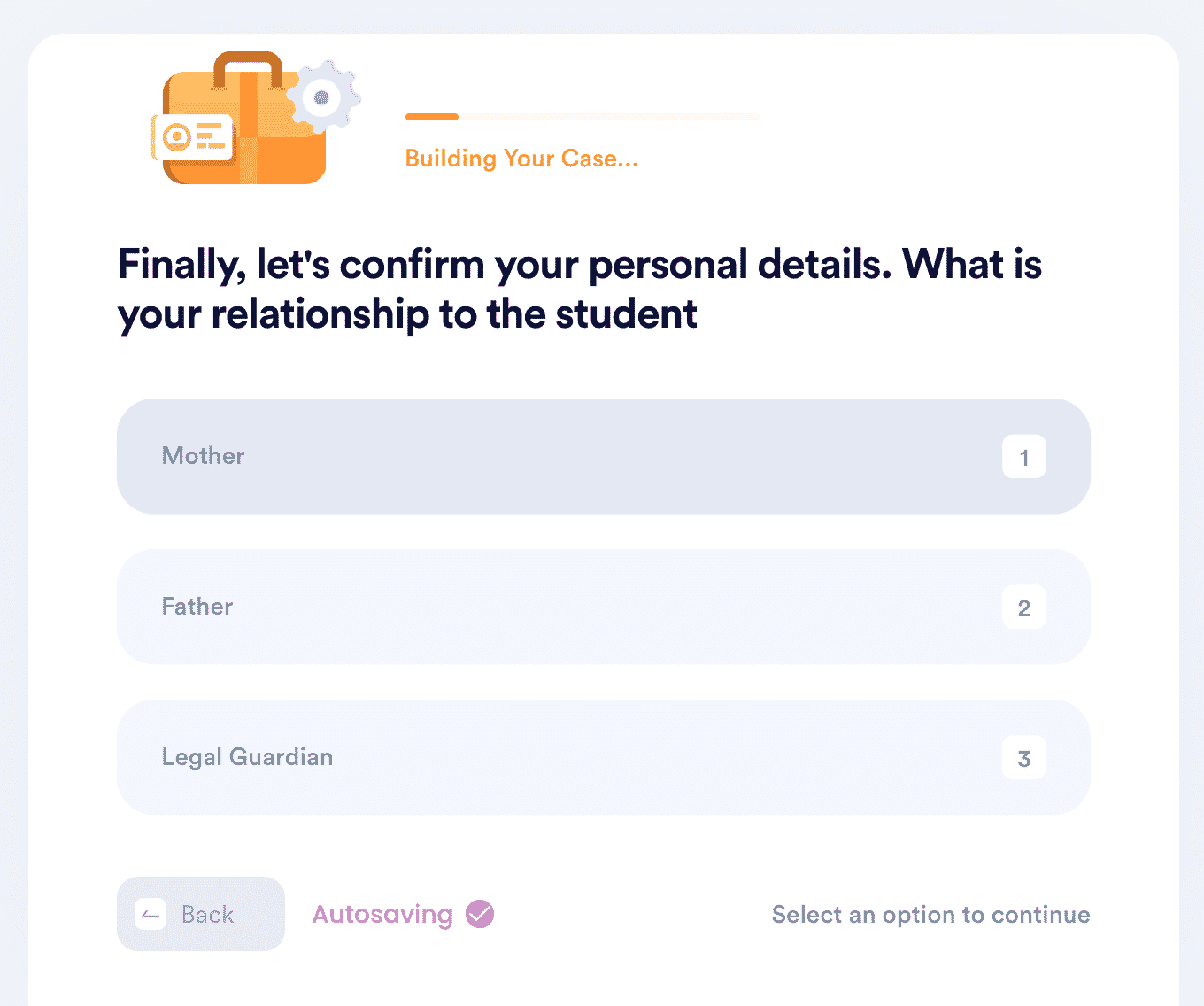 Don't Let Admin or Legal Issues Wear You Down—Hand Them Over to DoNotPay
Do you believe you may have some missing assets? Use DoNotPay's nifty product before the government claims them! Have you ever wanted to enter sweepstakes without purchasing anything? Our app will sign you up for them instantly! Trying to figure out how to reduce your property taxes or utility bills? DoNotPay can show you the way. Want to avoid getting charged for free trials that never fail to auto-renew into paid subscriptions? We'll help you cancel them before they expire.
Anything else you may need? Check out how our app can:
Check Out Our Other Robust Products
It doesn't stop there—DoNotPay can help you send a defamation demand letter, create passport photos, get gift card cash back, get any document notarized, request access to public records, claim insurance and warranty, request a college application fee waiver, appeal parking tickets, and much more.
Sign up now to get access to any of our products for one low monthly fee!