Homeschooling—Should Learning Disabilities Stop You?
Homeschooling a child with learning disabilities is a great idea for many reasons but can be demanding. Besides being a parent, you must be ready to take up the role of an educator or find someone else with experience to help you on this journey.
Your doubts and dilemmas are understandable, but with adequate preparation and guidance, homeschooling children with learning disabilities is beneficial and effective. We'll tackle the following issues:
What Counts as a Learning Disability?
Seven types of learning disabilities can cause complications in your child's educational routine:
Dysgraphia impairs the child's ability to write their thoughts
Dyslexia causes problems with reading and recognizing letters
Dyscalculia causes trouble with calculating or solving basic math problems
Language processing disorder makes it difficult for the child to learn or speak a language as they can't connect the meaning of the words with their forms
Auditory processing disorder brings complications with processing or filtering various sounds
Visual perceptual or motor deficit affects the child's hand-eye coordination and causes unusual eye activities and sight complications that can affect their motor activities
Nonverbal learning disabilities don't allow the child to understand other people's body language, differences in their tone of voice, and other nonverbal activities
Are There Any Requirements for Homeschooling a Child With Learning Disabilities?
Before deciding whether you should homeschool your child, you must consider the local homeschool laws because some states are pretty lenient while others impose specific restrictions on home-based education.
These regulations usually define the crucial homeschool aspects, such as:
Regular and additional costs depend on the homeschool method and the necessary materials. The state statute also determines whether you can start homeschooling your child mid-year. The answer is usually yes in all states, but there are a few exemptions.
Why Is Homeschooling a Child With an Intellectual Disability Good?
Children with learning disabilities need more attention, and home-based education allows for a tailored approach to teaching and adopting knowledge:
It's scientifically proven that children experiencing such difficulties respond much better to this educational method than to the regular ones
You can engage in improving your child's learning schedule and routine and help them reach their potential
Your child will receive more emotional support from you than from teachers in public schools
The home is a less restrictive and more relaxed environment for the child
Your child won't experience bullying or harassment due to their intellectual difficulties
Steps To Follow To Homeschool a Child With Learning Disabilities
Once you decide to homeschool your child, it's time to shed light on the duties and responsibilities you have as a homeschooling parent. Check out the table below to discover how to set up a successful homeschool:
Step
Explanation
Get familiar with your child's learning disability
The biggest support for your child should come from you. Inform yourself better about the problem they are facing and try to understand their perspective. You can do it by using various resources, such as:

Books
Magazines
Web pages of health-related associations

Other methods that may help are:

Creating a journal where you can note important stuff related to your child's behavior and your impressions
Having your child psychologically assessed and getting a professional opinion

Educate yourself about available homeschool methods
Besides reading the state regulations, you should:

Find out more about the proposed teaching methods
Learn how to make or purchase a homeschool curriculum and what it should contain
Discover how to keep records properly if you are required to do it
Ask other homeschooling parents for advice
Seek support in homeschool support groups, co-ops, and other related organizations

Take your child out of the public school
To withdraw your child from the regular school, you usually must inform the school authorities about your decision. In some cases, you may even have to ask the local board of trustees for permission.

Write a letter of intent explaining why you want to homeschool your child and describe the homeschooling method you chose
DoNotPay Helps You Prepare a Flawless Letter of Intent To Homeschool
What if you don't have enough time to compose a notice of intent from scratch or aren't too skilled in writing? The answer is simple—rely on DoNotPay, and we will do it in your stead! The process is quick—all it takes is a few clicks, and your document is ready!
Here's how it works:
Click on Homeschool Notice of Intent
Choose your school district
Provide the necessary student and parent information by completing a short questionnaire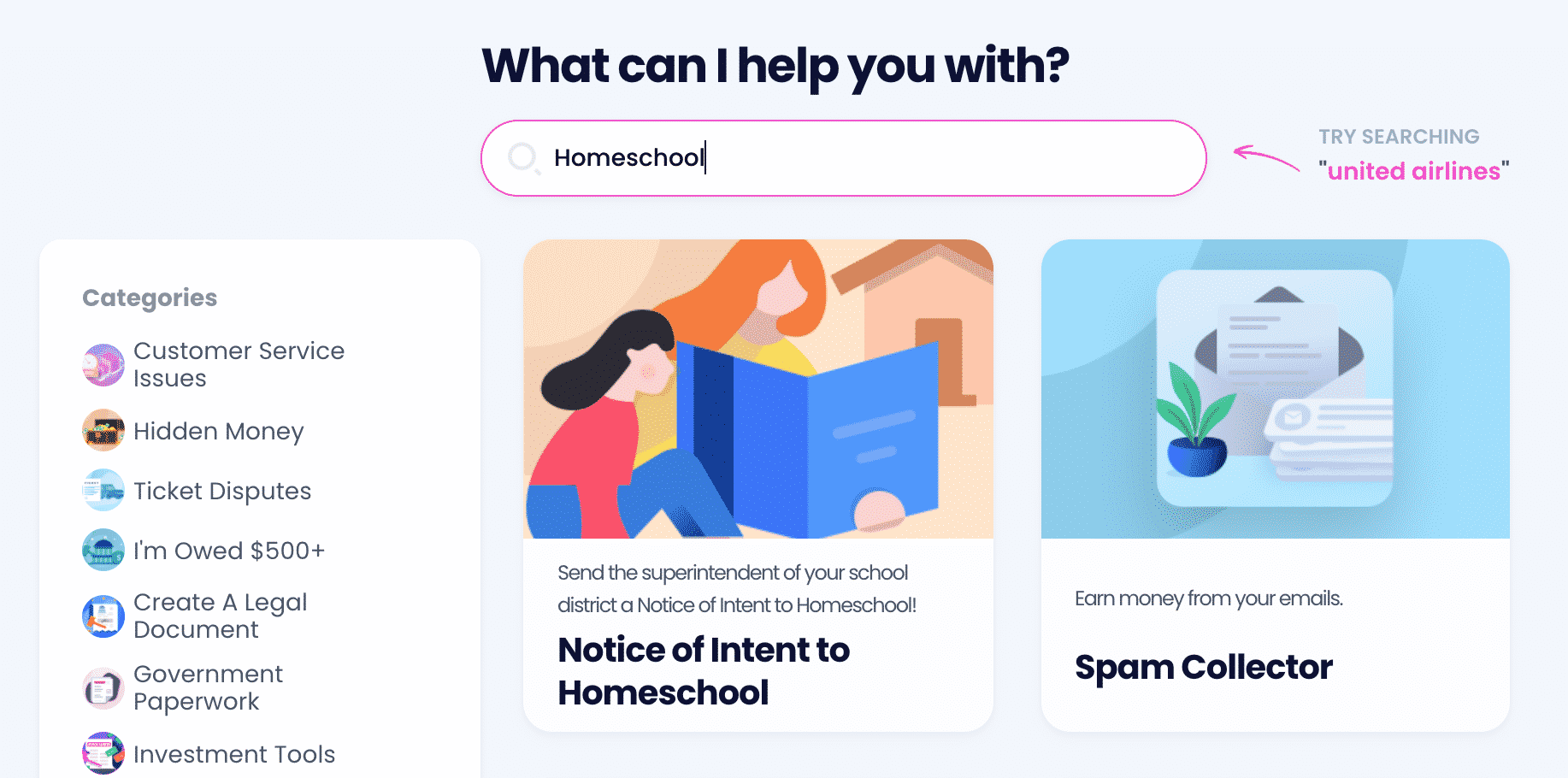 You can choose whether you want us to send your notice to the school authorities right away or provide you with a PDF version of the document, so you can submit it yourself.
If you need a notary's stamp and signature on your letter, we can connect you with an online notary, and you can complete the procedure on a video call!
Don't Let Admin or Legal Issues Wear You Down—Hand Them Over to DoNotPay
Do you believe you may have some missing assets? Use DoNotPay's nifty product before the government claims them! Have you ever wanted to enter sweepstakes without purchasing anything? Our app will sign you up for them instantly! Trying to figure out how to reduce your property taxes or utility bills? DoNotPay can show you the way. Want to avoid getting charged for free trials that never fail to auto-renew into paid subscriptions? We'll help you cancel them before they expire.
Anything else you may need? Check out how our app can:
Check Out Our Other Robust Products
It doesn't stop there—DoNotPay can help you send a defamation demand letter, create passport photos, get gift card cash back, get any document notarized, request access to public records, claim insurance and warranty, request a college application fee waiver, appeal parking tickets, and much more.
Sign up now to get access to any of our products for one low monthly fee!