The Overview of Middle School Homeschool Curriculums
Getting started with homeschooling can seem daunting if you're not familiar with the laws, requirements, and budget you need to prepare for this educational path.
If you're wondering where to start when it comes to middle school homeschool, you've landed on the right page. This article offers the intel for homeschool parents and their families to transition to homeschooling smoothly.
How To Homeschool Middle School
Middle school homeschool can be both challenging and exciting for the whole family.
It is the right time for you and your homeschooled student to practice for what awaits in high school but without feeling the pressure of a demanding high school curriculum and preparation for college.
Use Middle School Homeschooling To Prepare Your Child for High School
To prepare your child for more obligations and independence they need to show in high school, you could work on the following aspects while homeschooling for middle school:
Your Middle School Child Should Learn To
Details
Develop personal responsibility
Your middle school child needs to learn to:
Organize their activities
While homeschooling middle schoolers, parents should teach their children to use a planner and keep track of their:

Classes
Projects
Practices
Field trips
Assignments
Extracurricular activities

Handling a planner offers your child an opportunity to:

Stay on top of their coursework
Monitor their progress
Learn to be organized

Explore their interests
Middle school is the perfect time for your kid to:

Explore topics and areas that interest them
Understand what they'd like to pursue in high school and later in life
Homeschooling a Middle School Child Is a Good Recordkeeping Practice
Homeschooling your child in middle school provides you—or another person who instructs your kid—with a chance to prepare for more demanding high school requirements. You can learn how to:
Develop transcripts
Research available resources
Create records your child's high school might require
What Middle School Home School Curriculum To Choose
If you'd like to save some money on middle school home school programs, you can find a free middle school homeschooling curriculum.
Here's a list of some free curriculums a homeschool teacher can use in middle school:
Explore Various Homeschool Curriculums
If you'd like to create your own homeschool curriculum, you should get familiar with the available ones first.
Take a look at the following table presenting different curriculum options you could base your homeschooling on:
Starting Homeschooling in Middle School
If you've set your mind on homeschooling your child, you need to know your state's laws so that you could go through the process smoothly and legally.
While requirements might vary by state—some have more lenient regulations than others—here's a list of general steps you need to follow to start homeschooling:
Draw up a notice of intent to homeschool— to get a letter of intent in a matter of minutes!
Submit the notice of intent—You need to notify your school district of your intent to homeschool
Withdraw your kid from school—If your child attends a regular school, you should:

Check when you can take them out of school (e.g., if you can start homeschooling in the middle of the year)
Inform the school's principal that you're transferring to homeschooling
DoNotPay Prepares a Notice of Intent To Homeschool in a Flash
DoNotPay is the first robot lawyer that knows relevant state and local laws and can help you generate a notice of intent to homeschool fast and stress-free. By using our AI-powered app, you'll be able to start your homeschooling journey swimmingly.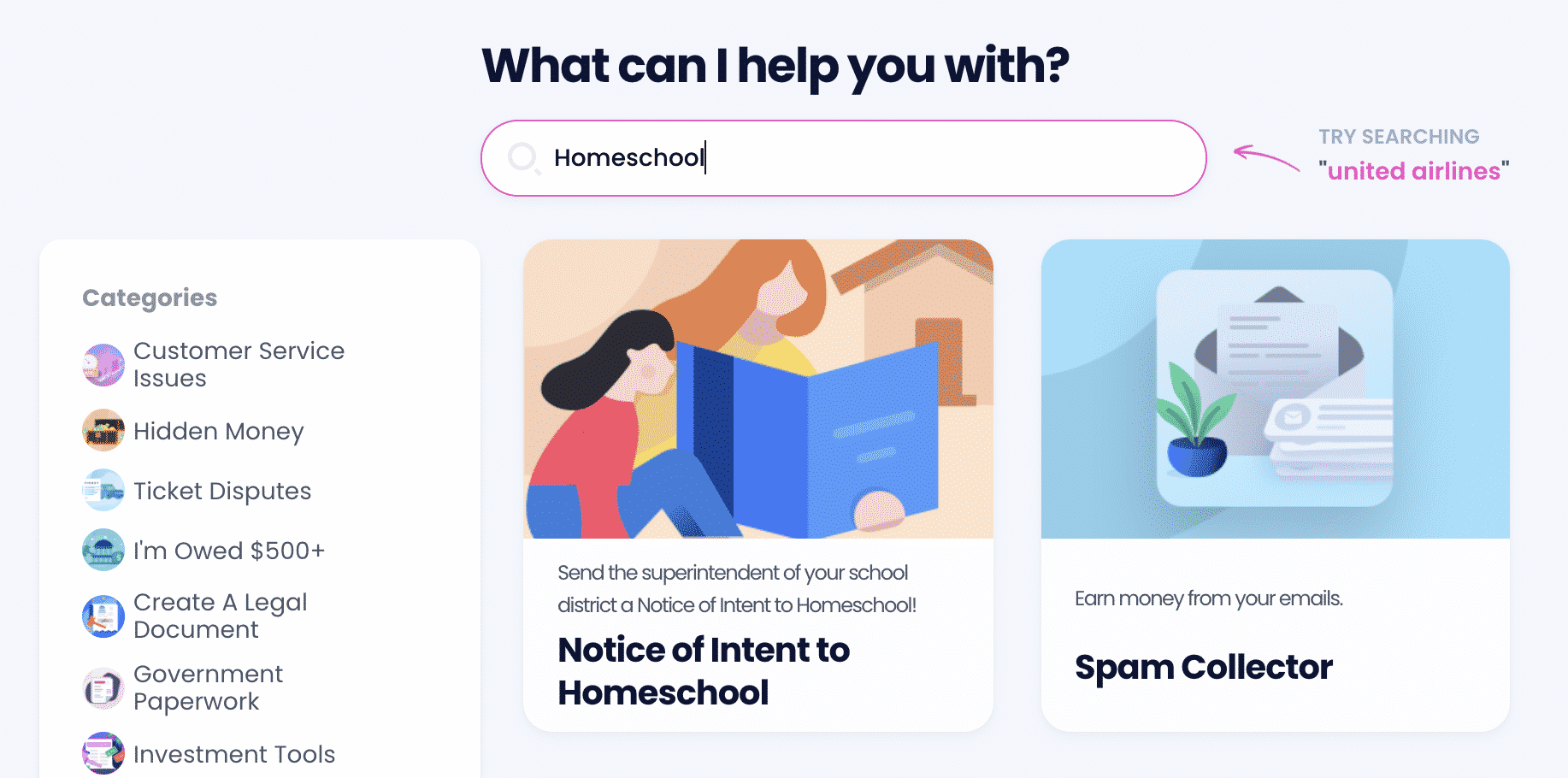 The steps are simple—all you should do is:
from a web browser
Open the Notice of Intent to Homeschool product
Provide info about you and your homeschooled student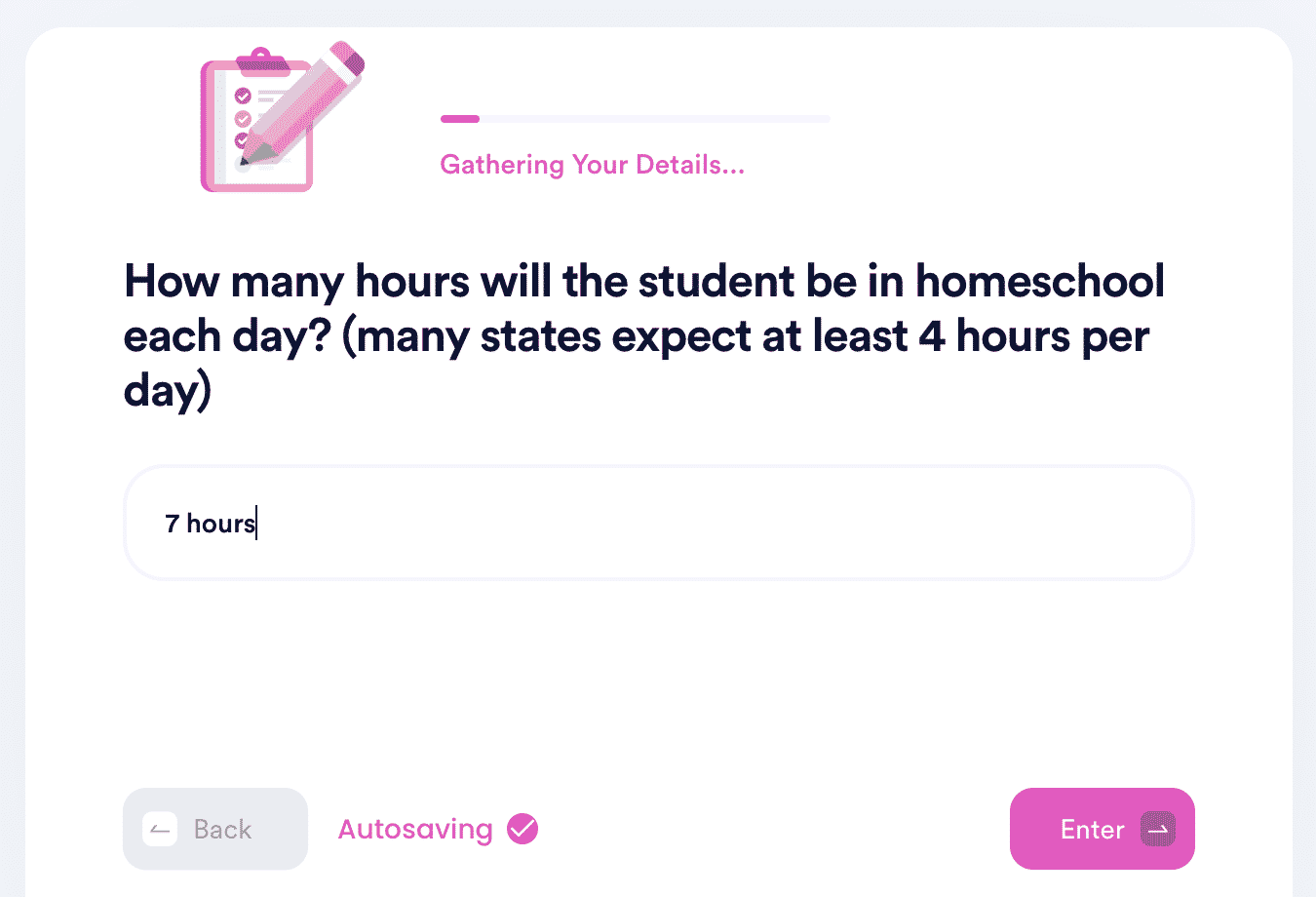 If you'd like, DoNotPay could also:
Help you get your notice notarized online
Deliver the document to the right institution on your behalf
Send you the notice in PDF to submit by yourself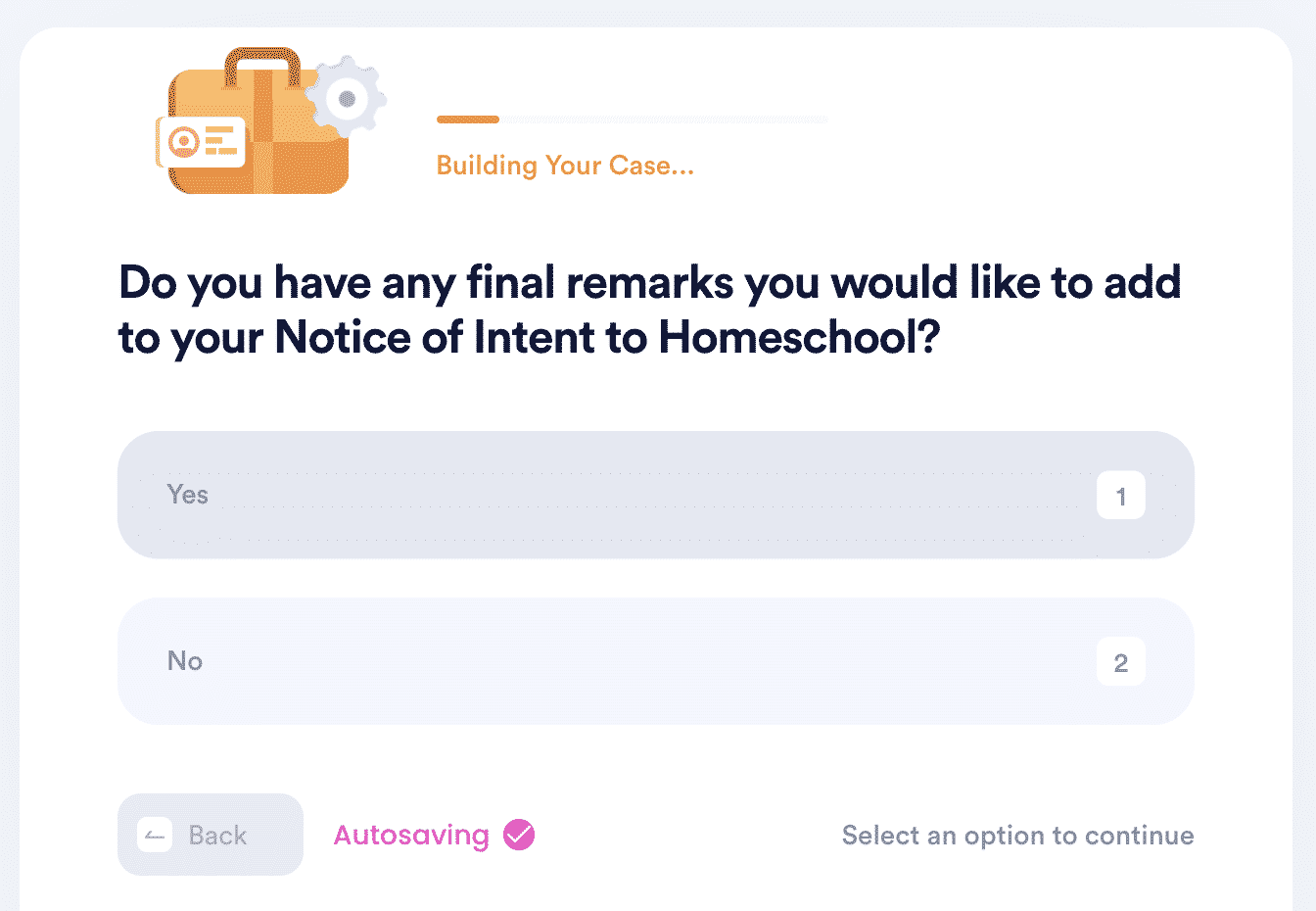 Would you like to widen your knowledge of homeschooling? Take a look at the guides we provide on our website. DoNotPay offers answers to various questions, including:
Let Our App Assist You With Paperwork
You don't have to deal with bureaucratic tasks on your own! DoNotPay is here to help you cancel your memberships, appeal parking tickets, discover unclaimed funds, and get any document notarized online.
If you need help covering your bills or you'd like to get extra cash by signing up for clinical trials, we are your go-to!
We can also assist you in drawing up and sending out the following documents:
Keep Your Online Safety Intact
Staying anonymous is almost impossible these days, but with DoNotPay's help, your contact and payment details will remain private.
Thanks to our Burner Phone product, you'll be able to keep your phone number to yourself and get a temporary one you can use when you register on various platforms.
If you want to avoid getting charged and revealing your personal info when signing up for free trials, we can help you kill two birds with one stone. Get our multifunctional virtual credit card and skip submitting your name, email address, and payment details.
With our app, you can also handle stalkers and harassers, fight workplace discrimination, and block spam.