Unit Studies Homeschool Curriculum From A to Z
One of the most important decisions to make before you start homeschooling is what teaching method to use. There are many options available, each one suitable for different families and children's learning needs.
If you opt for unit studies, the homeschool curriculum you choose must match the method. DoNotPay will dissect this homeschool teaching process and explain how to choose a homeschool program for your child.
What Is Unit Study Homeschooling?
United studies are thematic units of multisensory learning, with each activity organized according to the thematic idea. The goal is to explore the subject from more than one angle to retain information better.
Unit studies have been a popular learning method in preschool and elementary grades in public and private schools. Numerous homeschooling families have adopted this approach because it:
Keeps children more engaged and participative
When Does the Unit Study Method Work Best?
Thematic units are particularly convenient for parents who:
Have children in multiple age groups
Wish to use short-term unit studies for variety and move from a traditional homeschooling approach
Want to create a unique curriculum
Need low-cost curriculum options
Have children on the autism spectrum who have intense interests in specific subjects
How To Choose the Right Unit Study Curriculum
Parents interested in using the unit study learning method can choose from an abundance of curricula that can be combined to create unique teaching and learning styles. Here are some tips for choosing the right curriculum:
Make a list of academic goals for your child to achieve with each study
Draft an outline of what you wish to accomplish each day as the teacher
List activities and subjects you want to cover daily
Spend more hours on preparing lessons than executing them. If you do your research on materials and resources on time, the teaching will go smoothly
Be creative and include various subjects
Use online lessons and other helpful tools to supplement your teaching. You don't need to create every part of the unit yourself
Use Pinterest for organizing your unit studies. You can create a board for each study and pin links you might need to refer to for particular topics
Maintain comprehensive records of what you accomplish each day. It will be handy for creating a homeschool portfolio
What Do You Need To Do Before Using the Unit Study Method?
Before you decide to use the unit study method for teaching your child, you need to research local homeschooling laws. Most state statutes are lax, and parents are allowed to educate their children as they see fit.
If your state doesn't have any special requirements, you can choose the learning method you want. Take a look at the table below for more information about homeschooling requirements throughout the U.S.:
You should also examine the necessary paperwork because home-based education is typically not an administration-free process. Most states require parents to send a notice of intent to homeschool to the superintendent of their school district. It informs the officials that your child is homeschooled, so the school won't consider them absent.
If you are not sure how to create this document or don't have time to do it, you can for help!
Get a Letter of Intent To Homeschool With DoNotPay's Help
If you want to get a letter of intent to homeschool fast and hassle-free, turn to DoNotPay. We'll deliver a rock-solid legal document if you follow these straightforward instructions:
Choose our Notice of Intent to Homeschool product
Answer some questions about your school district
Provide relevant info about you and your child
When you complete the questionnaire, you can choose to get your letter of intent notarized. You'll get the PDF file to print and submit to the relevant institution or let us send the letter on your behalf.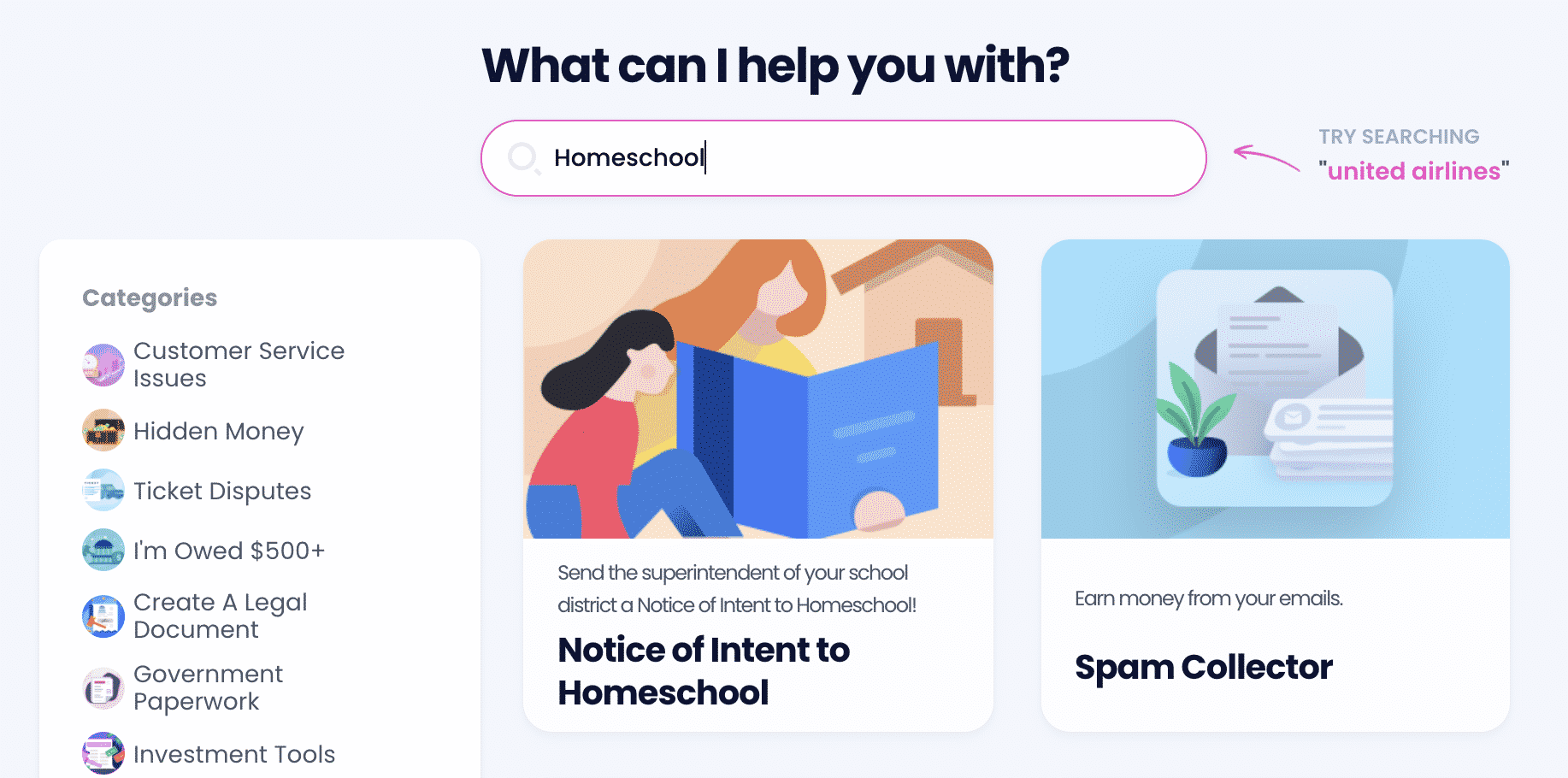 Other Homeschooling Learning Methods To Keep in Mind
If you are not sure that the unit studies learning method is the right choice for you and your child, you should consider other options. Here are other popular choices you should have in mind:
Traditional homeschooling
Classical homeschooling
Waldorf method
You can even mix and match the learning approaches to have the best of all worlds.
More Information About Homeschooling You Should Know
If you have doubts or additional questions about homeschooling your child, DoNotPay's learning base is an excellent starting point for exploring home-based education further. Check out the popular ones in the list below:
Can DoNotPay Help Me With Any Other Admin or Legal Issue? You Bet It Can!
DoNotPay's robust products can assist you in fighting companies, individuals, and institutions that have wronged you in any way. Once you subscribe to our platform, we'll ensure that you never have to deal with any of the following again:
Our Product Range Offers So Much More
Subscribing to DoNotPay will bring you peace of mind as you won't have to go through tedious task completion on your own anymore. With our AI-powered app, you can get what's rightfully yours in the blink of an eye.
If you want to claim warranty or insurance, find your missing assets, get compensated for a canceled flight or a violent crime that you were a victim of, track your missing parcel, or draw up a child travel consent form, divorce settlement agreement, power of attorney, or any other legal document, you can count on us to lend you a helping hand.
Sign up today to get access to the entirety of our product range and forget about dealing with time-consuming and energy-draining chores!