What Is a Notary? Learn All About Document Notarization!
Do you want to make sure your affidavit, real estate deed, or any other document carries legal weight? You should consider having it notarized by a notary public. If you want to learn how to notarize a document hassle-free, you're in the right place. DoNotPay will tell you all about the process and provide the easiest way to create and notarize any legal document.
What Is a Notary Public?
A notary (public) is an individual authorized by the government to:
Verify the identities of the signing parties

—a notary public will ask both parties for the ID to confirm their identities

Determine whether the parties are signing the document of their own free will

—if a notary public notices any sign of coercion, the document won't be notarized

Establish that both parties are capable of sound decisions

—the signing parties can't be intoxicated or heavily medicated during the notarization. If a notary establishes that one of the parties doesn't understand what's going on, he or she won't

notarize

the document

Witness the signatures as a neutral third-party

—both parties need to sign the document in question in front of the notary. You shouldn't sign the contract beforehand

Mark the document with a signature and an official seal

—if the notary determines everything is okay, he or she will stamp the document with an official seal and initialize the stamp
Notaries have the right to deny notarization if:
The document doesn't contain a stated commitment

The signing parties don't have all the necessary documents

They aren't certain about the signing parties' identity

There's clear evidence of fraud

The parties involved didn't sign the document

One of the signing parties is unable to understand what's going on
Why Should You Get Documents Notarized?
Notarization is usually obligatory if you want a document to be valid. In some cases, getting a document notarized isn't legally required. If that's the case with you, you should still consider notarization as it increases confidence that the parties involved signed the document.
You will probably have to pay a small fee for each notarization because that's the only income the notaries receive. The fee will vary from one notary to another, but most states have established a maximum fee for every notary service.
Issues With the Existing Notarization Process
Even though notarization is important for any legal document, the entire process in the U.S. is outdated and time-consuming.
Don't feel like wasting ages visiting the notary? If you prefer notarizing documents from the comfort of your home, DoNotPay has a solution for you.
Need Help Notarizing Your Documents Effortlessly? Rely on DoNotPay!
Thanks to our notarization feature, you won't have to postpone other appointments and waste hours in a notary office. DoNotPay has created a feature that will help you save time. With our help, you will get any document notarized in a few clicks, and here's how:
Access

Choose our

Notarize Any Document

feature

Upload the document in question

Type in your email address
You will receive an email from DoNotPay with a link. Open the link to confirm the online appointment with a notary who will verify your signature.
Creating Legal Documents Is a Piece of Cake With DoNotPay!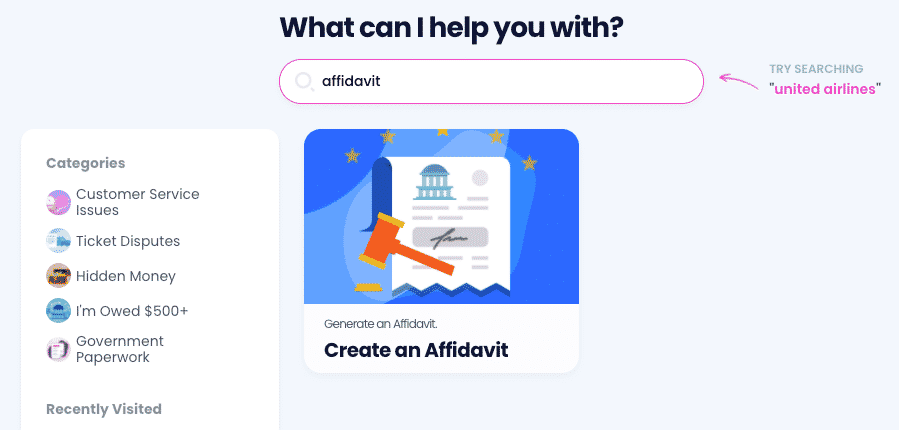 Notarizing legal documents isn't the only issue we can help you with. Since the Notarize Any Document feature is integrated with our Legal Document service, you can create any contract and get it notarized in one place.
Avoid wasting time and money on a lawyer or incomplete contract templates. Our feature will create professional agreements in a matter of minutes. can help you draw up any type of legal document, including:
Business Contracts
Real Estate
Other

Bill of Sale

Non-Disclosure Agreement

LLC Operating Rules Document

General Business Contract

Independent Contractor Agreement

Non-Compete Agreement

Intent To Purchase Real Estate

Estoppel Certificate

Residential Lease Agreement

Quitclaim Deed

Child Care Authorization Form

General Affidavit

Prenuptial Agreement

Promissory Note

Child Custody
Can You Get Your Documents Notarized by Yourself?
Notarizing documents on your own can be challenging and lengthy. You need to:
Set up an appointment

Go to the notary's office

Bring all the required documents
If you forget to bring an ID, sign the document in advance, or make any other mistake, you'll need to repeat the entire process. Since the traditional way of getting your contracts notarized can take a lot of time, you should rely on DoNotPay's feature.
Why Is DoNotPay Better Than Other Online Notary Services?
Another option you have is to rely on other online notary services, but those can be super expensive. DoNotPay is one of the most affordable platforms out there because it allows you access to all of the features for a small monthly fee.
Besides being affordable, DoNotPay's feature is also easy to use, which is usually not the case with other online services.
What Else Can Our Award-Winning App Do for You?
If you think that's impressive, wait until you've heard about other features we boast!
Our powerful app can draft paperwork for you, locate unclaimed funds under your name, cancel subscriptions, sue robocallers, and protect you from stalkers and harassers—all in one nifty browser app!
Our services have been recognized by the esteemed ABA Brown award, serving as a testament to our abilities to assist you with your small claims issues, free trial auto-renewals, college fee waivers, public records, copyright protection, and much more!
More Benefits of DoNotPay
DoNotPay is a useful tool for handling many otherwise annoying life's trifles, including: