At What Age To Start Homeschooling—Get Your Answer
Are you planning to homeschool your child but don't know at what age to start homeschooling? If you have a hard time making up your mind, our app is here to help. Read this quick guide and learn everything about the right age to start teaching your child at home before embarking on a homeschooling journey.
if you want to avoid the tedious task of writing a letter of intent for homeschooling on your own.
When To Start Homeschooling
While some parents start homeschooling their children at preschool age, others transition their kids from public elementary, middle, or high school. Factors you should consider when deciding on when to start homeschooling are:
Child's temperament and readiness
Your temperament and teaching skills
Homeschooling laws
Most U.S. states have laws that regulate homeschooling, including the age required to start formal education. When a child reaches that age—usually between five and eight years of age—you have to start with homeschooling or enroll your kid in a regular school. You can decide how much formal schooling you give your child before he or she reaches the required age.
Remember that homeschooling is not cheap—it usually costs anywhere from $700 to $1,800 per child per school year.
How To Create a Homeschool Curriculum for Your Child
The beauty of home education is the opportunity to customize a curriculum and teaching methods to your child's specific educational needs. Parents often choose to create their own curriculum instead of following an existing one. Any parent can create a curriculum because this task doesn't require a degree in education or knowledge of every subject. The most important thing is to know your child and be willing to try new things.
Consider taking the following steps when creating a homeschool curriculum:
Set up the framework—choose the subjects you plan to teach
Find literature for each subject—check out sources such as Sonlight, Veg Source, or Rainbow Resource
Research online courses
Create a timetable
Taking your child out of school to homeschool may seem pretty difficult to most parents, especially if their children are college-bound. An easy way to decide what subjects they need to take is to check out the admissions criteria for colleges and universities your children are interested in.
Keep in mind that many homeschooled students surpass their peers on standardized tests and excel in college because they had a curriculum that was tailored to their needs.
How Long Should You Teach per Day?
While some parents sit down with their children and go through different study books for a couple of hours each morning, others scatter the classes throughout the day. Stick to a timetable if you like it, but remember that weekend excursions in nature and even bedtime stories are opportunities to learn.
The most efficient homeschooling will take:
Two hours a day in elementary school
Three hours a day for middle school
Up to five hours a day for high school
It shouldn't take more than 45 minutes for each subject each day.
Do You Need To Be a Certified Teacher To Homeschool Your Child?
You don't have to be a certified teacher to be able to homeschool your child—no state in the U.S. sets that condition. Some states still require a GED, high school diploma, or bachelor's degree. Check your state's laws on homeschooling before attempting to homeschool your kid.
Can Someone Else Homeschool Your Child?
Someone else can take over the homeschooling responsibility instead of parents. In some states, grandparents are allowed to homeschool their grandkids, or parents can hire a teacher or join a co-op.
Do You Need To Send a Letter of Intent To Homeschool?
This depends on which state you live in. A majority of U.S. states require parents to submit a letter of intent to homeschool to their school district's superintendent. Check out the table below to see if this is mandatory in your place of residence:
Get a Personalized Intent Letter in Minutes With DoNotPay
You don't need to waste your time reading the extensive state legislation on homeschooling or seek advice to be able to draft a letter of intent to homeschool. Opt for DoNotPay, and our app will generate it in a matter of minutes.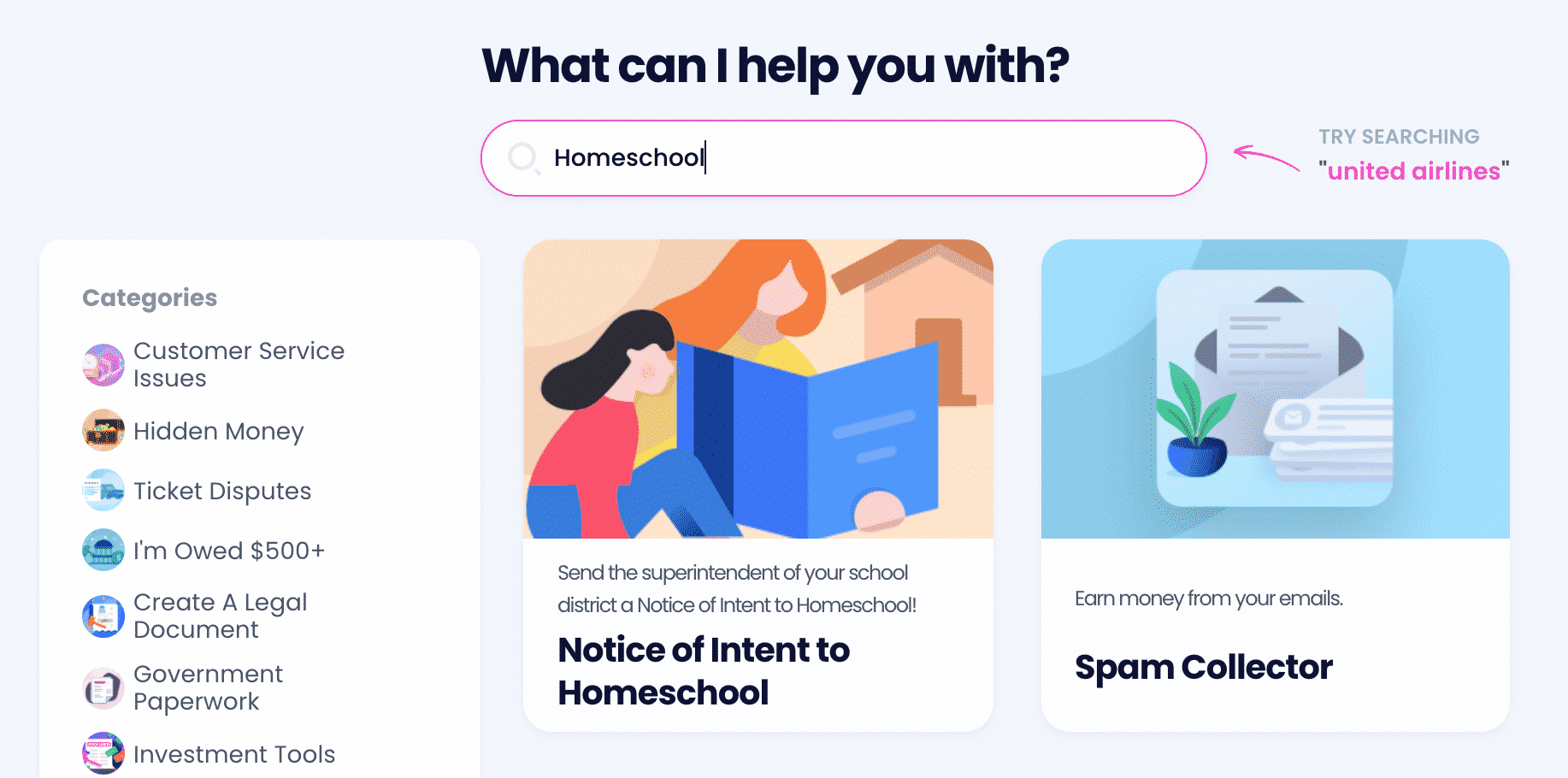 All you have to do is:
Find the Notice of Intent to Homeschool feature
Answer a few questions from our chatbot, including your:

Place of residency
Personal information
Starting date of homeschool (you can begin homeschooling at any time during the school year)
Child's name, age, and level of study
Taught subjects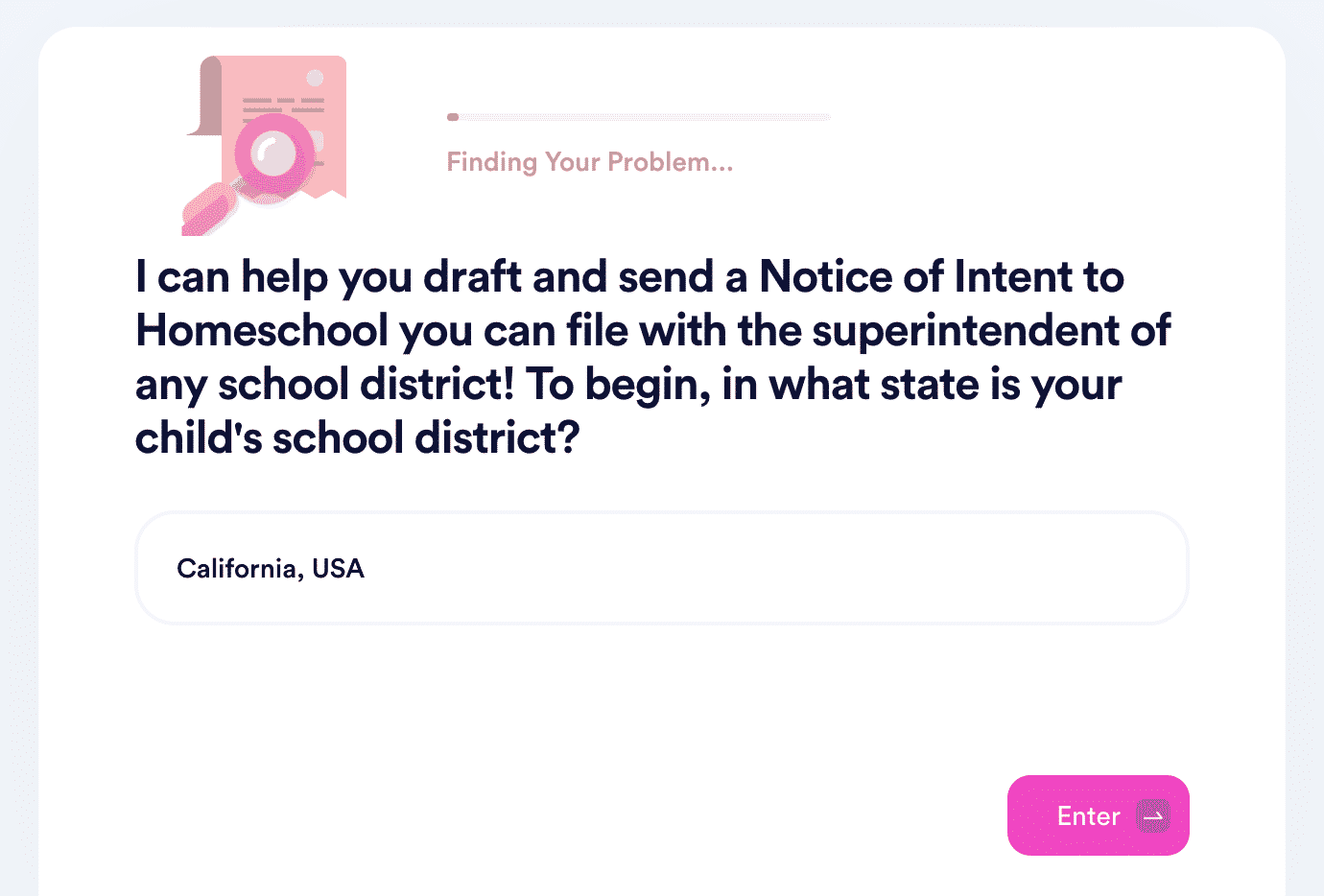 You can get your letter notarized online if you want us to submit it on your behalf or generate a PDF to send it on your own.
Resolve Any Other Issue You Have Swiftly With Our Assistance
The world's first robot lawyer is capable of tackling any legal or administrative task in your stead. We can draw up any legal document for you—including a power of attorney, child travel consent form, and divorce settlement agreement, to name just a few—help you sue any company or individual in small claims court, send a letter of warning to your noisy neighbors, help you reduce your property taxes and utility bills, and a lot more.
Sign up now if you want to stop email and text spam, claim any insurance or warranty, appeal parking tickets, schedule a DMV appointment in a flash, mail anything worry-free, find your missing assets, create passport photos, or contact embassies and consulates effortlessly.
Let DoNotPay Guide You Through Any Obstacle
Are you tired of corporations not taking their customers seriously? So are we, and that's why our nifty product will assist you in suing any company or individual in small claims court!
If you don't want to have any online service take advantage of you, you can sign up for any free trial completely risk-free with our virtual credit card's help, cancel any membership on time, and demand a refund or chargeback in a split second. DoNotPay can also draw up an airtight return request and send it to a company of your choice quickly.