Everything You Should Know About the Seatbelt Law Classic Car Requirements
Seatbelt laws in the U.S. have only been effective for a few decades, but cars have been around for over a century! Many people hold on to classic cars and keep them in top-notch condition because of:
Sentimental and heritage reasons
Preservation of superb design
Monetary gain from future antique dealings
The problem with such cars is that many of them were manufactured without seatbelts. If you want a quick assessment of the applicability of the seatbelt law to a classic car, you're at the right place. We'll keep you informed on the latest rules and explain what you need to do to dismiss an existing seatbelt ticket.
The Dilemma of the Seatbelt Law for Classic Cars
Most cars manufactured before 1965 weren't equipped with a seatbelt, although a few race car models came with crude two-point lap belts at the time. Since 1966, all American vehicles have had seatbelts built as part of general safety standards.
For the pre-1966 retro cars still running on the road, the lack of seatbelts has been a major cause of concern because of:
Seatbelt Laws for Classic Cars—To Belt or Not To Belt?
As every U.S. state has specific traffic regulations, you won't find any uniformity in the seatbelt laws for older or classic cars across the country. Depending on the state, your classic car may be:
Exempt from seatbelt requirements
Allowed on the road only after mandatory seatbelt alterations
Check out the table below for further details:
State Law
Details
States that exempt classic cars from seatbelt requirements

States like California and Colorado have exempted drivers, front-seat, and backseat passengers of classic cars and vintage trucks from wearing seatbelts
Despite the exemption, these states advise owners to get suitable seatbelts
Such exemption may not be extended to child or teen passengers. For example—as per seatbelt laws for classic cars in California, children under six cannot travel in such vehicles unless they are restrained in a booster seat

States that require classic cars to be fitted with seatbelts

Many states—like Florida—don't compromise on passenger safety and mandate seatbelts for all cars, without exceptions
If you want to drive a classic car in such states, you must install seatbelts in your old-timer for all passengers
In case your vehicle cannot be fitted with seatbelts, you should either:
Driving a Classic Car With No Seatbelts—Risks and Challenges
Classic cars can be hazardous in the event of a crash, but that's not the only risk associated with old-timers. If you are a classic car owner charged with a seatbelt violation—be it moving or non-moving—you can expect the following:
Facing hundreds of dollars in fines and penalties
Stacking up demerit points on your license
Paying more for auto insurance due to high points, and insurance costs are already on the steep side for classic cars
Getting summoned to court for a hearing
Facing the consequences as a court debtor
Getting your car towed away if you fail to pay the fine
Another issue with old-timers is that you may be wrongly ticketed even after following your state's laws because:
Seatbelt laws for classic cars are ambiguous in the state statutes
Law enforcement officers are dissatisfied with the child safety provisions in your car
If you're dealing with any unjust seatbelt ticket, DoNotPay can help you get it overturned in no time! Once you and enter your ticket details, our app analyzes your case and drafts a fitting appeal letter to fight your ticket. We even mail it to the authorities on your behalf, saving you time and money!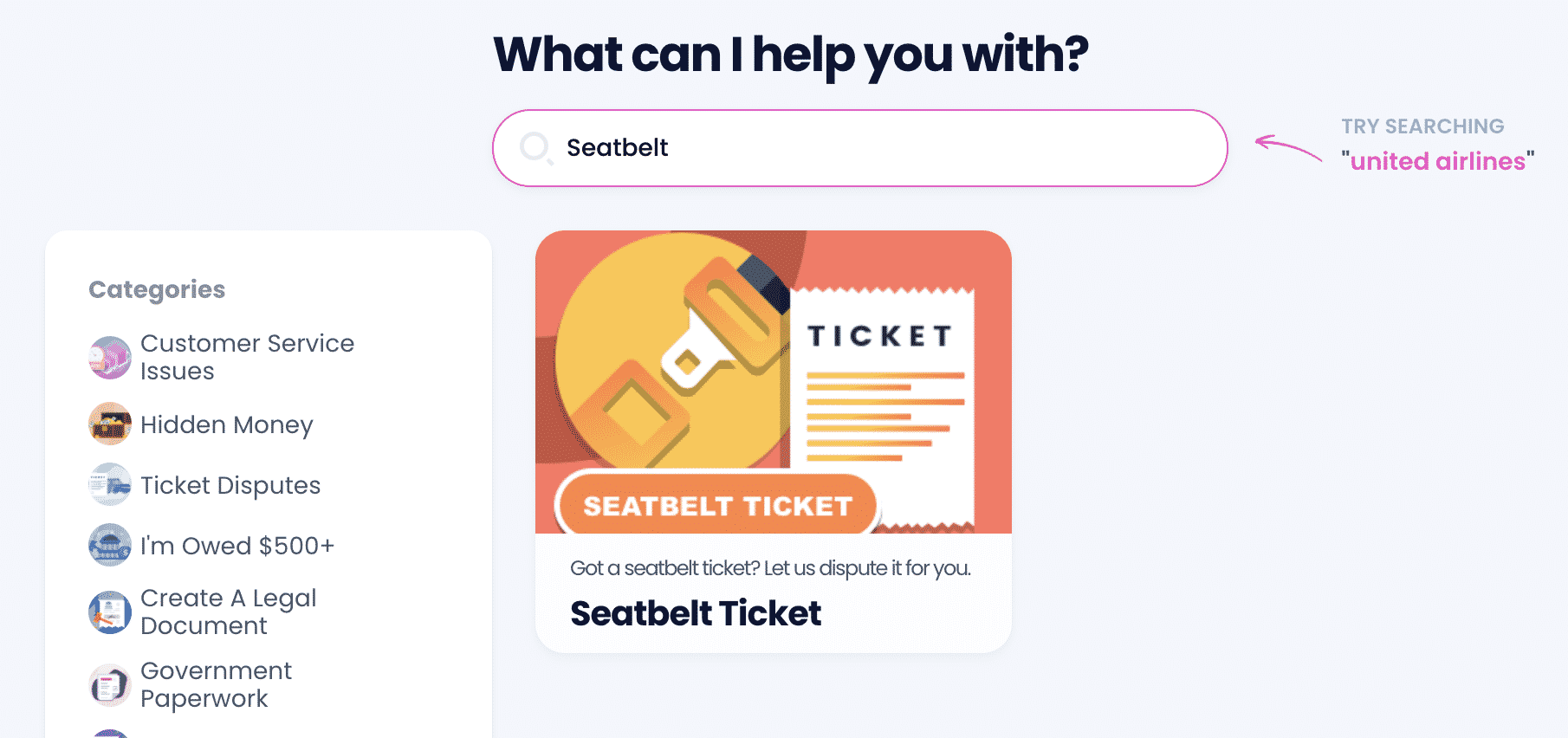 Using DoNotPay Is as Easy as Posing With Your Classic Car!
Appealing seatbelt tickets can be a lengthy and tiring process filled with bureaucratic hurdles and multiple court visits—but not with DoNotPay. Our Seatbelt Ticket tool ensures you have a real shot at getting the ticket dismissed!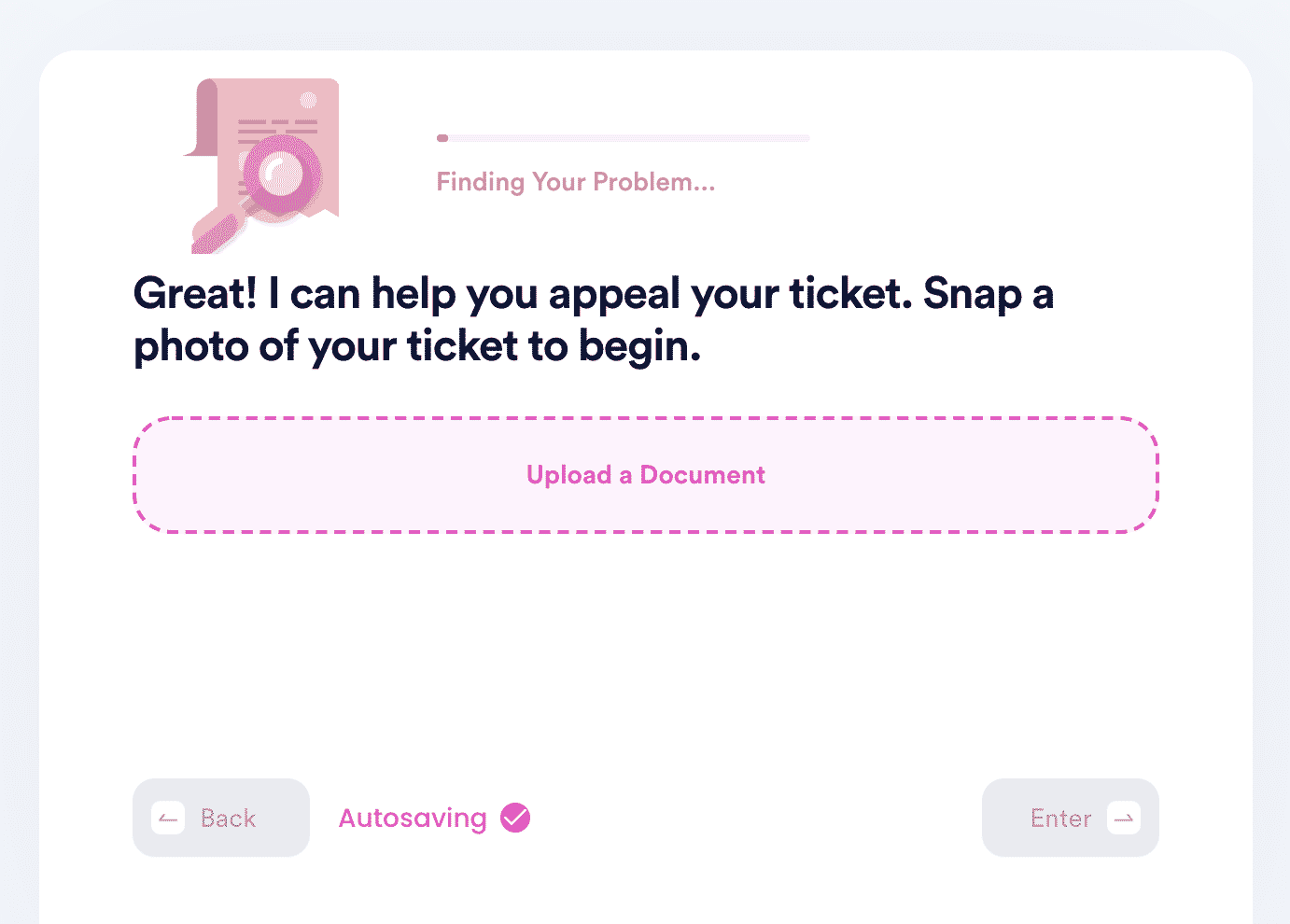 Follow these steps to use our services:
and navigate to our Seatbelt Ticket tool
Add an image of your ticket
Fill out the questionnaire with further details, such as:

Who was ticketed (the driver, passenger, or child)?
What is your argument to contest the ticket?

Tell us if you have any evidence to strengthen your case—e.g., a manufacturer certificate that your old-timer cannot be fitted with a seatbelt
Once you finish, we will automatically generate the appeal letter and relay it to the authorities. If your argument is strong enough, you won't pay the fine, and any point added to your license will be revoked.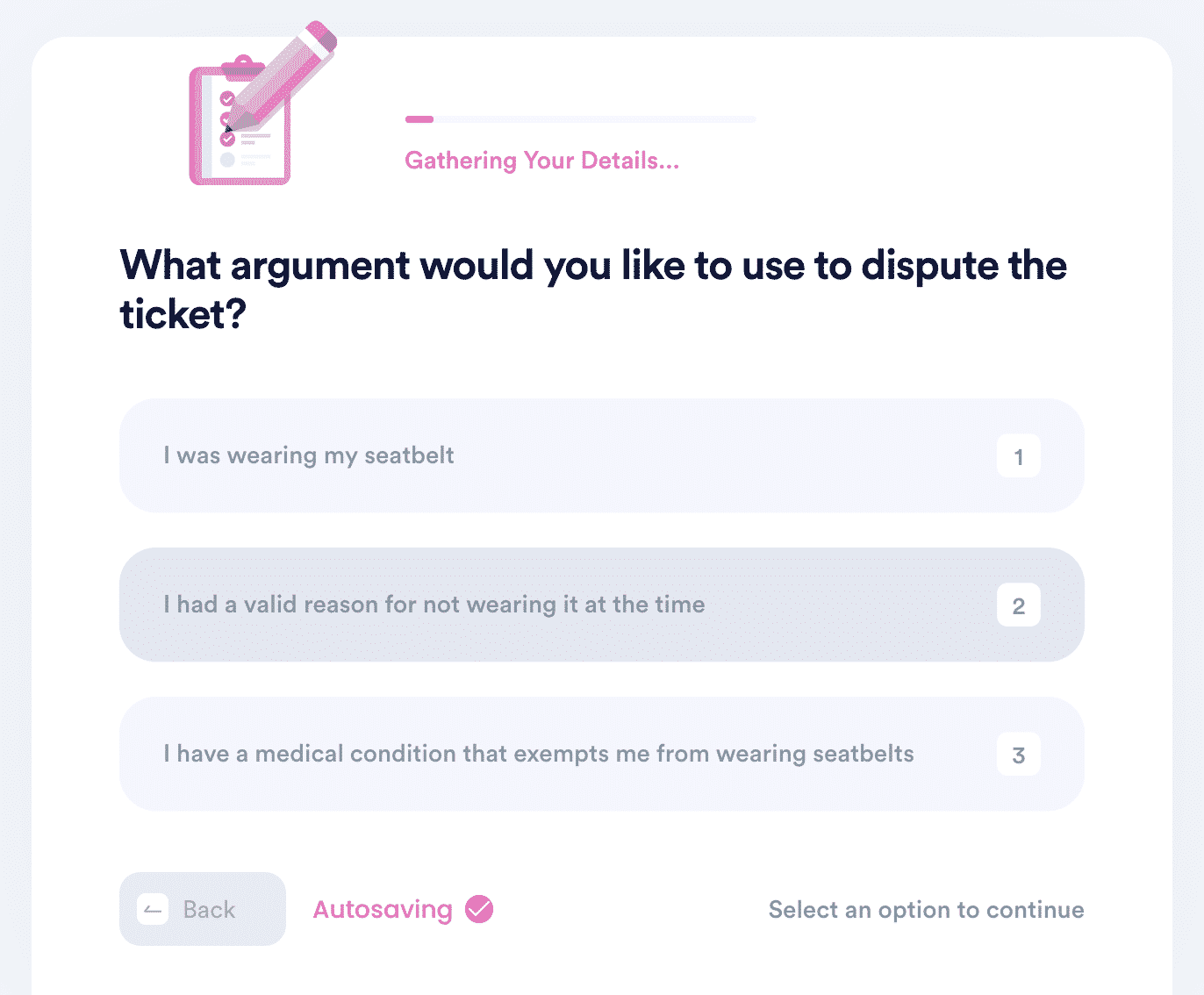 Tips To Present a Strong Argument
When it comes to getting seatbelt tickets dismissed, weak excuses won't get you anywhere. Instead, use arguments that:
Prove you were following the law in the state you're in
Indicate you were being responsible by not wearing a seatbelt in a particular situation—like driving a commercial vehicle in reverse
Show you have a medical condition that exempts you from seatbelt requirements
Whatever argument you use, make sure you are telling the truth. DoNotPay advises all drivers to be responsible and wear a seatbelt because safety on the road must come first.
Need Help With Decoding Seatbelt Laws in Your State? We Can Help!
If you want to learn about the seatbelt regulations in your state, use this table to find our comprehensive guides:
What's Next?
Once you complete the task at hand, you don't have to stop there—we offer a myriad of products that can relieve you of the stress that comes with dealing with admin and legal hurdles.
DoNotPay can assist you in drawing up a divorce settlement agreement, child travel consent form, power of attorney, and other legal documents, contacting government representatives, getting tourist visas, fighting workplace discrimination, getting a burner number, appealing banned accounts, getting access to public records, scheduling a DMV appointment, and much more.
Tackle Any Energy-Draining Task With DoNotPay
With DoNotPay by your side, you don't have to worry about how you'll cover your utility bills at the end of the month—we'll provide swift assistance as soon as you sign up!
Wondering what else our app is capable of? Check out how we can: