The Truth About What Can Happen To You if You Are in a Crash and Not Wearing a Seatbelt
No one likes to think about unfortunate events on the road, but informing yourself of the aftermath of car crashes can be an additional motivation to buckle up. What can happen to you if you are in a crash and not wearing a seatbelt? Find out how that split second when you forget or decide not to put your seatbelt on can have long-term consequences.
What Happens When You Don't Wear a Seatbelt?
If you don't buckle up and get into a car accident, not wearing a seatbelt can have negative effects on your:
Health
Car accident claim
How Does Not Wearing a Seatbelt Put Your Life at Risk?
The government introduced seatbelt laws to reduce the fatalities of motor vehicle crashes. This handy equipment can prevent the following:
Hitting your head on the dashboard when your car takes a hit
Getting ejected out of the vehicle during the crash—which is usually deadly
Being thrown at front-seat passengers from the rear
Tumbling in the car if it rolls down or flips
Being hurt or fatally injured by the force of the airbag when it opens
The most common injuries that come out of being unbelted during a crash are:
Spinal cord injuries
Neck fractures
Traumatic brain injuries
Whiplash
Internal bleeding
Knee trauma
Facial injuries—such as cuts, scars, and swellings
Are you not convinced about the effectiveness of seatbelts? Check out these statistics by the National Highway Traffic Safety Administration:
47% out of the 22,215 vehicle occupants who were deathly injured in 2019 weren't wearing seatbelts
Seatbelts reduce the risk of fatal injuries in the front seat by 45%
There's a 50% lower chance of getting moderate or critical injuries when using seatbelts
How Does Not Wearing a Seatbelt Affect the Car Accident Claim?
Health is the most important, but we can't neglect that not wearing a seatbelt during the accident can affect you money-wise as well. If you didn't have a seatbelt on during the crash, you might lose or receive a reduced amount of damages you are entitled to.
When the other driver is at fault, you should be able to recover a generous amount for the car accident injuries. This may not happen if the defense lawyer resorts to "seatbelt defense". They can claim how your trauma wouldn't have been as serious if you had been wearing a seatbelt.
If the defense argument goes through, the court can decide to reduce your settlement by the percentage that you contributed to your injuries. The foundation for such a verdict is that your negligence to secure yourself in the vehicle led to more serious consequences.
The states that embrace this mechanism of defense and allow reduction of plaintiff's damages for being unbelted are:
| Alaska | Arizona | California |
| --- | --- | --- |
| Colorado | Florida | Georgia |
| Iowa | Michigan | Missouri |
| New Jersey | New York | Ohio |
| Oregon | West Virginia | Wisconsin |
What Does the U.S. Law Say About Seatbelts?
All states in the U.S.—except New Hampshire—enforce seatbelt laws, out of which:
35 states and the District of Columbia have primary laws for front-seat occupants
15 states have secondary seatbelt law enforcement for adult occupants in the front
39 states and D.C. have mandatory seatbelt usage for backseat passengers
50 states have child seatbelt laws that require the use of an appropriate child safety restraint system
What differs from state to state is whether not wearing a seatbelt is a moving violation or not. If it is, you can get demerit points that go toward a license suspension.
The type of law enforcement also varies—in some states, it is primary and in others secondary. This affects the police officers' ability to pull you over for not wearing a safety belt even if you don't make an additional offense.
You can get the info on seatbelt laws for each state with the help of our handy guides:
Why Is Wearing a Seatbelt Important?
Staying safe while driving is a number one priority for every person on the road. There are also other benefits of wearing a seatbelt that you should be aware of.
If you buckle up and pay attention that all your passengers are restrained according to the law, you can:
Make sure that your driving record doesn't get marred with penalty points
Reduce your insurance rate by having a clear record
Keep your children safe and prevent them from distracting you during the ride
Avoid seatbelt tickets and hefty fines that come with them
The aftermath of getting a citation is no fun, as you might need to go to court and deal with the trial. If you don't pay the fine, the judge can even issue a warrant for your arrest.
If you haven't got into an accident but you did pick up a seatbelt ticket, you should contest the citation.
The ticket can be dismissed if you present a credible and legally acceptable reason for not wearing a seatbelt. Another way to fight it is to make a valid claim that the officer made an error as you were belted.
Whatever argument you have, DoNotPay can help you present it! You don't need to spend money on a traffic lawyer. , and generate an appeal letter automatically.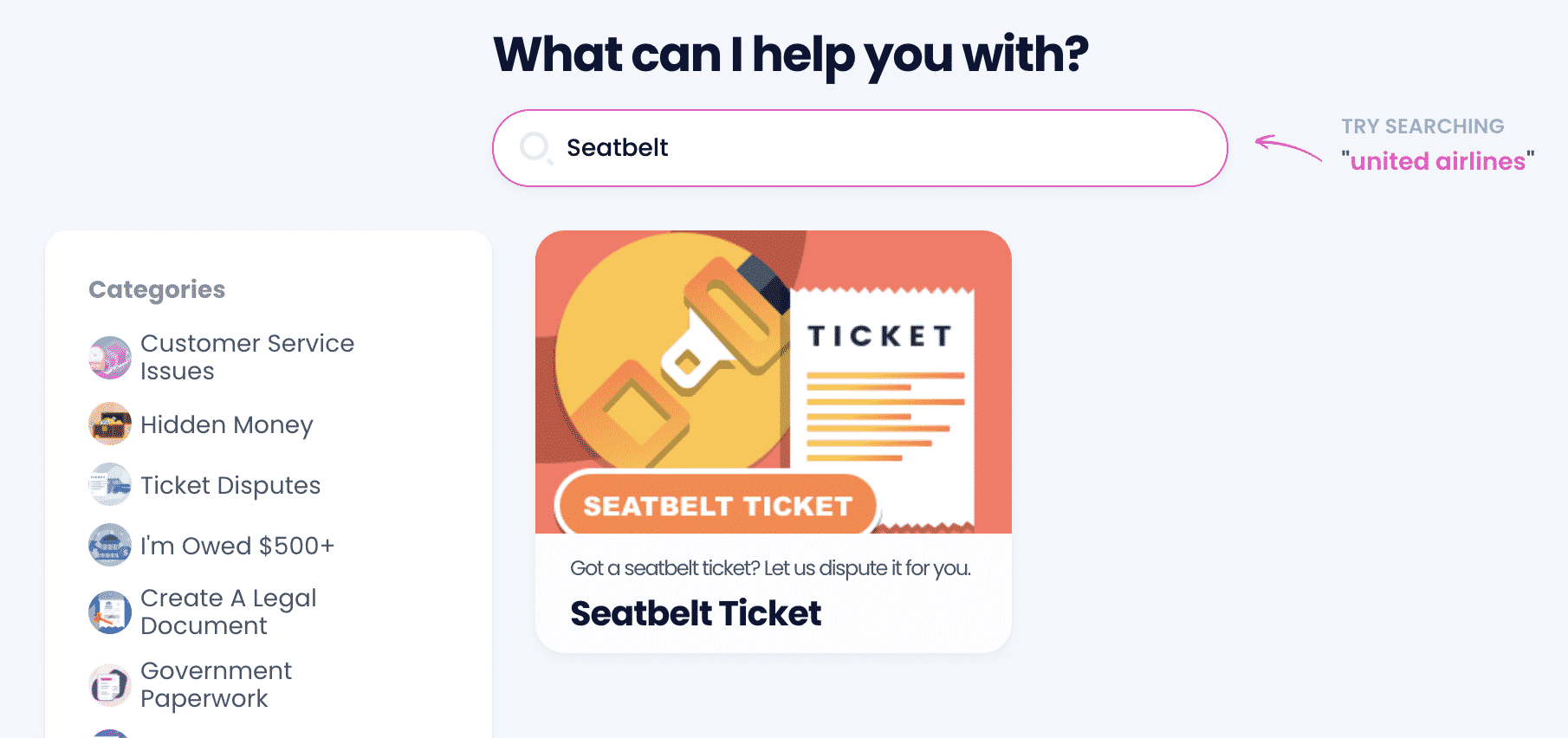 Did You Get a Seatbelt Ticket? Dismiss It in a Jiffy With DoNotPay
DoNotPay can be your get-out-of-a-ticket card. , and you'll get a nifty tool for drafting a personalized ticket appeal in a few clicks.
You only need to spare a couple of minutes to:
Access DoNotPay
Click on Seatbelt Ticket
Attach a photo of your ticket
Provide information about the citation—such as:

Who got it
When it was issued
What your argument is
What additional evidence you have—if there is any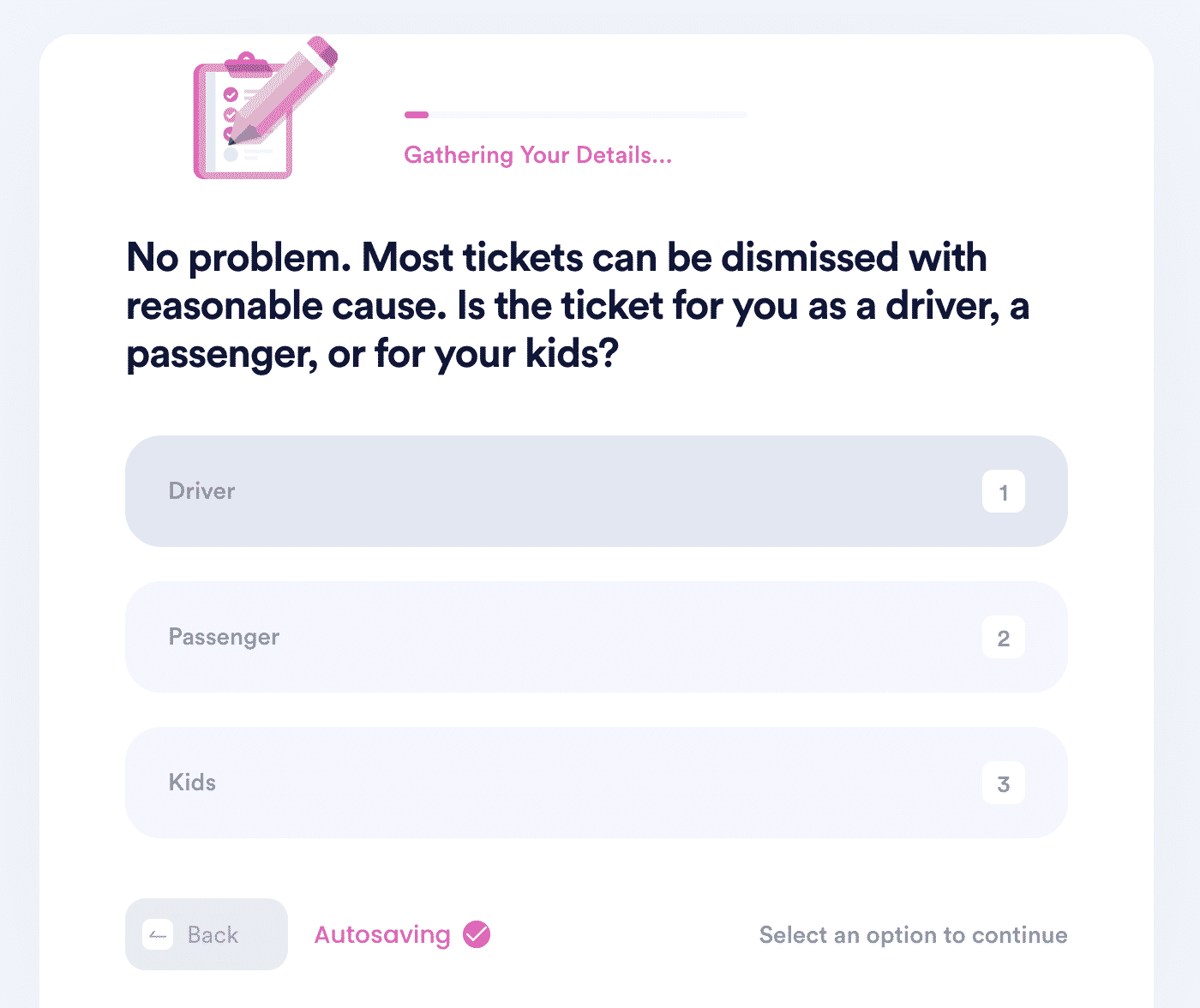 DoNotPay's Assistance at Your Fingertips
DoNotPay is all about easy solutions. Turn to our app when you need to get rid of unwanted services, block spam emails and text spam, and overturn unpaid parking tickets. We can also assist you in registering on platforms without disclosing your number and signing up for free trials using our virtual credit card.
With our app, you'll forget about old-fashioned ways of completing certain tasks. Let us help you send faxes online, mail letters, reach customer service, and get in touch with an incarcerated loved one.
DoNotPay Has More To Offer
Our app boasts a wide range of products—from filing a warranty claim, requesting a refund, and booking a DMV appointment to getting a document notarized, filing financial aid appeal letters, and fighting discrimination at work.
For DoNotPay users, no problem is too difficult to solve. Here are only some of the tasks our app can help you complete: