Why Is It Important To Wear a Seatbelt? DoNotPay Answers!
In America, 49 out of 50 have seatbelt laws—with New Hampshire being the only state without seatbelt regulations for adults—and for good reason. Why is it important to wear a seatbelt, though? DoNotPay explains the importance of wearing a seatbelt as well as some additional benefits of buckling up!
Do you get demerit points for not wearing a seatbelt? How can you get a seatbelt ticket dismissed? In this article, we answer these questions as well!
Why Wear a Seatbelt?
The main reason to wear a seatbelt is that it's a safety precaution that prevents you from:
Projecting out of your vehicle in a crash
Tumbling with your vehicle in case it flips over and starts rolling
Hitting the dashboard with your head during an accident
Getting killed by the force of the airbag opening
Additional reasons why you should wear your seatbelt include:
Keeping you in a position where the airbag is effective but not dangerous
Distributing impact force across the strongest points of your body
Matching the speed your body moves with the velocity of your vehicle in case of collision
Additional Reasons To Wear a Seatbelt
Besides keeping you safe, buckled seatbelts can:
Keep your child from performing acrobatics in the car until you reach your destination—Kids can be a little impatient while traveling, and seatbelts keep them in one place
Help you and your passengers avoid getting a seatbelt ticket for not wearing one—No need to pay fines or face worse penalties when you can just wear your seatbelt
Reduce your car insurance rates—You reduce the chances of getting injured severely by wearing a seatbelt, which automatically reduces your potential medical bills after an accident
Prevent you from losing the right to your insurance coverage in case of an accident—Insurance companies have the right to decline or offer you less compensation if you didn't wear a seatbelt when the accident occurred
What Penalties Can You Face for Not Wearing a Seatbelt?
If an officer pulls you over because you're not wearing a seatbelt, you can face the following penalties:
Seatbelt ticket
Demerit points added on your license
Increase in your insurance rate
Seatbelt Ticket
Whether you will get a seatbelt ticket depends on whether your state considers not wearing one a:
Primary violation—An officer can pull you over and issue a ticket because you're not wearing a seatbelt
Secondary violation—An officer can pull you over but cannot issue a seatbelt ticket unless you committed other traffic violations
The cost of a seatbelt ticket is directly proportional to the number of accidents and traffic violations in a particular state. For example, Texas imposes a $200 fine for not wearing a seatbelt because it has the highest number of fatal car crashes in America.
Trial
You will have to face trial if you don't pay the ticket before the scheduled court date. In some states, you can choose whether you want to:
Defend yourself in person
Face trial by written declaration
Demerit Points Added on Your License
Whether you'll get points on your license depends on whether the state where the ticket was issued considers not wearing a seatbelt a moving violation.
In some states, you might not get points on your license if an officer sees you without a seatbelt, but the situation changes when children are involved. For example, in New York State, if you have a child under the age of 16 in your vehicle and they're not wearing a seatbelt, you will get three demerit points on your driving record.
Increase in Your Insurance Rate
Insurance companies have the right to increase your rate if they deem you a high-risk driver. One of the reasons for being in the high-risk category is piling up seatbelt tickets and committing other traffic violations.
What Can You Do if You Get a Seatbelt Citation?
Check the table below to learn about your options if you receive a seatbelt ticket:
| Action | Description |
| --- | --- |
| Ignore the ticket | While it's not recommended to avoid paying the fine, sometimes officers misspell names or other details, making the ticket invalid |
| Defend yourself in court | You can show up to defend yourself and even bring a witness |
| Defend yourself with a written statement | The states that allow trial by written declaration include: |
If you need help building your case and your state allows trial by written declaration, DoNotPay can help you draft the perfect seatbelt ticket appeal letter! All you need to do is and fill out a short questionnaire!
Appeal Your Seatbelt Ticket With DoNotPay!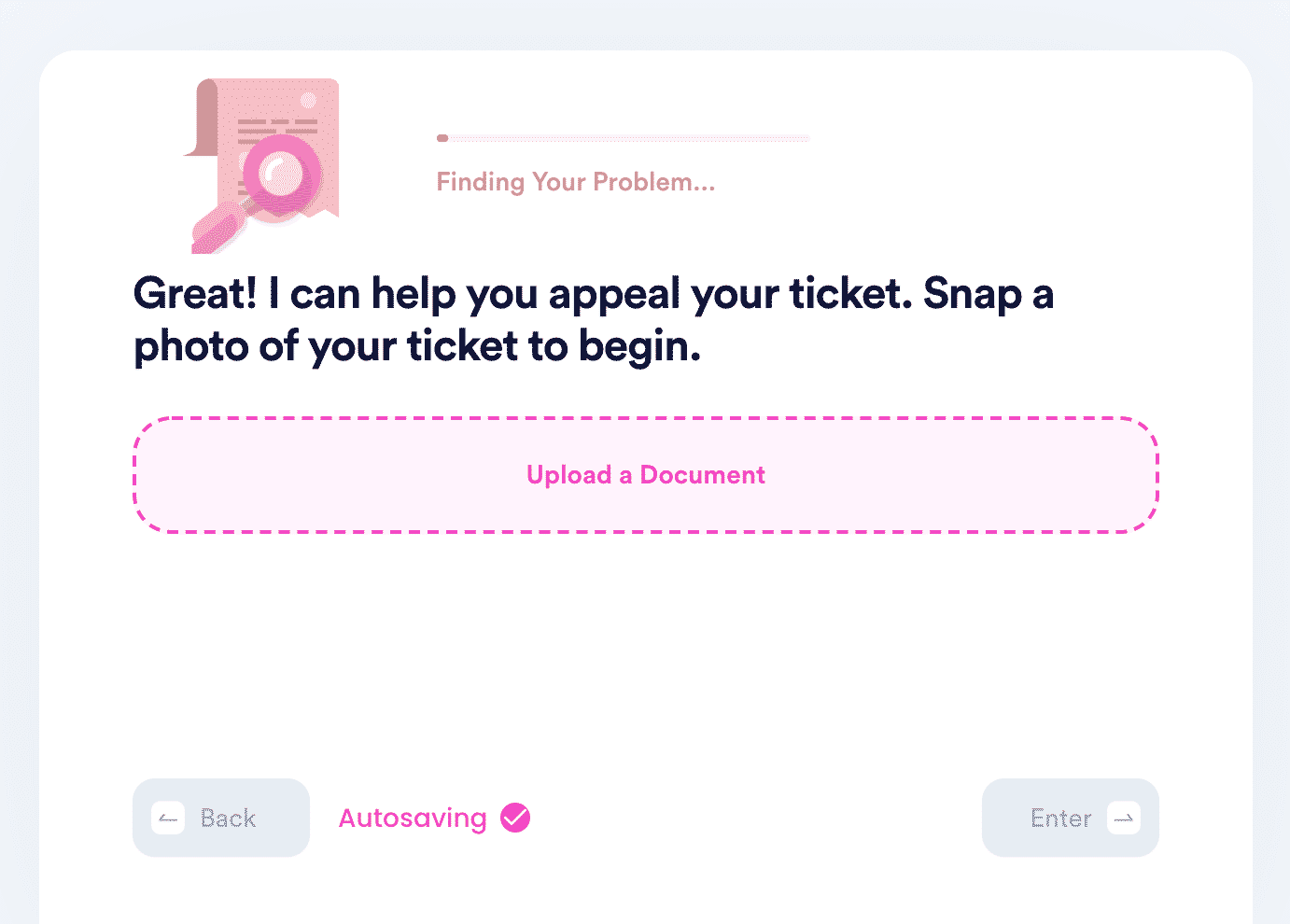 In some states—such as Arizona, Idaho, Missouri, and Pennsylvania—a seatbelt ticket costs $10, so the easiest way to handle it is to pay it. Unfortunately, when your ticket costs $162—like in California—it can cause financial difficulties.
If you want to get your seatbelt ticket dismissed but don't know how—don't fret! Our app can generate an appeal letter for you based on the details you provide.
To get started:
Open the Seatbelt Ticket product
Answer a few questions, such as:

Who got the ticket?
What argument do you want to use to defend yourself?

Provide a photo of your ticket
Once you complete all steps, we will generate your appeal letter and mail it to the authorities on your behalf.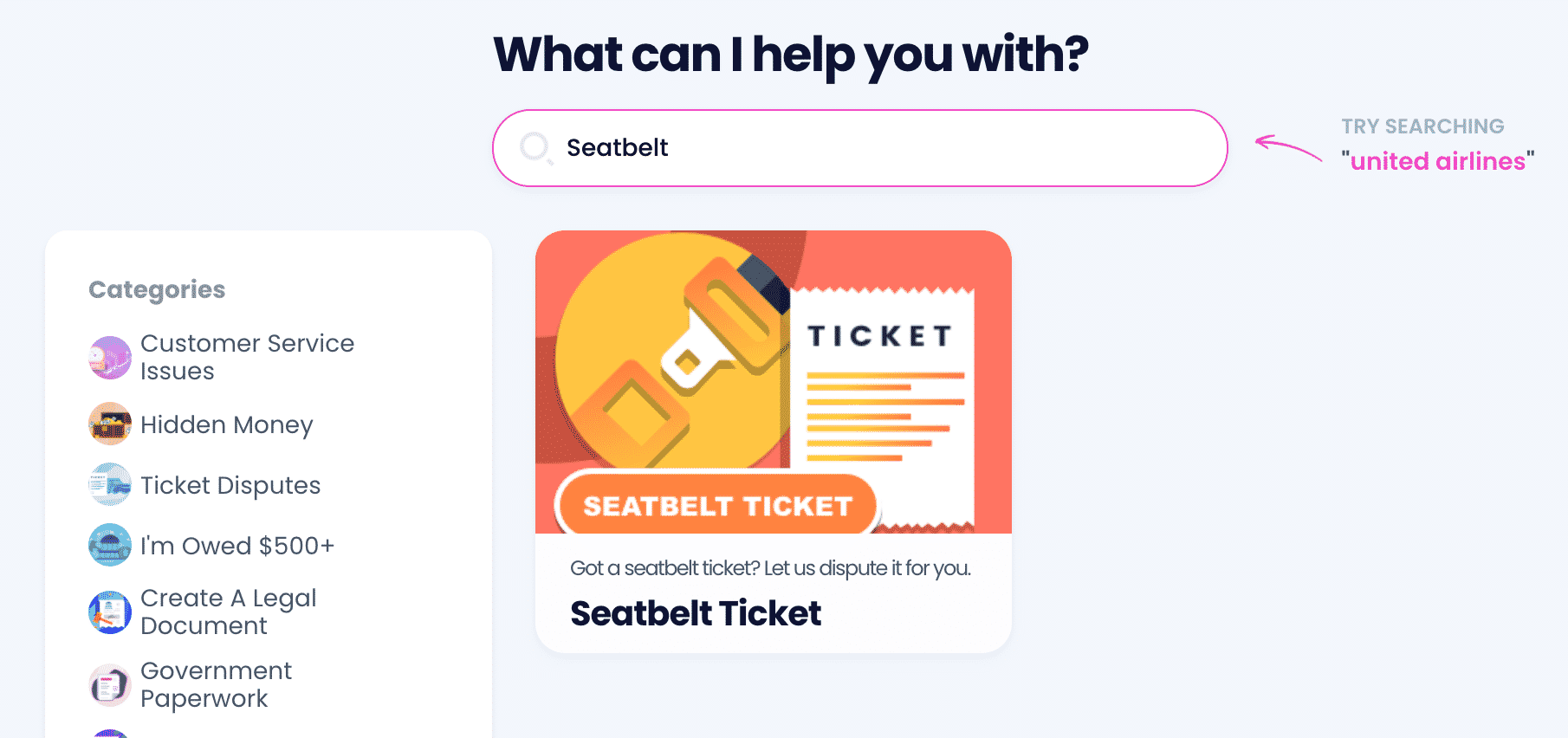 What's Next?
Once you complete the task at hand, you don't have to stop there—we offer a myriad of products that can relieve you of the stress that comes with dealing with admin and legal hurdles.
DoNotPay can assist you in drawing up a divorce settlement agreement, child travel consent form, power of attorney, and other legal documents, contacting government representatives, getting tourist visas, fighting workplace discrimination, getting a burner number, appealing banned accounts, getting access to public records, scheduling a DMV appointment, and much more.
Tackle Any Energy-Draining Task With DoNotPay
With DoNotPay by your side, you don't have to worry about how you'll cover your utility bills at the end of the month—we'll provide swift assistance as soon as you sign up!
Wondering what else our app is capable of? Check out how we can: