Should Not Wearing a Seatbelt Be Illegal?
The national seatbelt usage in 2020 was 90.3%. Still, the remaining 9.7% pose a risk to themselves and other vehicle occupants since they can be thrown around by crash forces and injure others. This raises the question—should not wearing a seatbelt be illegal?
In all states except New Hampshire, it is illegal not to buckle up. Each state dictates who must wear a seatbelt and what the non-compliance consequences are—fines and demerit points, for instance.
This guide will help you understand the importance of wearing seatbelts and show you how to contest a seatbelt ticket.
Why Is Wearing a Seatbelt a Law?
Seatbelts save lives, but many people still don't wear them. That is why governments create and enforce seatbelt laws. The first seatbelt law was passed by the federal government in 1968. It required all vehicles except buses to have seatbelts in all seating positions.
New York was the first state to create and start enforcing a seatbelt law in 1984, and others followed. Most states have mandatory children seatbelt laws and adult seatbelt laws. Currently, New Hampshire is the only one without adult seatbelt laws.
Types of Seatbelt Law Enforcement
States can either have primary or secondary seatbelt laws. Here is the difference:
Primary seatbelt laws—Allow law enforcement officers to stop and ticket drivers or their passengers solely for not wearing seatbelts. 34 states use this type of enforcement
Secondary seatbelt laws—Allow officers to issue citations for seatbelt violations only if the driver has been stopped for another traffic offense
Both primary and secondary laws are effective in saving lives, but primary laws result in higher seatbelt usage.
Is Wearing a Seatbelt Incorrectly Illegal?
Yes, you can be cited for not wearing a seatbelt properly. That is because seatbelts can only be effective if used correctly. Here is how to wear your seatbelt correctly:
Wear a shoulder harness across the shoulder and chest
Adjust the lap belt to lie low across your hips
Remain seated upright with your back against the seat
Reasons Why Not Wearing a Seatbelt Should Be Illegal
Many people believe that the person who doesn't wear a seatbelt endangers themselves only, but this is not entirely true. Consider these facts:
Unbuckled passengers behind the driver increase the risk to the driver by 137% when they are thrown forward
Family members have to take care of an injured person and pay hospital bills
A buckled-up driver has higher chances of remaining conscious and in control
Reasons People Give for Not Wearing Seatbelts
Here are some of the reasons why people don't wear safety belts and explanations why those reasons are not sound:
Having a good driving record—Even if you are responsible on the road, a distracted driver can still hit you, and you can sustain serious injuries if you are not wearing a seatbelt
Being trapped in the car—It's safer to remain inside the car during a crash. Being ejected out of the vehicle is usually fatal
Having an airbag in the vehicle—Airbags and seatbelts work together. When an airbag deploys, the seatbelt prevents you from being ejected from the vehicle by the force
Feeling uncomfortable—If your seatbelt feels uncomfortable, you should check if you are wearing it correctly
What Happens if You Are Issued a Seatbelt Ticket?
In addition to paying the fines, you can be required to appear in court or take a driving course. In some states, you will also get demerit points that can tarnish your driving record and result in an insurance surcharge. Getting a certain number of points—determined by the state—can also lead to license suspension.
Here are your options if you get cited:
Pay the fine—This means that you plead guilty and accept the consequences
Ignore the ticket—You don't pay the fine or fail to appear in court, which will result in additional penalties or even license suspension
Contest the ticket—Most states allow you to dispute the ticket by presenting a reasonable argument. If the ticket is dismissed, you walk away with a clean driving record
How To Contest a Seatbelt Ticket
You can contest a ticket in a traffic court in two ways:
Reasonable doubt—With this approach, you can argue that you had a seatbelt on. You must provide convincing reasons why the officer thought you weren't buckled up. Use this method if the officer did not pull you over to confirm
Due diligence defense—You plead guilty, but you provide legally acceptable reasons for unbuckling, for example:

Having an emergency
Driving in reverse
Not sure where to start? DoNotPay can help you .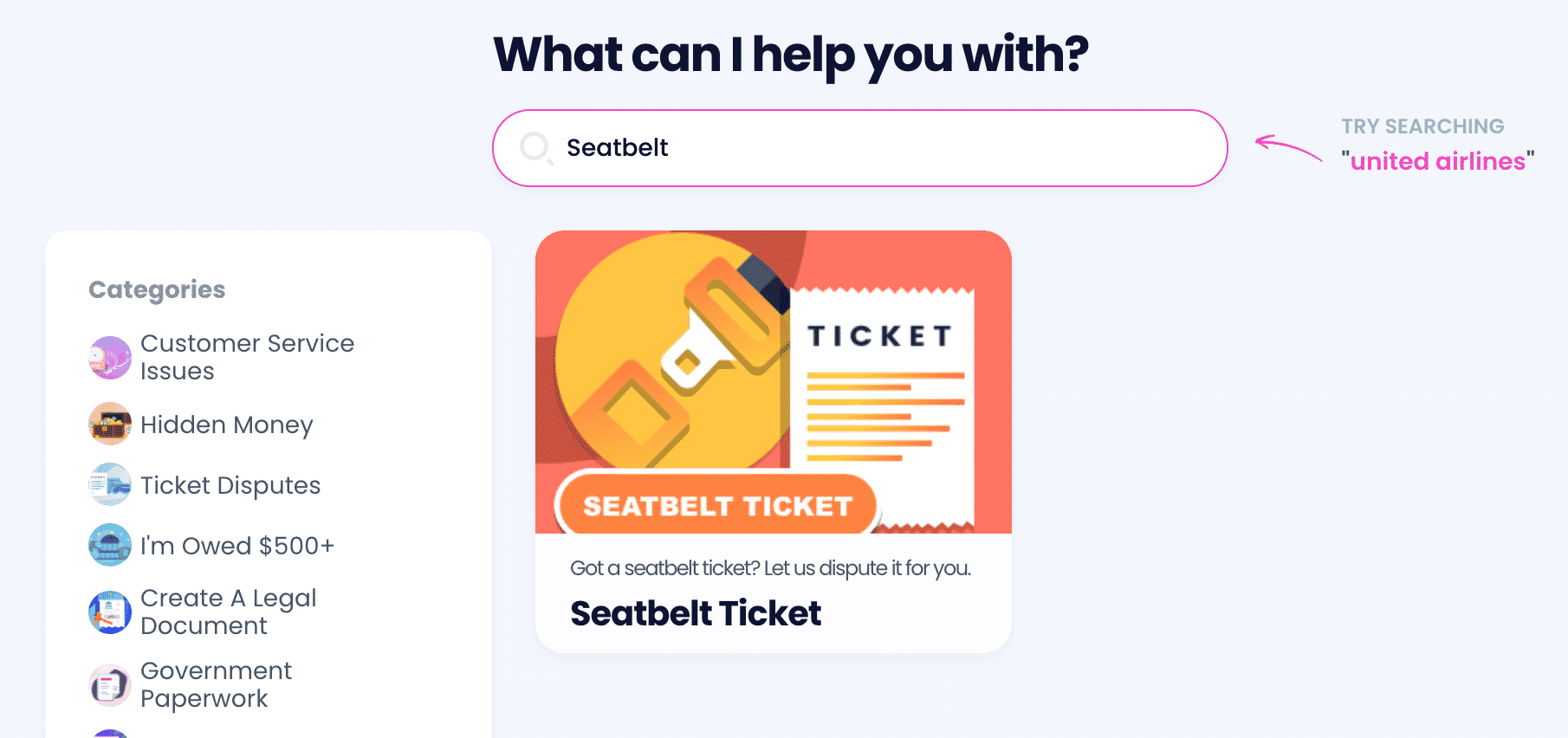 Appeal a Seatbelt Ticket Using DoNotPay
Disputing a seatbelt ticket is easy with DoNotPay. You just need to let us know what happened by answering a few questions. Our system will use the information you provide to generate a personalized and convincing appeal letter quickly.
Let us help you keep your driving record intact in four steps—you need to:
Click on the Seatbelt Ticket tool
Snap a photo of your ticket
Answer a few questions
The appeal letter will be sent to the authorities quickly, and you just have to wait for the outcome.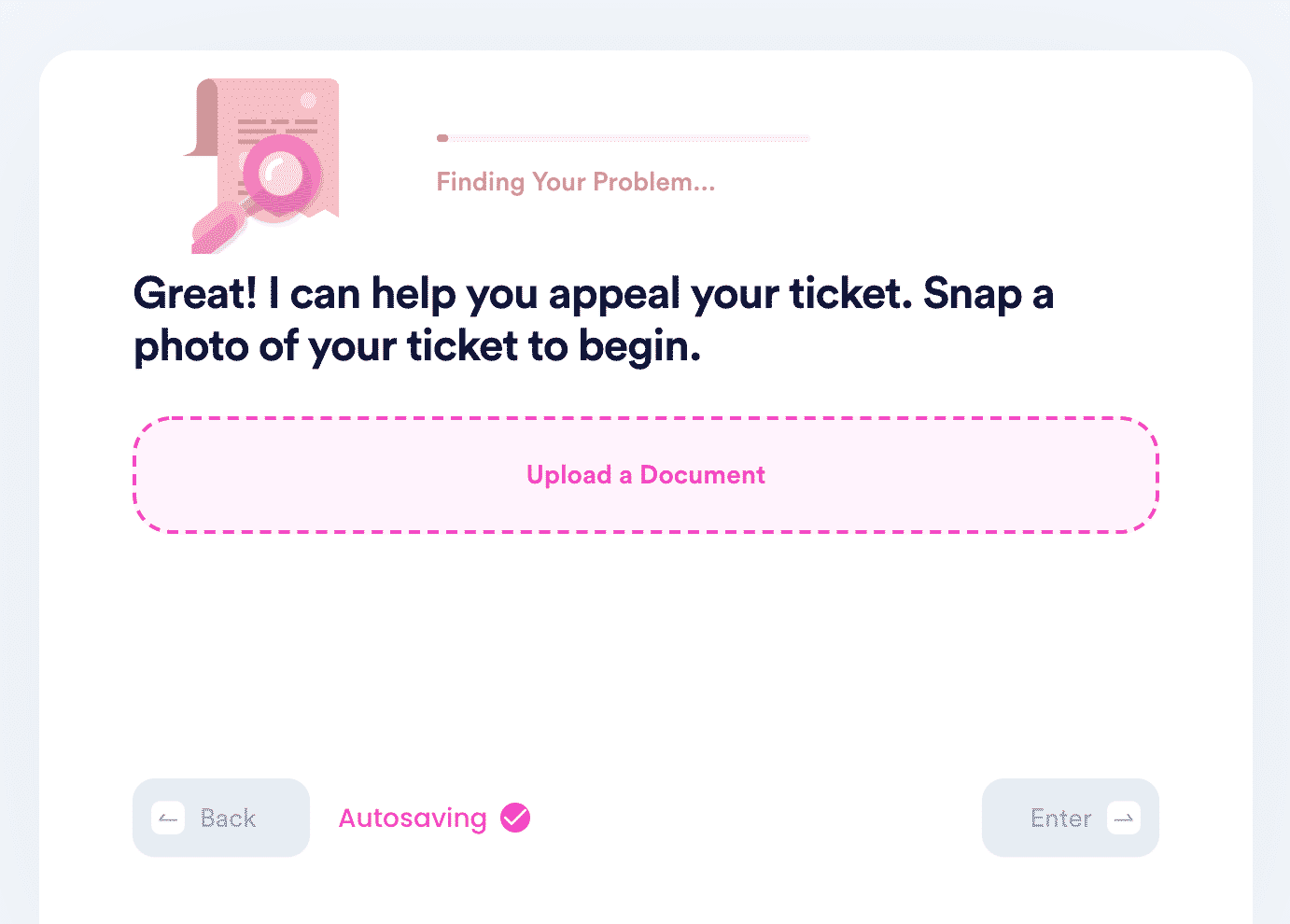 Do you know that, in some states, a seatbelt offense is a moving violation? Learn about seatbelt laws in different states with the help of our guides:
Make Your Money Troubles Go Away
If you want to join free trials and not worry about automatic renewals, our app is what you need. With DoNotPay's virtual credit card, you'll be able to avoid charges and keep your personal details to yourself.
We can also help you get a refund or request a cancellation.
Getting your money back is our field of expertise—Use DoNotPay to:
No Task Is Too Difficult for DoNotPay
Signing up for our app brings you an AI-powered assistant. Check out the benefits of having a DoNotPay account in the table below: