DoNotPay Explains the Pros and Cons of Wearing a Seatbelt
Uncomfy for some, but a lifesaver for many—a seatbelt is a safety essential and a requirement in most states. Unfortunately, many drivers and passengers choose not to wear a seatbelt despite being required by law, so they face legal consequences, such as fines and demerit points on their driving records.
Are you struggling to decide whether not wearing a seatbelt is worth the trouble? This guide will walk you through the pros and cons of wearing a seatbelt so you can better understand the importance of doing so.
Should Not Wearing a Seatbelt Be Illegal? Pros and Cons Explained
Your opinion on whether not wearing a seatbelt should be illegal depends on your perspective on the situation. The law's opinion is that not wearing a seatbelt is not a moving violation in most states. Most drivers who don't wear a seatbelt think they're choosing to endanger themselves and not others. The truth is, if you don't wear a seatbelt and get involved in a high-speed collision, you can get projected out of the vehicle—possibly through the windshield—and endanger other people and children in the vehicle you collided with.
The goal of seatbelt laws isn't to put you through the discomfort of wearing a seatbelt but to make traffic safer for all participants. Did you know that the costs of seatbelt tickets in particular states depend on the annual number of fatal car crashes in that state? For example, a seatbelt ticket in Texas—counting over 3,000 fatal traffic accidents every year—can cost you $200.
Pros and Cons of Wearing a Seatbelt
Check the table below to learn about the pros and cons of wearing a seatbelt:
Pros
Cons

Works well with the airbag to keep you safe in case of an accident
Prevents you from getting a ticket or demerit points on your record
Is easy to put on
Lowers your insurance rate because wearing your seatbelt puts you in the safe driver category
Turns off the annoying beeping sound modern cars make when your seatbelt is off

Can be uncomfortable
Makes it hard to reach for items you might have left in the back seat
Can be too much work to put on if you're going on a short drive
What Happens if You Fail To Buckle Your Seatbelt?
Do the pros outweigh the cons? There are far more pros to wearing a seatbelt than cons. Unfortunately, despite the obvious effectiveness of seatbelts, many Americans still choose not to buckle theirs. Of all fatal crashes that occur in one year, the driver isn't wearing a seatbelt in almost 50% of cases. Besides putting you in direct danger, not wearing a seatbelt has other consequences such as:
Being deemed as a high-risk driver and having higher insurance rates
Getting a seatbelt ticket which can then lead to:

Getting demerit points on your record
Losing your license if you have an extensive traffic violation record
Can You Appeal a Seatbelt Ticket?
You can try to get your seatbelt ticket dismissed by doing one of the following:
Creating reasonable doubt—You can get rid of a seatbelt ticket if you can create a reasonable doubt about the officer not seeing your seatbelt
Proving that you performed due diligence—Due diligence is hard to prove, but if you can successfully convince the court that you did all that was in your power to fasten your seatbelt, you can get your ticket dismissed
Proving that your seatbelt is broken—The law allows you to repair the seatbelt and provide proof of repairs to get your ticket dismissed
Did you get a seatbelt ticket, failed to pay it before the deadline, and now you have to go to court? Building your defense from scratch can be tricky, but DoNotPay can help! to send a seatbelt ticket appeal letter in a matter of moments!
Appeal Your Pesky Seatbelt Ticket With DoNotPay!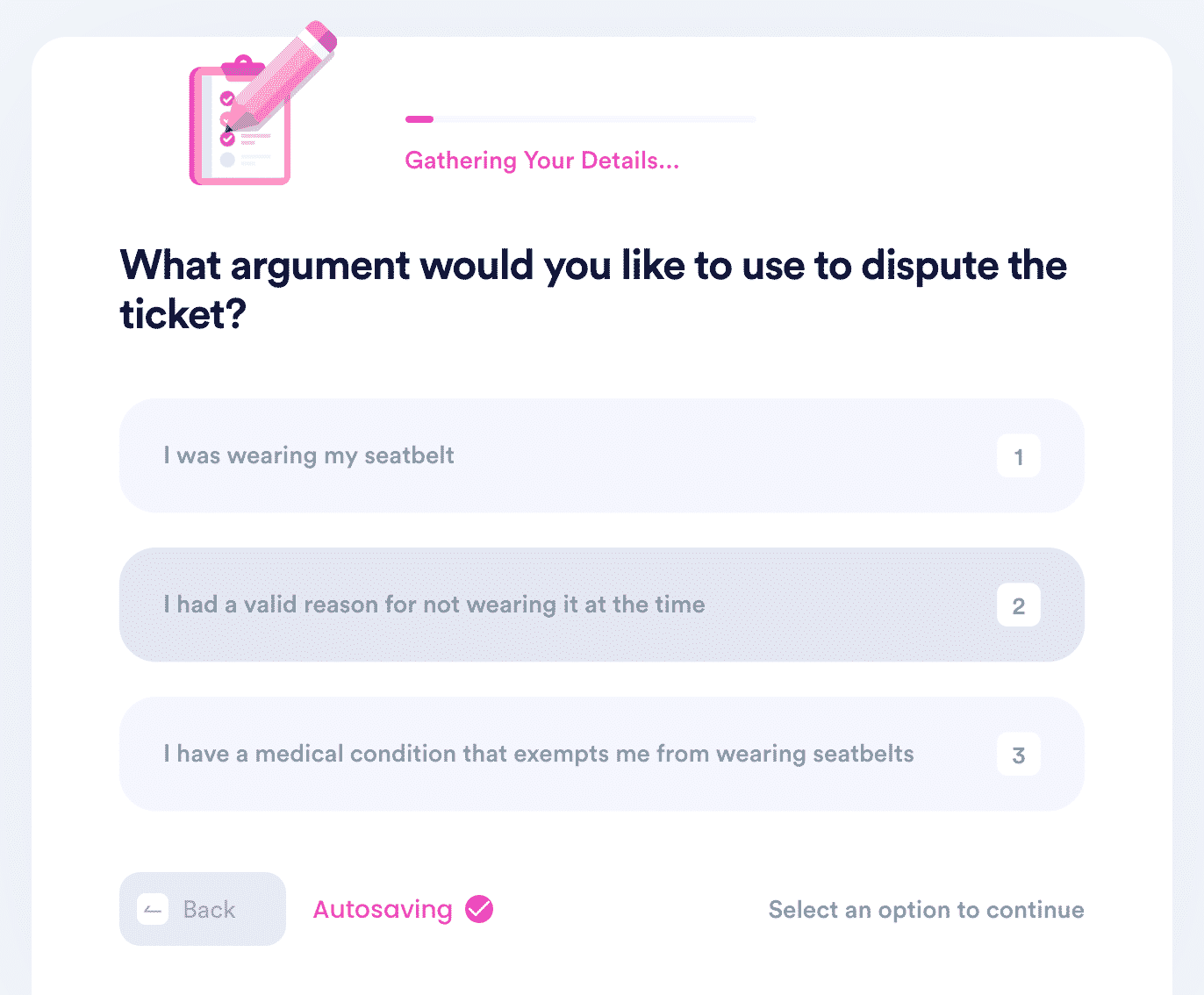 Getting your seatbelt ticket dismissed is often more complicated than it should be, but DoNotPay makes the process more straightforward. Our app generates a personalized seatbelt ticket appeal letter based on the information you provide. The best part of the process is that you don't have to:
Leave your home
Hire a lawyer
Ask witnesses to testify
Build your defense all by yourself
Spend substantial amounts of money on court fees and other costs
To get your appeal letter on its way to the authorities:
Search for Seatbelt Ticket
Tell us who got the ticket and what your argument for your case is—for example, whether you want to convince the authorities you had your seatbelt on or a valid reason to take it off
Provide a photo of your seatbelt ticket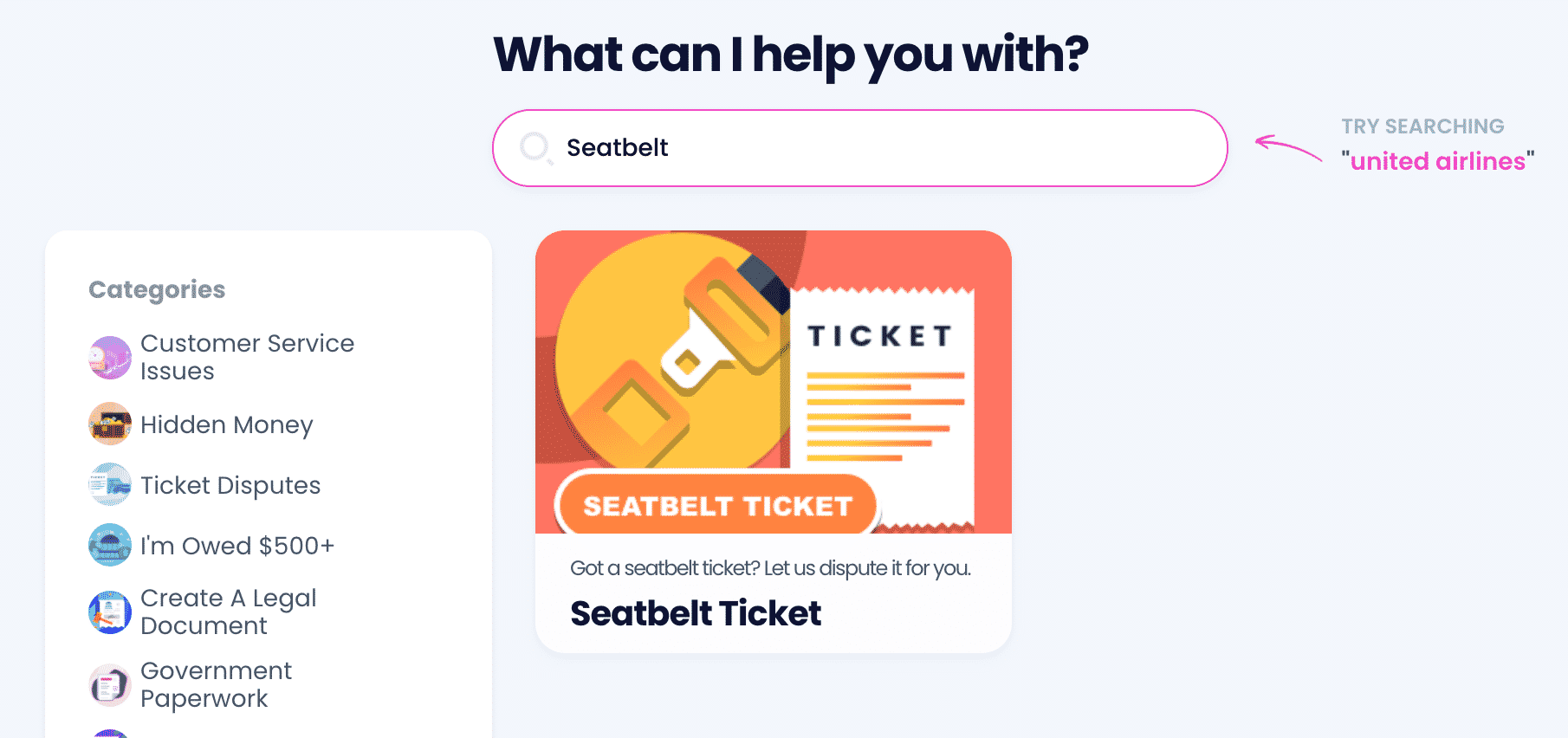 Do You Want To Check on Local Seatbelt Laws? DoNotPay Can Help!
Regardless of where you're from, our knowledge base provides details about seatbelt laws for adults and children in all states, including seatbelt ticket costs. Find your state in the table below:
What's Next?
Once you complete the task at hand, you don't have to stop there—we offer a myriad of products that can relieve you of the stress that comes with dealing with admin and legal hurdles.
DoNotPay can assist you in drawing up a divorce settlement agreement, child travel consent form, power of attorney, and other legal documents, contacting government representatives, getting tourist visas, fighting workplace discrimination, getting a burner number, appealing banned accounts, getting access to public records, scheduling a DMV appointment, and much more.
Tackle Any Energy-Draining Task With DoNotPay
With DoNotPay by your side, you don't have to worry about how you'll cover your utility bills at the end of the month—we'll provide swift assistance as soon as you sign up!
Wondering what else our app is capable of? Check out how we can: