Does the Driver Get a Ticket for a Passenger Not Wearing a Seatbelt?
Have you ever worried about getting a seatbelt ticket because your friend or family member refused to buckle up? In some states, sitting in the front seats without a seatbelt is a moving violation, but who faces penalties—such as hefty seatbelt ticket costs—if an officer pulls you over? Does the driver get a ticket for a passenger not wearing a seatbelt? DoNotPay answers this and many more questions!
Who Faces Penalties When a Passenger Isn't Wearing a Seatbelt?
In most states, the driver is considered responsible for ensuring everyone who has to—according to local laws—is wearing a seatbelt. That means that not only will the passenger get a ticket for not wearing a seatbelt, but the driver might get one too. For example, drivers in the following states are responsible and will receive a citation for all passengers without a seatbelt, regardless of age:
In Alabama, a driver can get a ticket for all passengers not wearing seatbelts except for adults who possess their own driver's licenses. Laws in other states mandate that vehicle operators are responsible for minors and children.
Who May Be Given a Citation for a Passenger Over the Age of 16 Who Is Not Wearing a Seat Belt?
The law in most states considers youth over 16 years of age capable of making their own decisions—including whether they want to wear a seatbelt or not. If the vehicle is pulled over with a minor not wearing a seatbelt, both the minor and the vehicle operator receive a citation—but this is not the case in all states.
Drivers are considered responsible for all passengers up to 18 years of age in the following states:
There are some exceptions, though. For example, when a minor violates seatbelt laws in Colorado, their parents or guardians receive the citation. In Michigan, drivers can get cited for front-seat passengers without a seatbelt and unbuckled children between eight and 15 years old in the back seat.
According to New Hampshire laws—which don't impose seatbelt restrictions on adult drivers and passengers—adult vehicle operators are responsible for all occupants who are less than 18 years old.
If a Passenger Under 16 Years of Age Is Not Wearing Their Seatbelt, Who May Be Cited?
The driver is responsible and always cited for a child without a seatbelt or proper restraint in the following states:
States With Special Laws Regarding the Driver's Responsibility for Minors
Some of the states that don't fit into any of the age limits that are mentioned above are:
What Happens When a Driver Gets Pulled Over for a Passenger Without a Seatbelt?
When a police officer pulls over a vehicle with an unbuckled passenger, the driver of that vehicle will most likely:
Get a seatbelt ticket—one or for each unbuckled passenger, depending on local laws
Get one or more demerit points, depending on:

The state the violation occurred in
The age of the passenger without the seatbelt

Face higher insurance rates if the driver has an extensive violation record and is deemed a high-risk driver
Can a Driver in That Situation Get the Seatbelt Ticket Dismissed and How?
If you get a ticket for a passenger without a seatbelt, you can defend yourself and potentially get it dismissed by:
Creating reasonable doubt—convincing the judge that the officer didn't see the seatbelt that was in place
Showing due diligence—proving that the passenger:

Had a valid reason to take off the seatbelt
Unbuckled their seatbelt without you noticing
Have a medical condition that exempts them from being restrained in a vehicle
Building your defense can be stressful and overwhelming, especially if you've never done it before. Sign up to get a seatbelt ticket appeal letter in minutes with DoNotPay!
Fight Your Ticket With DoNotPay!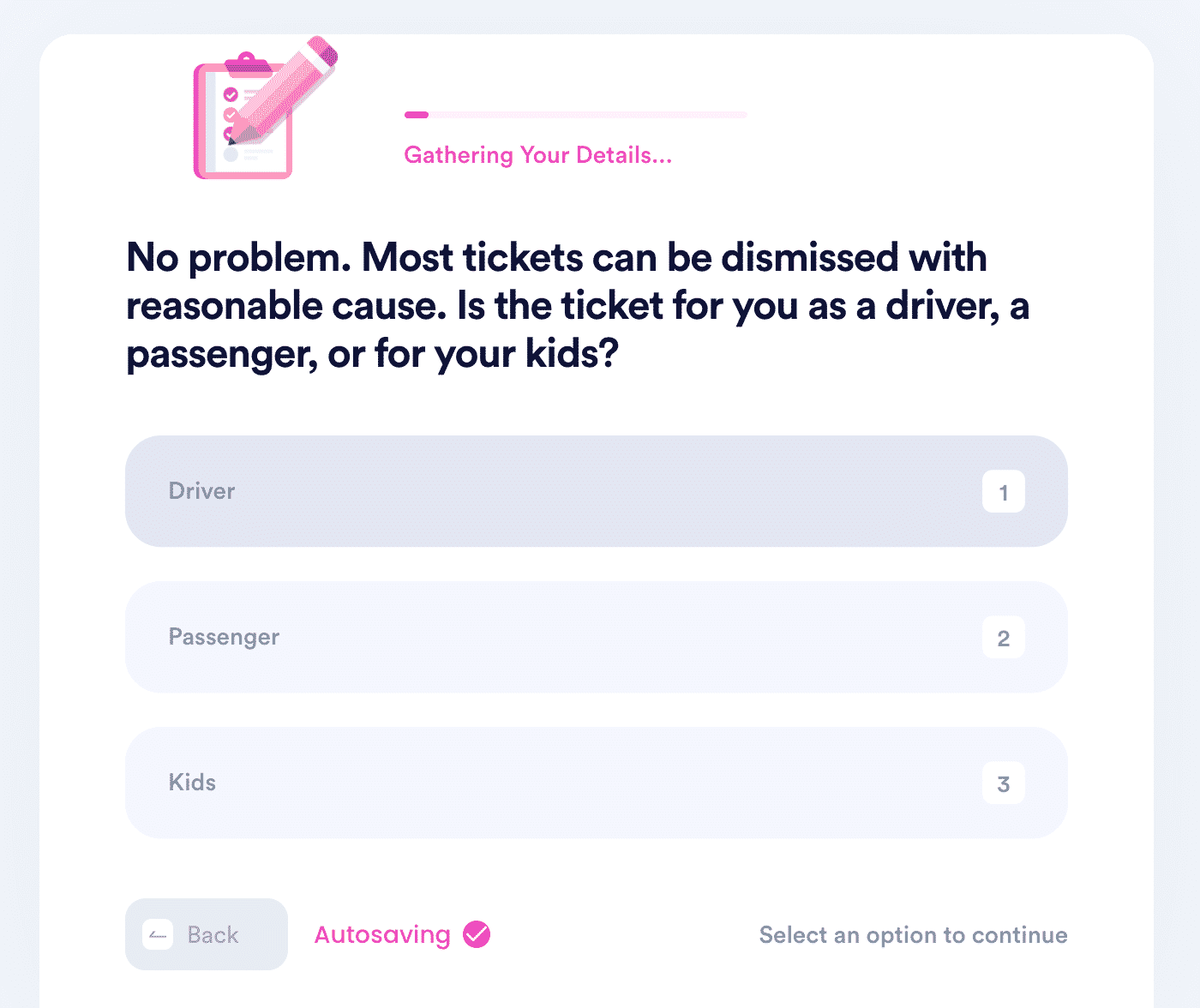 Do you need to get a seatbelt ticket dismissed? The odds may be in your favor with a persuasive appeal letter, and our app can generate one in a matter of moments!
All you need to do is:
Search for the Seatbelt Ticket feature
Tell us who got the ticket and the argument you want to use in your defense
Upload a photo of your seatbelt ticket
After you complete all steps, your appeal letter will be ready and on its way to the authorities.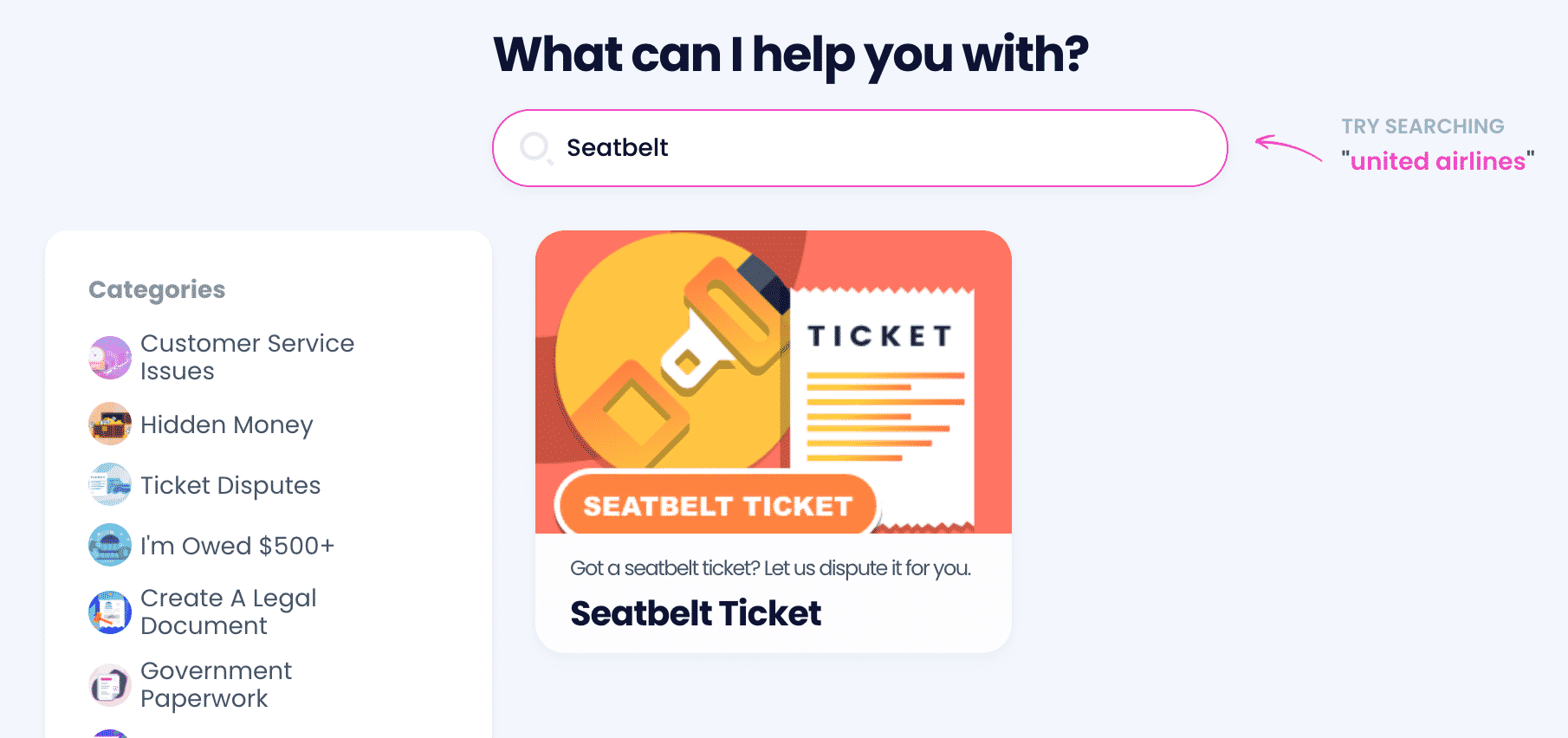 What's Next?
Once you complete the task at hand, you don't have to stop there—we offer a myriad of products that can relieve you of the stress that comes with dealing with admin and legal hurdles.
DoNotPay can assist you in drawing up a divorce settlement agreement, child travel consent form, power of attorney, and other legal documents, contacting government representatives, getting tourist visas, fighting workplace discrimination, getting a burner number, appealing banned accounts, getting access to public records, scheduling a DMV appointment, and much more.
Tackle Any Energy-Draining Task With DoNotPay
With DoNotPay by your side, you don't have to worry about how you'll cover your utility bills at the end of the month—we'll provide swift assistance as soon as you sign up!
Wondering what else our app is capable of? Check out how we can: