Does a Seatbelt Ticket Count as a Point? DoNotPay Will Help You Find Out
You probably already know that a ticket comes with a fine and potential insurance rate increase, but what about demerit points? The Department of Motor Vehicles (DMV) keeps track of points awarded to drivers for their traffic offenses. When you reach the limit, your driver's license can be suspended or even revoked.
Does a seatbelt ticket count as a point? That's what we'll help you discover. DoNotPay will unravel the following:
Can you get a violation point?
What affects the number of points?
How can you dismiss a ticket and avoid getting demerit points?
Do Seatbelt Tickets Count as Points?
Whether you'll get points for not wearing a seatbelt and how many depends on:
The state
Type of seatbelt offense
Seatbelt Point System Based on the State
Each state establishes its own rules. Not all seatbelt offenses will result in adding points to your driving record. The majority of them do have a point system that keeps up with the drivers' offenses—except the following ones:
| Washington | Minnesota | Oregon |
| --- | --- | --- |
| Kansas | Louisiana | Wyoming |
| Hawaii | Mississippi | Rhode Island |
What also matters in terms of the state seatbelt laws is whether or not breaking this rule is considered a moving violation. If not wearing a seatbelt isn't a moving violation in the state where you were ticketed, you may not get demerit points. Your driving record will show the offense for up to three years. It can also bump up your insurance rates.
Seatbelt Point System Based on the Type of Offense
Another factor is the type of offense you've made. In North Carolina and New York, if a passenger who is under 16 doesn't wear a seatbelt or a suitable child restraint system, you'll get three points assigned to your driving record. If the offender is the driver or a passenger older than 16, they'll get no demerit points.
Florida also doesn't list points if a driver is cited for a seatbelt violation, but if you break a child seatbelt law, you'll be assigned three points. Not ensuring a child's or minor's safety is more likely to hurt your record.
How Many Violation Points Will You Be Assigned With?
The number of points depends on the previously mentioned criteria—the state where the violation occurred and the type of offense. The general range for a seatbelt ticket is between two and eight points.
There is also another key factor—previous offenses. The first time you get caught without a seatbelt, you might get away with no penalty points. Repeating the mistake can change that, and the number of points can increase.
If you accumulate 18 points within one year, your license can be immediately suspended. The same applies to collecting 24 points in 24 months. Besides not being able to drive for 90 days or so, you can also be required to go to a driver improvement clinic. This goes on top of paying the fine, increased insurance cost, and demerit points.
To learn how many points you can get for violating seatbelt laws in your place of residence, check out our guide on that subject.
We also have detailed guides on seatbelt rules for each state—which you can review in the table below:
What To Do When You Get a Seatbelt Ticket
No one wants penalty points tarnishing their driving record. In some cases, you can end up with a ticket despite your efforts to be a cautious driver. What you can do in such a situation is:
Pay the ticket, get penalty points, and make sure that you don't repeat the mistake
Ignore the ticket and the court date, don't pay the fine, and face the risk of having an arrest warrant issued—along with an extra fee for not showing up in court
Present a reasonable argument, get your seatbelt ticket dismissed, and keep your record intact
In the first case, you must be prepared for the hefty cost of accepting your wrongdoings. Seatbelt violation can cost up to $500 in some states. If you get demerit points as well, you need to be extra careful in the following 12 months.
Drivers who believe that they can present a credible argument on why their ticket should be revoked can go to court and present their defense. You must prove reasonable doubt or show due diligence if you want this tactic to work.
The only path to avoiding the demerit points is to build a strong case. While your first thought may be to hire a lawyer, there is a better and less costly option—using the DoNotPay app.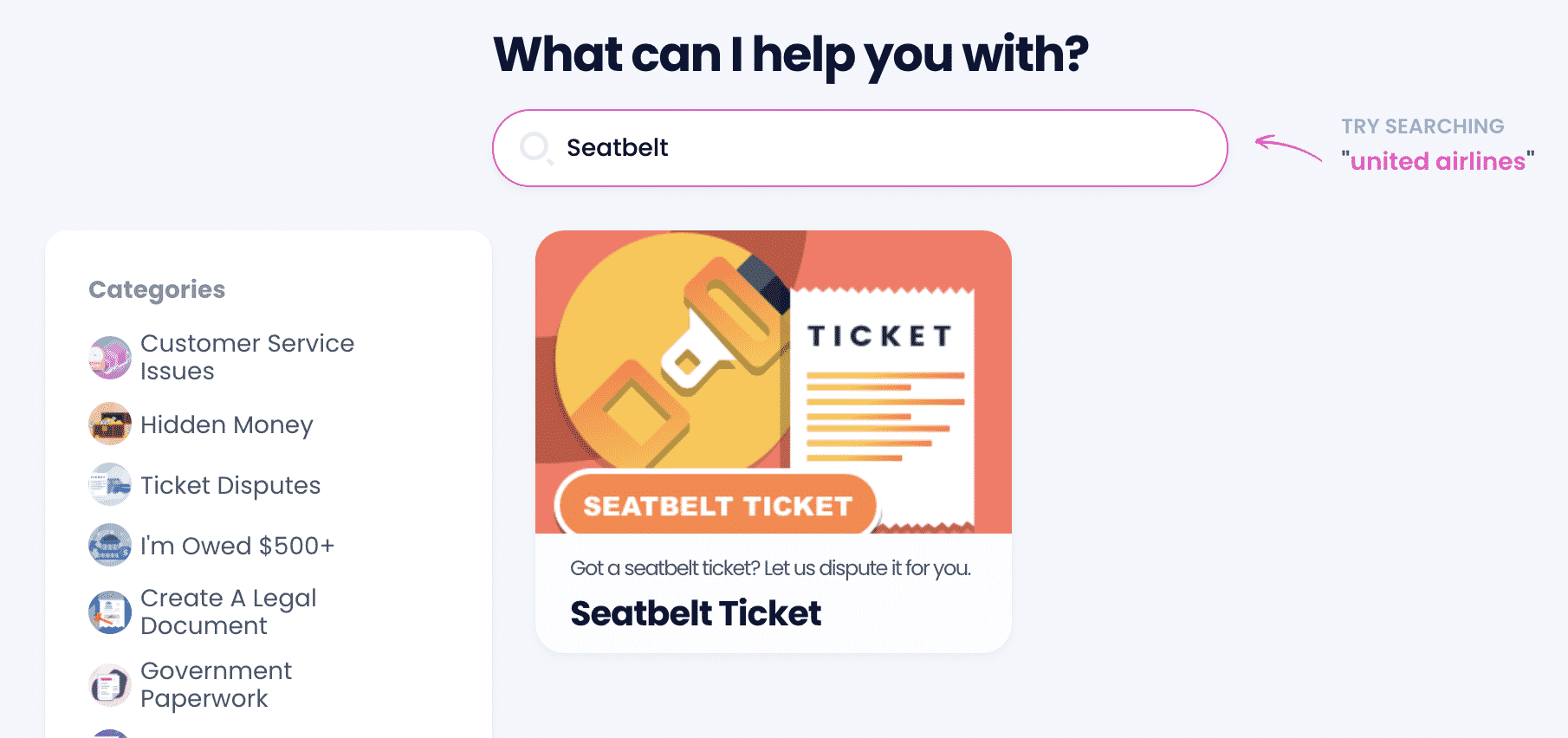 Get a Ticket Out of Your Way With DoNotPay!
DoNotPay can create a strong appeal letter based on your defense argument. We can make sure that your explanation is formal and convincing.
The simplicity of the process is one of the best parts about it—in addition to saving money and time. All DoNotPay asks from you is to log in to your account and:
Find and select the Seatbelt Ticket product
Take a photo of the ticket
Inform us of who got the ticket, when, and how
Give us a valid reason to dispute the ticket—such as having a medical emergency or driving in reverse
In a couple of minutes, your defense will be built, and the letter will be on its way to the authorities.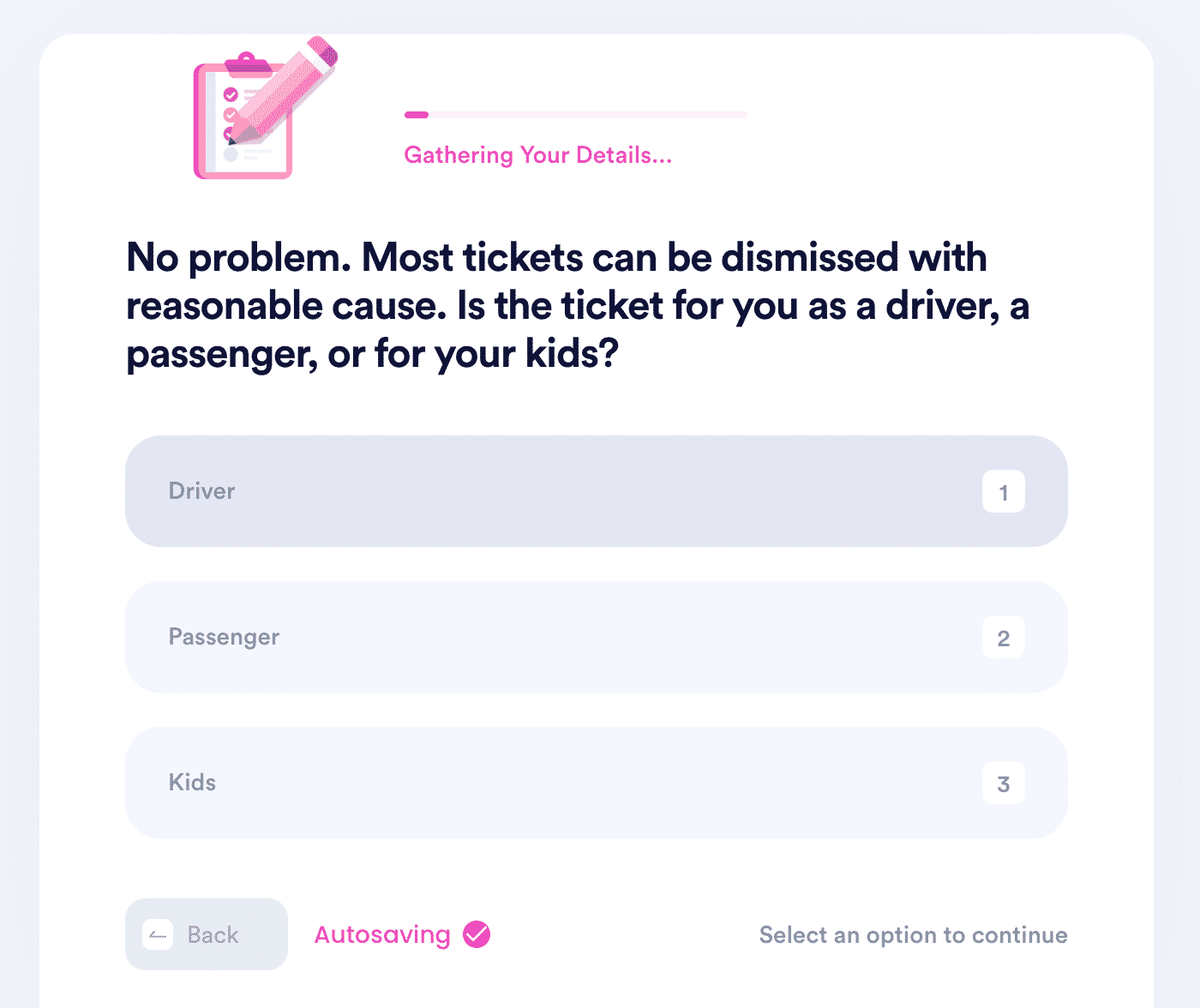 Anything Else You Need?
DoNotPay offers an exhaustive range of products and services for one low monthly fee. You can take full advantage of our offer once you resolve the issue at hand.
Our app can both save you money and help you earn it—sign up to appeal parking tickets, get assistance with utility bills, get compensation from airlines, request a refund, have your college application fees waived, find your missing money, reduce property taxes, enter any sweepstake, or send a financial aid appeal letter to any school.
We can also turn your gift card balance into cash, help you apply for scholarships, and assist you in getting compensation as a victim of crime.
There's Even More to Our Offer
The world's first robot lawyer can turn any nightmarish admin or legal procedure into a piece of cake. Look into our knowledge base to find out how to send a letter of warning to your bad neighbor, submit an anonymous complaint to your HR, fight workplace discrimination, get access to public records, deal with a stalker or harasser, put an end to robocalls, and file a complaint with any company.