Do You Have To Wear a Seatbelt in a Truck in the USA?
Even though truck drivers believe they are protected enough without buckling up, the statistics show the opposite. Many truck operators lost their lives because they failed to wear safety belts on the road, while more than 23,000 drivers suffered non-fatal injuries.
What seatbelt requirements does the USA propose for drivers and passengers? Do you have to wear a seatbelt in a truck, and when can you be exempt from the current rules? What's the best way to get rid of annoying seatbelt tickets, and how can help you do it effortlessly? Wonder no more—all the answers you need are at your fingertips in this detailed article!
U.S. Seatbelt Laws in General
In all U.S. states (except for New Hampshire), wearing a seatbelt isn't a personal choice. Most locations have specific laws that require drivers and passengers to buckle up when riding in or operating a motor vehicle. Each state has a set of regulations determining:
Do You Need To Buckle Up in a Truck?
According to the newest rule established by the Federal Motor Carrier Safety Administration (FMSCSA), all commercial motor vehicle drivers must wear seatbelts. They also must ensure that each passenger in the truck is buckled up according to federal standards. Complying with this law is a must even if your vehicle is equipped with functional airbags as they can't replace safety provided by a regular seatbelt. This law came into effect on August 8, 2016.
Besides federal law, each state has its regulations when it comes to wearing seatbelts in trucks. Not every area in the USA requires drivers to do so. Some states treat trucks as regular motor vehicles, and the law applies to them in all cases. In others, these vehicles are considered exemptions from the state regulations in specific circumstances.
For example, North Carolina allows drivers who operate light trucks made before 1971 not to wear their seatbelts. Illinois and Alabama have the same rule for trucks manufactured before 1965, while Florida exempts drivers operating trucks heavier than 26,000 pounds from using seatbelts.
When Can Truck Drivers Avoid Wearing Seatbelts?
General seatbelt rules for truck drivers have a few exceptions. You don't need to have a safety belt on if:
You are driving a vehicle that doesn't have a seatbelt mechanism
Your driving maneuver involves reversing
A specific health issue keeps you from using it and you have written confirmation of your diagnosis
How Can You Dispute a Truck Seatbelt Ticket?
There are two main approaches to fighting a seatbelt ticket:
Reasonable doubt—Everyone makes mistakes, including police officers. If you get a citation even though you do have your seatbelt on, you have the right to show reasonable doubt and clarify the misunderstanding
Due diligence—This option is the best solution when you know that you committed an offense but have a good excuse for not wearing your seatbelt, including:

Emergencies
Health conditions that prevent you from complying with the law
Your child unbuckling their seatbelt accidentally
Regardless of the method you want to follow, you need to present your arguments in a clear and official manner.
How Do Seatbelt Tickets Vanish With DoNotPay?
Are you planning to dispute a seatbelt citation you got but don't know where to start? A convincing appeal letter would help you get your ticket dismissed, but what if your writing skills are weak? No worries—DoNotPay gives you a tool that can compose the appeal letter for you without any unnecessary paperwork and complications.
Our AI-powered app will do the grunt work and send it to the local ticket authorities once you disclose the necessary info. The document we create is formal and customized according to your needs and case details!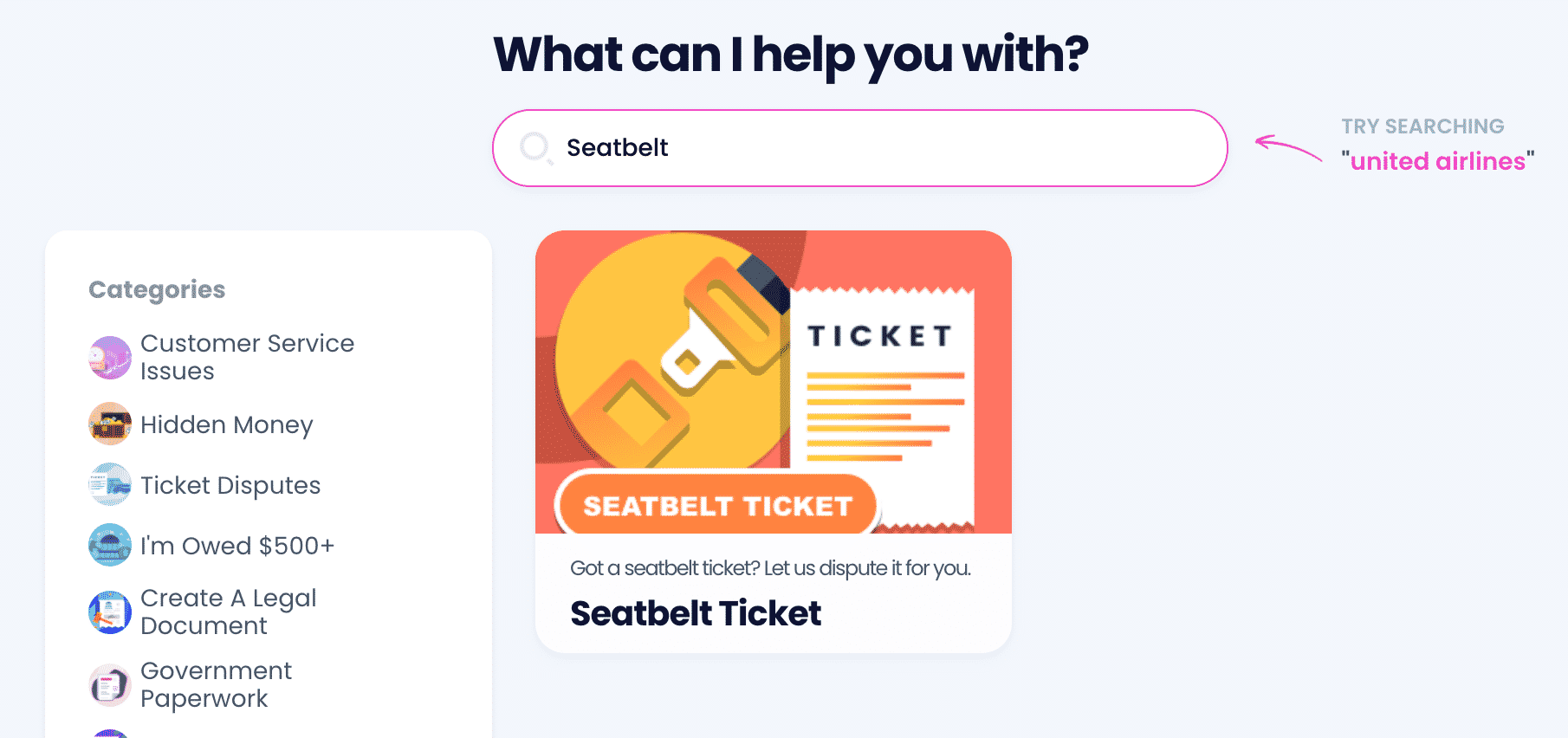 Here's the drill:
and sign in using any preferred web browser
Look for the Seatbelt Ticket product in our app
Take a snapshot of your seatbelt ticket and upload it
Provide more details about the offense and specify what argument you want to use
With our personalized appeal letter, you will:
Increase your chances of getting your citation dismissed
Skip in-person meetings with the ticket authorities
Avoid paying hefty fees for professional services
Be able to fight seatbelt tickets all around the USA from the comfort of your armchair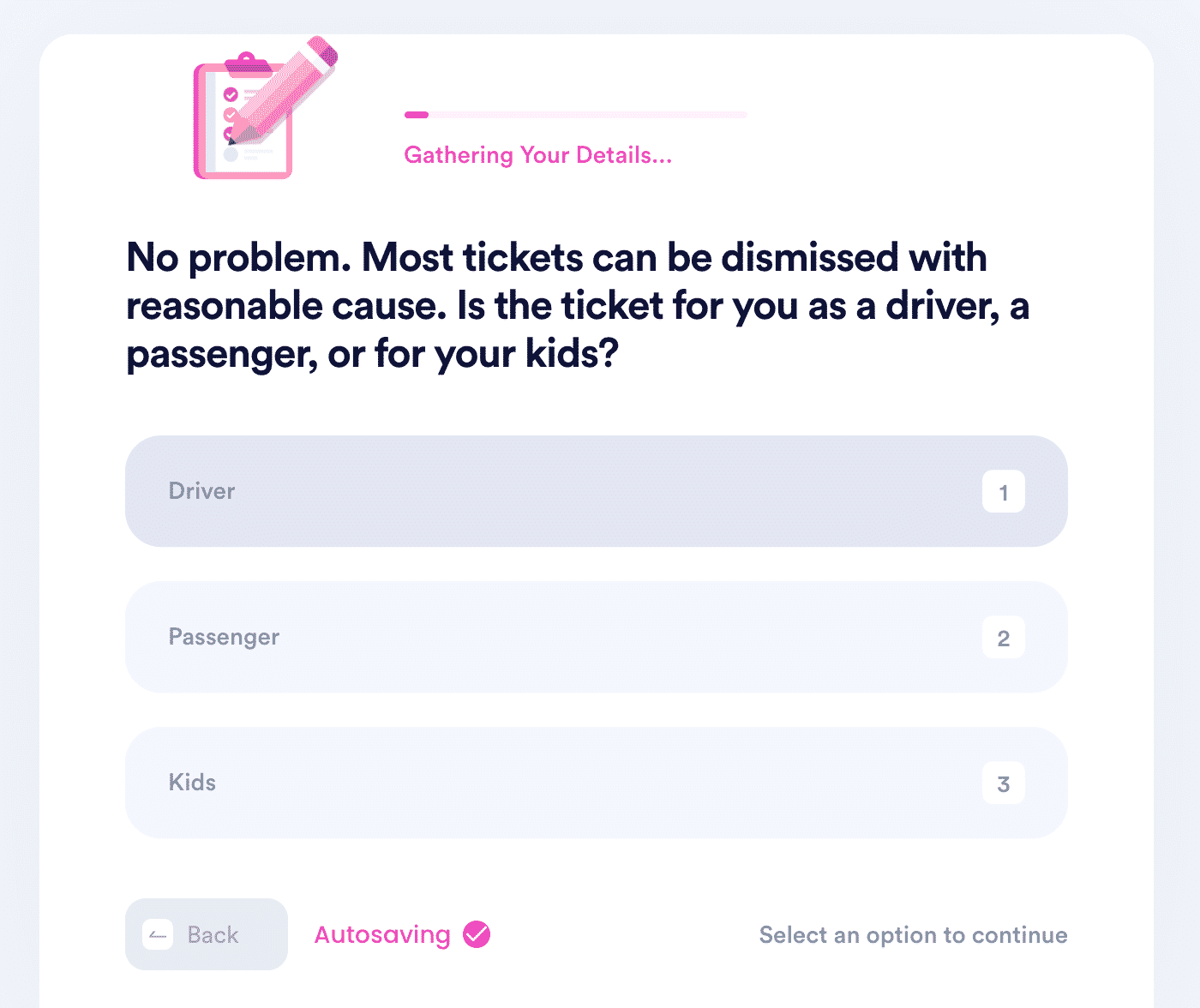 Ready to explore your state's seatbelt laws? Find the guide you need in the table below:
DoNotPay Offers More Assistance!
Our app boasts many features that can make your life easier.
Do you need help searching for unclaimed money or covering bills? Are you looking for clinical trials you can sign up for to earn some extra money? We can help you out in a flash!
Other tasks we can streamline for you are the following:
Forget Hiring a Lawyer—Use DoNotPay Instead
You don't want to spend a fortune on lawyer fees? No problem! DoNotPay—the world's first robot lawyer—is here to assist you! With our help, you'll be able to file complaints, sue anyone in small claims court, handle stalking and harassment, get crime victims' compensation, and draft numerous documents, including:
If you need to get a document notarized, you can also count on our help. We'll connect you with an online notary who will notarize your document in a flash.