In a Car Crash—Wearing a Seatbelt Is of Utmost Importance
Many causes of motor vehicle crashes—for example, distracted drivers—are beyond your control.
That is why, in a car crash, wearing a seatbelt is the most important thing you can do to save your life or minimize the risk of injuries.
The NHTSA found that seatbelts saved 329,715 lives between 1960 and 2012—which is more than the number saved by other vehicle life-saving technologies combined. This explains why state legislatures create and enforce adult and child seatbelt laws.
Wearing Seatbelts—Facts That Prove Buckling Up Can Save Lives
Seatbelts do save lives. Here are some facts from the Center for Disease Control and Prevention (CDC) that prove this:
Wearing a seatbelt in the front seat can reduce your risk of major injuries by 50% and death by 45%
Buckling up in a light truck reduces injury risk by 65% and death by 60%
Failing to wear a seatbelt increases the risk of being ejected from a vehicle by 30 times
Wearing seatbelts saved about 14,955 lives just in 2017
Benefits of Wearing a Seatbelt
If you are wearing a seatbelt and get in a car accident, you can avoid these consequences:
Needless injuries
Reduced claims
Seatbelt ticket penalties
Unnecessary Injuries
Your health is the primary concern if there is an accident. Wondering how a seatbelt protects you? The life-saving equipment keeps you in place to avoid additional injuries that can result from:
Getting ejected from the vehicle
Colliding with vehicle interior elements, such as the dashboard
Hitting other vehicle occupants
Getting injured by the force of an opening airbag
The seatbelt also distributes the crash forces to stronger body parts that can withstand them—the ribcage, for example. This means that you can avoid the common injuries associated with motor vehicle crashes, such as spinal cord injuries, neck fractures, internal bleeding, cuts, and brain injuries.
You need to buckle up correctly for a seatbelt to protect you. The shoulder belt should be placed over your chest in the middle and the lap belt across your hips.
Reduced Claims
If another driver causes the incident, you can file a claim to get compensated for the damages. Depending on your state, the amount you receive can be impacted by your decision to buckle up or not.
Most states have a seatbelt defense law that allows the defense attorney to argue that your failure to buckle up contributed to the severity of your injuries. The defense attorney will need to provide evidence on how your failure to buckle up contributed to your injuries—for instance, you were ejected from the vehicle.
The law varies based on the state—for example, in Wisconsin, your claim can only be reduced by 15% if you weren't wearing a seatbelt. In other states, the amount can be reduced based on your percentage of fault, which means you can lose the entire claim. If you were buckled up, the seatbelt defense can't be used, and you will get the full compensation you are entitled to.
Seatbelt Ticket Penalties
The officer present at the scene can issue a seatbelt ticket if you are not buckled up. The cost of a seatbelt ticket varies depending on the state. In states where failure to wear a seatbelt is a misdemeanor or a moving violation, you will get demerit points that can taint your driving record. This can also affect your insurance rates.
What To Do if You Get a Seatbelt Ticket
Got a seatbelt ticket? You can try these approaches to deal with it:
| Action | Description |
| --- | --- |
| Ignore the ticket | You can always choose to throw the ticket in the trash, but failing to pay the fine can result in additional penalties, such as driver's license suspension |
| Pay the fine | Paying the fine means you "plead guilty" and take on the consequences |
| Contest the ticket in court | If the ticket was issued unfairly, you can defend yourself in a traffic court. You will have to provide a legally acceptable reason for not wearing a seatbelt, like driving in reverse |
If you are struggling to present your argument, our app can help you. Just sign up for DoNotPay, and we will draft an appeal letter for you in a few minutes.
Would you like to get more details on the seatbelt laws in your state? Use our detailed guides below:
Let DoNotPay Appeal the Seatbelt Ticket for You
Getting a seatbelt ticket dismissed means that you can avoid:
Paying high fines
Tarnishing your driving record
Having your license suspended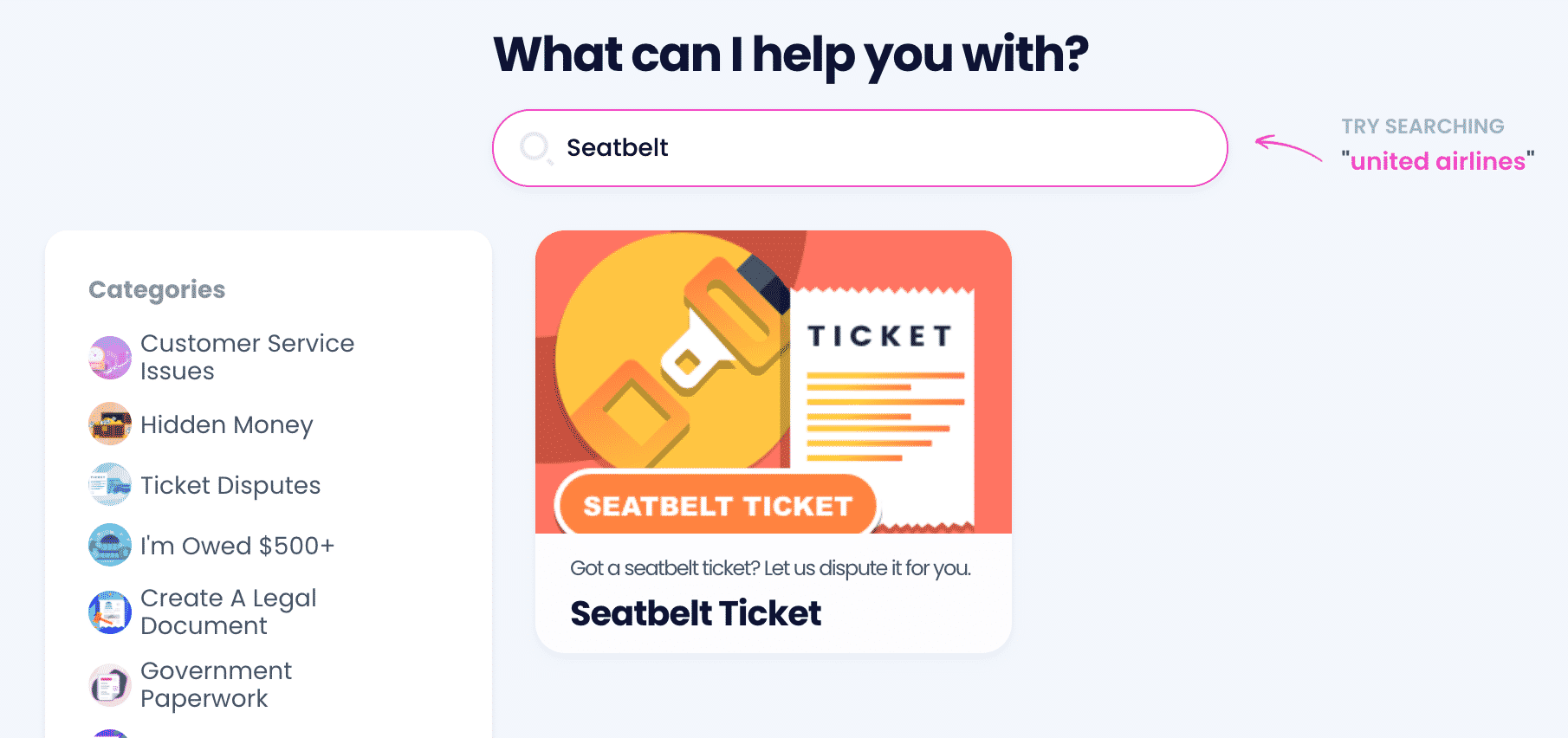 That is why you need to do it right. DoNotPay can help you increase your odds of getting the ticket dismissed using our proven strategies. You'll need less than five minutes to:
Select the Seatbelt Ticket product
Attach a photo of your citation
Answer a few questions, such as:

Who got the ticket?
When did you get it?
What argument do you have?
Our system will use the provided information to generate an appeal letter automatically. We will also send it to the authorities for you, and all you will need to do is wait for the verdict.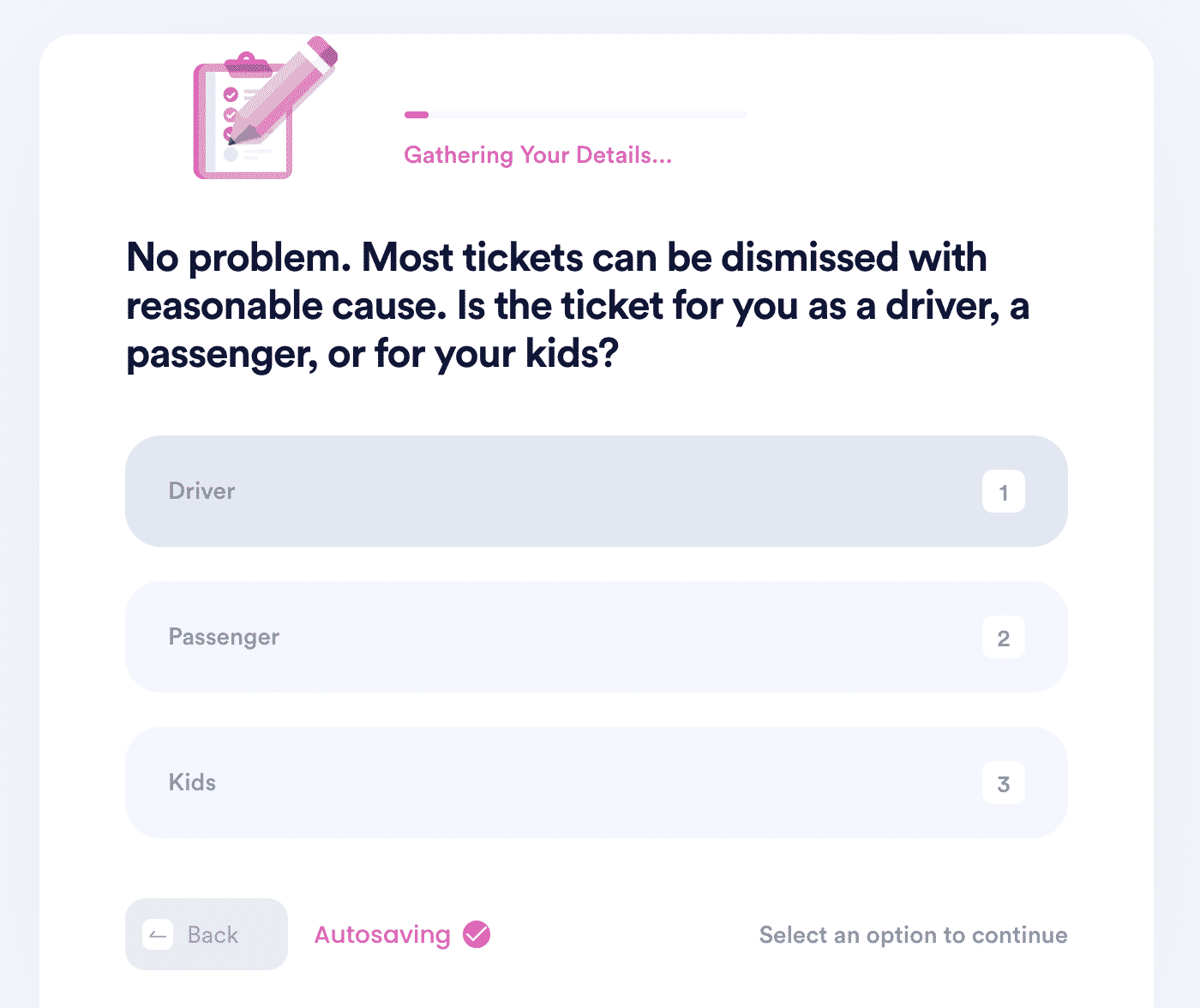 Make Your Money Troubles Go Away
If you want to join free trials and not worry about automatic renewals, our app is what you need. With DoNotPay's virtual credit card, you'll be able to avoid charges and keep your personal details to yourself.
We can also help you get a refund or request a cancellation.
Getting your money back is our field of expertise—Use DoNotPay to:
No Task Is Too Difficult for DoNotPay
Signing up for our app brings you an AI-powered assistant. Check out the benefits of having a DoNotPay account in the table below:
| Solve an Issue | Complete a Task |
| --- | --- |
| | |