How To Get a Valid Independent Homeschool Curriculum
Switching the child's homeschool routine from standard to independent can be a massive change for both parents and students. Before taking the new educational approach, you must create an appropriate curriculum adaptable to the new circumstances and your child's needs.
Many homeschoolers face difficulties at this point as they aren't sure what an independent homeschool curriculum should include. If you are one of them, we help you solve the dilemma by explaining all you should know about creating a suitable learning program for your child. The article focuses on:
Defining the term independent homeschool
Pointing out some benefits and flaws of this learning method
Listing the desirable contents of an independent homeschool curriculum
Providing tips on successful implementation of the curriculum
Independent Homeschooling in a Few Words
Independent homeschool allows children to study, practice, and revise their work without direct assistance from their educators. The student bears full responsibility for their educational progress and does all the curricular activities themselves. Their parents or teachers can help by answering questions or grading their exams and papers, but that's all.
The two most important factors that determine whether the child will be successful as an independent learner are skills and self-motivation. Success doesn't come overnight, as students usually need some time to adapt to the change, but once they get over the initial obstacles, the process brings significant improvement.
This method is an excellent option for parents who homeschool more than one child and don't have enough time to dedicate to every student. It's also beneficial for the ones who want to motivate their kids to develop independent learning skills.
What Can an Independent Homeschool Curriculum Include?
Keeping in mind the increased effort a child must put into studying independently, the curriculum they use must be well-tailored and meet all criteria prescribed by local laws. In most states, you can choose whether you want to:
Create your child's curriculum by combining different sources and materials
Purchase a ready-made program offered by local public schools or homeschool organizations
Customize a purchased curriculum
The table below lists all characteristics a good curriculum should include:
Criteria
Details
Propose a practicable schedule
This requirement should be set according to the student's needs and the number of subjects
Include lesson plans for all core and additional subjects
Mandatory courses vary from state to state. In most cases, they include math, reading, writing, science, and other essential subjects
Cover the number of homeschool hours required by local laws
Most states require homeschoolers to complete at least 180 days of instruction in a school year. The number of hours per school day also depends on local regulations. The same rules apply to independent homeschool
Use trustworthy learning resources
Homeschool allows you to add versatile content to your child's educational routine. It should make independent studying simpler and more engaging.

The most common learning materials include:

Textbooks
Workbooks
E-books
Test booklets
Online courses
Interactive software exercises
DVDs
CD-ROMs
Magazines
Tips for Implementing Independent Learning Homeschool Curriculum
Once you find the necessary materials and make a plan, all that remains is to help your child adopt the independent homeschool method. Here are some tips on how to do it:
Introduce the new routine to your child gradually—Switching to independent homeschool doesn't mean you should stop teaching your child right away or deny helping them. Start smoothly by leaving the room occasionally while they are doing regular curricular activities. Once you notice they feel more confident when they are alone, move somewhere else. Do it more often until they get used to working without you. You can always check in on them, but don't overdo it
Motivate them to face bigger challenges first—If the child finishes studying harder subjects first, they will be relaxed during the day. They may also have more time for their favorite activities. Encourage this way of dealing with daily duties to accelerate their progress
Set boundaries—Even though your children will perform most tasks without your assistance, you should still have control over their schedule. They must dedicate themselves to each subject equally, make pauses at the predetermined time, and avoid skipping the difficult parts. Assist them by creating a written plan for each day or a daily to-do list
Be there if your child needs you—Independent homeschool rules are not set in stone. Despite letting the student express what they think and learn independently, you should always be their emotional support. The more encouragement they get, the better they will cope with their educational journey
DoNotPay Helps You Get a Notice of Intent With Zero Bureaucratic Hurdles
If you decide to stop sending your child to a regular school, you need a solid letter of intent. Its purpose is to notify the superintendent about starting a homeschooling adventure. The good news is that you don't need to write it yourself—DoNotPay can create it in record time!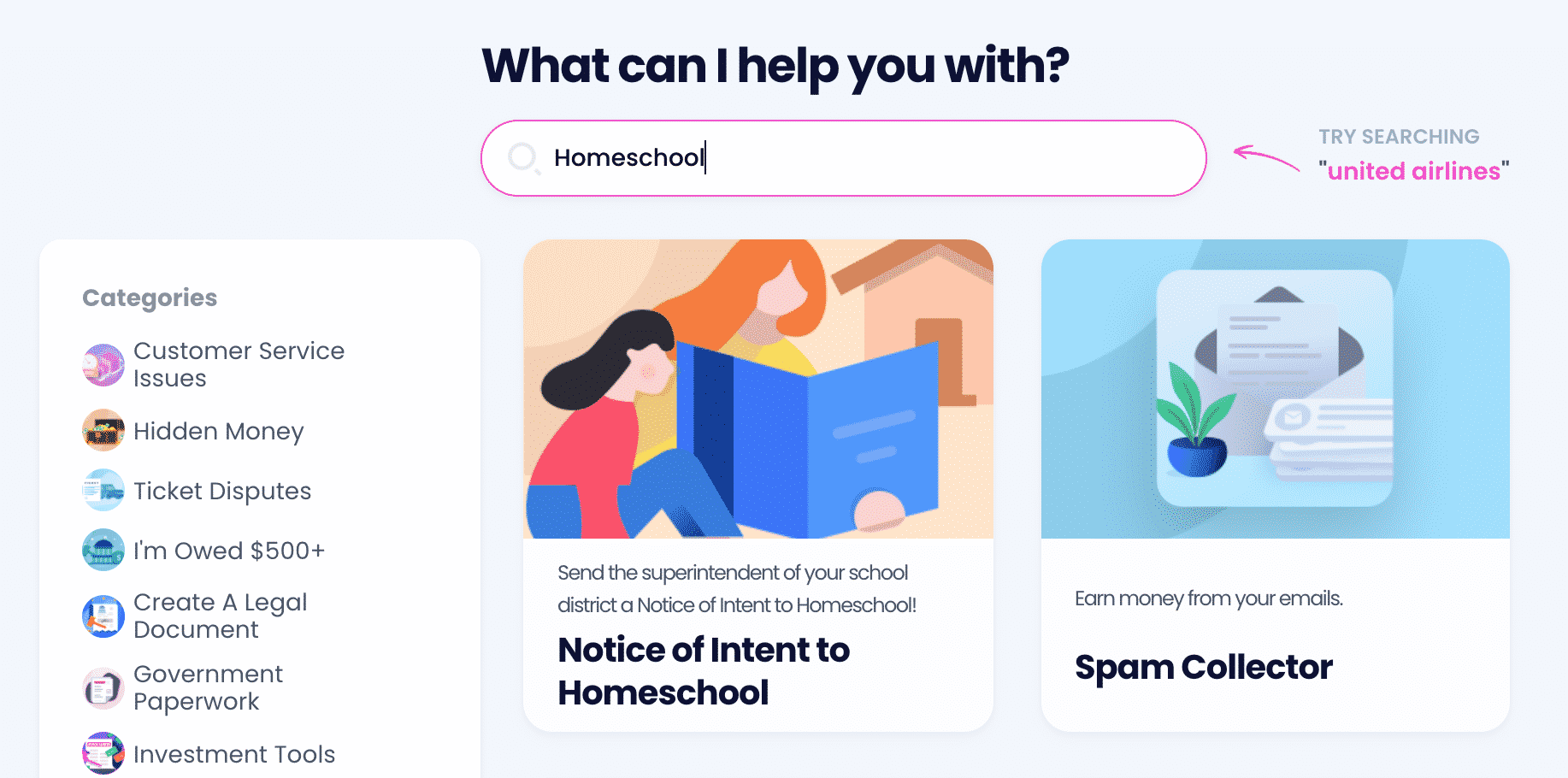 We will make sure the generated notice contains all the important information. DoNotPay even helps you get it notarized remotely by connecting you with a remote notary.
To get your document, follow the prompts below:
Opt for Notice of Intent to Homeschool
Select the desired school district
Tell us more about your child and your homeschooling plans
Upon disclosing the required details, we will offer you to:
Send the letter of intent to homeschool directly to the school authorities in your district
Download a digital version to print and submit it yourself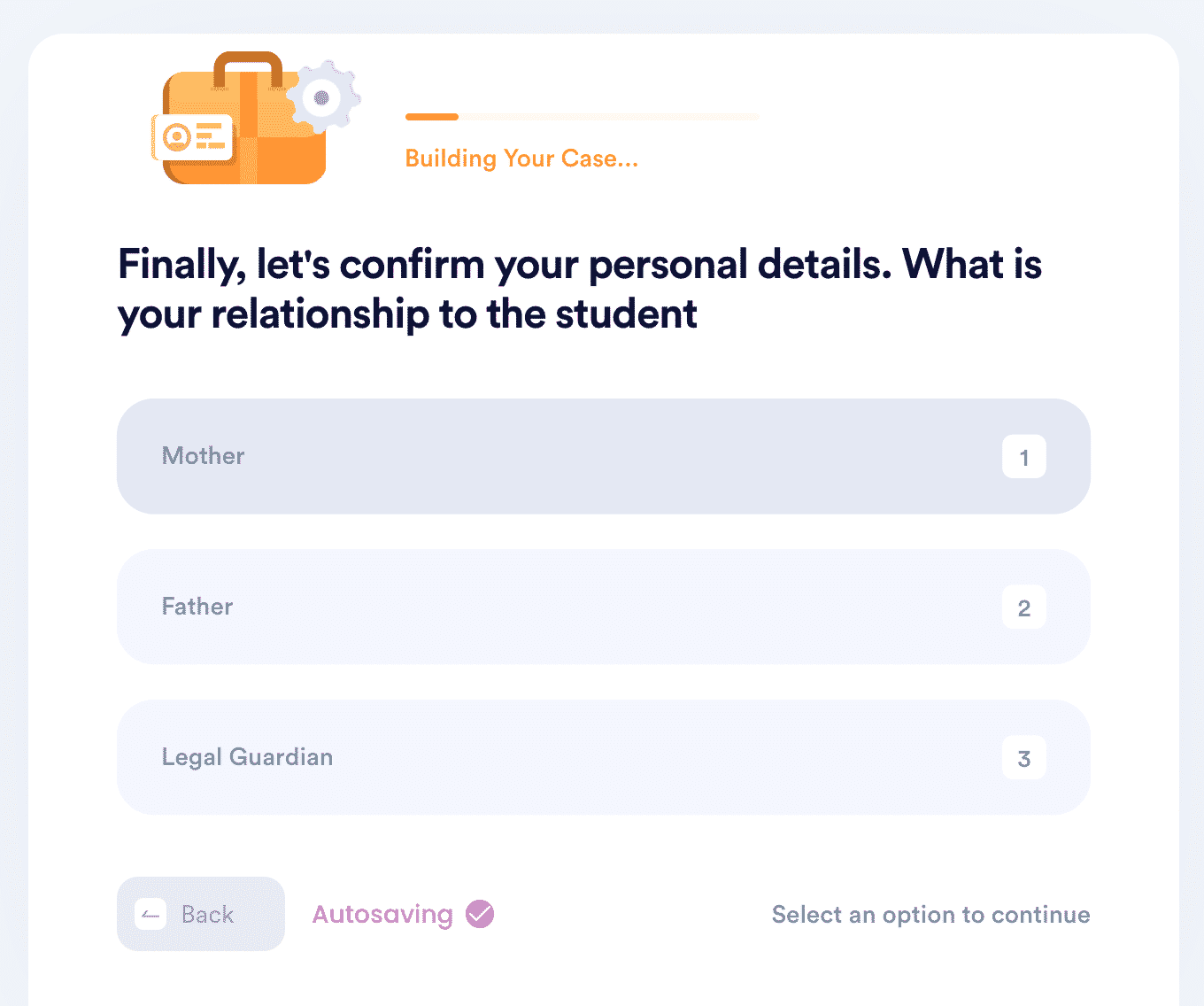 Get Familiar With Homeschooling in Our Learning Center
Any other homeschooling dilemmas? and solve them by reading the helpful guides we prepared for you! Discover:
Don't Let Admin or Legal Issues Wear You Down—Hand Them Over to DoNotPay
Do you believe you may have some missing assets? Use DoNotPay's nifty product before the government claims them! Have you ever wanted to enter sweepstakes without purchasing anything? Our app will sign you up for them quickly! Trying to figure out how to reduce your property taxes or utility bills? DoNotPay can show you the way. Want to avoid getting charged for free trials that never fail to auto-renew into paid subscriptions? We'll help you cancel them before they expire.
Anything else you may need? Check out how our app can:
Check Out Our Other Robust Products
It doesn't stop there—DoNotPay can help you send a defamation demand letter, create passport photos, get gift card cash back, get any document notarized, request access to public records, claim insurance and warranty, request a college application fee waiver, appeal parking tickets, and much more.
Sign up now to get access to any of our products for one low monthly fee!