Homeschool vs. Online School—Differences and Similarities
If you're not satisfied with the public school system or believe your child needs a different type of education due to medical or other reasons, you may be considering the following options:
Attending an online school
In this article, we'll tackle the homeschool vs. online school dilemma, help you make the right choice for your family, and assist you with the initial paperwork if you decide to homeschool your child.
Is an Online School Considered a Homeschool?
While online schooling typically takes place at home, it doesn't mean it's homeschooling. Both public and private schools may offer an option of being taught online. There are also certain online schools that offer curriculums and resources to parents who wish to homeschool their children, and these are considered online homeschools.
What Are the Differences Between Homeschooling and Virtual Learning?
To help you make the right choice for yourself and your child, check out the table below to consider the differences between online learning and homeschooling:
Online Schooling
Homeschooling

Operates according to a curriculum established by the state you live in
May not include learning based on religious beliefs
Has, in most cases, socialization opportunities designed within the curriculum
Provides you with support from certified teachers
Includes fixed school hours
Virtual School vs. Homeschool—Should You Turn to Homeschooling?
The choice between online and homeschooling is completely up to you. Before you decide to untie the knot with a public school, you should make sure you can meet the homeschooling requirements.
The online schools offer you a quick solution because they already have established curriculums, school hours, and prices, as well as certified teachers. Homeschooling gives you more freedom to design the education of your child, but it requires more preparation.
To make a decision faster, you can check how homeschooling works in your state and decide which option will work best for you.
If you don't know where to look, the table below might be helpful:
How Do You Switch From a Public School to Homeschool?
Transferring from a public school to homeschooling doesn't have to take a lot of your time and effort. You will need to research ahead and gather paperwork, such as:
Transcripts
Attendance records
Immunization reports
To start homeschooling without legal complications, you may need to draft a letter of intent to homeschool your child. You don't have to waste time and bother writing this document yourself or hiring a lawyer—DoNotPay is here to help you out as soon as you sign up!
Is Writing a Letter of Intent Time-Consuming? Not With DoNotPay!

Our app will help you write a letter of intent to homeschool within minutes so that you can start homeschooling your child as soon as possible. All you need to do is follow these steps:
Sign up for DoNotPay in any web browser
Find and select the Notice of Intent to Homeschool feature
Tell us what your school district is
Provide us with a few details about yourself and your child
Our app will draft the letter in a jiffy and help you avoid unnecessary issues. Feel free to opt for DoNotPay even if you decide to homeschool your kid in the middle of the school year.
The law in your state might require you to get your letter of intent notarized. With our help, you can get this done with ease as well.
While completing the steps within the app, let us know whether you want us to connect you with an online notary. The notary will notarize your letter in a virtual setting, which means you won't even have to leave your house.
Once your letter is ready, you'll have the option to:
Download the document in PDF format and mail it yourself
Let us send the letter to the school district in your stead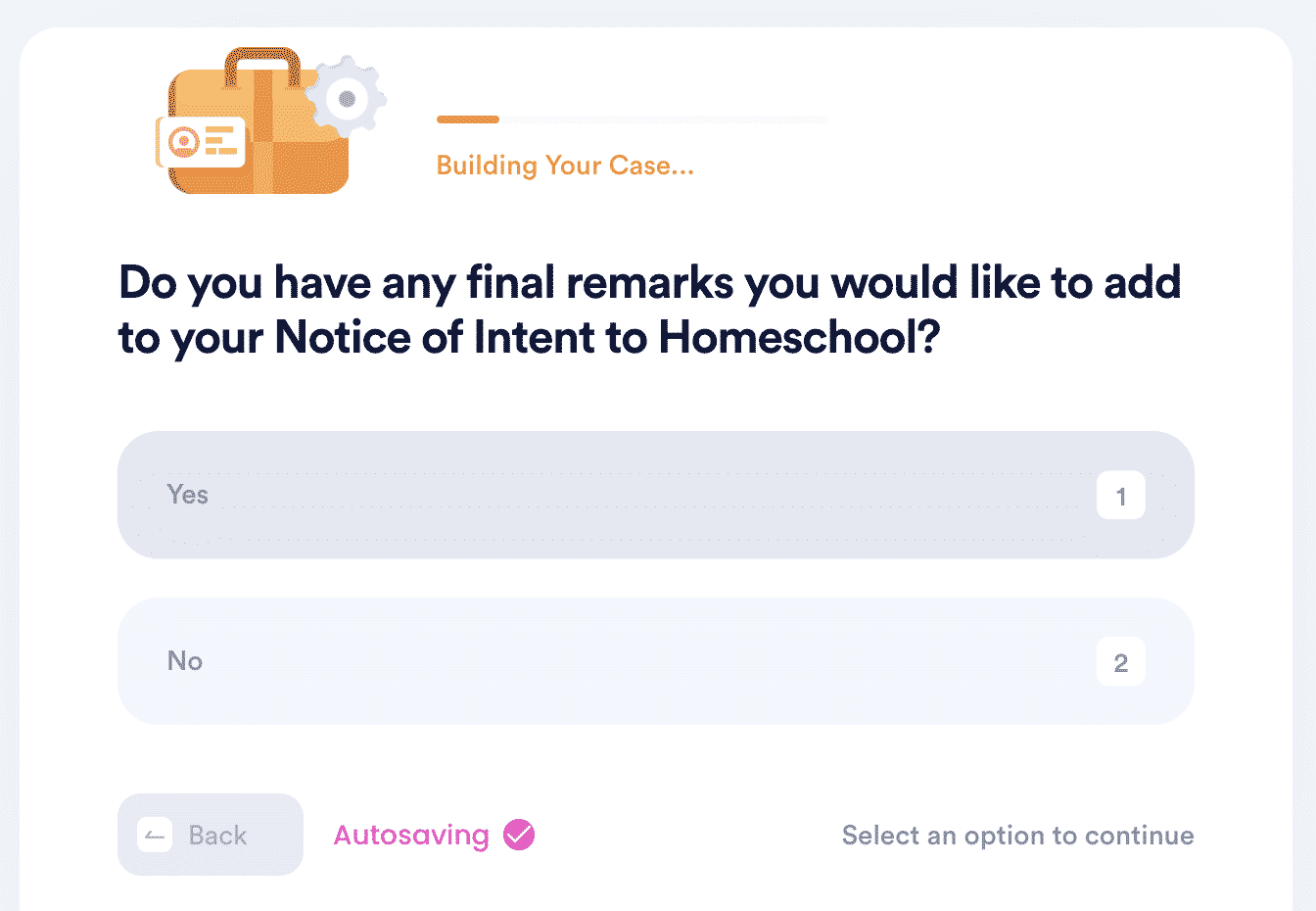 DoNotPay Can Help You With Other Homeschooling Issues
We are here for you whether you've already chosen to educate your child at home or that decision still lies ahead of you. In our practical guides, you can find all you need to know about homeschooling.
Check out our learning center and find out:
Explore DoNotPay's Product Range
Are you looking for additional assistance from our app? We're happy to inform you that DoNotPay provides you with a number of useful tools that you can use to complete mundane tasks in the blink of an eye! Sign up for our app and let us help you get:
DoNotPay Resolves Your Financial Issues in a Few Taps
You don't have to struggle to figure out how to resolve financial problems yourself when you have our app at your disposal. In only a few clicks, you'll be able to discover any unclaimed money under your name, submit insurance and warranty claims, or request compensation for delayed flights.
But that is not all! Lowering your utility bills, appealing parking tickets, or canceling memberships and subscriptions is also something you can do in no time and with minimum effort if you use DoNotPay! Work smarter, not harder!