Are Homeschooled Students Smarter? Find Out With DoNotPay!
Parents decide to homeschool for various reasons, but it all boils down to creating the best possible learning environment for their children. The benefits of teaching at home are significant, but are homeschooled students smarter than their public school peers?
DoNotPay answers this question and lays out the facts about all the advantages of homeschooling. Since home-based education usually comes with heavy paperwork, we can also create a letter of intent for you to inform the superintendent of your decision to teach at home.
So, Are Homeschooled Students Smarter Than Their Peers in Public Schools?
It is hard to assess whether homeschooled children are smarter than regular students, but we can determine how well they perform academically. Intelligent children can be found both in private and public schools, but what do their test results say?
According to the study published in the Canadian Journal of Behavioural Science, homeschooled children do better than their peers in school. This study proved that children in public schools tested at grade level, while homeschooled kids tested above.
Research also suggests that homeschooled children generally:
Do better on standardized tests
Attend college longer
Perform better at college once they are enrolled
A study from 2009 showed that as much as 67% of homeschoolers graduated from college, compared to 59% of public school students.
Why Does Homeschooling Yield Such Good Results?
What is the secret of homeschooling, and why do children taught at home perform better? Even though public schools foster social skills, homeschooling allows parents to invest all their time and energy into one student. Teaching at home is successful for several reasons, including:
Focused instructions
Smaller learning environment
Relaxed learning atmosphere
No peer pressure
Adjustment of learning pace to the child's needs
Learning method adjusted to the child's skills
Even parents with children in public schools hire a private tutor when their child is struggling with a subject. This proves how beneficial the one-on-one approach is for students and their academic performance.
Negative Sides of Public Schools Homeschooled Children Don't Experience
Homeschooled children thrive by learning at home because the environment is typically safe and goal-oriented. They don't need to worry about bullying or peer pressure. This is especially important for children who have special learning needs or social anxiety.
Once you remove the toxic elements from their surroundings, children can focus solely on learning. If you do your job well, they will also enjoy the lessons and achieve great results.
What You Can Do To Ensure Your Child Shows Good Academic Performance
Whether your child will have good academic performance depends on how much effort you are ready to put in. You, as a teacher, need to make sure they take advantage of all homeschooling benefits. You should:
Find the right curriculum
Organize your time effectively
Be creative when it comes to lessons (include trips to museums and parks)
Use technology as much as possible
Join co-ops to boost your child's social skills
If you put in the effort, your relationship with your child will also thrive, not only their academic performance.
What Do You Need To Do To Start Homeschooling?
If you decide to provide the best possible education to your child and start homeschooling, you should brace yourself for some serious administration. Although some states have a lenient approach to homeschool paperwork, many impose strict rules about record-keeping.
You will probably have to create a letter of intent to homeschool. Most state laws require you to send this legal document to the superintendent of your school district to let the authorities know that your child will transfer to home-based education.
You can find out if this is a mandatory step by checking DoNotPay's guides to state-specific homeschool policies in the table below:
Use DoNotPay To Write a Letter of Intent To Homeschool
DoNotPay is here to help you with the process of creating the letter of intent. You don't need to deal with this time-consuming chore yourself because we will make sure you receive an airtight legal document. Here is what you should do:
Find the Notice of Intent To Homeschool product
Tell us more about your school district
Provide some information about you and your child
You may also choose to have your letter of intent notarized with DoNotPay's help. If you wish, you can download the document and send it yourself, or you can let us mail it in your stead.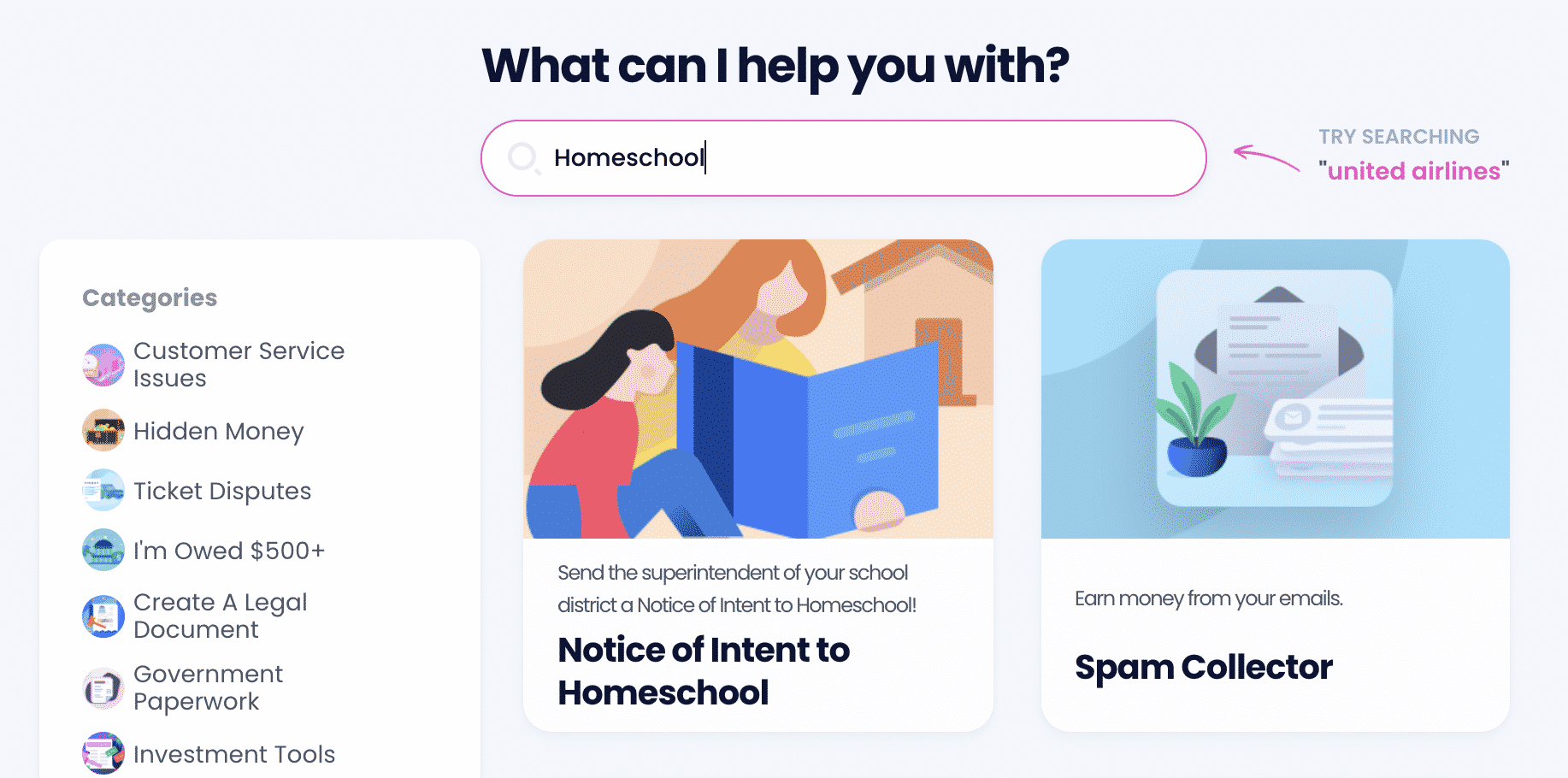 More Homeschooling Information You Should Be Aware Of
has all the essential info related to homeschooling. We can answer the following burning questions:
DoNotPay Offers Quick Solutions to Tedious Problems
Are you overwhelmed by your never-ending to-do list? We're happy to jump in with a perfect solution to deal with everyday tasks the easy way!
Once you subscribe to DoNotPay, you'll be able to schedule DMV appointments, lower your monthly bills, and contest parking tickets without breaking a sweat!
If you are looking for further assistance, our app will show you how to deal with the following tasks effortlessly:
Rely on DoNotPay's Legal Assistance Any Time!
If a company refuses to cooperate, use DoNotPay—the world's first robot lawyer—to sue it in small claims court! Getting the justice you deserve is only a few clicks away!
You can also use our app's various features to do the following:
Demand refunds

Reduce your property taxes