Should I Homeschool My Child—Quiz for Parents
Statistics say that more than 3,5 million parents in the USA opt to homeschool their children for various reasons. While there are many advantages of teaching at home, some aspects are still questionable and depend on the children's needs.
It's not always easy to cope with such a massive change as a parent or student. To help you decide if homeschooling is the right choice, DoNotPay created a simple "Should I homeschool my child?" quiz. Figure out the pros and cons of home-based education and make an informed decision.
When Should You Consider Homeschooling Your Child?
When is the time to take your child out of the regular school and give them a chance to study at home? The answer depends on many factors. Before you start considering homeschool options, answer the following questions:
Does your child have any learning disabilities or special needs?
If they do, are public schools struggling to provide satisfactory solutions for their education?
Has your child's enthusiasm for learning decreased or disappeared?
Has your child lost the creativity and vigor they had before they started attending a public school?
Do you believe that your child would learn more quickly and efficiently if their studying routine was more versatile and imaginative?
Are you frustrated with the way public schools operate?
Would a more flexible schedule bring positive changes to your child's learning habits?
Do you need a stronger bond with your child but can't achieve it because you spend too little time with them?
Would you prefer to have control over your child's curriculum and organize their learning schedule?
If the answer to most questions is yes, it's time to get informed about homeschool and consider this change seriously.
Answers Some Common Homeschool Questions
Transitioning to homeschooling doesn't have to be complicated if you follow the law and meet the requirements proposed by the local statute. Here's a table containing the answers to the most common questions related to this matter:
Question
Answer
How do you know if you meet homeschooling criteria?
Each state imposes specific rules for homeschooling, including:
How do you take the child from a public school?
Parents must compose a letter of intent to homeschool and submit it to the superintendent of the school district. You can draft it yourself, but the easiest way to do it is by
Is it possible to start homeschooling in the middle of the year?
Yes
Can you create your child's homeschool curriculum and purchase or find learning materials yourself?
Yes
Do you get any financial aid from public school authorities as a homeschooling parent?
No
Can your child participate in public school activities even though they are homeschooled?
It depends on the rules proposed by the state. In most cases, the child will be allowed to take up the same extracurricular activities as regular students
Do you need to have any particular qualifications to teach your child?
In some states, you must have a GED or high school diploma to be a homeschool teacher to your child. If you want, you can also find someone else to do it in your stead
How to find additional support?

Local homeschool co-ops
Various homeschool associations and support groups
Facebook groups
What Are the Benefits and Drawbacks of Homeschooling Your Child?
Homeschooling has numerous benefits and is an excellent choice for many reasons. It allows you to:
Use modern teaching tools
Make learning more fun for your student
Save your child from bullying or exposure to drugs and other common problems
Provide satisfying education for students with learning disabilities or special needs
Give your child freedom to pursue their interests and preferences instead of studying numerous subjects they won't need in the future
Help shy and introverted children cope with their school duties more easily without having to socialize daily
Adapt curriculums, materials, and other teaching conditions to the student
Despite various advantages, there are also several drawbacks, such as:
Hard work from the parent's side and additional responsibilities
Limited access to some regular school activities, such as team sports
Huge costs, especially if you purchase curricula and all the necessary materials yourself
Insufficient socialization for more extroverted children
DoNotPay Is Your Way to a Great Letter of Intent To Homeschool
Home-based education also entails extensive paperwork, so you should plan and organize your time carefully. The first administrative chore to handle is the formal notice of intent to homeschool you should send to the superintendent of your district. To get rid of this mundane task, subscribe to DoNotPay and get the document in the blink of an eye!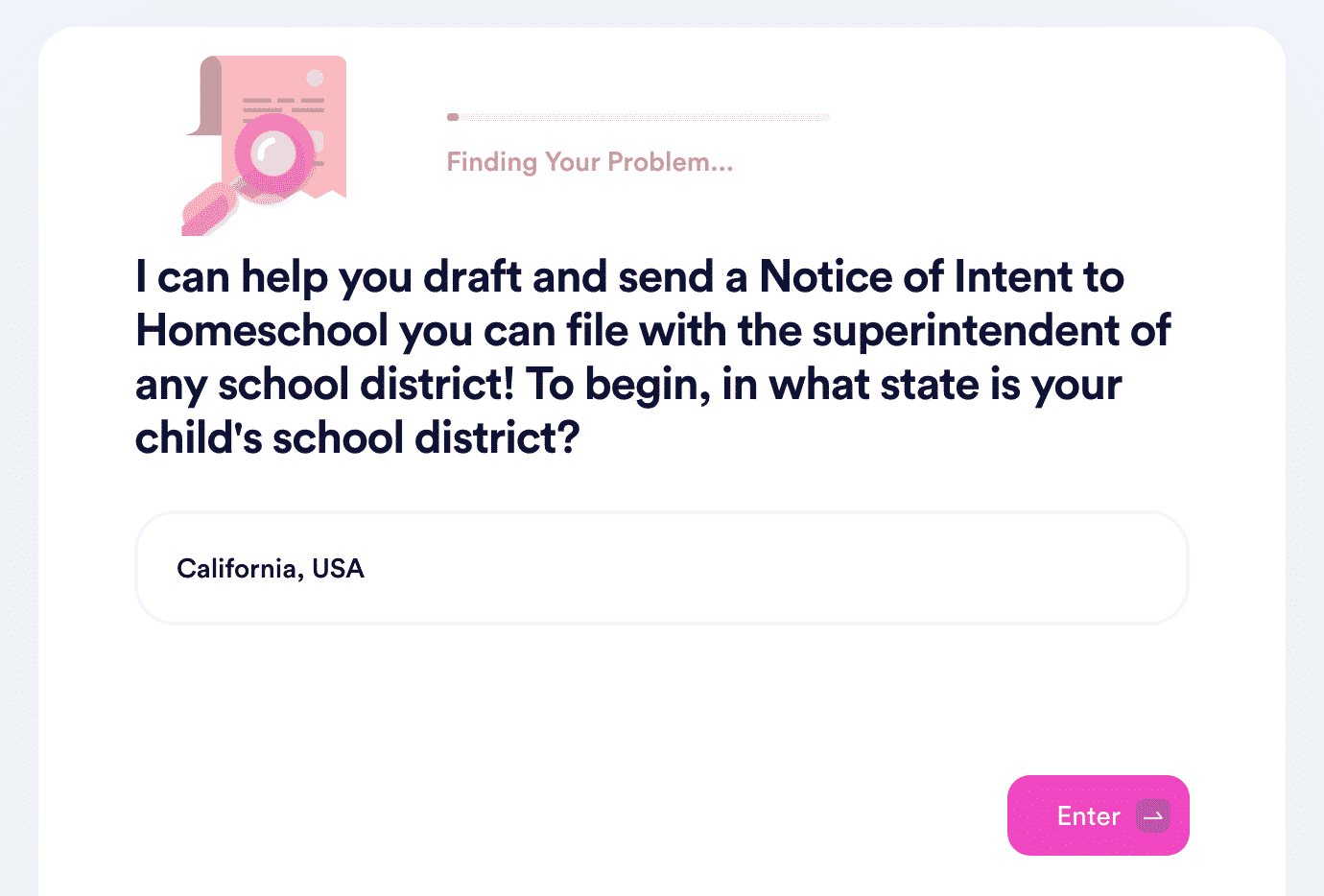 Here's what you need to do:
Navigate to the Notice of Intent to Homeschool tool
Answer a few chatbot's questions about your child and homeschooling plans
DoNotPay will:
Create a customized notice of intent
Provide you with a PDF version of the letter
Send the letter in your name to the appropriate institution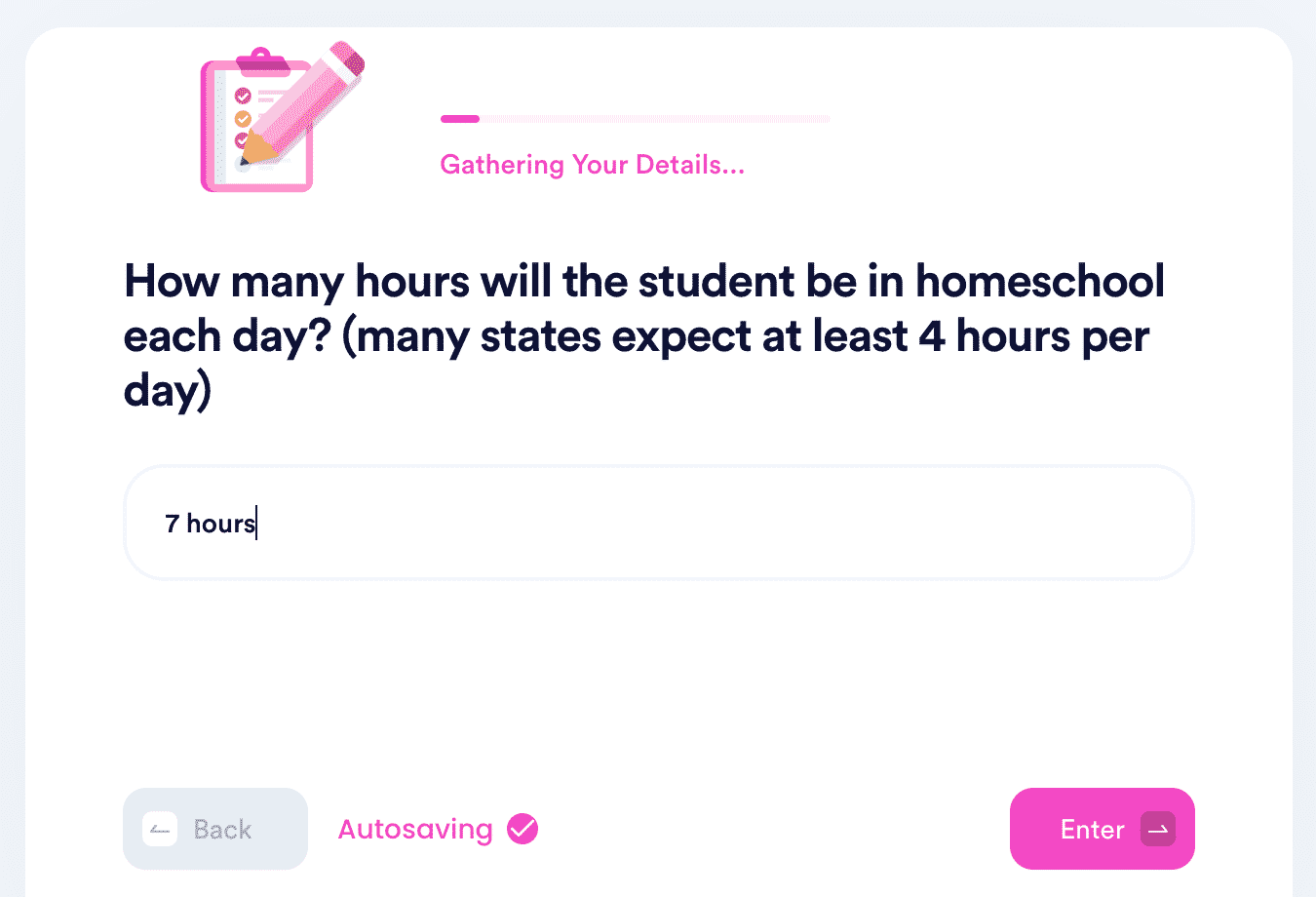 Our learning base also helps you find out what states are the easiest to homeschool your kids in. Find our location-specific guides in the table below:
Don't Let Admin or Legal Issues Wear You Down—Hand Them Over to DoNotPay
Do you believe you may have some missing assets? Use DoNotPay's nifty product before the government claims them! Have you ever wanted to enter sweepstakes without purchasing anything? Our app will sign you up for them quickly! Trying to figure out how to reduce your property taxes or utility bills? DoNotPay can show you the way. Want to avoid getting charged for free trials that never fail to auto-renew into paid subscriptions? We'll help you cancel them before they expire.
Anything else you may need? Check out how our app can:
Check Out Our Other Robust Products
It doesn't stop there—DoNotPay can help you send a defamation demand letter, create passport photos, get gift card cash back, get any document notarized, request access to public records, claim insurance and warranty, request a college application fee waiver, appeal parking tickets, and much more.
Sign up now to get access to any of our products for one low monthly fee!