Character-Training Curriculum for Homeschool Students
Homeschooling your child comes with many benefits, including you deciding how they acquire knowledge. Depending on your local homeschooling laws, you can choose the suitable learning method and the curriculum that fits your child's abilities and interests.
If you are looking for a character-training curriculum for homeschool, DoNotPay will provide you with the information you need. We can also help you send a notice of intent to the superintendent of the school district to ease up the extensive paperwork.
What You Should Know About Character Building
Character building means teaching your children according to specific values that will help them to be:
Moral
Ethical
Honorable
Self-reliant
Homeschooling parents opt for teaching at home because they want to control what their children are exposed to. In a safe home environment, you can make sure they acquire all the right traits without the influence of their peers or public schools.
Character-Building Homeschool Curriculum
Most states allow parents to choose the homeschooling curriculum for their students. You must determine what works best for your child's learning abilities and needs. You should also keep in mind what your mutual goals are and tailor the lessons appropriately.
A character-building homeschool curriculum needs to be created with a particular choice of subjects, materials, and activities. You should use books that teach character traits along with suitable lesson plans.
The teacher is the crucial figure in character training. You are the primary role model, and your children will recreate what they've seen and experienced, so you need to demonstrate the traits you are teaching your child.
Why It Is Important To Character Train Your Child
Apart from providing your child with a great education and preparing them for college and jobs, you are also making sure they understand core human values and the important aspects of life. Character training should ensure they are ready to tackle whatever life throws at them. Good character affects our:
Family relationships
Responsibilities
Safety
Income reliability
Friends
Savings
Career options
Joy in life
Reputation
Tips on How To Character Train Your Child
If you want to properly character train your child, you should follow these steps:
Use a Bible as a source of information (if you are religious)
Reinforce concepts with worksheets
Explain character traits through real-life situations
Read books that support character training
Model good character
Character-Training Books You Should Keep in Mind
If you are not sure what books to use, we got you covered. Here is a list of titles you'll find helpful when character training your child:
The Trailblazer Series by Dave Jackson
Know What You Believe by Paul E. Little
Miracles on Maple Hill by Virginia Sorensen
The Miller Family Series by Mildred A. Martin
Pride and Prejudice by Jane Austen
Patricia St. John Series
The Family Under the Bridge by Natalie Savage Carlson
Make sure to use the books appropriate for your child's grade level.
What Should You Do Before You Start Homeschooling?
Before choosing a curriculum and a learning method, you will need to inform the school district superintendent of your wish to teach your child at home. To do so, you must create and send a letter of intent to homeschool.
A letter or notice of intent to homeschool is an official document informing the authorities about your decision so they don't mark your child absent. Explore homeschooling requirements in each state to understand the process:
The good news is that you don't have to deal with this task on your own—you can delegate it to DoNotPay! We'll provide you with instructions once you .
DoNotPay Is a Convenient Way To Create a Letter of Intent To Homeschool
If legal matters are not your forte, you can use DoNotPay to get the letter of intent to homeschool in no time. The process is pretty straightforward—here are the steps to follow:
Select the Notice of Intent to Homeschool product
Answer some questions about your school district
Give us the essential info about you and your child
Once you answer the chatbot's questions, we'll prepare your letter of intent. We don't stop there! You can have the letter of intent notarized with our help! If you wish, you can download the letter and mail it yourself or let DoNotPay send the document to the correct address!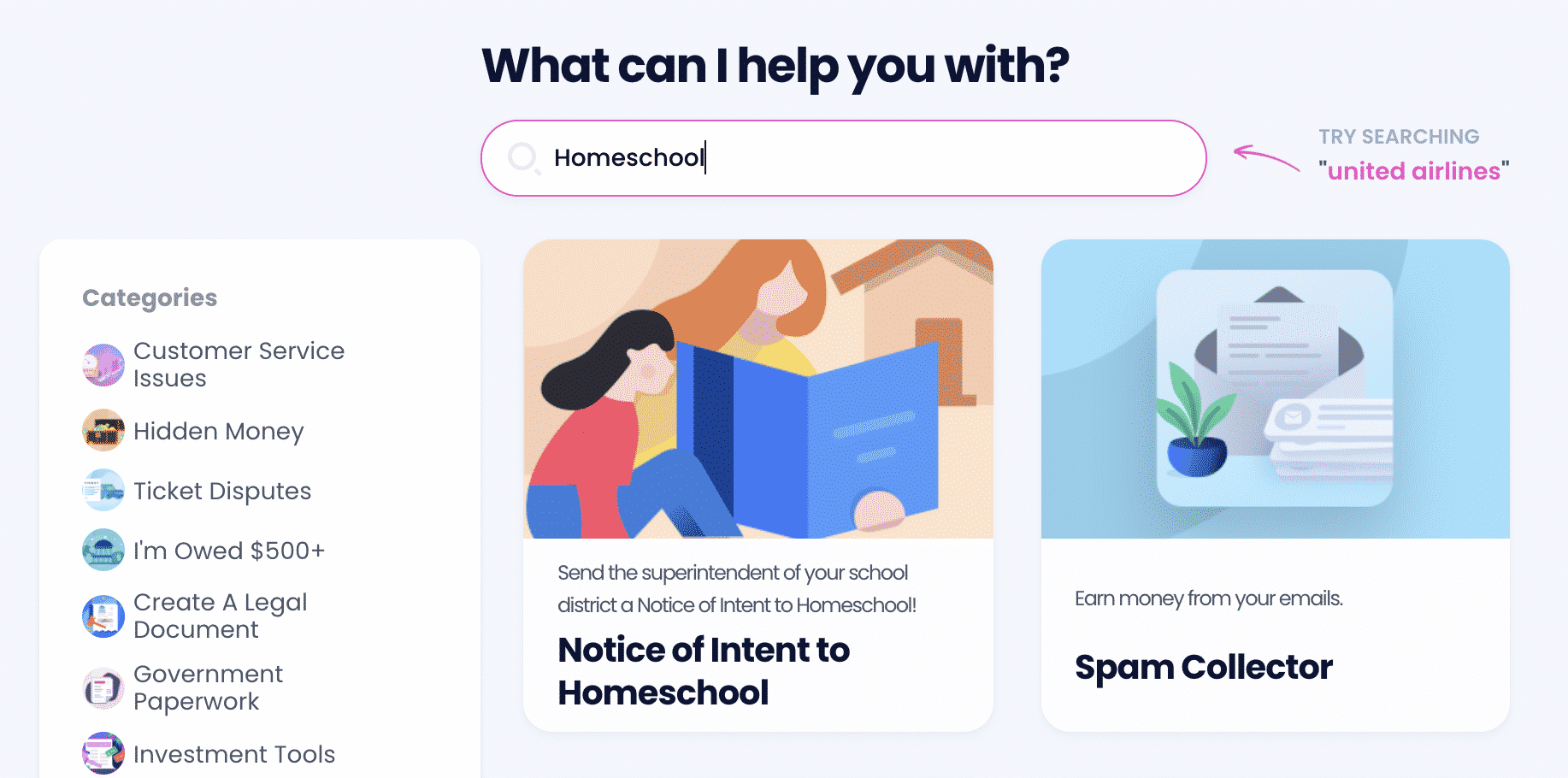 More Homeschooling Questions DoNotPay Can Answer
DoNotPay is at your service for homeschooling dilemmas and issues you might have, including:
Can DoNotPay Help Me With Any Other Admin or Legal Issue? You Bet It Can!
DoNotPay's robust products can assist you in fighting companies, individuals, and institutions that have wronged you in any way. Once you subscribe to our platform, we'll ensure that you never have to deal with any of the following again:
Our Product Range Offers So Much More
Subscribing to DoNotPay will bring you peace of mind as you won't have to go through tedious task completion on your own anymore. With our AI-powered app, you can get what's rightfully yours in the blink of an eye.
If you want to claim warranty or insurance, find your missing assets, get compensated for a canceled flight or a violent crime that you were a victim of, track your missing parcel, or draw up a child travel consent form, divorce settlement agreement, power of attorney, or any other legal document, you can count on us to lend you a helping hand.
Sign up today to get access to the entirety of our product range and forget about dealing with time-consuming and energy-draining chores!