Preschool Materials for Homeschooling—What You'll Need To Teach a Preschooler
Becoming a homeschooling teacher to your children is a major responsibility, no matter their age. Even the youngest require a stimulating learning environment, and creating it takes time and energy. It is crucial to find suitable preschool materials for homeschooling.
DoNotPay explains everything about the supplies you'll need to give your child the best homeschooling experience. To take the mundane administrative tasks related to home-based education off your back, we can send a letter of intent to homeschool to your school district on your behalf.
What Are the Necessary Homeschool Supplies for Preschool?
The materials you need for your preschooler mainly depend on your child's age, their learning style, and your teaching preferences. To figure out what works best for your family, you should try different teaching materials and see how your student responds.
Learning materials for preschoolers can be divided into the following categories:
Handwriting
Manipulatives
Creativity
Exploring
What You Should Know About Handwriting Materials for Preschoolers
It is important to find adequate writing materials for preschoolers since they are being introduced to this skill. As your child progresses, you'll need to adjust their writing instruments accordingly. For preschoolers, you will need:
Handwriting worksheets
Crayola crayons
Thick markers
Leapfrog pencils (great for beginners)
What You Should Know About Manipulatives
Manipulatives are homeschooling supplies used primarily for math. They should help your child understand addition and subtraction visually. Manipulatives also help gross motor function, and they include the following:
Building blocks
Pattern blocks
Snap cubes
Oversize shape buttons
The Essential Information About Preschool Materials That Boost Creativity
One of the most important parts of teaching preschoolers is letting them explore their creative side. Children at such a young age are not programmed to be sitting at a desk all the time. You need to let them paint, glue, and get their hands dirty, so get the following materials:
Playdough with different accessories
Glue
Scissors
Paintbrushes
Watercolors
Pom-poms
Colored cardstock
Wooden craft sticks
Do-A-Dot markers
Materials for Exploring Your Preschooler Will Appreciate
One of the greatest advantages of homeschooling is that you can truly help your child explore the outside world by taking them to your backyard or a park. You can incorporate many activities in these lessons—from collecting and pressing flowers to watching insects or birds.
For your little scouts, you should provide:
Binoculars
Magnifying glass
Compass
Clipboards
Teacher's Supplies—What Materials You'll Need As a Teacher
You should not forget about the materials you'll need as a homeschool teacher. Learning may be mostly fun and games at this age, but you need to take your role seriously. The following items will help you with the teaching process:
Planner
Printer
Laminator
Binding machine
Pocket folders
Sheet protectors
Make Sure To Choose the Right Preschool Homeschool Curriculum
Finding the right homeschool curriculum for preschoolers is of the utmost importance and depends on your child's learning potential and your teaching style. You should also consider other factors, such as religious background and your budget.
Once you know what you strive for in homeschool education, you can acquire the materials that fit the curriculum requirements.
How Many Minutes a Day Should You Homeschool Your Preschooler?
You should check your local homeschooling laws to find out if there are any specific requirements regarding homeschooling hours. In certain states, parents can choose how long the lessons will be.
The COVID-19 pandemic forced many families to start homeschooling, prompting the Illinois State Board of Education to release "remote learning recommendations." They created a homeschool hours table you can use as a rough guide. According to them, parents should teach preschoolers at least 20 but no more than 60 minutes a day.
Should You Inform Someone That You Want To Homeschool Your Preschooler?
Most states mandate parents to send a notice of intent to homeschool to the superintendent of their school district. You can check the requirements for all 50 states in the table below:
If it is obligatory in your state, you will need to create a letter of intent and mail it before you start homeschooling. DoNotPay can help you with the task!
DoNotPay Generates a Letter of Intent To Homeschool for You in a Flash
If you want to have a perfectly composed legal document, you should let DoNotPay write a letter of intent to homeschool on your behalf. You can also:
Get it notarized
Download the PDF and mail the letter yourself
Have us mail the letter to the homeschool district on your behalf
These are the only instructions you should follow:
Choose the Notice of Intent To Homeschool product
Let us know the essential details of your school district
Give us the relevant info about you and your child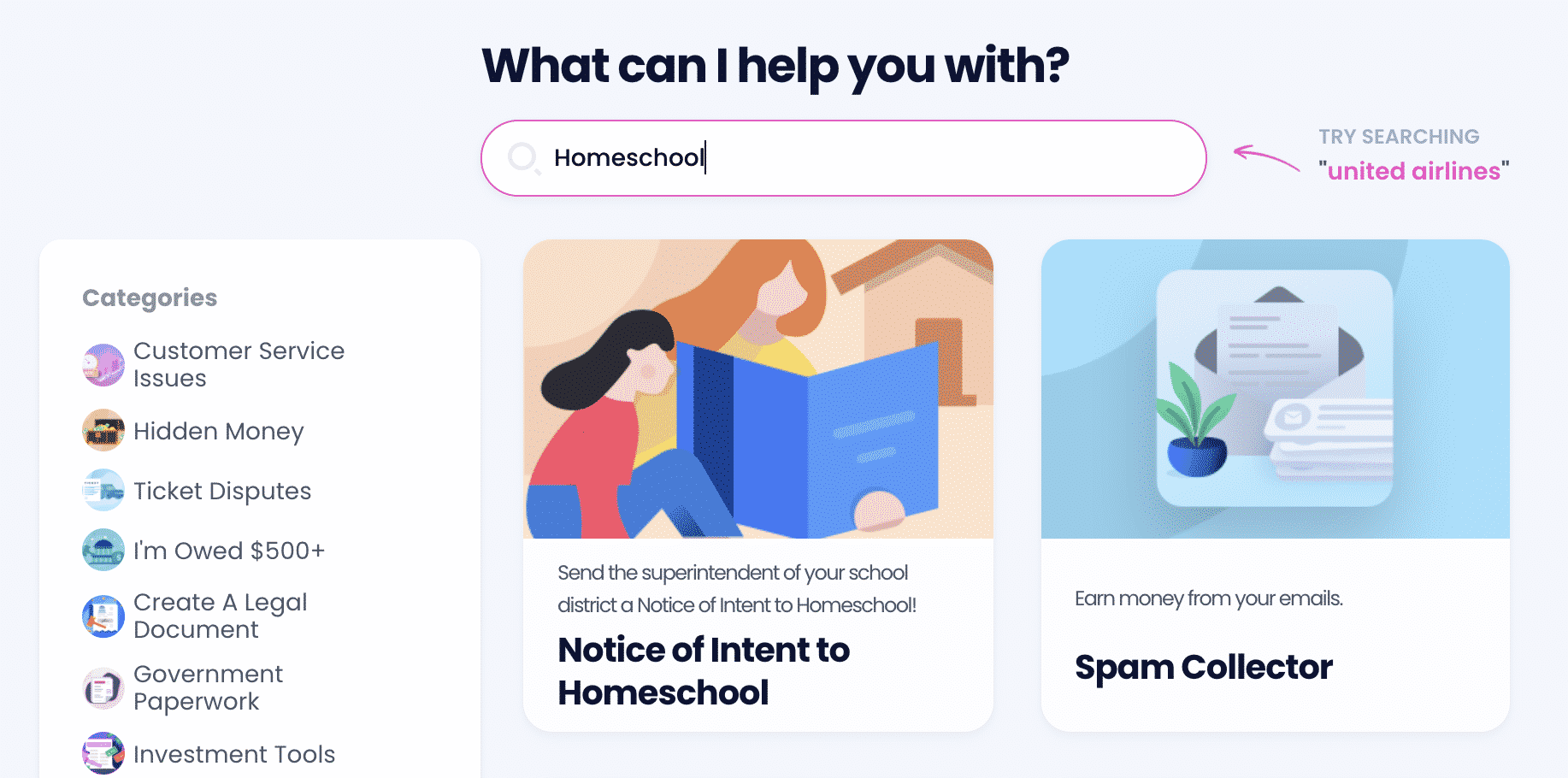 Do you have any more questions about homeschooling? DoNotPay explains:
DoNotPay Helps You Run Errands Without Leaving the Comfort of Your Home!
If you're on a tight schedule and you can't afford to spend hours running errands, DoNotPay steps in with a perfect solution! You can skip going to the post office to request an item return or visiting a notary public to get your documents notarized—Our app will help you get it all done without going anywhere!
Visiting your local Walmart to have your passport photo taken is unnecessary since DoNotPay can help you get it at home!
Consult the list below to see what other tasks you can complete using our app:
Unsubscribe From Unwanted Services at Any Time
Companies tend to keep charging their clients monthly subscription fees automatically if they don't end their subscriptions. Stop wasting money on forgotten memberships—DoNotPay will show you how to terminate your subscription in a few clicks!
You can also learn how to sign up for a free trial without getting charged, create a burner phone number or a virtual credit card hassle-free!