History of Homeschooling in the U.S.—How Teaching at Home Developed Over Time
Are you about to start homeschooling but are still reluctant because of the olden associations with this way of teaching? Homeschooling is no longer reserved for highly religious families as it was in the past. will present the history of homeschooling in the U.S. and explain how it improved over time.
If you decide to take your child out of school to homeschool, we can help you create a letter of intent and send it to the local superintendent.
History of Homeschooling in America—How Teaching at Home Changed Over Centuries
Home-based education may sound outdated, but it's gaining momentum in the 21st century. Parents still decide to teach their children at home and not only for religious reasons.
To better analyze the idea of homeschooling, we'll present a brief overview of teaching at home in the:
Colonial America
18th and 19th century
20th century
21st century
How Homeschooling Worked in Colonial America
In Colonial America, public schools were scarce and open only for boys. These institutions were usually managed by religious groups (primarily Puritans) who implemented the idea of mandatory public education. Most children in America still received their education at home until the 18th century.
How Homeschooling Worked in the 18th and 19th Century
In the 18th and 19th century, most students left homeschooling for the one-room schoolhouse. During the 1800s, education was voluntary, and attendance varied from season to season and even day to day. The average number of days students attended school was 78 and for only a few hours a day.
Homeschooling or domestic education was experiencing a rapid decline. By the end of the 19th century, 72% of children aged 5–17 were enrolled in public schools. They only had to attend schools 99 days per year and a few hours a day.
How Homeschooling Worked in the 20th Century
The 20th century was not a homeschooling era. By the end of the sixties, 87% of children (ages 5–17) were enrolled in public schools, and almost everyone else was in private schools. The average school attendance at that time was 162 days.
This was also the time when education was slowly moving from federal to state control.
The homeschooling movement exploded in the U.S. during the 1980s and 1990s due to concerns related to sex, drugs, and disorder, which penetrated American culture at the time. Christians became worried about exposure to negative beliefs and wrong values from the religious perspective.
What You Should Know About Homeschooling in the Modern Times
Never have more children been homeschooled in the United States than in the 21st century and not for religious reasons. Nowadays, parents opt to homeschool because of:
Illnesses
Special learning needs
Gifted children
Safety reasons
Bullying
Racism
Flexibility
The opportunity to bond with their children
The process also became significantly easier because of modern technology, an abundance of available curricula, and various teaching methods available. Only a few states still impose strict homeschooling requirements, but the rest have pretty lax statutes. You can check out the rules in each in the table below:
The only mandatory step is to send a notice of intent to homeschool to the superintendent of your school district, although some states skip this formality entirely. The letter informs the school that your child will be homeschooled and shouldn't be marked as absent.
Use DoNotPay To Write a Notice of Intent To Homeschool
If the state you reside in requires sending a letter of intent to homeschool, you should use DoNotPay for the task. We can generate this document for you fast and without any trouble. You can choose between:
Downloading the PDF and sending it yourself
Having us mail the letter in your stead
Having the letter notarized
To get your letter of intent, you should:
Choose the Notice of Intent To Homeschool product
Provide us with the information about your school district
Answer a few questions about you and your child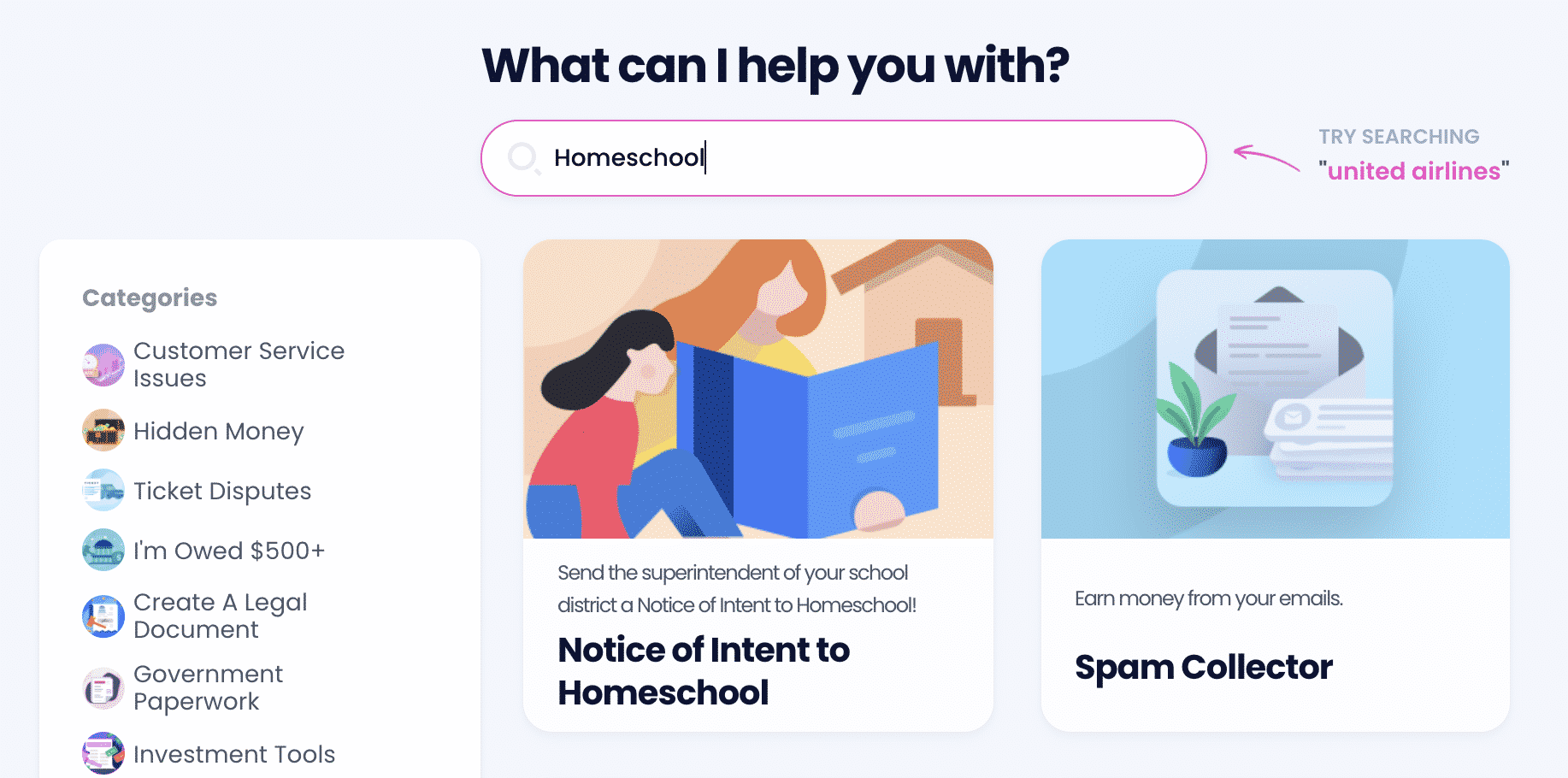 The Benefits of Homeschooling
If you are still indecisive about embarking on a homeschooling journey, here are some advantages to consider:
Tailoring the education to your child's needs, abilities, and goals
Having your child learning in a safe environment
Focusing all your attention on one student
Being your child's teacher and spending more time with them
Adjusting the teaching pace and method
Do You Have More Questions About Homeschooling? DoNotPay Has the Answers!
If you don't quite grasp the concept of homeschooling, maybe reading these helpful articles can clear things up:
Can DoNotPay Help Me With Any Other Admin or Legal Issue? You Bet It Can!
DoNotPay's robust products can assist you in fighting companies, individuals, and institutions that have wronged you in any way. Once you subscribe to our platform, we'll ensure that you never have to deal with any of the following again:
Our Product Range Offers So Much More
Subscribing to DoNotPay will bring you peace of mind as you won't have to go through tedious task completion on your own anymore. With our AI-powered app, you can get what's rightfully yours in the blink of an eye.
If you want to claim warranty or insurance, find your missing assets, get compensated for a canceled flight or a violent crime that you were a victim of, track your missing parcel, or draw up a child travel consent form, divorce settlement agreement, power of attorney, or any other legal document, you can count on us to lend you a helping hand.
Sign up today to get access to the entirety of our product range and forget about dealing with time-consuming and energy-draining chores!