Seatbelt Ticket in NY—Points and Other Penalties
New York State has meticulous and strict seatbelt laws, so getting a ticket there is a more severe offense than anywhere else in the United States. The penalties you might face depend on the severity of your violation and range from costly fees to demerit points and higher insurance rates.
Learn what circumstances determine whether you will get a seatbelt ticket in NY, points on your record, or extra fees to pay! This guide provides all essential information about NY seatbelt tickets and the easiest way to get one dismissed!
Who Has To Wear a Seatbelt in New York State?
In New York State, all passengers have to wear a seatbelt while the vehicle is in motion. Drivers are responsible for checking whether:
All passengers are wearing a seatbelt
Children are properly restrained and with adequate equipment (car seats and booster seats)
Failure to comply with this law will result in the driver getting a seatbelt ticket for every passenger without a seatbelt.
Is a Seatbelt Ticket a Moving Violation in NY?
According to the New York State child seatbelt laws, a seatbelt ticket is a moving violation if a passenger under the age of 16 is unbuckled.
How Much Is a Seatbelt Ticket in NY?
If you're the driver of a vehicle that got pulled over for a seatbelt violation, you will have to pay the following fines:
$50 if you are the one without the seatbelt
$25 to $100 for each unbuckled passenger
How Many Points Is a Seatbelt Ticket in NY?
If an officer discovers that you're not wearing a seatbelt, you will get a ticket but no demerit points. Unfortunately, that's not the case if your passengers are unbuckled—you can get three demerit points on your driving record for a vehicle occupant who doesn't have a seatbelt on.
How Long Must You Wait To Get Your License Back if You Get a Seatbelt Ticket?
Depending on the number of points you accumulate over 18 months, you will:
Have to pay a Driver Responsibility Assessment Fee (for 6 points and more)
Get your license suspended (for 11 points and more)
If you get your license suspended, you will have to wait around 60 days to get it back.
How Long Does a Seatbelt Ticket Stay on Your Driving Record?
If you get a seatbelt ticket, you will have it on your record during the year you got it and the next three years. Demerit points stay 18 months on your record.
What Are Other Consequences of Getting a Seatbelt Ticket in NY?
Other than costly fees and discouraging demerit points, a NY seatbelt ticket can create more difficulties, such as:
Going to court if you fail to pay the ticket before the established deadline
Paying higher insurance installments—drivers who accrue an extensive number of violations on their record are deemed as high-risk drivers by insurance companies and have to pay substantially higher rates
What To Do When You Get a Seatbelt Ticket in New York State
If you get a seatbelt ticket, you can appeal it in some cases. Check the table below to learn how you can get your seatbelt ticket dismissed:
Defense Argument
Description
Create reasonable doubt
If the color of your clothing matches the color of the seatbelts in your car, it can create the illusion that you're not wearing a seatbelt. If you were not wearing a seatbelt, but your clothing does match the seatbelt's color, you can try to argue that the police officer didn't see that you had your seatbelt on
Show due diligence
A due diligence defense is based on one of the following assumptions—you:

Had a good reason to unbuckle
Took all reasonable steps to buckle up
Believed you had your seatbelt on, even though you didn't
Keep in mind that you can only use one of the two arguments to defend yourself.
Whichever argument you decide upon, DoNotPay can help you build your defense case in no time! and complete a questionnaire to get your appeal letter on its way to the ticket authorities in minutes!
Appeal Your NY Seatbelt Ticket With DoNotPay!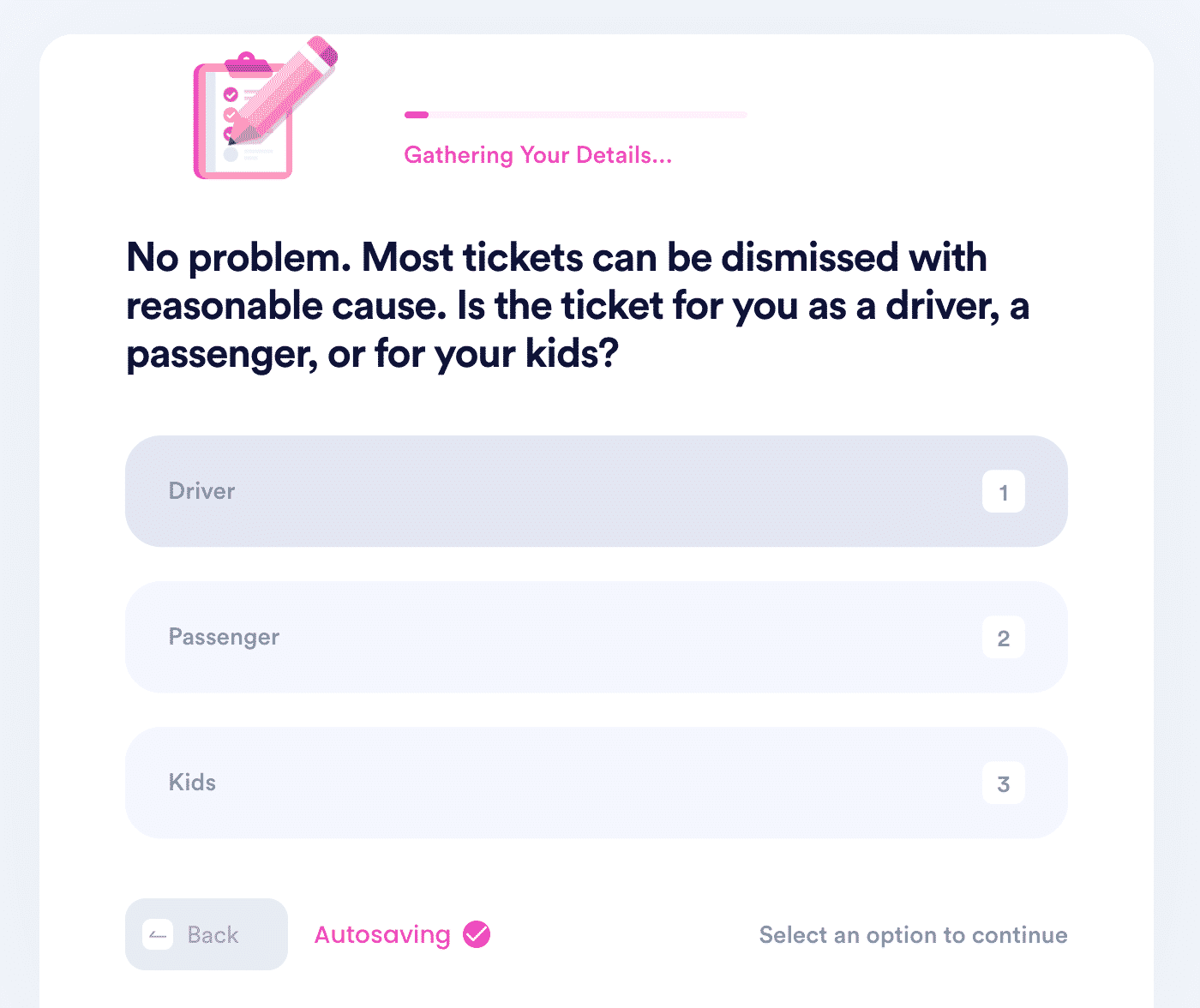 Defend yourself and keep your driving record squeaky clean with DoNotPay! Our app will:
Generate a rock-solid appeal letter for you using the information you provide
Mail the letter to the ticket authorities on your behalf
To start the process of getting your seatbelt ticket dismissed:
Navigate to the Seatbelt Ticket feature
Tell us who got the citation and what argument you want to use to defend yourself
Upload a photo of your seatbelt ticket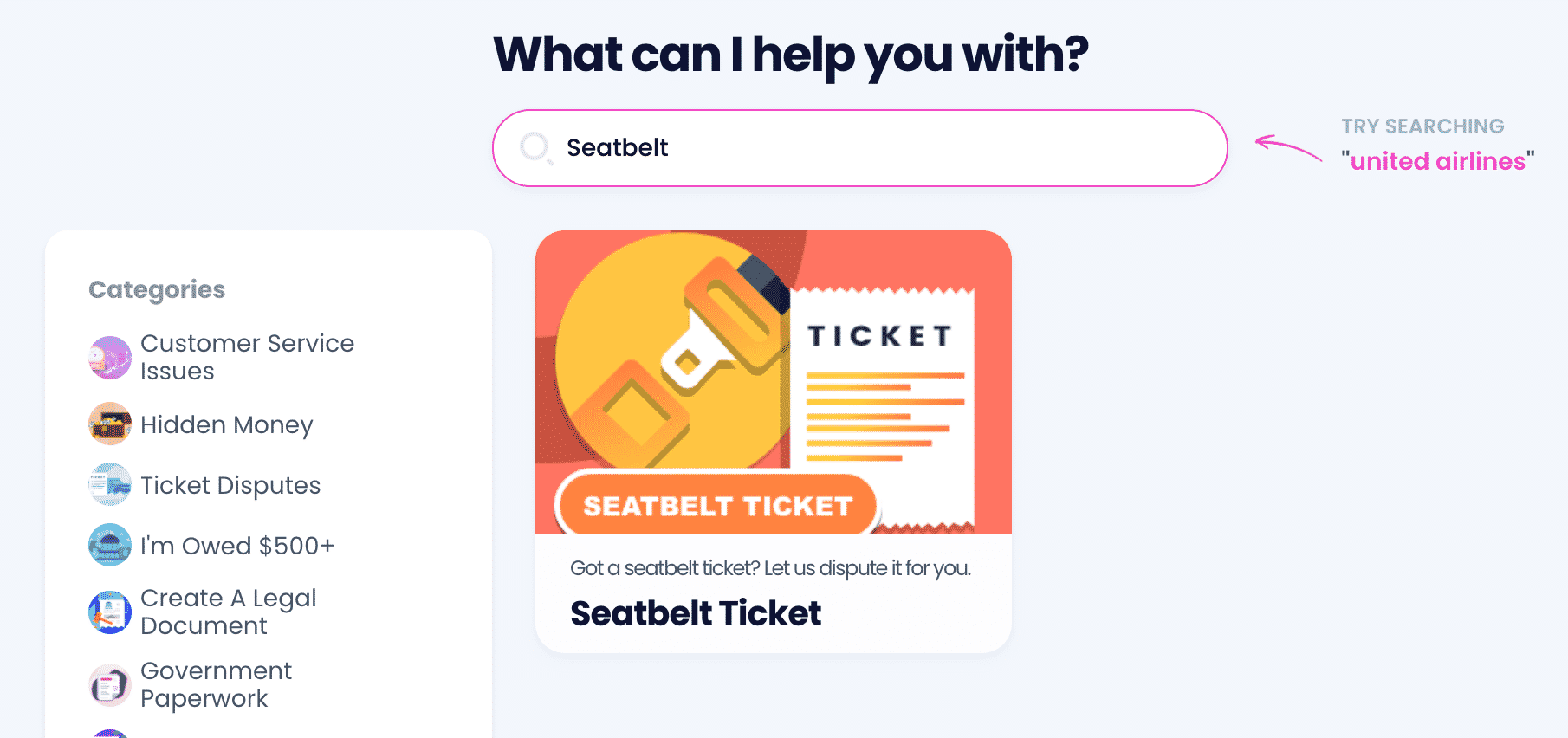 New York State seatbelt laws are strict, but what's the situation like in other states? If you're planning on traveling, check the table below to get the latest updates on seatbelt laws in other states:
What's Next?
Once you complete the task at hand, you don't have to stop there—we offer a myriad of products that can relieve you of the stress that comes with dealing with admin and legal hurdles.
DoNotPay can assist you in drawing up a divorce settlement agreement, child travel consent form, power of attorney, and other legal documents, contacting government representatives, getting tourist visas, fighting workplace discrimination, getting a burner number, appealing banned accounts, getting access to public records, scheduling a DMV appointment, and much more.
Tackle Any Energy-Draining Task With DoNotPay
With DoNotPay by your side, you don't have to worry about how you'll cover your utility bills at the end of the month—we'll provide swift assistance as soon as you sign up!
Wondering what else our app is capable of? Check out how we can: