How Much Is a Seatbelt Ticket in CA? Find Out Here!
Each state has a law regulating seatbelt use, and California is no exception. If you fail to wear one, you'll get fined.
How much is a seatbelt ticket in CA, though? In this article, we'll answer this question and provide useful information and tips on how to dispute your ticket.
California Seatbelt Law—The Essentials
According to the seatbelt law in California—also called the Motor Vehicle Safety Act—all drivers and passengers who are 16 or older must wear a seatbelt. These rules apply to all passengers of the vehicle, both front- and rear-seat occupants. If a passenger under 16 fails to buckle up, the seatbelt citation will be issued to the driver.
When it comes to safety seat and seatbelt regulations regarding children, the California law states the following:
All children under eight have to be restrained in a safety car seat or a booster seat in the back of the car
All children under two must be restrained in a rear-facing car seat in the back of the car unless they are more than 40 inches tall and weigh more than 40 pounds
California is a primary enforcement state, which means that a police officer can pull you over solely for not wearing a seatbelt.
Is a Seatbelt Ticket a Moving Violation in California?
Not wearing a seatbelt in California isn't a moving violation. This means that no points will be assigned to your DMV driving record if you fail to buckle up. If you get a ticket for failing to restrain your child, though, one point will be added to your driving record. Getting points on your record might affect your insurance since insurance companies consider not wearing a seatbelt a risky driving behavior.
How Much Is a Seatbelt Ticket in California?
The Motor Vehicle Safety Act states that failing to wear a seatbelt is an infraction that will result in a fine of no more than $20 if it's a first offense. A fee of no more than $50 will be added to each subsequent offense. These are the base fines, which means that, in reality, you can expect to pay even more for this violation.
You can check out the minimum fine amounts for seatbelt violations in California:
| Violation | Minimum Amount |
| --- | --- |
| Adult—the driver or passenger who is 16 or older | $162 |
| Child—for failing to properly restrain a child under 16 | $490 |
How To Beat a Seatbelt Ticket in California
To dispute a seatbelt ticket in California, you need to plead not guilty in court. There are two ways you can fight your seatbelt ticket case:
Taking due diligence defense—Using this argument means you have a valid reason for not wearing a seatbelt. There are many valid excuses you can use, like saying that you:

Were driving in reverse
Have a medical condition that excuses you from wearing a seatbelt
Were going to the mechanic to fix a faulty seatbelt

Citing reasonable doubt—If you go with reasonable doubt, you're stating that you had a seatbelt on and that the police officer who pulled you over made a mistake. In this case, you can claim that you:

Were wearing a shirt that matched the color of your seatbelt
Had a seatbelt on but removed it once the officer pulled you over
You can hire an attorney to handle your seatbelt citation case, but you should know that it might cost more than paying the fine. If you don't pay the ticket, you might not be able to renew your car's registration. In addition to this, the fine might be increased to $300, and the court might issue a warrant for your arrest.
We offer you a simple way out of this— to get your ticket dismissed.
Appealing a Seatbelt Ticket Is a Breeze With DoNotPay
If you want to fight your seatbelt citation but don't want to spend a small fortune on lawyers, you should . We can generate a fully personalized appeal letter that will help you prove your innocence and dismiss that pesky ticket. DoNotPay will use the information that you provide through a simple questionnaire to create a rock-solid defense for you.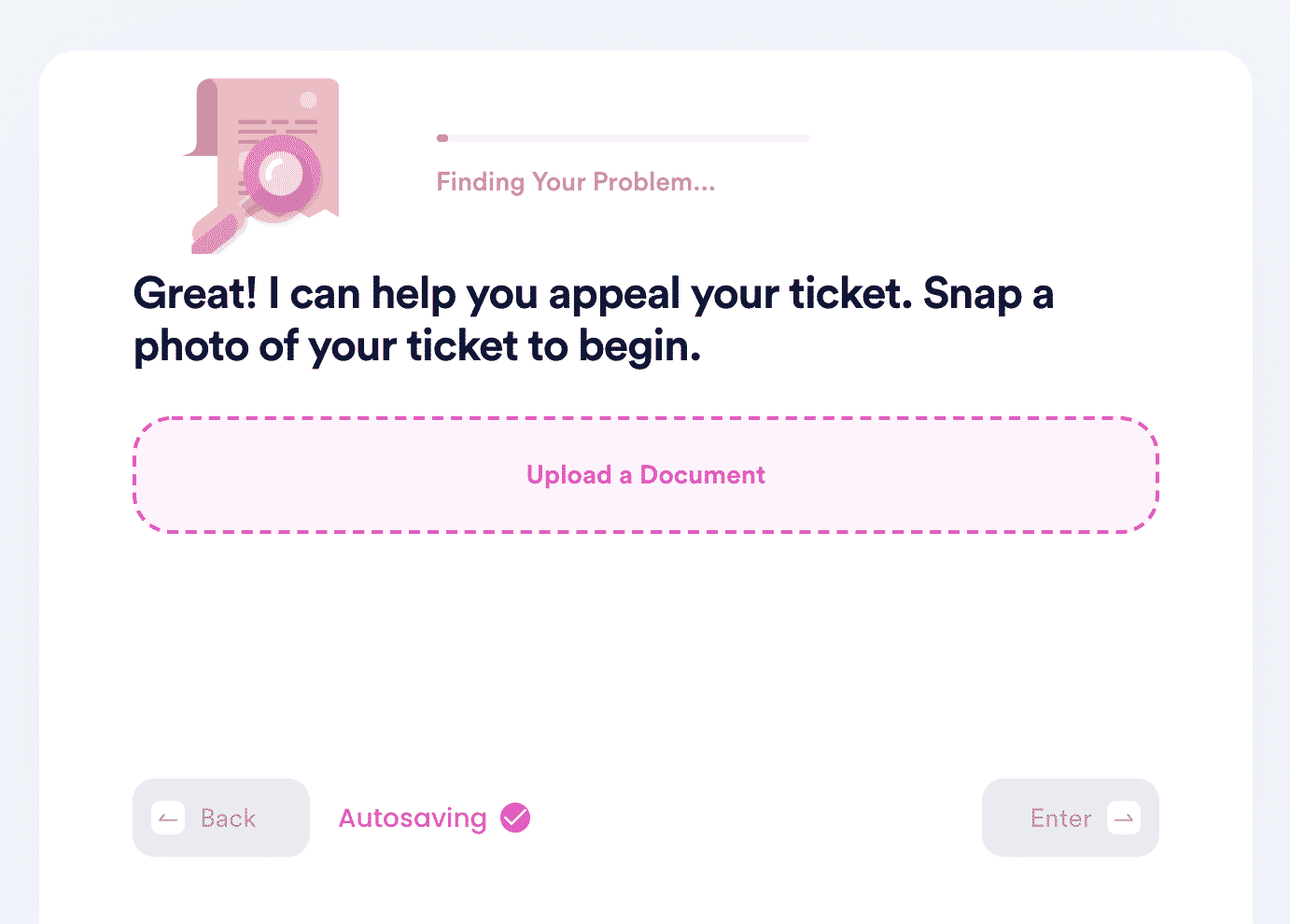 What you need to do is:
Open our Seatbelt Ticket product
Upload a picture of your seatbelt citation
Give us details about the event, such as who got the ticket
Tell us which argument you want to use
Provide evidence to support your claim (if you have any)
As soon as we get your answers, we will create a strong appeal letter and send it to the seatbelt ticket authorities.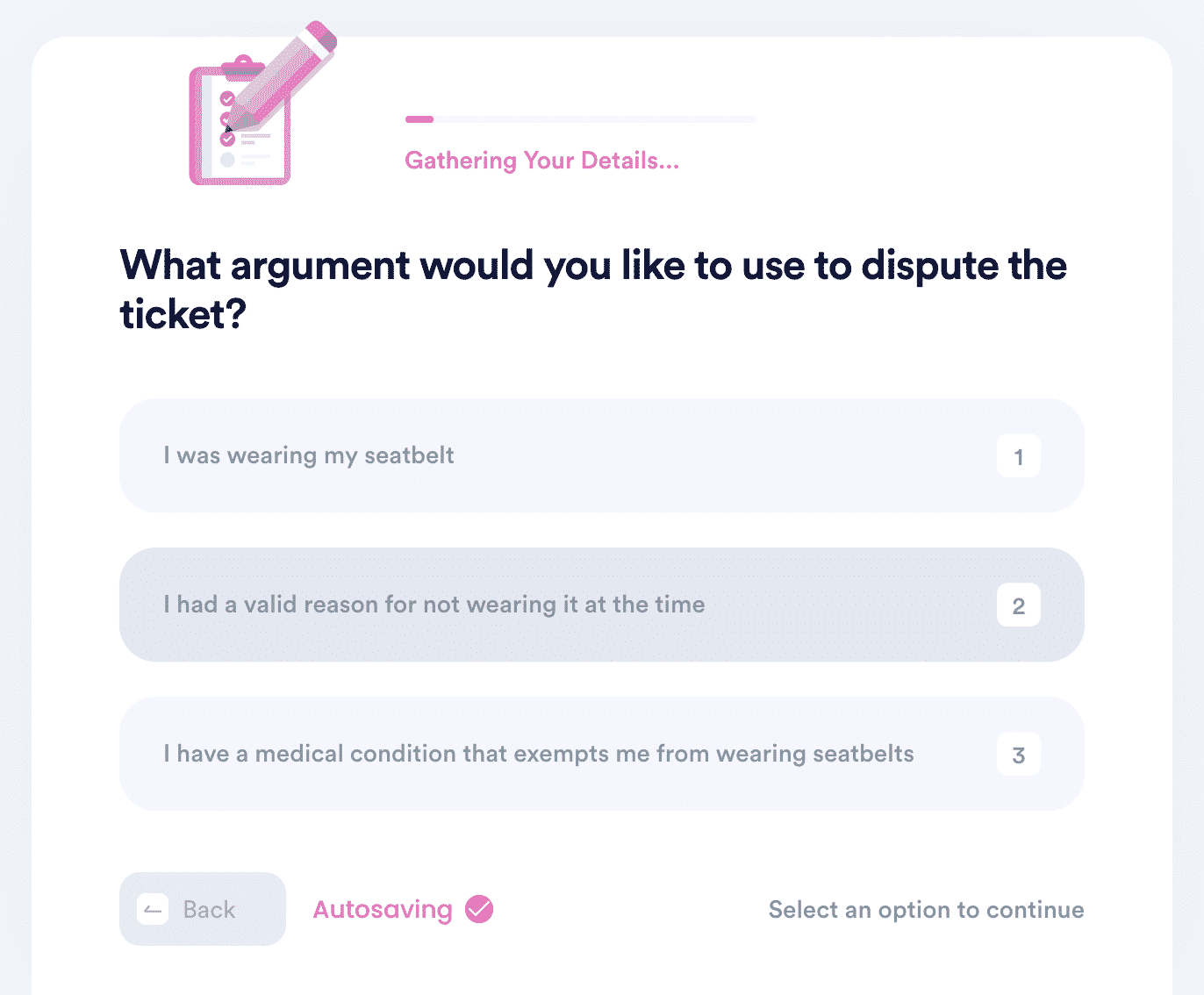 Do you want to know more about seatbelt regulations? You should visit DoNotPay's vast knowledge base to learn about:
DoNotPay Turns Any Tiring Task Into a Piece of Cake
Are you tired of dealing with bureaucratic or legal matters on your own? You no longer have to—as soon as you subscribe to DoNotPay, we'll take any exhausting task off your plate.
Our app is capable of drawing up legal documents—including marital settlement agreements, child travel consent forms, powers of attorney, defamation demand letters, and affidavits to homeschool—getting them notarized remotely, filing complaints against companies, suing any individual or corporation in small claims court, sending FOIA requests, and so much more.
The World's First Robot Lawyer Offers So Much More
DoNotPay's capabilities don't end there—we can also:
Help you get a tourist visa