How Much Is a Seatbelt Ticket in Arkansas—All Questions Answered
Seatbelt fines are one of the most common traffic violations in Arkansas. You should do your best to avoid getting one, but what should you do if the damage is already done?
How much is a seatbelt ticket in Arkansas? Is there a way to get it dismissed with minimum effort? How can you submit a top-grade appeal letter just by using DoNotPay?
Whether you got an unfair ticket or want to complain about the fine for any other reason, this handy manual holds the answer to all your questions.
Arkansas Seatbelt Law in a Few Words
The following table shows a brief overview of the Arkansas seatbelt regulations:
Questions
Answers
Who must wear a seatbelt if the driver has a regular license?

Driver
Front seat passengers
Passengers in wheelchairs

Who must wear a seatbelt if the driver has a restricted license?
All passengers
Is the fatality rate level in Arkansas high or low?
Low—80% of passengers use seatbelts
Is the seatbelt law in Arkansas primary or secondary?
Primary—It means that the law enforcement officer has the right to stop the car if the passengers aren't wearing a seatbelt, even if there are no other traffic offenses
Are there specific seatbelt laws for children?
Yes
Adhering to seatbelt regulations may bring a significant benefit when other traffic offenses occur. Drivers who make moving traffic violations but comply with the Arkansas seatbelt law can get their fines reduced by $10. This rule doesn't apply to offenses defined as misdemeanors.
Arkansas Seatbelt Laws for Children
The Natural State imposes several children seatbelt laws. Check out the details in the list below:
All passengers under the age of 15 must be placed in a proper child passenger restraint system
Kids must sit in properly fixed car seats as long as they are below six and weigh less than 60 lbs
Children must ride in the backseat until they turn 13
Occupants must weigh at least 80 lbs and be 4'9'' tall to start riding in the front seat
Babies and toddlers must be placed in rear-facing car seats
When Are Passengers in Arkansas Exempt From Wearing a Seatbelt?
As per Section §27-37-702 of the Arkansas Code, the regular seatbelt law doesn't apply in all situations. Here are the exemptions from the proposed regulations:
Your car was manufactured before July 1, 1968
Motor vehicle other than a car was made before July 1, 1972
Children are protected and properly restrained as per Section §27-34-101 of the Child Passenger Protection Act
You or any of your passengers have a specific medical condition or a physical disability that makes wearing a safety belt difficult or impossible
You are a United States Postal Service (USPS) rural letter carrier on duty
Is a Seatbelt Ticket a Moving Violation in Arkansas?
In Arkansas, not wearing a safety belt is a non-moving traffic violation. Since the state doesn't propose a specific driving record point system, this offense can't cause the suspension of your driver's license. It also won't affect your insurance rates.
How Much Is a No-Seatbelt Ticket in Arkansas?
If the police stop you and notice you or the passenger in the front seat don't wear safety belts, you must pay up to $25. Failing to provide a proper restraint device for a child may result in citations ranging from $25 to $100.
Besides the ticket cost, you may also be subject to court expenses if you don't meet the citation payment deadline or ignore the fine. According to the newest amendment in the Arkansas legislature, late fees or even jail fines may increase the total amount of your fine by up to $90.
DoNotPay Helps You Appeal an Unfair Seatbelt Citation in the Blink of an Eye
Do you think it's too difficult to appeal your safety belt citation and avoid paying hefty fees? We're glad to prove you wrong! DoNotPay offers a user-friendly tool whose purpose is to gather the necessary details about your case and create a personalized appeal letter within minutes. You don't need to worry about missing a significant argument or piece of information. The document we generate contains all you need to argue your case successfully.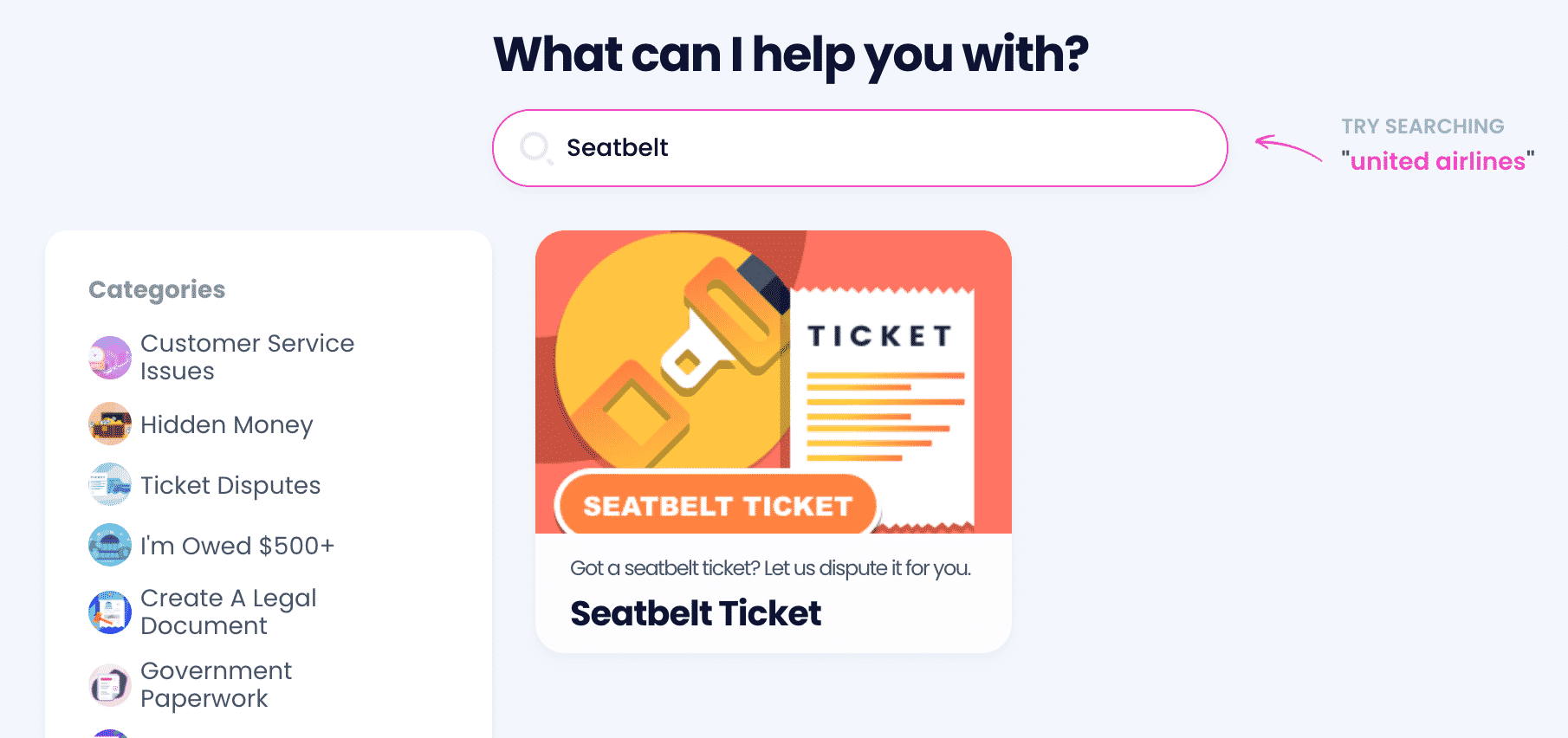 All you should do is:
Access DoNotPay from any preferred web browser
Navigate to the Seatbelt Ticket product
Select the person who got the citation—a driver, a passenger, or a child
Choose whether you want to prove you had your safety belt on or disclose an acceptable reason for removing it
Explain the situation you experienced and upload the photo of your ticket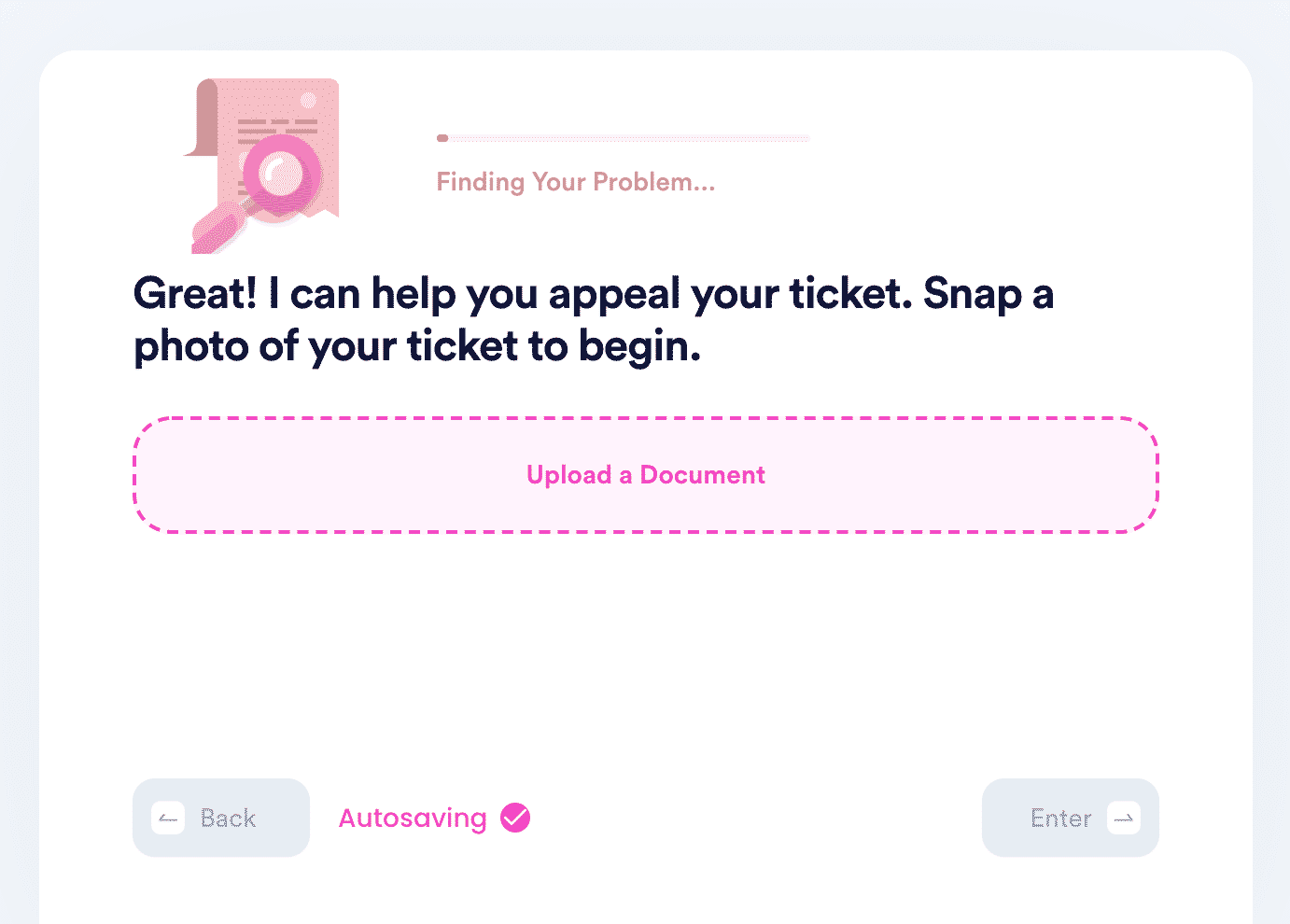 Upon completing this short and simple procedure, our app crafts a unique customized complaint letter on your behalf and forwards it to the chosen ticket authorities.
Check out other DoNotPay's seatbelt law guides and find out:
DoNotPay Offers More Assistance!
Our app boasts many features that can make your life easier.
Do you need help searching for unclaimed money or covering bills? Are you looking for clinical trials you can sign up for to earn some extra money? We can help you out in a flash!
Other tasks we can streamline for you are the following:
Forget Hiring a Lawyer—Use DoNotPay Instead
You don't want to spend a fortune on lawyer fees? No problem! DoNotPay—the world's first robot lawyer—is here to assist you! With our help, you'll be able to file complaints, sue anyone in small claims court, handle stalking and harassment, get crime victims' compensation, and draft numerous documents, including:
If you need to get a document notarized, you can also count on our help. We'll connect you with an online notary who will notarize your document in a flash.