Are Messy Scholarship Search Engines Misleading You? Turn to DoNotPay
Many proactive students use scholarship search engines to get info on the latest financial aid programs—only to end up disappointed due to the inferior search options available.
Keeping students' needs in mind, DoNotPay has developed a straightforward scholarship search and application feature. Our app offers you a time-efficient search tool that helps you keep tabs on lucrative scholarship opportunities without breaking a sweat!
Search Engines or Websites for Scholarships and Grants—Pros and Cons
Almost all scholarship search engines work on the same principle—by compiling scattered scholarship announcements in one place and making them visible to website visitors. While this method sounds great on paper, it is quite flawed in reality.
This table will give you a bird's-eye view of the pros and cons of the existing scholarship search engines:
Pros
Cons
Scholarship search engines can be beneficial because they:

Act as a single-source scholarship browser
May contain direct links to a scholarship's authentic source website, where you can apply directly
Offer options for students across multiple demographics
May be available across web browser, Android, or iOS platforms

Scholarship search engines are often impractical because they:

May not have adequate search filters based on student criteria
Tend to overload your search results with irrelevant scholarships or grants
Can charge you an exorbitant amount to facilitate refined searches—which is ironic if you're looking for financial aid
Spam you with a truckload of emails and notifications
Annoy you with pesky ads for student loans
Require considerable time and mental investment from the student
DoNotPay Is an Appropriate Alternative to Any Scholarship Search Engine
You may end up spending hours every week navigating through scholarship search engines—singling out the best options, checking eligibility requirements, and applying for each individual financial aid option. It's even more frustrating when you realize that your application was rejected after investing all that time and energy.
DoNotPay's scholarship finder cuts down the time needed to track down suitable scholarships. Unlike most generic search engines, we run a personalized scholarship search based on your ultimate singular data—like your hobbies, academic talents, athletic qualities, special qualifications, or even a veteran status.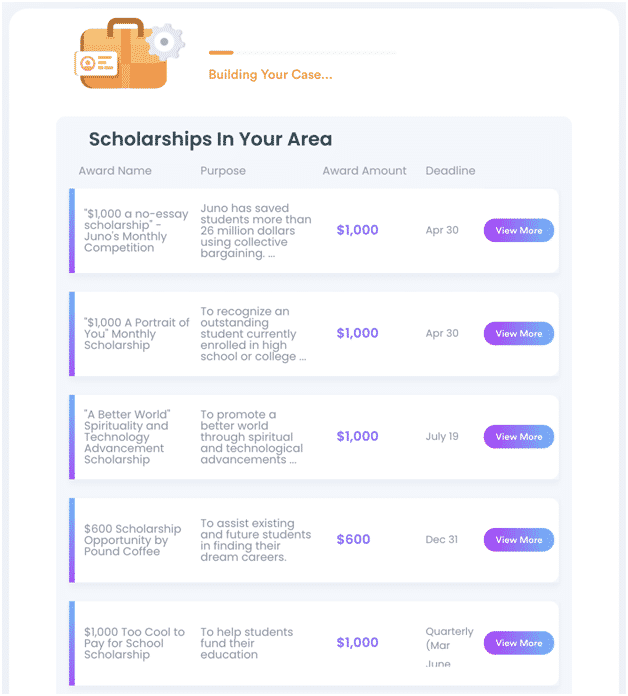 today to browse the financial aid list we curated for you!
How To Search for Scholarships in a Productive Way
Every year, students in the U.S. have access to billions of dollars in scholarships and grants—but they barely apply for half of them! Recent statistics suggest that only seven percent of students in the country get scholarships, and most college or grad school scholarships aren't enough to cover tuition or other college-related expenses.
The main reason students don't get enough scholarships is that they don't recognize good opportunities on time. Consider this—a woman pianist with a STEM major would never look for music scholarships, even when she can apply for a $50,000 worth Davidson Fellows Scholarship for her work as a musician!
While looking for scholarships, always ensure you're checking the available opportunities for your diverse interests—check out this table for some examples:
Academic
Athletic
Vocation

Science

Engineering

Political Science

Medicine

Psychology

Art

Creative writing

Poetry

Foreign languages

Beauty school

Social work
College Scholarship Database—Keep an Eye Out for Demographic Options
Scholarships don't always have to be merit- or need-based—you can find a whole bunch of scholarships meant to uplift minorities.
Before using any search engine, check if you fit into any of these demographic groups to find suitable financial assistance:
Identity
Community
Disability or Adversity

Having a:

Learning handicap

Disability

Being a:
What Is the Best Time To Look for Scholarships?
Most students only look for scholarships during their high school senior year, which isn't an ideal approach. You can always find thousands of scholarships throughout your junior, freshman, and sophomore years.
If you are an adult learner going back to school for undergraduate or doctorate studies, you may feel out of touch with the basics of when or how to look for scholarships. You can easily manage this issue by using DoNotPay's scholarship search app regularly. That way, you will be aware of the latest opportunities and won't miss the deadlines for them!
Why DoNotPay Is the Best Place To Look and Apply for Scholarships
Flawed scholarship search engines only sap your time by producing disorganized results. You'll never face this nagging issue with DoNotPay as we offer you a foolproof way to manage your scholarship quest. Our app can help you by:
Finding and analyzing relevant scholarships
Applying for no-essay scholarships in your stead automatically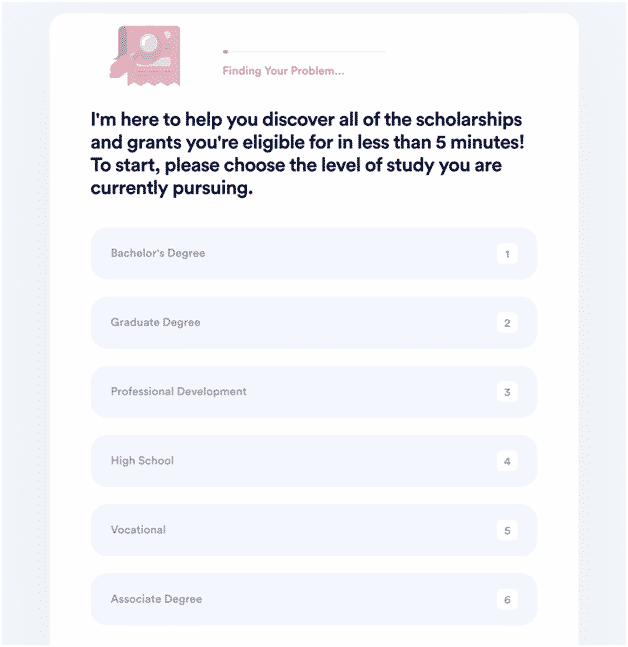 Here's a detailed overview of our services:
Finding Scholarships
Applying for Scholarships
Use our app's search feature to:

Find all local and national scholarships that fit your criteria
Note down the application and deadline details for your favorites
Get original website links to send your applications—this protects you from getting scammed by fake scholarship websites

Use our application feature to:

Get a personalized list of all scholarships that don't impose a competitive task
Select your favorite ones in the app itself and apply for them in a bundled manner (with the click of a button!)
Keep track of your application status through our confirmation emails
You can use the extra time to concentrate on the scholarships that require you to write an essay or submit a creative project.
To access our multilevel services, and do the following:
Search for Scholarships and select our product
Provide your relevant student details to our chatbot
Tell us if you would like to View or Apply Directly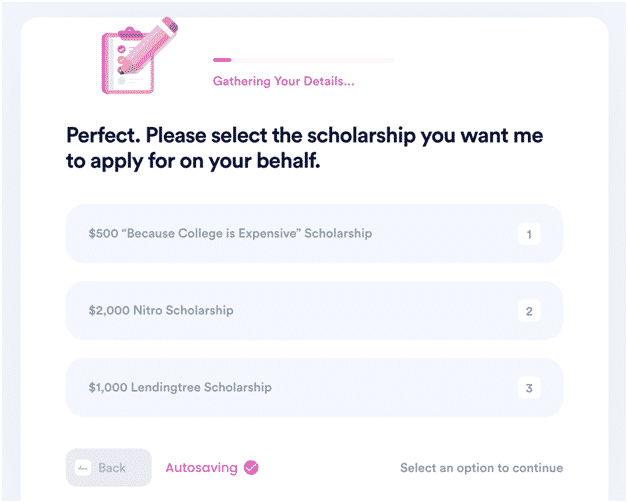 What Any Scholarship Search App Won't Help You With
Remember that no scholarship app can help you get recommendation letters from teachers or prepare income certificates. To increase your chances of winning scholarships, you should:
Use DoNotPay To Deal With a Plethora of Bureaucratic Tasks!
Tired of dealing with bureaucracy? We understand the struggle, and that is why our app makes handling administrative tasks a breeze!
Regardless of whether you need to compose a legal document, such as a power of attorney or a child travel consent form, appeal property taxes or your parking tickets, file a financial aid appeal and a FOIA request, or get a document notarized, DoNotPay has got you covered!
In case you also need to submit anonymous HR complaints, our app will provide you with the easiest way to do so!
Go on a Stress-Free Shopping Spree With DoNotPay
Do you like to shop until you drop? With DoNotPay, you won't have to worry about dropping! We'll make sure you can:
If you need more money to continue your shopping spree, let our app help you find any unclaimed funds under your name and enter numerous giveaways and sweepstakes!