College Scholarships—Where To Look for Them and How To Apply
Are you a high school senior looking for the best choice to continue your educational path or an undergraduate or graduate student in need of extra funding?
It's not a surprise that schools come at a sky-high price nowadays. Affording proper education can seem nearly impossible for teenagers and college students alike, at least unless they decide to apply for scholarships and grants.
Since searching and applying for college scholarships can be time-consuming, this guide can show you the easiest and fastest way to obtain additional funding for your education!
What Are Scholarships for College?
Scholarships are a type of financial aid you don't have to repay, unlike loans. They represent funds that you receive on your school bank account to pay for your costs of attendance.
Funding for scholarships can come from various sources. Some of the most common scholarship benefactors include:
With all those sources available, you should try to apply for as many scholarships as possible to reduce your study costs. Balancing your daily life while also dedicating time to search and apply for individual college scholarships can be exhausting, and that's why DoNotPay offers an easier way to do it!
Sign up for DoNotPay to secure a list of all scholarships whose criteria you meet and apply for them automatically!
What Kinds of Scholarships Can College Students Qualify For?
Most college scholarships belong in one of the following two categories:
Need-based—Prospective or continuing college students who show immense financial need can qualify for these scholarships. Committees use the Free Application for Federal Student Aid (FAFSA) to estimate students' eligibility for need-based federal aid
Sometimes, scholarship donors use both ranking criteria to award the most talented students showing the greatest financial need.
How To Find College Scholarships
If you wonder where and how to find scholarship opportunities, the best places to start your search are:
Is There a Limit to How Many College Scholarships You Can Apply for?
The only limit is that the total amount of financial aid a student receives cannot exceed the total cost of attendance.
Attendance costs consist of the following expenses:
Students can apply for all opportunities they come across and then choose to accept the ones that suit their financial needs best.
How To Get a College Scholarship
To get a college scholarship, you may have to submit the following paperwork:
Document
Description
Free Application for Federal Student Aid (FAFSA)
The FAFSA allows students to qualify for federal financial aid. Some of the information you need to provide includes:

Your and your family's income
The number of people in your household
Assets you or your family own

College Scholarship Service (CSS) Profile
Schools that participate in the CSS Profile program will require you to complete this application so that they can estimate your eligibility for institutional scholarships
Individual scholarship applications
Students often have to submit separate applications for external scholarships they want to apply for. External scholarships are all awards that are not federal or institutional
Letter of recommendation
People who are in a position of authority, such as teachers or the principal of your high school, can write a recommendation letter to testify to your abilities and explain what it is that makes you stand out among all other candidates
Scholarship essay
Students can write a scholarship essay to explain:

Accomplishments they made during their education
Their passions and career goals
Financial hurdles that are preventing them from reaching academic goals
With DoNotPay, Applying for College Scholarships Was Never Easier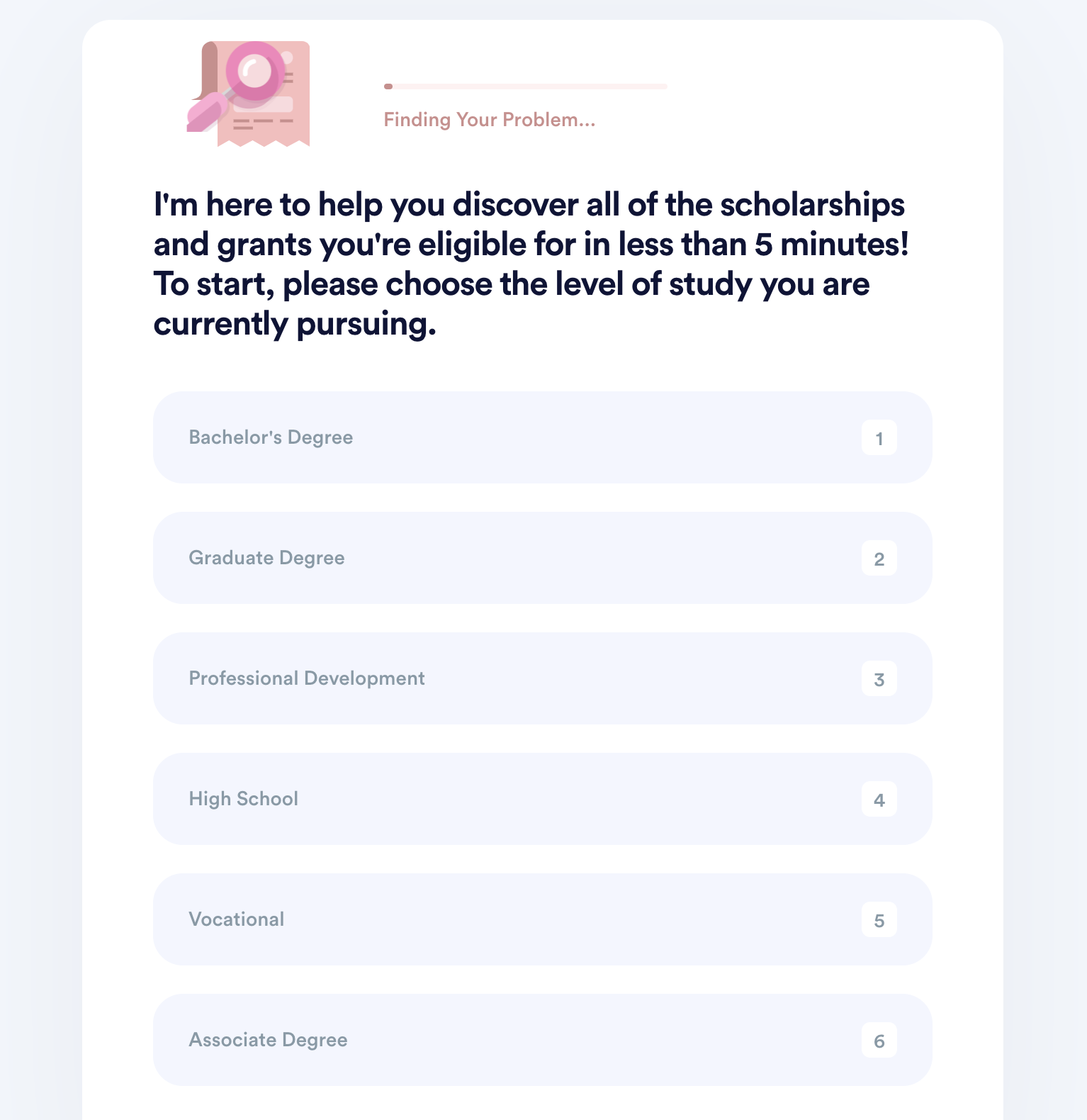 Instead of combining various scholarship search tools, DoNotPay offers you a multi-purpose solution to substitute all of the previous ones you used.
Regardless of whether you're chasing a bachelor's degree or graduating from high school this summer, our app helps you find and apply for the best scholarship opportunities available.
To maximize your chances of getting college scholarships:
Search for our Apply for Scholarships product
Choose the level of study you're pursuing
Answer our chatbot's prompts
You can sift through the list of available scholarships curated to your qualifications and submit individual applications by answering some additional questions, or you can let us apply you for all no-essay scholarships.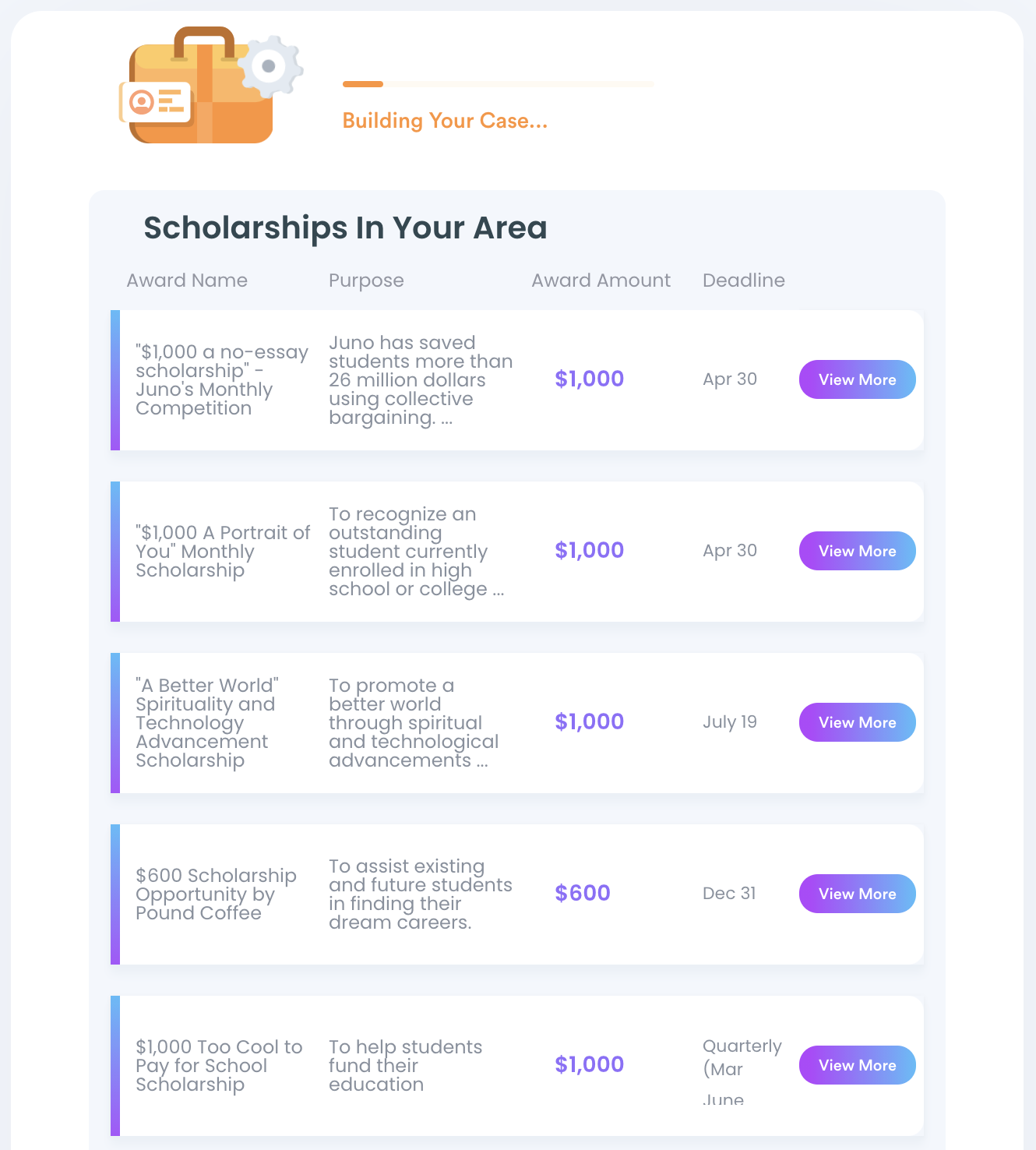 DoNotPay Offers Quick Solutions to Tedious Problems
Are you overwhelmed by your never-ending to-do list? We're happy to jump in with a perfect solution to deal with everyday tasks the easy way!
Once you subscribe to DoNotPay, you'll be able to schedule DMV appointments, lower your monthly bills, and contest parking tickets without breaking a sweat!
If you are looking for further assistance, our app will show you how to deal with the following tasks effortlessly:
Rely on DoNotPay's Legal Assistance Any Time!
If a company refuses to cooperate, use DoNotPay—the world's first robot lawyer—to sue it in small claims court! Getting the justice you deserve is only a few clicks away!
You can also use our app's various features to do the following: