DoNotPay's Valuable Tips on Where To Find Scholarships
You have ambitious plans for your future education, but you don't have the necessary funds to pursue those ambitions?
Different types of financial aid can resolve this problem for you, but it is often tough to figure out where to find scholarships that cover your needs. Plenty of info is scattered around the websites of different organizations, foundations, or schools. Investing a lot of time and effort to find exactly what you need is frustrating.
DoNotPay helps you find your perfect fit! Take a few minutes and learn a couple of browsing tricks that will help you be a more efficient scholarship hunter!
What Types of Financial Aid You Can Apply For
There are different subtypes of financial aid you can find, but the two main types are:
Grants
Scholarships
Education Grants
Grants are a need-based type of financial aid. This means that they are created for and awarded to students who are from:
Underrepresented groups, such as
Scholarships
Scholarships are usually merit-based, which means they are awarded to students who show excellence in one of the fields. Scholarships can be:
Type of Scholarship
Description
Academic
Athletic
Community service

You are eligible if you demonstrate dedication to community service
Experience in volunteering in different institutions for people in need is necessary

Musical talent

You can apply whether you are a singer, instrumentalist, or composer

Unique traits

Any unique hobby or a skill recognized by a major company or organization can get you a scholarship
Where To Look for Scholarships and Grants
There are numerous ways to get informed about available scholarships. Before you start looking, keep in mind that many scholarship providers ask for recommendation letters or admission essays as a part of your application.
Here are several suggestions on where you should look for available scholarships:
The school you'd like to attend
Corporate and non-profit organizations
Your academic advisor's office
Bulletin boards and newspapers
Scholarship search engines
Visit the Website of Your Dream School
The best place to begin looking for scholarships is the school you would prefer to attend. Whether you are looking for a college or a graduate school scholarship, the institution likely offers a list of available scholarships on its website.
Check Big Companies and Non-Profit Organizations Websites
There are different non-profit organizations, companies, and state/federal institutions that offer scholarships.
If you are aware of any of the past scholarship offers, make sure to check the websites of these providers as there is a high chance they have annual award schemes. You should also check your state's department of education website for any available state-funded scholarships.
Ask Your School's Academic Advisor
Academic advisors often have significant intel when it comes to active scholarships, so make sure you check with them. They have insight into your academic and other achievements and may be aware of the scholarship that fits your profile.
Check Bulletin Boards and Newspapers
Bulletin boards and newspapers are a bit outdated, but that's what makes them great.
They are often overlooked by your peers, which gives you a great opportunity to apply for a lesser-known scholarship. This is an excellent way to learn, for example, about local scholarships awarded to teenagers, or high school juniors or seniors residing in the city.
Browse via Scholarship Search Engines
Doing your scholarship research via scholarship search engines can leave you disappointed. The data provided by these engines is not always up-to-date. These platforms usually don't have access to the full list of U.S. scholarships, so you'll still need to dig further on your own.
Not into falling down the Google rabbit hole? Want to try a simpler method?
and get detailed info on all active scholarships in the country. You can get a comprehensive list of all scholarships and grants that fit your profile in a few clicks.
Looking for the Fastest Way To Find Scholarships? Look No Further Than DoNotPay!
DoNotPay helps you find all scholarships that correspond to your education level, ambitions, interests, and other parameters in a couple of minutes. Applying is even easier. All it takes is a few clicks, and our app will automatically send your applications for all no-essay scholarships you find interesting.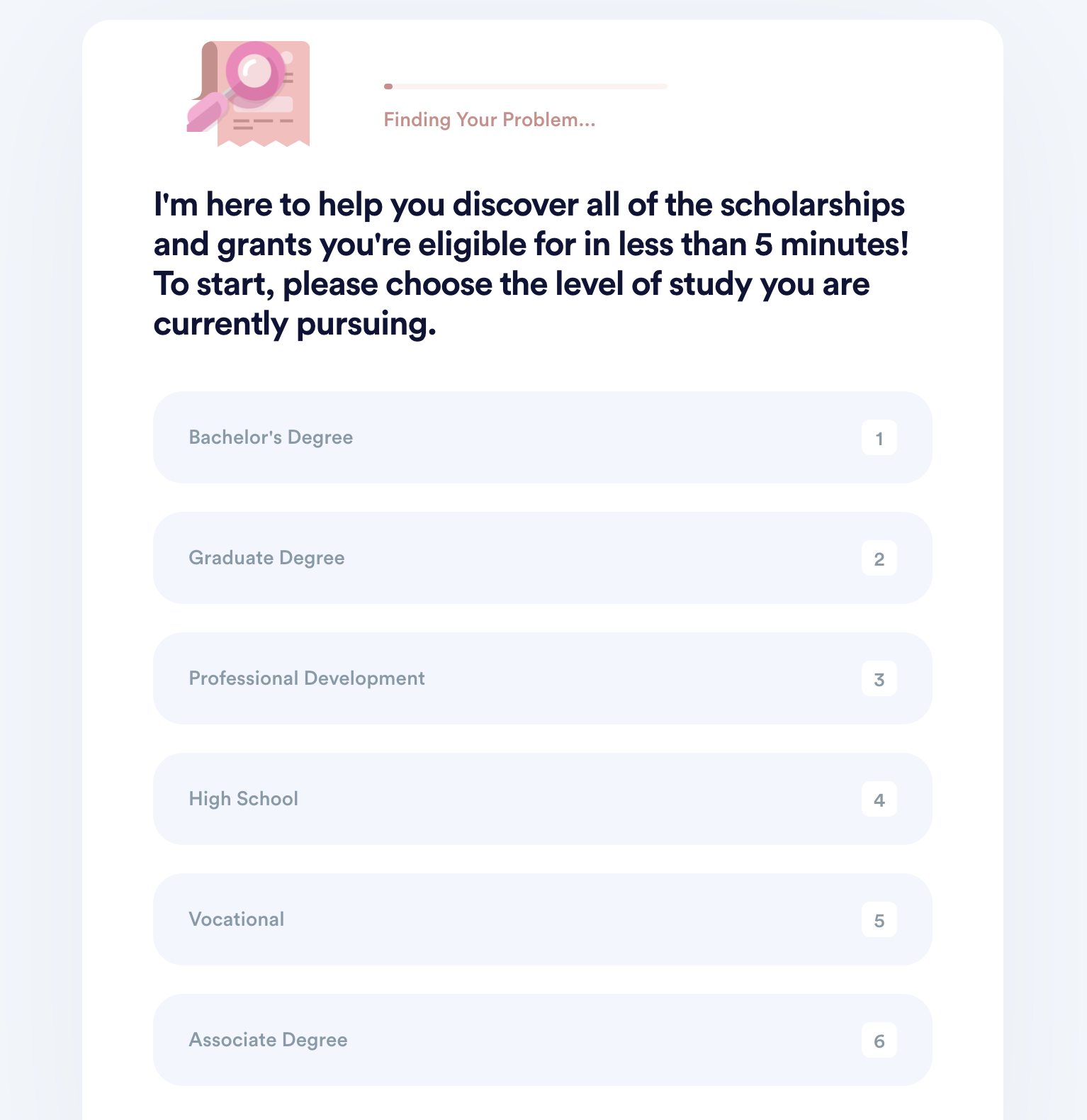 Here is what the scholarship search and application process looks like with DoNotPay:
and select the Apply for Scholarships tool
Answer a few questions about your education level and goals
Give us the name of your current school/college
Our app will also let you mark the type of financial help you are interested in, such as:
Standard scholarships
Public grants
Prizes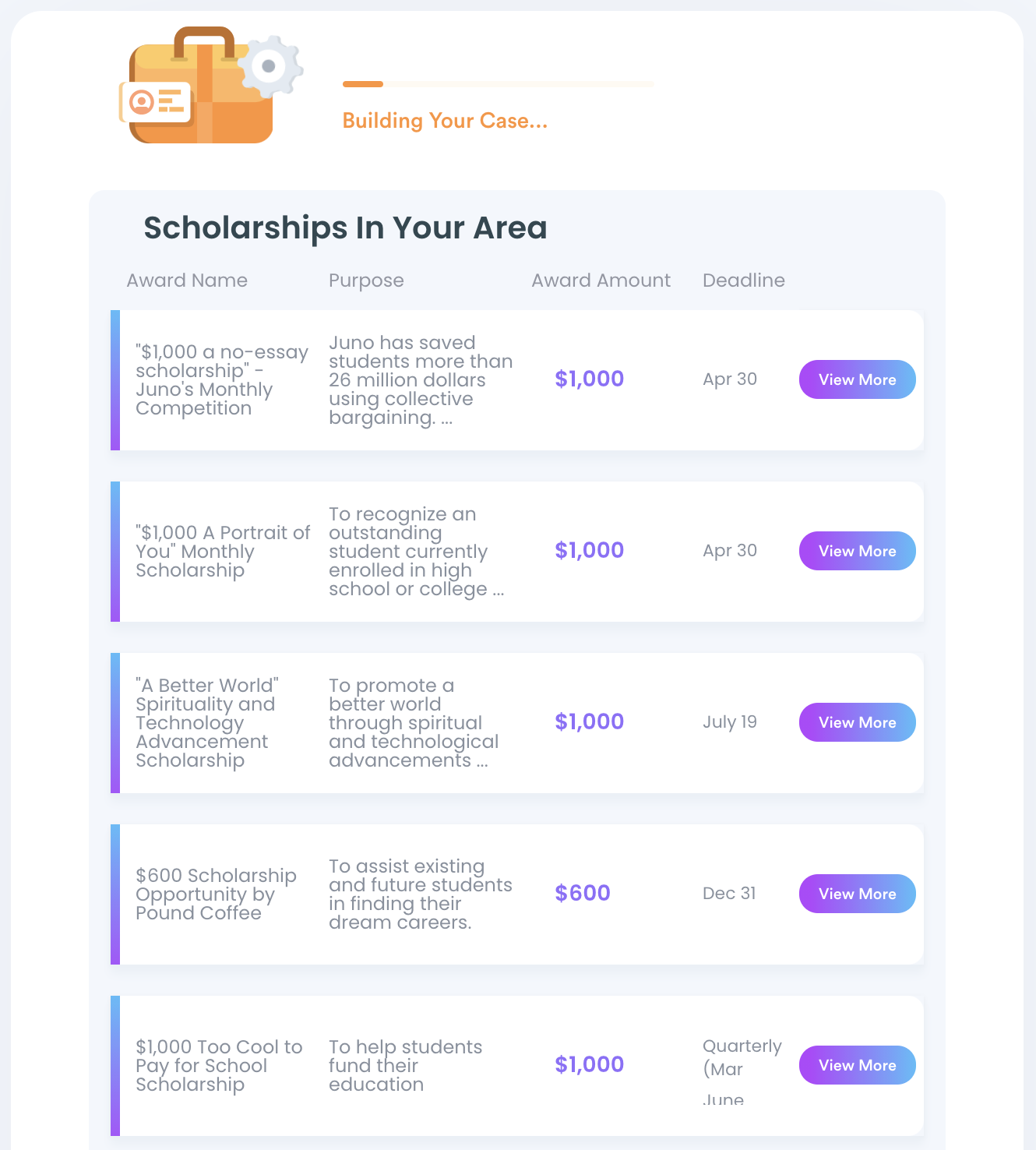 Administrative Issues? We Don't Know Them!
Forget about getting frustrated and overwhelmed by the administrative tasks waiting for you to complete them! With DoNotPay's numerous tools, you can easily resolve such tasks in a heartbeat! All you need to do is sign up for our app, and you'll be able to:
Get
Create
File

Divorce settlement agreements

Powers of attorney
Use DoNotPay To Protect Yourself at All Times
Are pesky robocalls and email spammers working your last nerve? Don't despair—we are happy to help you get rid of them! In a few clicks, you can also stop text spam and avoid the incessant phone buzzing!
You can use our app to protect your privacy by creating burner phone numbers and virtual credit cards. That way, you don't have to disclose personal info when subscribing to online services.
In case you're looking for a way to keep yourself safe from stalkers or work discrimination, we'll help you report the case and walk you through the entire process!
Protecting your work from copyright violation and asking for violent crime compensation in your stead is also something DoNotPay can do!