Write the Best Cover Letter for Your Scholarship Application Without Any Fuss
Scholarships and grants can help you graduate debt-free. Whether you are a high school senior, college student, or graduate school student, your opportunities are endless. To secure a scholarship, you often have to show why you deserve it by writing a cover letter. This guide will teach you how to write a killer cover letter for a scholarship that will help you stand out.
Do You Need a Cover Letter for a Scholarship?
Every scholarship program has its own application guidelines, which will dictate if you need a cover letter or not. Other requirements for applying for a scholarship usually include:
A cover letter is an added chance to convince the scholarship committee that you deserve the award.
Winning a scholarship is not easy, and you should apply to as many programs as you can. Still, the scholarship search process can be discouraging if you don't know where to look. Don't stress about it! Find more scholarships with DoNotPay. All you need to do is sign up, and the app will get you a list of all open scholarships you are eligible for in a few minutes.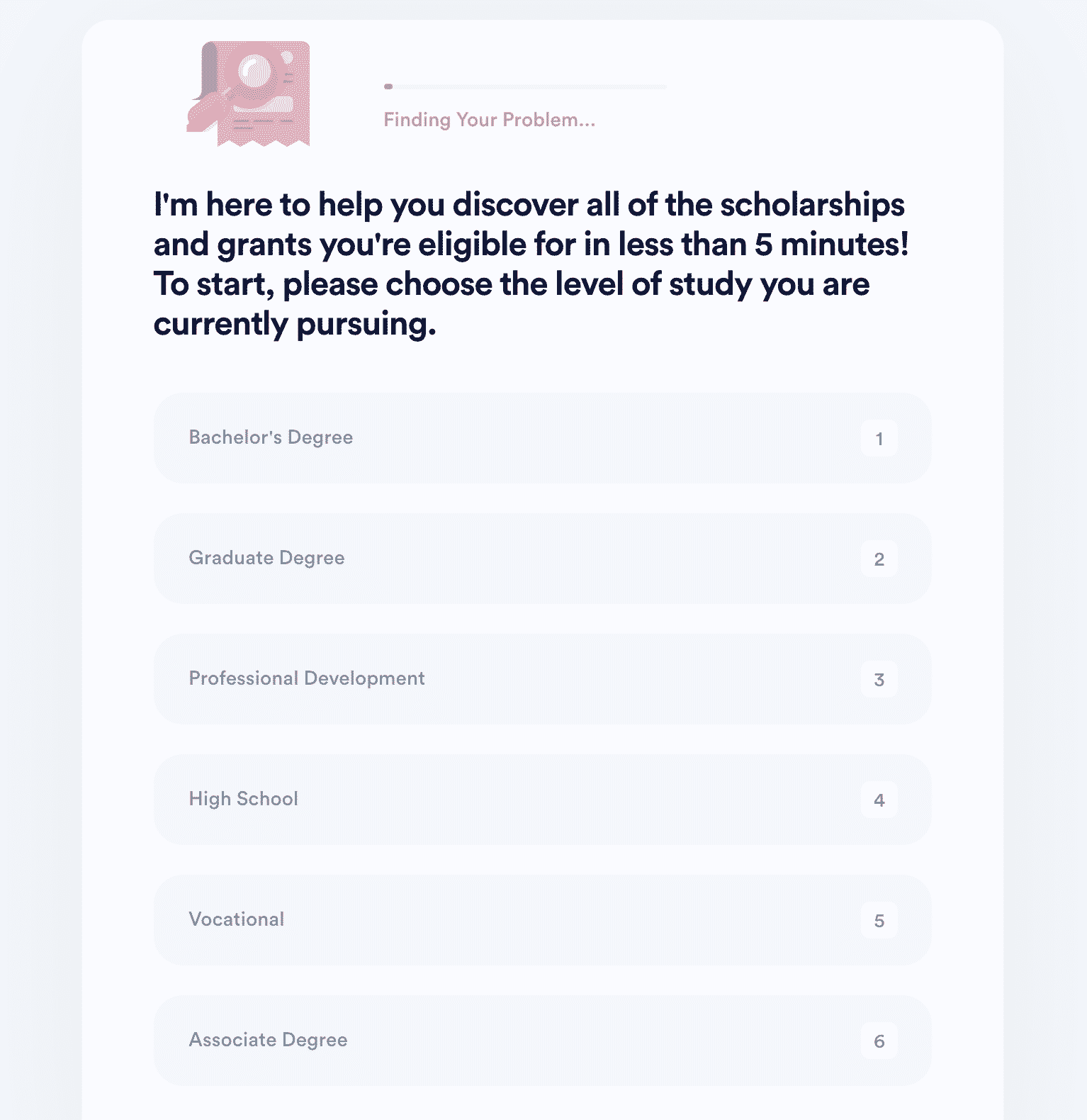 How To Write a Cover Letter for a Scholarship
A cover letter for a scholarship should explain your interest in the particular award and prove that you deserve to get the money. It should also outline how financial aid will help you achieve your education goals.
Make your application a success by following these tips on how to write a scholarship application letter:
Review the scholarship information
Use the right formatting and structure
Write a compelling introduction
Explain why you are the best candidate for the award
Close with a call to action
Review the Scholarship Information
Before you can write the first word, you need to know what to include in a cover letter for a scholarship. Start by reviewing the scholarship requirements and note any specific guidelines provided.
You also need to identify what the scholarship provider is looking for in the ideal candidate. Aligning your application with the ideal candidate description makes the difference between a generic scholarship cover letter and one that impresses the interviewing committee.
Use the Right Structure and Formatting
If no structure guidelines are provided, you should use the standard cover letter structure and formatting, as follows:
Cover letter header
Salutation
Introduction
Body paragraphs
Closing paragraph and a call to action
Signature
Write a Compelling Introduction
This is where you get the attention of the interviewing committee—show your passion and understanding of your field of study. You should outline the value you will add to the community after completing your studies and align it with the scholarship provider's values. Be sure to mention the specific scholarship program you are applying for because some organizations offer several programs.
Explain Why You Are the Best Candidate for the Award
The next paragraphs should explain why you deserve the award. Don't just write that you deserve the opportunity—talk about your strengths, education goals, career plans, and community impact. Explain how winning the scholarship will help you achieve each of those goals.
Remember that the goal is to match your personal story with the provider's mission. Ensure that you use examples where need be. For instance, you can emphasize your work ethic and drive by mentioning your accomplished projects, community work, and internships. This will set you apart as someone who has a bright future and possibly get you the award.
Close With a Call to Action
The ending of your scholarship cover letter is a chance to create a lasting impression. It should entice the interviewing committee to invite you for an interview.
You can show appreciation for their time and say that you are open to or looking forward to further discussing your achievements and suitability for the award in person.
After that, use a formal and respectful closing and add your signature at the end.
Extra Tips on How To Write a Scholarship Application Letter
Here are a few more tips to help you submit the best cover letter for a scholarship:
Don't wait to write the letter a few days or hours before the deadline
Use keywords from the scholarship requirements, for instance, stellar grades, leadership skills, etc.
Keep your letter short—one page is usually enough
Be respectful and humble, but don't use a begging tone
Don't make it all about yourself
How To Avoid the Common Cover Letter Mistakes
Here's how you can avoid some of the common mistakes that applicants make when writing their cover letters:
| Common Mistakes | What To Do |
| --- | --- |
| Poor spelling and grammar | Make sure you proofread your letter before submitting |
| Informal tone | You should use a formal tone but express yourself with confidence |
| Messy formatting | Aim for readability. Use shorter paragraphs and consult cover letter templates if you need to |
| Emotional details | Don't complain about your personal circumstances, but instead show how you have persevered and how much you're determined to chase your goals in spite of all the challenges |
Need More Scholarships? Use DoNotPay!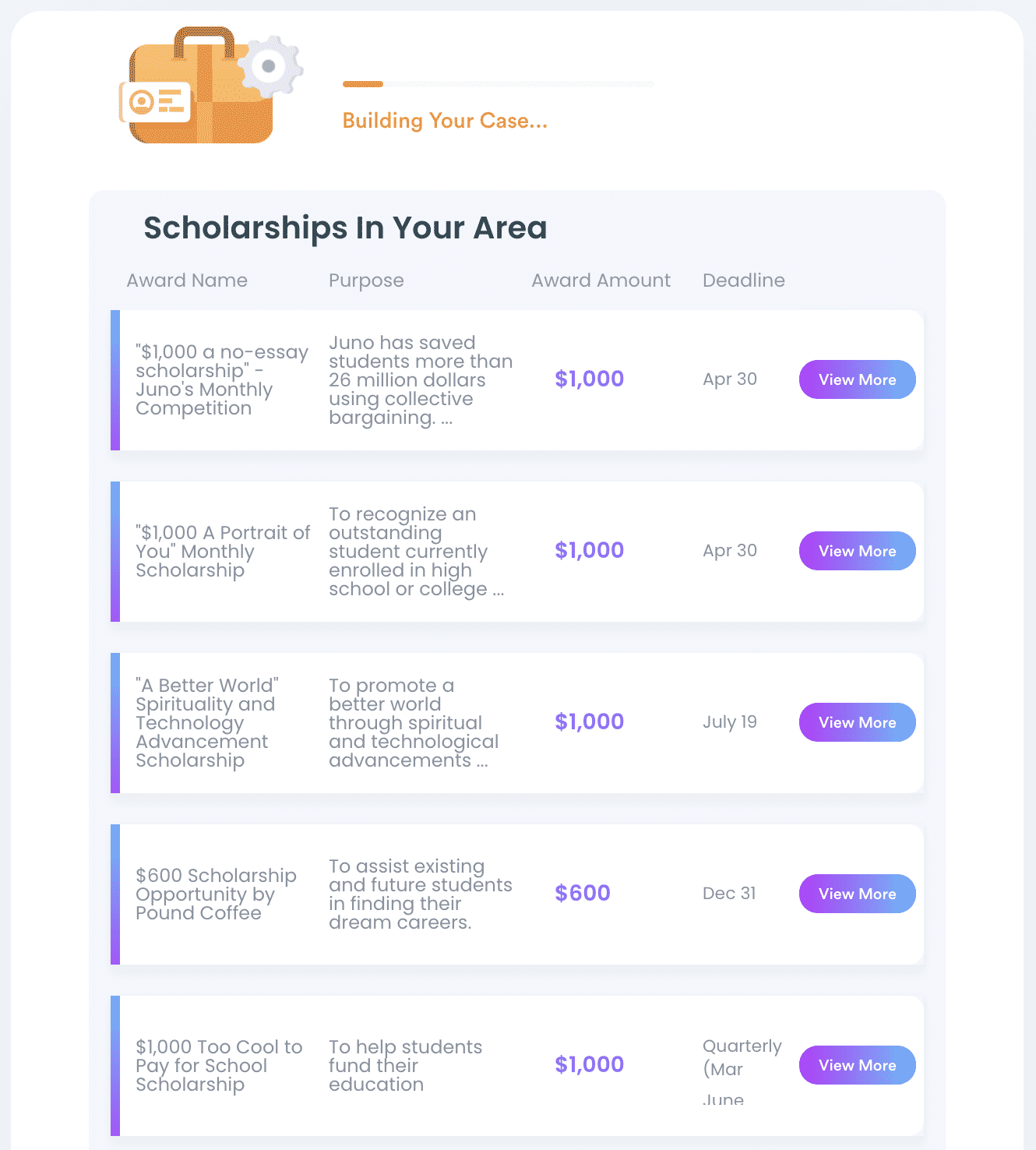 DoNotPay is the game-changer for scholarship applicants. Our app gives you a complete list of all the scholarships that match your profile in a few minutes. All you have to do is answer a couple of questions about your academic history and goals, and you will instantly discover even the not-so-popular awards.
Why not try it yourself? Just follow these steps:
Go to the Apply for Scholarships feature
Answer a few questions related to your education
Our AI bots can submit applications for no-essay scholarships on your behalf automatically to streamline the process even more.
DoNotPay is your go-to app when it comes to scholarships—whether you are an international student, veteran, woman, college freshman, mom, legal immigrant, or any other applicant category.
Explore DoNotPay's Product Range
Are you looking for additional assistance from our app? We're happy to inform you that DoNotPay provides you with a number of useful tools that you can use to complete mundane tasks in the blink of an eye! Sign up for our app and let us help you get:
DoNotPay Resolves Your Financial Issues in a Few Taps
You don't have to struggle to figure out how to resolve financial problems yourself when you have our app at your disposal. In only a few clicks, you'll be able to discover any unclaimed money under your name, submit insurance and warranty claims, or request compensation for delayed flights.
But that is not all! Lowering your utility bills, appealing parking tickets, or canceling memberships and subscriptions is also something you can do in no time and with minimum effort if you use DoNotPay! Work smarter, not harder!