All You Need To Know About Environmental Science Scholarships
As the climate changes before our eyes and the number of endangered species increases daily, protecting the environment is more important than ever. Should you decide to pursue a degree in environmental science, you'll be happy to know that many organizations offer college scholarships that can support your decision financially.
This guide will help you learn where to look for environmental science scholarships and how to apply for them so that you can pursue your degree worry-free!
Scholarships for Environmental Science Majors—Where Can You Find Them?
Some of the resources that can help you find environmental science scholarships and grants include:
Federal and state agencies
Associations dedicated to environmental science, such as:

National Environmental Health Association (NEHA)
National Association of Environmental Professionals (NAEP)
American Academy of Sanitarians (AAS)
Air and Waste Management Association (A&WMA)
Society of Environmental Toxicology and Chemistry (SETAC)
Minority Environmental Leadership Development Initiative (MELDI)
Garden Club of America

Your school's:

Guidance counselor
Financial aid consultant

Previous scholarship recipients
Compiling information from these resources and checking whether you qualify for any of the opportunities you find is an exhausting process, but it doesn't have to be. DoNotPay can provide a list of scholarships you surely qualify for so that you only need to check out the application requirements and apply for them. to get your custom list of scholarships and save time!
Types of Scholarships for Environmental Science You Can Apply For
You can qualify for various scholarships for environmental science, depending on your specialization. The six significant fields in environmental science are:
Social sciences
Ecology
Geosciences
Atmospheric sciences
Environmental chemistry
Water science
The vast majority of available scholarships are either general or for multiple subdisciplines, which makes them more competitive.
Suppose you want to get more significant amounts of financial aid—in that case, you can always opt for more general and less competitive awards (non-field-specific), including no-essay scholarships, which work like raffles.
Scholarships for Social Sciences
If you're studying or planning to study social sciences, you can specialize and apply for scholarships for the following subdisciplines:
Anthropology
Economics, business, and management
Sociology
Ecology Scholarships
Colleges and other donors usually offer general environmental science scholarships to ecology students rather than having awards dedicated to that field in particular.
Scholarships for Geosciences
Students looking for geoscience scholarships typically have to apply for more general ones, such as Earth or physical science scholarships. Fewer scholarships are available for particular geoscience subdisciplines, such as sedimentology, paleontology, geomorphology, and more.
Atmospheric Science Scholarships
There aren't many scholarships for atmospheric sciences or meteorology available to students. Some of the donors that offer scholarships for atmospheric sciences include:
American Meteorological Society (AMS)
Women in Aerospace Foundation
The National Oceanic and Atmospheric Administration (NOAA)
Meteorological companies
Scholarships for Environmental Chemistry
If you search for scholarships for environmental chemistry, you will find out that there aren't many available. Private donors offer environmental chemistry scholarships in select schools, and they are primarily for graduate students.
Water Science Scholarships
Numerous associations and foundations help students pursue a degree in water sciences. Some of them are:
Water Environment Federation (WEF)
National Ground Water Research and Educational Foundation (NGWREF)
American Ground Water Trust (AGWT)
American Water Works Association (AWWA)
American Water Resources Association (AWRA)
Soil and Water Conservation Society (SWCS)
Scholarships for Environmental Studies You Should Check Out
The table below has some of the best scholarships for environmental studies in different categories to help you choose the best ones:
Category
Scholarships
Environmental science scholarships for undergraduates

National Environmental Health Association / American Academy of Sanitarians Scholarship
Clara Carter Higgins Scholarship and GCA Awards for Summer Environmental Studies

Environmental science scholarships for high school seniors

New York Water Environment Association Scholarship for High School Seniors
RTK Scholars Program
Ted Rollins Eco Scholarship
Peters Foundation Scholarship (for prospective Christian college students)

Environmental law scholarships

Emily M. Hewitt Memorial Scholarship
UCI Law—Environmental Law Scholarship Program

Scholarships for women in environmental science

Association for Women Geoscientists Minority Scholarship
Brown and Caldwell Women in Leadership Scholarship
How To Apply for Environmental Science Scholarships
The requirements for environmental science scholarships typically require students to submit the following paperwork:
Category
Documentation
Applications

College Scholarship Service (CSS) Profile
Separate scholarship application

Supporting documents

High school or college transcripts
Proof of heritage or residency
DoNotPay Finds Environmental Science Scholarships in a Jiffy!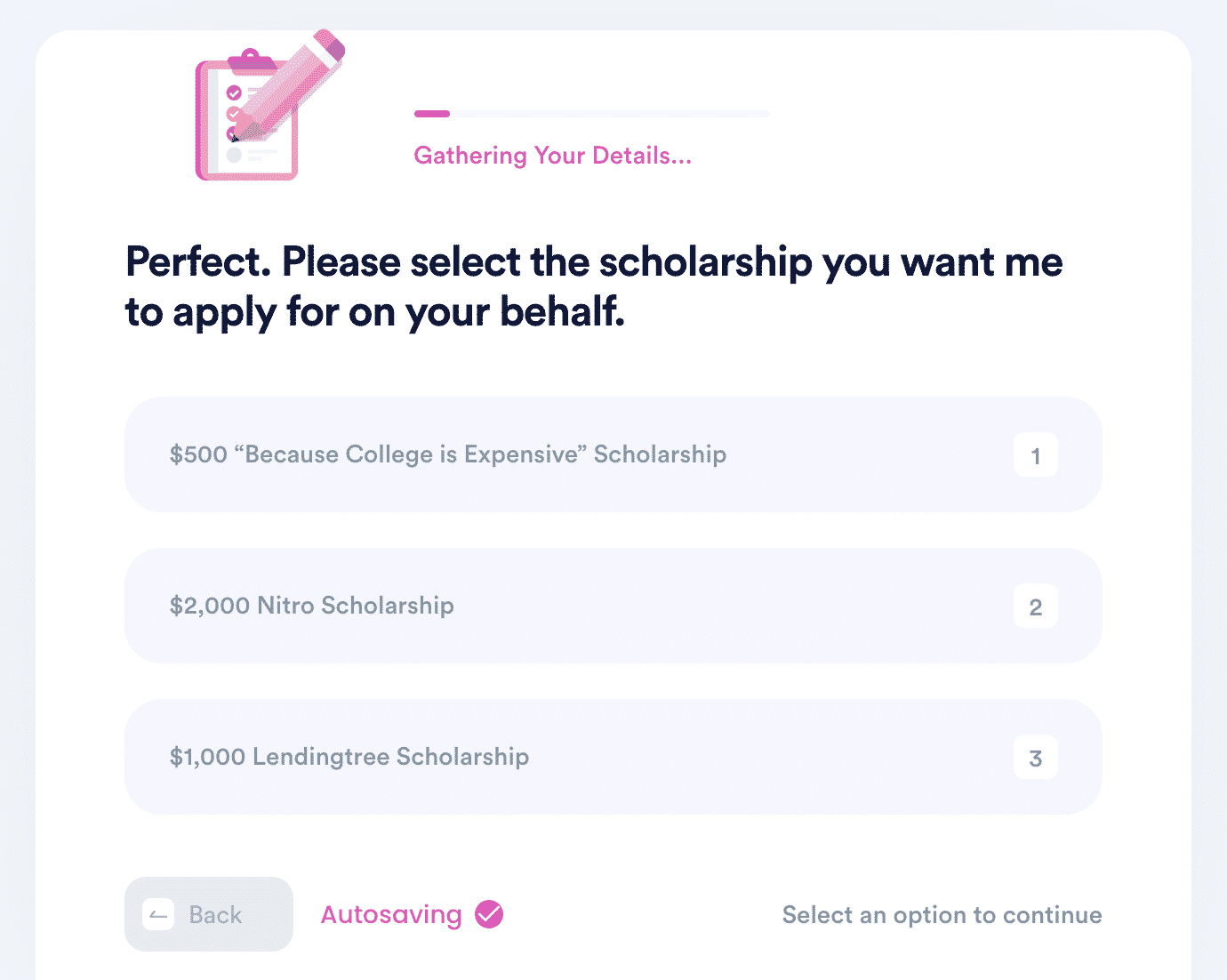 Whether you're still in high school or starting doctoral studies, DoNotPay can find scholarships and grants to help you reduce your educational costs. All you need to do is answer a few questions and tell us whether you fall under a particular student category, such as international students or veterans. Our app will then generate a list of scholarships you qualify for.
To start looking for scholarships for environmental science or any other field of study:
Navigate to the feature called Apply for Scholarships
Answer a few questions
If you want the app to apply for no-essay scholarships on your behalf, you can select that option as well.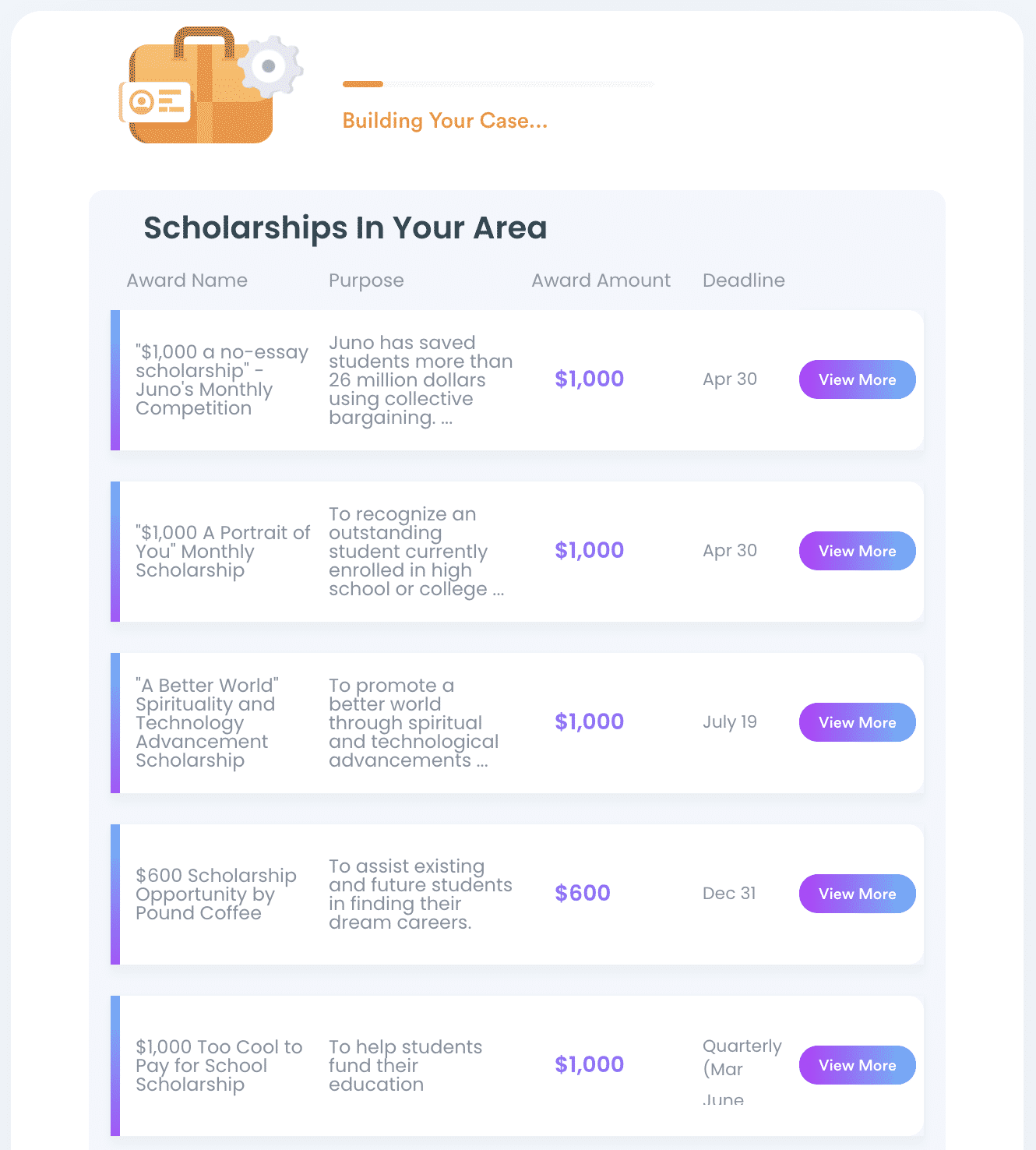 DoNotPay Offers Quick Solutions to Tedious Problems
Are you overwhelmed by your never-ending to-do list? We're happy to jump in with a perfect solution to deal with everyday tasks the easy way!
Once you subscribe to DoNotPay, you'll be able to schedule DMV appointments, lower your monthly bills, and contest parking tickets without breaking a sweat!
If you are looking for further assistance, our app will show you how to deal with the following tasks effortlessly:
Rely on DoNotPay's Legal Assistance Any Time!
If a company refuses to cooperate, use DoNotPay—the world's first robot lawyer—to sue it in small claims court! Getting the justice you deserve is only a few clicks away!
You can also use our app's various features to do the following:
Demand refunds

Reduce your property taxes