Scholarships for Students With a Disabled Parent—Everything You Need To Know
Having a disabled parent is one of the life circumstances that can make paying college tuition even more difficult. Fortunately, a variety of scholarships for students with a disabled parent are available in the U.S. They are granted both by:
Governmental organizations
Non-governmental organizations
Check out this easy-to-read guide DoNotPay has prepared for you, and let us take you through the process of selecting and applying for the most suitable scholarship.
What Is a Scholarship for Children of Disabled Parents?
Parent disability scholarships are designed for students whose parents suffer from medical conditions or disabilities, such as:
Quadriplegia
Blindness
Deafness
Amputated limbs
Spinal cord injuries
Cancer
Diabetes
Multiple sclerosis
Mental illness
HIV/AIDS
Muscular dystrophy
Intellectual disability
ALS
Muscular dystrophy
List of Parent Disability Scholarships You Can Apply For
There are quite a few scholarships you can choose from if one or both of your parents are disabled. Some of the best scholarships available are listed and explained in the table below:
Scholarship Name
Explanation and Eligibility Criteria
Alabama Scholarships for Dependents of Blind Parents
You are eligible for this scholarship if you have a blind parent and are an Alabama resident for at least five years. Your family's income should not exceed 1.3 times the current poverty income level
Millie Brother Scholarship
An annual scholarship awarded to children with deaf parents. It is available for both undergraduate and graduate students with any GPA
Paralyzed Veterans of America Scholarship
A scholarship for children of disabled veterans of the United States of America. If you want to apply, you must be a college or university student and write a 750-word essay describing yourself
The Pinnacol Foundation College Scholarship Program
This program is designed for children of Colorado-based workers who died or suffered serious injuries while on duty.

The applicant must be between 16 and 25 years old and fully dependent on the disabled parent

Vincent Bennett, Jr. Memorial Scholarship
Annual educational scholarship for incoming freshmen whose parents suffered a permanent disability or died in the line of duty working as enforcement officers or firefighters
Mesothelioma.com Scholarship
Designed for students who suffered from or any of their family members suffered from a form of cancer. To apply, you must attend a university, community college, or degree program, and your GPA should be at least 3.0
Victoria Ovis Memorial Scholarship
Honors outstanding students who are children of law enforcement officers who suffered a permanent disability or were killed in the line of duty.
Roadway Worker Memorial Scholarship
This scholarship is available to children and spouses of the disabled or killed roadway workers
Application Process and Eligibility Criteria for Parents With Disability Scholarships
In general, to be eligible for most of the parents with disability scholarships, you have to:
Be a current high school, college, or grad school student
Have U.S. citizenship (international students can't apply)
Be a child of a disabled parent
To qualify for certain scholarships, you'll need to have a minimum grade point average (GPA) of 2.0 or 3.0, belong to a certain age group (usually 17 to 25), and write a scholarship essay. A letter of recommendation won't be necessary.
You can find detailed information about the application process, deadlines, and eligibility criteria on the website of a scholarship you plan to apply for.
How To Find Scholarships for Students With Disabled Parents
To find scholarships for students with disabled parents, you will have to search the Internet or contact organizations that are directly associated with your parent's disability. Prepare yourself for meticulous and time-consuming research because there are many options you can choose from. Keep in mind that you may also qualify for other kinds of scholarships, such as scholarships for women and minorities.
If the whole process of finding the best scholarship for your needs seems too complicated, . Save your time because we can provide you with the list of the scholarships and grants you are eligible for in minutes. If you're interested in a no-essay scholarship, we can even sign you up for it.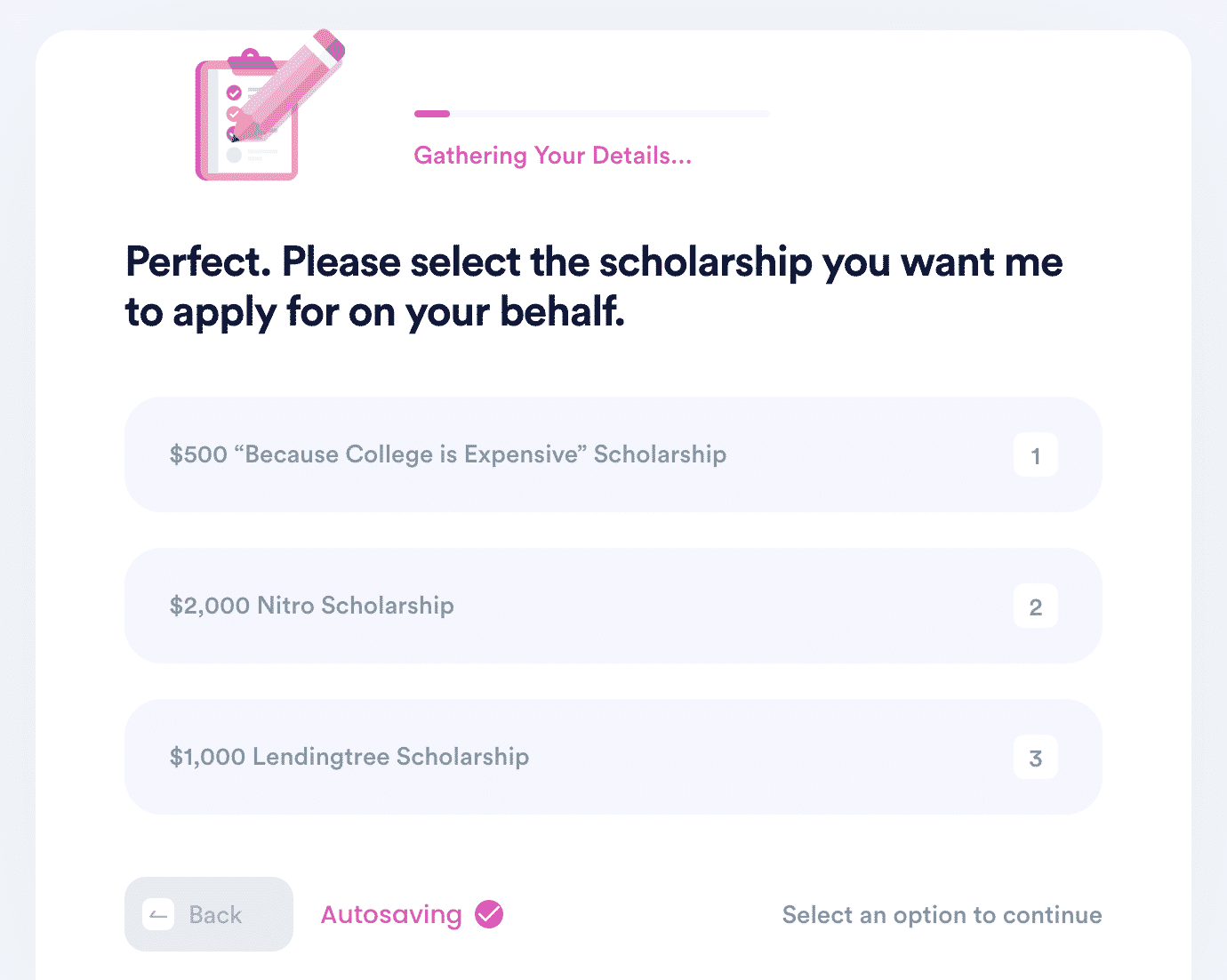 Use DoNotPay To Apply for Scholarships in a Few Clicks
It's difficult to keep track of limitless scholarship options and find the right ones. Signing up for DoNotPay will relieve you of that responsibility.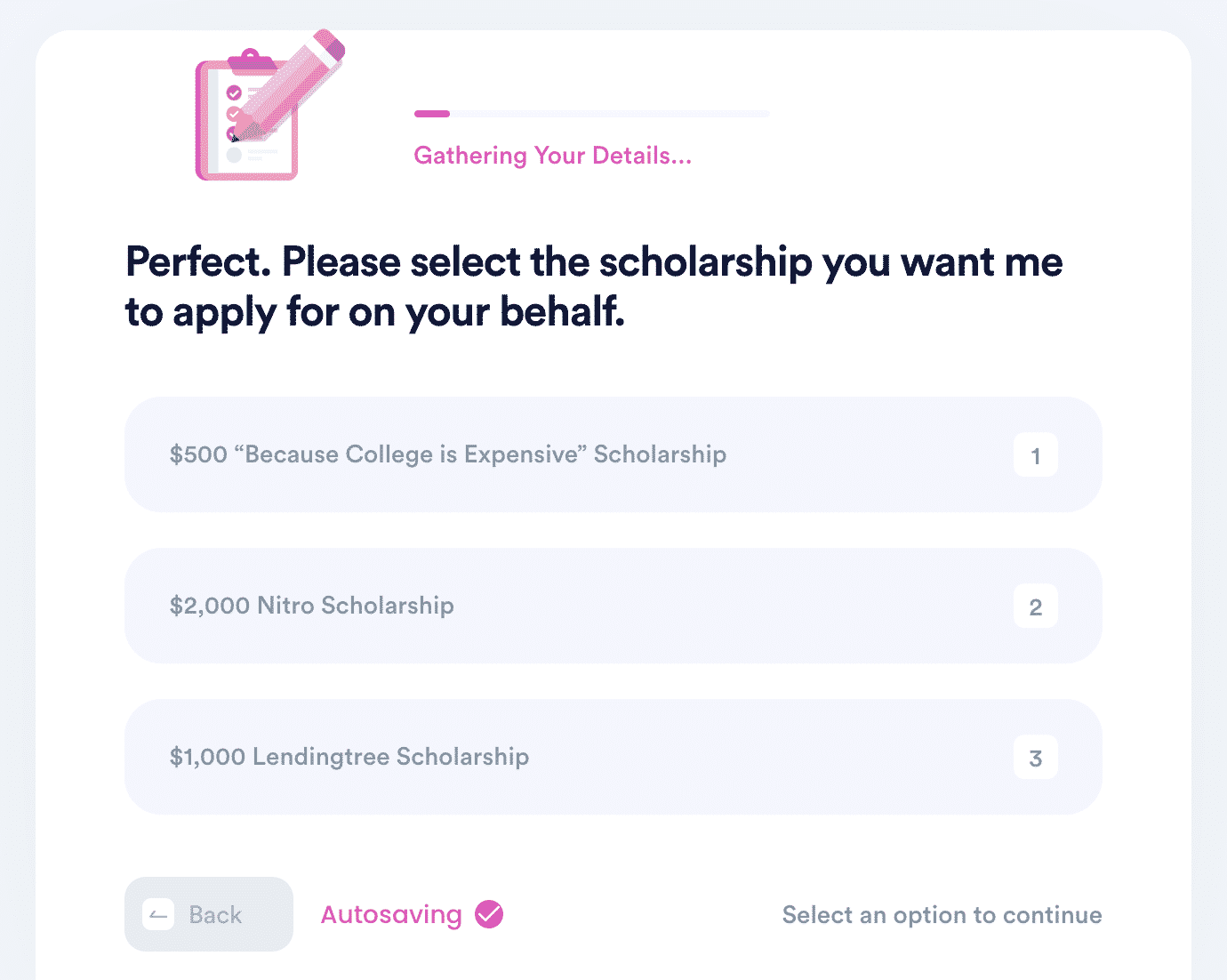 Follow four easy steps:
from any web browser
Find the Apply for Scholarships product
Pick your level of study
Provide us with more info about the specific qualification you possess and your educational achievements
We'll process your answers in a few minutes and send you a list of scholarships that would be the best fit for you. The list will also include:
The amount of aid you can get
The application deadline
Use DoNotPay To Deal With a Plethora of Bureaucratic Tasks!
Tired of dealing with bureaucracy? We understand the struggle, and that is why our app makes handling administrative tasks a breeze!
Regardless of whether you need to compose a legal document, such as a power of attorney or a child travel consent form, appeal property taxes or your parking tickets, file a financial aid appeal and a FOIA request, or get a document notarized, DoNotPay has got you covered!
In case you also need to submit anonymous HR complaints, our app will provide you with the easiest way to do so!
Go on a Stress-Free Shopping Spree With DoNotPay
Do you like to shop until you drop? With DoNotPay, you won't have to worry about dropping! We'll make sure you can:
If you need more money to continue your shopping spree, let our app help you find any unclaimed funds under your name and enter numerous giveaways and sweepstakes!