Scholarship for Teenage Moms—The Right One Will Brighten Up Your Future
As per the latest statistics released by the Centers for Disease Control and Prevention (CDC), almost 17 out of every 1,000 females in the U.S. give birth as teens. Teen pregnancy is established as the most common reason for female students to drop out of high school.
Young mothers who do return to school typically can't afford tuition because of the additional expenses of raising a child.
Thankfully, there are several grants and scholarships for teenage moms struggling to make ends meet. If you are one, you can win over one million in college financial aid as long as you play your cards right!
Why Are Scholarships Crucial for Teenage Moms?
Teen moms face substantial short-term and long-term socio-economic costs of raising a child. Many of them come from low-income households, so they end up taking stressful part-time or full-time jobs to:
Going by current figures, over 50% of teen moms fail to graduate high school by the age of 22 because they:
Scholarships give these young and vulnerable moms the much-needed push to continue their education. The current scholarships for teenage mothers do more than provide financial support—they may also:
Where To Find Scholarships for Teen Mothers
If you're looking for a scholarship for teen mothers, you should investigate the following sources to find appropriate opportunities:
Websites of universities, as well as public and private schools that offer scholarships for teen parents
News bulletins of human rights organizations that announce scholarships for women
Offices of community groups that provide local scholarships to needy students
You can also conduct an internet search to find teen-focused scholarships, but that may take up hours and hours of your time without yielding relevant, up-to-date results.
As teen moms are already exhausted and pinched for time, most never hunt for scholarships with single-minded devotion. As a result, they often miss out on golden opportunities that can help them secure a better future for themselves and their child.
If you want a time-efficient way to keep tabs on all active scholarships, switch to DoNotPay's Apply for Scholarships tool. Our app generates a personalized list of all scholarships tailored to your:
Sign up for our services to access the detailed list of scholarships that fit your profile!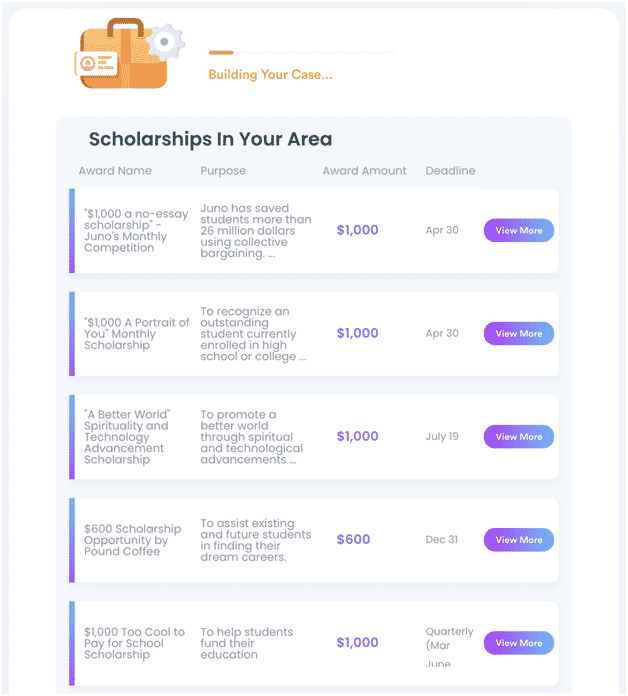 Scholarships for Teen Moms—What To Look For
Whether you're looking for high school or college scholarships, you can find financial assistance for teen moms from the following two categories:
Scholarships for single teenage parents
Scholarships for women returning to school
We have listed out some of the best opportunities available under both categories:
Scholarships Meant For
Examples
Single teen parents

Bethel Foundation Grace Scholarship helps single parents under the age of 18 who are close to poverty
LouEllen Dabbs Scholarship is awarded to young single parents attending a community college and pursuing a degree in business, banking, or finance
Ford Opportunity Program offers 50 scholarships every year to single parents who are the sole breadwinners of their families
Rosenfeld Injury Lawyers LLC supports single mothers from any country as long as they enroll in a law school program
The WISP Change Your World Scholarship awards single mothers who have survived an abusive partner

Women reentering school

Dr. Wynetta A Frazier Sister to Sister Scholarship is awarded to African American women returning to school after a break
The BK Krenzer Reentry Scholarship is offered to college freshmen, sophomores, juniors, or seniors who resume their studies in engineering or related STEM fields
The Mary Jane Young Scholarship for Re-Entry Women focuses on helping women who left studies to raise a family
Scholarship for a Teenage Mother—Application Requirements
While every scholarship or grant has different eligibility criteria, we have compiled some of the common application requirements for the ones aimed at teen moms:
Is Applying for Scholarships Too Demanding? DoNotPay Can Back You Up!
Teen moms qualify for dozens of scholarships, but many shy away from applying because:
DoNotPay is the perfect solution to both issues—we not only help you recognize the right financial aid opportunities but also assist you with applying for all no-essay scholarships!
If you wish to apply for scholarships through our app, DoNotPay will curate a list of all no-essay scholarships that align with your profile. Browse through the list and choose the ones you like—we will use the data from your questionnaire answers to apply for those scholarships in your stead. You will receive a confirmation email to help you take stock of all the scholarships you've applied for.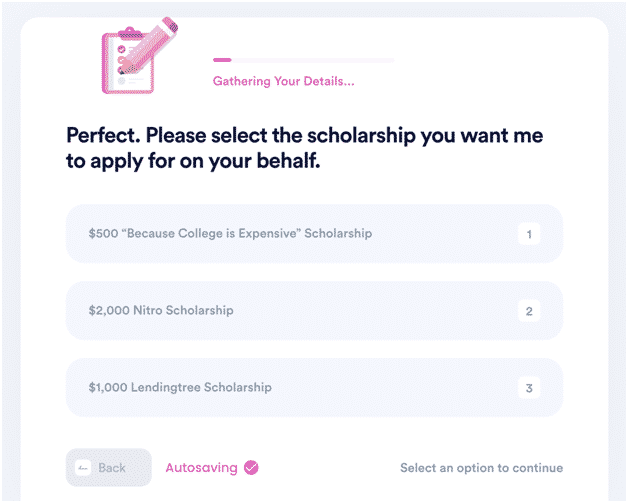 To use our multilevel scholarship support services, do this:
Search for our Apply for Scholarships product
Answer the student questionnaire
Tell us if you'd like to search or apply for scholarships
As new scholarships are announced every single week, use our app to search and apply for the latest ones.
What's Next?
Once you complete the task at hand, you don't have to stop there—we offer a myriad of products that can relieve you of the stress that comes with dealing with admin and legal hurdles.
DoNotPay can assist you in drawing up a divorce settlement agreement, child travel consent form, power of attorney, and other legal documents, contacting government representatives, getting tourist visas, fighting workplace discrimination, getting a burner number, appealing banned accounts, getting access to public records, scheduling a DMV appointment, and much more.
Tackle Any Energy-Draining Task With DoNotPay
With DoNotPay by your side, you don't have to worry about how you'll cover your utility bills at the end of the month—we'll provide swift assistance as soon as you sign up!
Wondering what else our app is capable of? Check out how we can: