The Sure Way of Finding a Scholarship for a Woman Over 40
Regardless of your age, you will find a variety of scholarships and grants to help you achieve your education-related goals without taking out huge loans. The fastest way to find any scholarship for a woman over 40 is using DoNotPay. Our app helps you discover all the scholarships for older women that you qualify for in a few minutes.
This guide will give you an overview of the types of programs available and explain how you can get more opportunities that suit you stress-free.
The Best Scholarships for Women Over 40
Scholarships for women over 40 come from different sources and in various forms. Some cover all schooling expenses, while others offer smaller amounts. In case you get an award that doesn't cover enough of your schooling expenses, you should apply for multiple scholarships.
Here is a list of scholarships for women over 40 that you can check out:
The American Association of University Women (AAUW) Career Development Grants
Alpha Sigma Lambda (ASL) Scholarship for Adult Students
The Jeanette Rankin Women's Scholarship Fund
Sophie Greenstadt Scholarship for Mid-Life Women
Osher Reentry Scholarships
Patsy Takemoto Mink Education Scholarship for Moms
Alpha Phi Omega Scholarship
P.E.O. Program for Continuing Education (PCE)
The AAUW Career Development Grants
This grant provides funding to women who hold a bachelor's degree and want to advance their studies. The amount ranges from $2,000 to $12,000. Applicants should meet the following eligibility requirements:
Be a U.S. citizen or permanent resident
Have a bachelor's degree—earned before June 30, 2014—but without a graduate or professional degree
Major in education, health and medical sciences, or social sciences
The applications open on August 1 and close on November 15.
Alpha Sigma Lambda (ASL) Scholarship for Adult Students
This need-based scholarship is dedicated to adult students pursuing undergraduate degrees. The provider seeks to increase the number of awards and amounts every year.
The Jeanette Rankin Women's Scholarship Fund
The program gives scholarships to low-income women. The awards are renewable for up to five years, and applicants must be:
Enrolled or accepted for undergraduate degree studies in accredited institutions
From low-income families
U.S. citizens or permanent residents
Women aged 35 or older
The current application deadline is February 26.
Sophie Greenstadt Scholarship for Mid-Life Women
This is a $1,000 award for women aged 35 or older. Applicants should be U.S. citizens residing in California. The deadline for application is May, and the prize is not renewable.
Osher Reentry Scholarships
The Osher foundation scholarship is tailored to students aged 25–50 who have a cumulative gap in their education of at least five years. The awards are administered by learning institutions.
You should seek information about the award amount, deadlines, and eligibility requirements at the financial aid office in your school.
Patsy Takemoto Mink Education Scholarship for Moms
The program awards low-income women who have underage children. Applicants must be pursuing their first degrees in post-secondary institutions. The current application deadline is August 1.
Alpha Phi Omega Scholarship
The program awards non-traditional students pursuing undergraduate degrees. Applicants must demonstrate academic excellence and financial need. You can call 715-346-4027 for more information.
P.E.O. Program for Continuing Education (PCE)
The need-based program provides a one-time grant of up to $3,000 for women to complete degrees or certificates. The grant cannot be used to pay for living expenses. Eligibility requirements include:
Being a citizen or permanent resident of the U.S. or Canada
Having a consecutive gap in the education of at least 24 months
Being within 18 consecutive months of completing a degree or certificate program
How To Find Scholarships for Women Over 40
You can get information on scholarships in various ways. For instance, you can:
Check the programs available at your school through the financial aid office or your academic department
Look for programs offered by the federal and state education agencies
Search the Internet
You can refine your search by using the terms that apply to you, such as:
With all the possibilities, the search can be overwhelming. Luckily, you can use DoNotPay to find all the scholarships that you qualify for in one place. We will ask for your education details to get you a personalized list of scholarships in under five minutes. Create a DoNotPay account, and start applying for scholarships in a snap.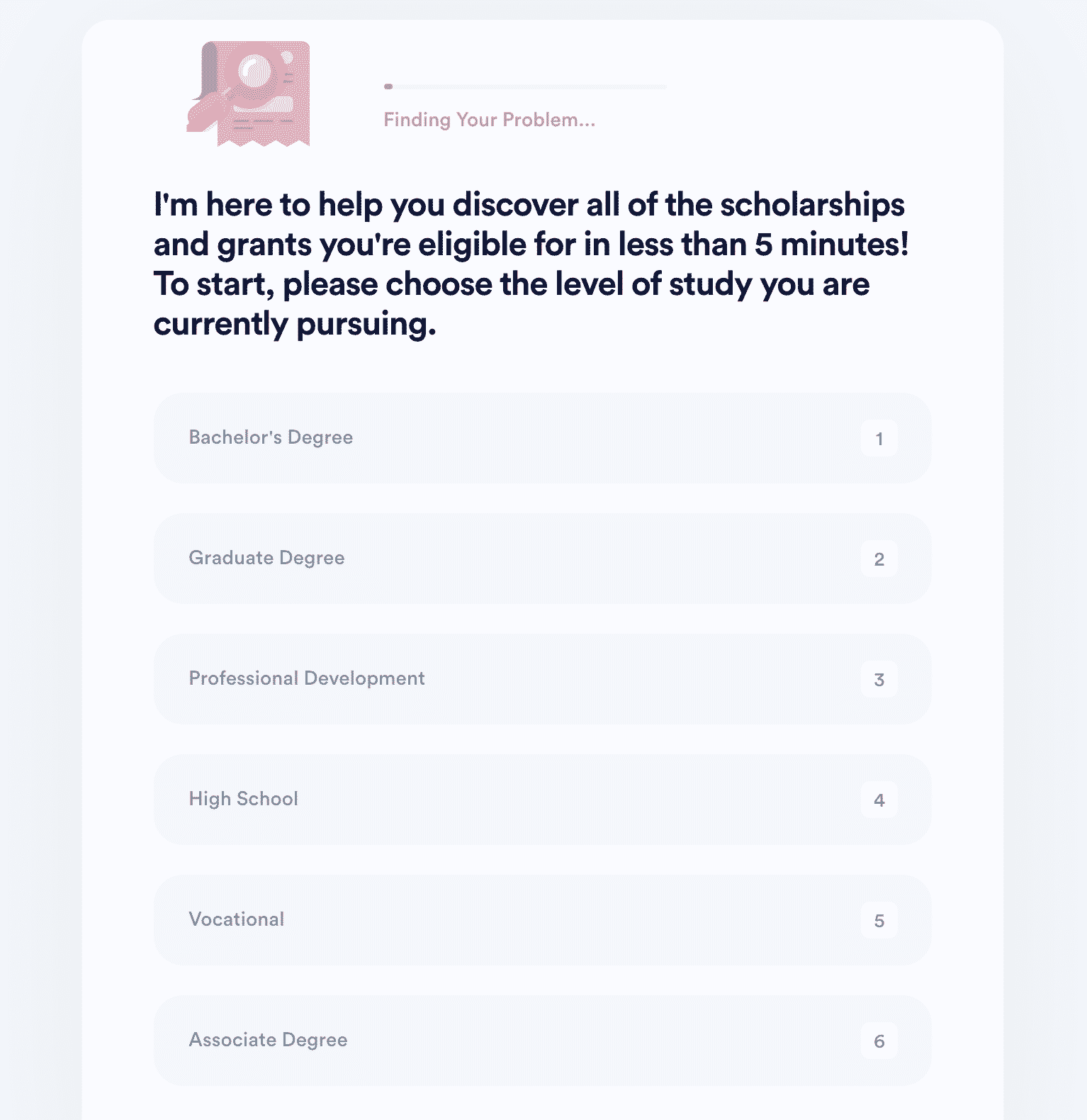 How To Apply for Scholarships for Older Women
Application requirements and procedures vary from one program to another, but you can confirm all the details on the provider's official website. The application requirements for most programs are:
Find and Apply for Scholarships for Women Over 40 With DoNotPay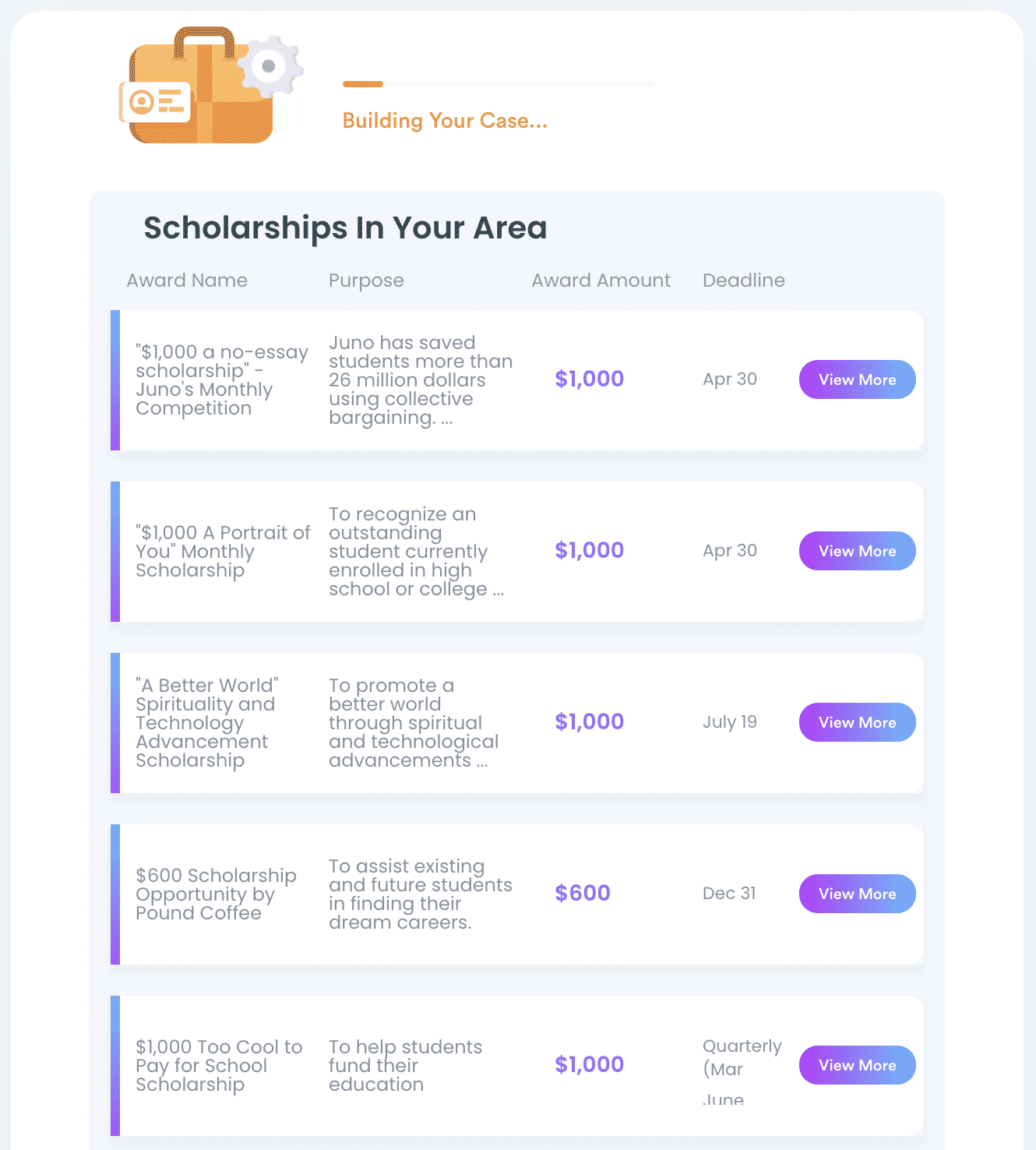 With the variety of scholarships and grants out there, the chances of passing ones that could be right for you are high since you don't have access to all the scholarships at once—unless you rely on DoNotPay.
If you'd like to discover your opportunities, follow these steps to proceed:
Look for the Apply for Scholarships feature
Answer a few questions
After you submit your request, you will get a list of all the scholarships you can apply for. You can also apply for no-essay scholarships that are on your list in a few clicks without leaving the app.
Resolve Any Other Issue You Have Swiftly With Our Assistance
The world's first robot lawyer is capable of tackling any legal or administrative task in your stead. We can draw up any legal document for you—including a power of attorney, child travel consent form, and divorce settlement agreement, to name just a few—help you sue any company or individual in small claims court, send a letter of warning to your noisy neighbors, help you reduce your property taxes and utility bills, and a lot more.
Sign up now if you want to stop email and text spam, claim any insurance or warranty, appeal parking tickets, schedule a DMV appointment in a flash, mail anything worry-free, find your missing assets, create passport photos, or contact embassies and consulates effortlessly.
Let DoNotPay Guide You Through Any Obstacle
Are you tired of corporations not taking their customers seriously? So are we, and that's why our nifty product will assist you in suing any company or individual in small claims court!
If you don't want to have any online service take advantage of you, you can sign up for any free trial completely risk-free with our virtual credit card's help, cancel any membership on time, and demand a refund or chargeback in a split second. DoNotPay can also draw up an airtight return request and send it to a company of your choice instantly.