The Best Way To Secure Scholarships for Legal Immigrants in the U.S.
For a country known as the Land of Opportunity, the United States sure likes to make it hard for people to get their educational chance. Tuition fees can reach up to $35,000 a year, and many students can't keep up with the financial demands. The good news is, there are plenty of scholarships and grants on offer to help them out.
In this article, we'll focus on scholarships for legal immigrants in the U.S. and show you:
What the requirements for scholarships for refugees are
What types of financial aid there are
Requirements for Scholarships for Legal Immigrants
Around 14% of the U.S. population are immigrants—that's 44 million people. A lot of immigrants fail to get a college degree because their families can't support them financially. That's why there are hundreds of scholarships dedicated to legal immigrants and refugees, and the majority of scholarship providers are private companies.
To be eligible for a scholarship for refugees in the USA, you need to have one of the following statuses:
Legal immigrant with residency documents
First-generation American
Another condition that regards only certain programs, depending on the institution behind it, is that you belong to a specific minority. These ethnic groups can be:
All other requirements are scholarship-specific.
Types of Financial Aid
To get a scholarship in the United States, you either need to show academic excellence or prove you're in financial need. Generally, there are three main types of financial aid, as shown below:
| Scholarship Type | Description |
| --- | --- |
| Federal and state merit-based scholarships | Federal and state institutions (including schools and universities) offer scholarships to students with high GPAs and ACT/SAT scores and extracurricular activities |
| Need-based grants and loans | Grants (nonrepayable) and loans (interest-based aid) go to students who can prove their financial need by filling out the Free Application for Federal Student Aid (FAFSA) form |
| Private scholarships | Offered by companies and private funds, these scholarships can be both merit- and need-based. They focus on students who align with an organization's goals and field of work |
Individual programs differ from each other based on three principles:
Level of study
Field of study
Student profile
Level of Study
Some programs can offer aid to students of various levels of study, but others are available only for a specific level, including:
Field of Study
Similar to the level of study, scholarships cater to students enrolled in a particular field, such as beauty, engineering, computer science, arts, music, and film.
Student Profile
When it comes to students' profiles, programs sometimes offer exclusive opportunities to members of a specific group, namely:
Where Can You Find Scholarships for Legal Immigrants?
Finding a financial aid program for which you can apply can be a daunting task in general—it's even more difficult for scholarships for legal immigrants as there are fewer of those around. Most students spend weeks and months scouring the Internet for programs and information.
If you don't know where to begin, here are a few ideas: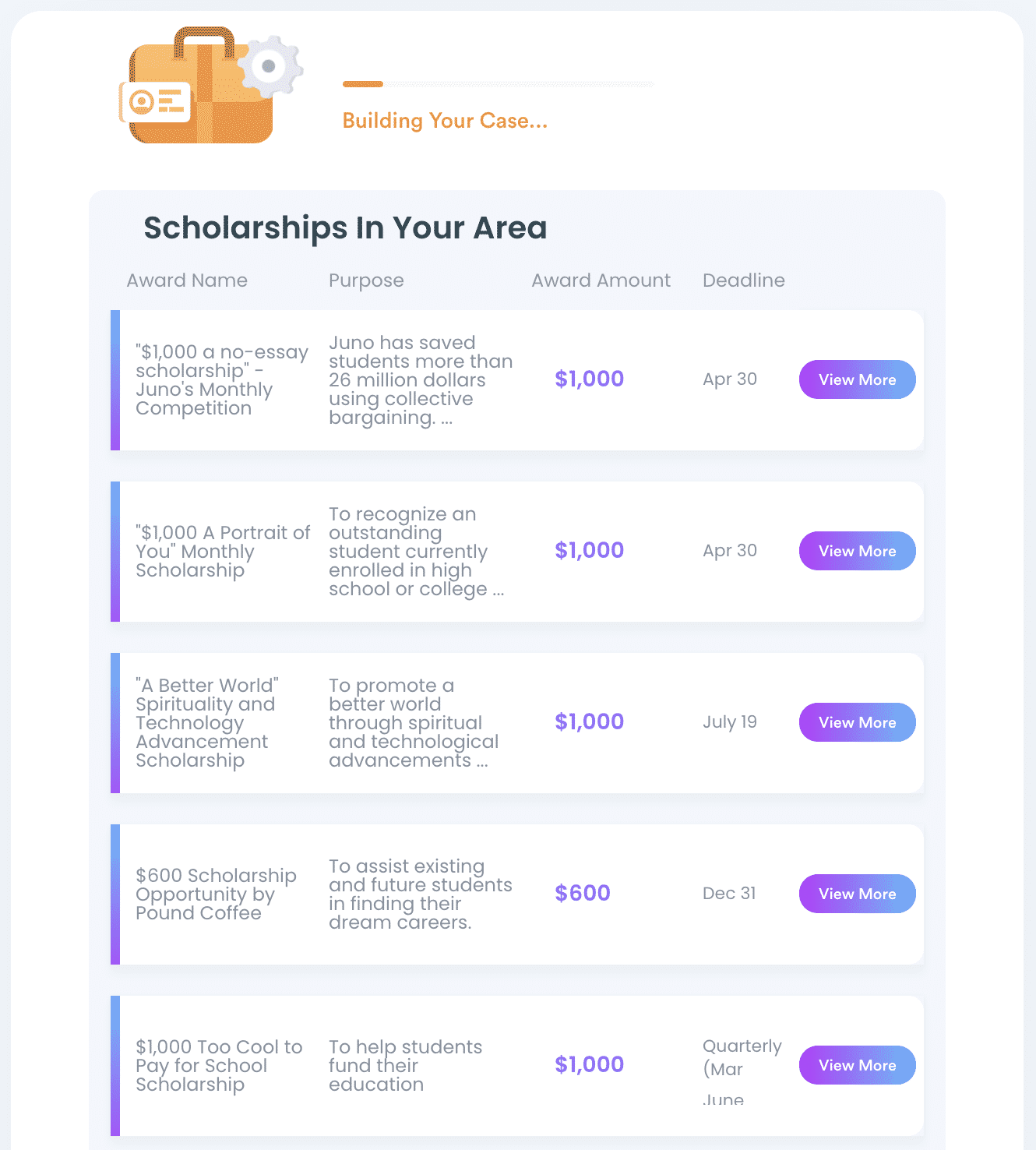 How To Apply for Scholarships for Refugees
Each scholarship has its unique application process, and you need to do your research to make sure you fulfill all requirements. Most programs will ask of you to provide some (or all) of the following documents:
Use DoNotPay To Find and Apply for Scholarships for Legal Immigrants
Securing a scholarship can take ages because you need to research them properly, find one that you're eligible for, and go through application forms. DoNotPay can help you speed up the whole process. Here's what you need to do:
Use your browser to sign up for DoNotPay
Choose the Apply for Scholarships feature
Answer a few questions about yourself, including:

Level of study
Academic achievements
Location
Student profile
Career goals
DoNotPay will provide you with a list of all scholarships that are designed for a student that matches your profile. If there are programs on the list that don't require essays upon application, you can let us apply on your behalf automatically.
Managing Everyday Tasks With DoNotPay Is a Breeze
Completing mundane tasks doesn't have to be a nightmare! With our help, you can relax and finish them in a few taps! All you need to do is register for DoNotPay and let us help you with:
Have Your Documents Drafted and Notarized With Our Help!
If you need to draft a legal document, such as a divorce settlement agreement, power of attorney, or a child consent form, hiring a lawyer to assist you is probably the first thing that comes to mind. What if we told you that spending hundreds of dollars on legal services is unnecessary? Not only can DoNotPay draft contracts and agreements in a few minutes, but it is also your most affordable and effortless option!
The benefits our app provides don't stop there! After we generate your document, we'll connect you with a remote notary and show you how to get it notarized online without leaving the comfort of your home! You can even fax the document online and skip dealing with outdated fax machines.