All About Scholarships, Bursaries, and Grants
Quality education can bridge the gap between where you are and where you want to be—but not everyone can afford one. Going by hard-hitting statistics from 2021, students in the U.S. are burdened by a total debt of $1.73 trillion. The fact that 51% of college students drop out due to financial setbacks only adds insult to injury.
Scholarships and grants can help you hack your way into a meaty degree without stressing your pockets—all you need to do is find and apply for the ones meant for you!
What Available Education Grants and Scholarships Do I Qualify For?
You can find over a thousand student-centric types of financial aid on the internet, but it's hard to filter out the ones that can work for you. To do this, you should:
Check if you'll have a better chance with a grant or a scholarship
Assess the merit- and non-merit-based options available to you
What Are Grants and Scholarships, and Which One Should I Apply For?
A scholarship can be awarded for a variety of reasons, but a grant is usually a federal or state-funded aid meant for low-income group communities.
If you are suffering from significant financial constraints, you are more likely to qualify for a grant.
The eligibility criteria for scholarships represent the values of the issuing organization. There's no fixed formula for winning a scholarship, and it's all about your application ticking the right boxes.
List of Grants and Scholarships—How Do I Sort Out Merit and Non-Merit Options?
Over the decades, study and research aid have expanded from being a merit-only game. Currently, you can find scholarship and grant programs for community-specific goals as well, which multiplies your pool of options!
We have compiled a table to help you get an idea of the common scholarships subtypes rooted in merit:
| Academic | Athletic | Vocation | School |
| --- | --- | --- | --- |
| | | | |
You can browse through some categories and examples of non-merit aid in this table:
| Identity | Community | Service | Adversity |
| --- | --- | --- | --- |
| | | | |
Too Many Options? Learn How To Find and Apply for the Right Grants and Scholarships
You'll find hundreds of scholarships available to you at any given moment, but applying for each and every one of them is hardly feasible. It's a waste of your time and energy to send applications everywhere only to get turned down. In case you keep your application range limited, you may lose out on a fine scholarship.
You can keep tabs on the active scholarship and grant programs through these sources:
Search engines
Student bulletins
Official updates published by the government
Information centers of non-profit organizations
Websites of private schools
If you are keen on saving time, you can use DoNotPay as a one-stop solution for a quick search. Our app prepares a customized report of scholarships suitable for you based on your details, like residency status, grades, background, extracurricular activities, and hobbies.
If you are drowning in an overload of options, sign up for our services and let us be your lifeboat!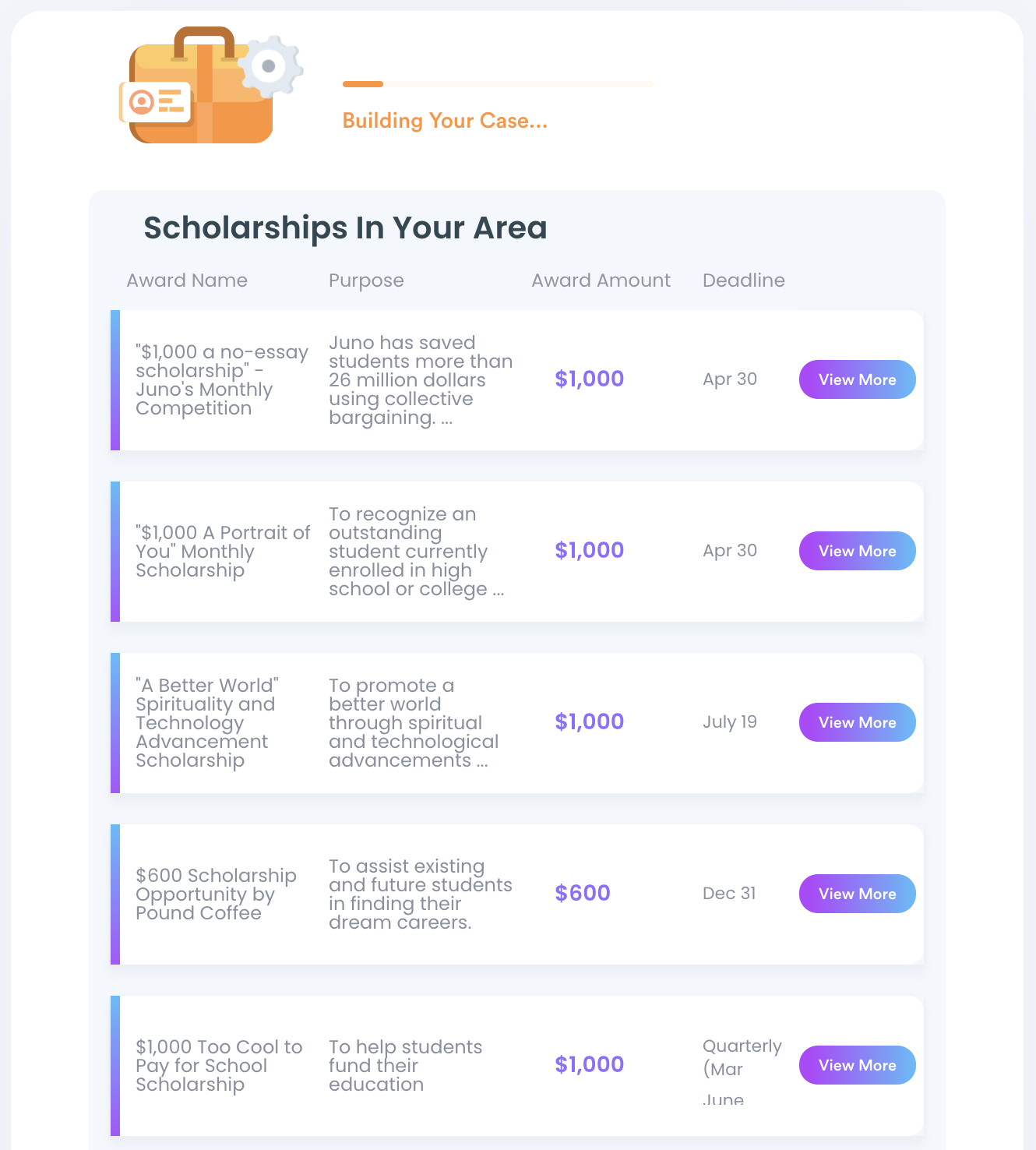 Applying for Student Grants and Scholarships—What Else Should I Know?
Whether you are applying for a college, graduate school, or vocational scholarship, the basic framework of applying remains the same. Once you zero in on the scholarship or grant that fits your needs, follow these steps to apply with precision:
Assemble the necessary documents, such as:
Plan and write your cover letter to explain why you deserve the scholarship
Craft an original scholarship essay that stands out (if writing an essay is part of the mandatory guidelines)
Verify and re-verify your application to make sure you're not missing anything
Submit within the deadline—don't forget to use adequate postage if you're mailing the application
Keep in mind that the selection process is subjective, and fulfilling the eligibility or application requirements will not guarantee you the reward.
DoNotPay Is More Than a Scholarship and Grant Finder—We Can Also Help You Apply!
Your search for a dependable scholarship and grant finder ends with DoNotPay! Our personalized scholarship search report ensures you never fail to recognize an opportunity tailor-made for you! From letter-writing contests to art competitions, we compile everything that can give you that financial boost.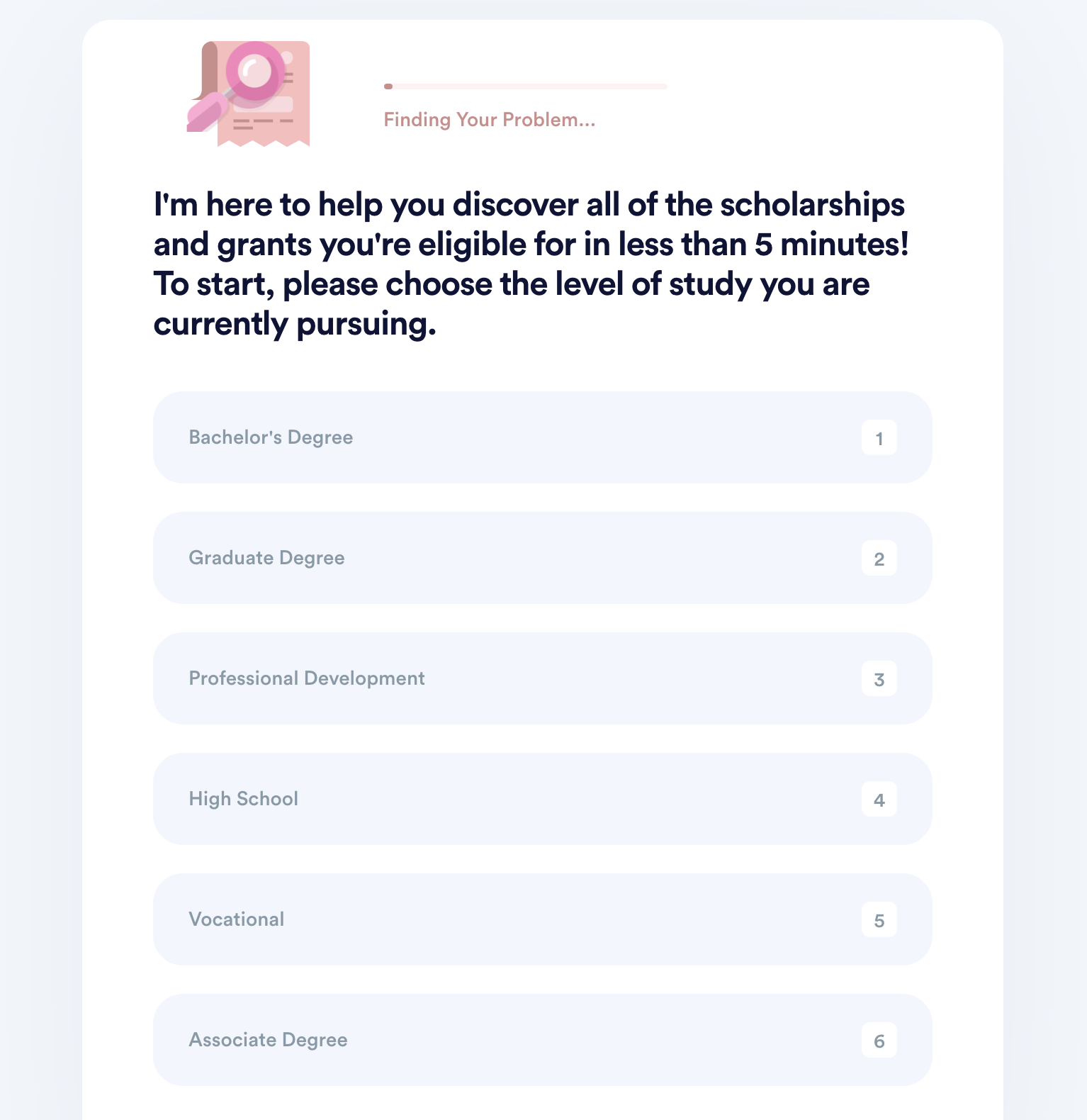 With DoNotPay, you don't have to sacrifice hours checking the requirements for each option—our AI-powered app can automatically apply for all the no-essay scholarships on your behalf as long as you're eligible!
Our scholarship assistance features are just a few taps away—here's what you need to do:
Open DoNotPay and find our Apply for Scholarships product
Interact with our chatbot to narrow down the results
Specify your intent—whether you want to view your individual report or want us to apply for no-essay scholarships selected by you automatically
Once DoNotPay receives your response, we will complete the desired action—and you'll be done with this mammoth task in under five minutes!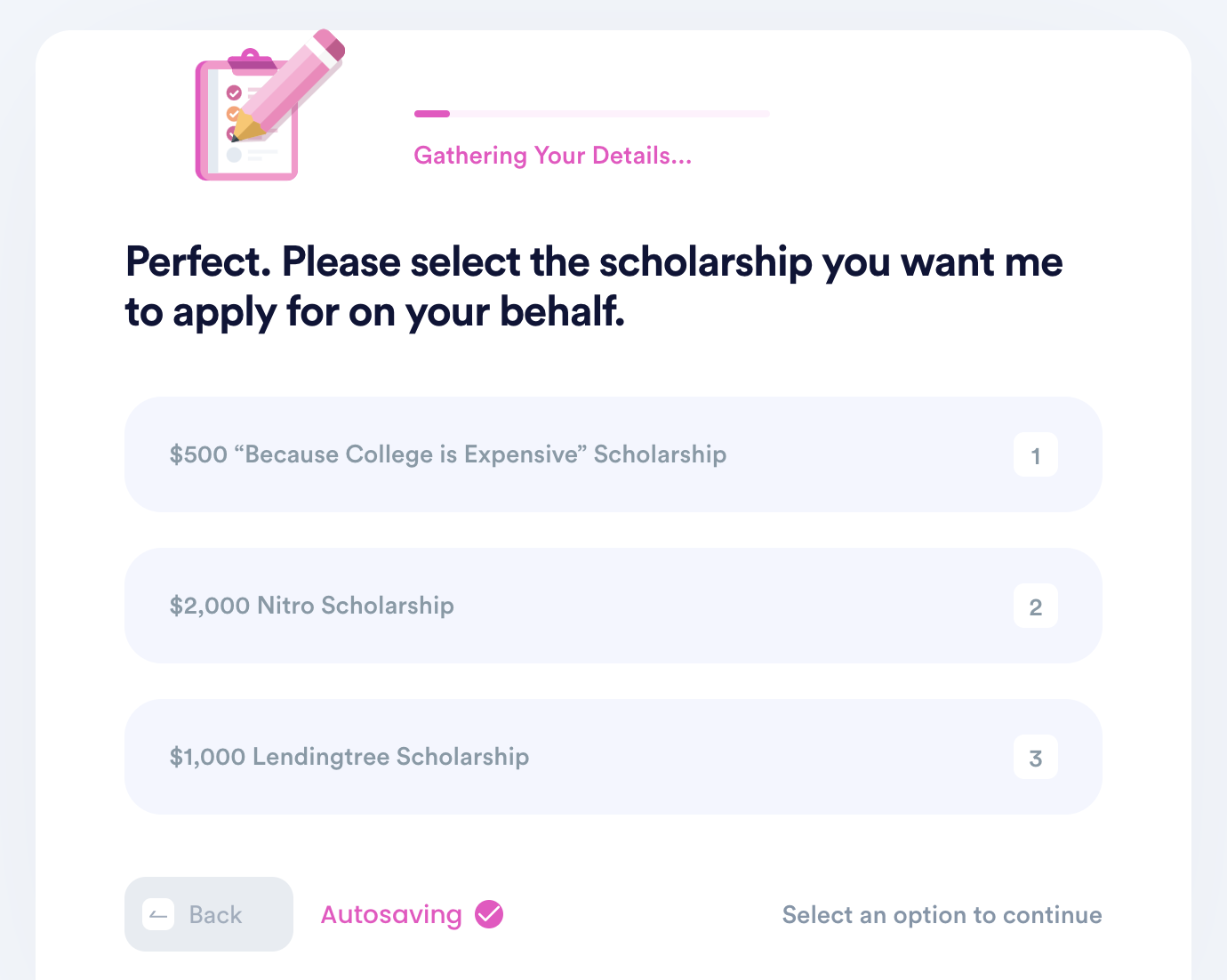 As new scholarship programs are launched every other day, you'll be at an advantage if you use our refined search tools periodically. It's only a matter of time until you hit the jackpot with your ideal scholarships and grants!
Use DoNotPay To Deal With a Plethora of Bureaucratic Tasks!
Tired of dealing with bureaucracy? We understand the struggle, and that is why our app makes handling administrative tasks a breeze!
Regardless of whether you need to compose a legal document, such as a power of attorney or a child travel consent form, appeal property taxes or your parking tickets, file a financial aid appeal and a FOIA request, or get a document notarized, DoNotPay has got you covered!
In case you also need to submit anonymous HR complaints, our app will provide you with the easiest way to do so!
Go on a Stress-Free Shopping Spree With DoNotPay
Do you like to shop until you drop? With DoNotPay, you won't have to worry about dropping! We'll make sure you can:
If you need more money to continue your shopping spree, let our app help you find any unclaimed funds under your name and enter numerous giveaways and sweepstakes!