Scholarship for White Male—How To Make the Most of What's Available
Scholarships have been instrumental in spreading the reach of education over the past century. From female-only scholarships to financial aid for Asians, minority-centric benefits have ruled the roost. This is also why many white males feel left out while searching for financial assistance.
It's a common misconception that there's no prominent scholarship for a white male.
This article will help you find the finest scholarship opportunities for Caucasian males in the U.S.
Your Fact Sheet on Scholarships for White Males
Many applicants fear that white American students get a bad deal in the race-conscious scholarship scenario, but recent numbers tell a different story.
As per college statistics, almost two-thirds of students enrolled in an undergraduate program are whites, with about half of them being males. Since only a small percentage of scholarships are reserved for students of color, white students can freely apply to the rest of them.
Another study from 2021 has confirmed that Caucasians are more likely to receive a scholarship in the U.S. than minority groups.
It's obvious that despite the existing outrage and debates over scholarship reservation, white males are not at a disadvantage in the scholarship game.
Scholarships for White Men—Options Available
In the past decade, several student groups have lobbied for white-male-only college scholarships, but the issue has only attracted controversy.
Currently, you may not find any scholarship set aside for white men, but you can still check out plenty of scholarships earmarked singularly for males and Caucasians.
Scholarships for Males
Many university clubs, public or private schools, and organizations offer male-only scholarships and grants. Here are some examples:
If you're interested in sports, you should also keep an eye out for college athletic scholarships. Most colleges are required to offer a fixed number of partial or full-ride scholarships to male athletes in sports like football, volleyball, soccer, track, and golf.
Scholarships for White Students or Caucasians
Scholarships for white students or Caucasians are another grey area when it comes to college financial aid.
Several students feel that excluding Caucasians from diversity scholarships is also a form of racial discrimination. In response to this issue, many diversity funding programs are now referred to as multi-ethnic scholarships that also include Caucasians. Here are some examples:
NBCC Foundation Military Scholarship—It's a multi-ethnicity scholarship that aims to help veterans who want to pursue a career in professional counseling
Dr. Nicholas Vacc Scholarship—This scholarship is open to motivated students from multiple languages and cultures as long as they want to pursue a graduate or doctoral degree in a field related to mental health
If you are a non-resident student with Caucasian heritage, you should look for scholarships that specifically cater to international students.
Don't Lose Hope—DoNotPay Opens the Door to a Whole New World of Scholarships
It's not the end of the world if you can't find scholarships for white males exclusively! You can go old-school and apply for scholarships awarded on merit. If you are from a middle-class or low-income group family, you also have a high chance of winning a need-based scholarship or grant!
Feeling unsure about what scholarships you qualify for? DoNotPay has the perfect solution for you! Our scholarship finder tool can match you with all the scholarships that fit your student profile in under five minutes. All you have to do is and fill out a quick student questionnaire. Our app will use your answers to run a search and extract a list of suitable scholarships from our comprehensive database—it's that easy!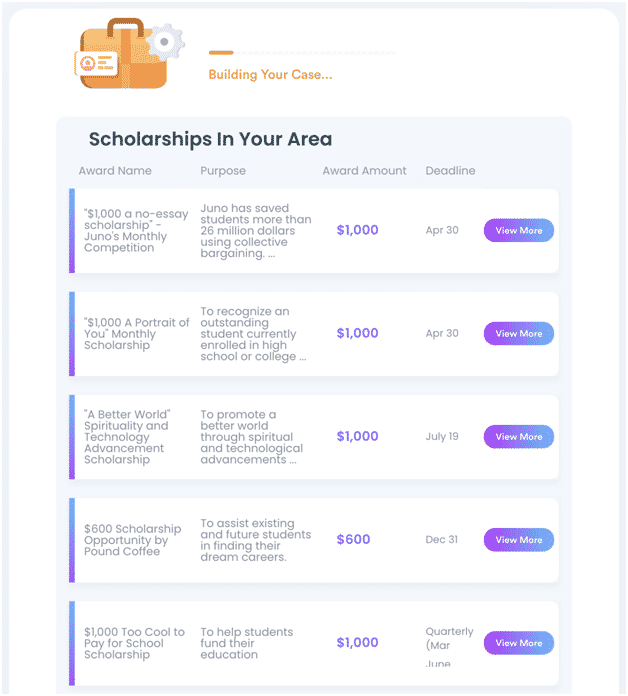 With DoNotPay, you will find the latest scholarships announced in multiple academic fields and vocations, including the ones in this table:
Tips To Refine Your Scholarship Search
Staying informed is a superpower when it comes to scholarship hunting, and DoNotPay helps you do that without breaking a sweat!
Being a white male is not your only identity—you can also fit into several other demographics. DoNotPay's scholarship finder can narrow down your search results for all kinds of demographic parameters—for example:
| Demographic Criteria | Examples |
| --- | --- |
| Religious background | |
| Ethnic roots | Most of these scholarships only require you to have at least 25% ethnicity—this means you can qualify for them as a white male as long as you have a grandparent belonging to the ethnic background in question |
| Mental or physical disability | |
| Student type | |
| Parent history | |
Use DoNotPay's In-Built Features To Apply for Selected Scholarships
Many busy students shy away from scholarships because they don't want to waste time finding and applying for them.
DoNotPay saves your time by:
Showing only relevant scholarships in search results (both the ones that require an essay to apply and those that don't)
Applying for no-essay scholarships on your behalf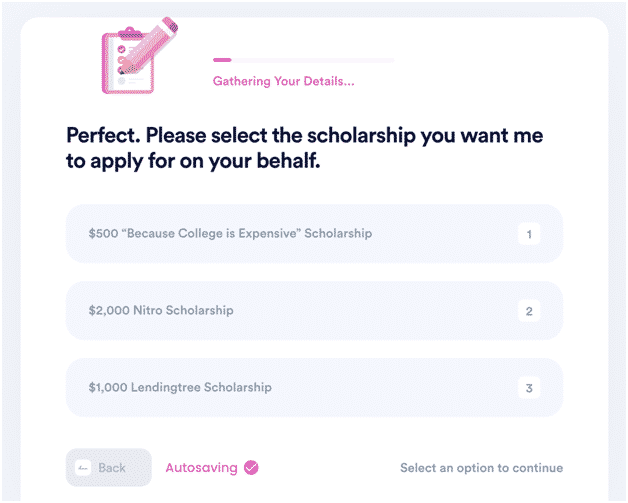 To enjoy our services, do this:
and search for Scholarships
Provide the required info to personalize the search
Choose between our search and apply functions
Using DoNotPay every week will help you stay up to date with all the latest scholarships without fail!
Use DoNotPay To Deal With a Plethora of Bureaucratic Tasks!
Tired of dealing with bureaucracy? We understand the struggle, and that is why our app makes handling administrative tasks a breeze!
Regardless of whether you need to compose a legal document, such as a power of attorney or a child travel consent form, appeal property taxes or your parking tickets, file a financial aid appeal and a FOIA request, or get a document notarized, DoNotPay has got you covered!
In case you also need to submit anonymous HR complaints, our app will provide you with the easiest way to do so!
Go on a Stress-Free Shopping Spree With DoNotPay
Do you like to shop until you drop? With DoNotPay, you won't have to worry about dropping! We'll make sure you can:
If you need more money to continue your shopping spree, let our app help you find any unclaimed funds under your name and enter numerous giveaways and sweepstakes!