Scholarships for High School Juniors Help You Find Your True Calling
Junior year in high school is no time to slack off or be complacent if you want to grow and prosper as a student. Scholarships for high school juniors offer you a great medium to tune into your academic, athletic, and creative talents before the pressure intensifies in your graduation year.
Junior year scholarships and grants not only help you discover your career inclinations but also back you up financially when you have trouble covering your expenses. From participating in low-stake local contests to winning major national scholarships—the opportunities are endless if you know where to apply!
When Can You Apply for Scholarships as a Junior?
As every year in high school is eventful and stressful, many teenagers never realize they have multiple scholarship options available. If you are on the lookout for scholarships, you should start early to ensure you don't miss out on the top offerings.
The right time to apply depends on whether the scholarship is:
Meant for 11th graders exclusively
Targeted at students graduating in a specific year
Open to every highschooler
Scholarships for 11th Graders
If a scholarship is exclusively meant for 11th graders, you can apply for it:
Keep in mind that you can be disqualified from these scholarships if you fail to pass your sophomore exam.
Senior Year High School Scholarships for Juniors
Every year, hundreds of scholarships are announced for students who are graduating one to three years later. For example, you will find several Graduation Class 2023 scholarships already available in 2021!
Such scholarships are often academic or athletic in nature. They typically carry either a monetary prize or an indirect financial benefit (like covering book expenses) that you can encash in your high school senior year. You can apply for these scholarships as a freshman, sophomore, or junior, depending on your respective graduation year.
Open-to-All Scholarships To Apply for as a Junior
Certain scholarships are open to all high school students, which means they can apply for them as juniors! Open-to-all scholarships usually require students to write a scholarship essay or finish a creative project.
These undergraduate scholarships focus on a specific subject or vocation, like the ones mentioned in this table:
Participating in the multifaceted open-to-all scholarships helps you in many ways, including:
Scholarships Available for Juniors in High School—Non-Merit Options
Whether it is hunting for scholarships or preparing for competitive contests—the process eats up your time. You might find a more suitable option faster if you consider searching for non-merit scholarships based on your:
Identity or community
Ethnicity
Personal circumstances
This table summarizes the common non-merit financial aid options open to high school students:
| Identity or Community | Ethnicity and Religion | Personal Circumstances |
| --- | --- | --- |
| | | |
Scholarships for Junior High School Students—Tips To Improve Your Chances
Here are some evergreen tips that will help you score scholarships in your junior year:
Remember to store digital or physical copies of all your applications—that will help you keep track of your submissions.
Scholarship Opportunities for High School Juniors—Where To Look?
Students determined to grab scholarships make rigid schedules for hunting down the finest scholarship opportunities—but the task is easier said than done.
In reality, thousands of scholarship announcements are scattered across multiple websites. You may have to spend hours every week scanning the internet to identify all private and state-sponsored scholarships available to you. You should also stay in touch with your school guidance counselors to get updated on the community's newly issued scholarships.
Despite the availability of ample scholarship programs, it makes no sense for students to waste their productive hours searching for scholarships. You can easily resolve this issue by using DoNotPay's personalized scholarship search feature.
Our app consolidates all scholarship options for you in a single search—and in under five minutes! today to view the full list of scholarships relevant to you!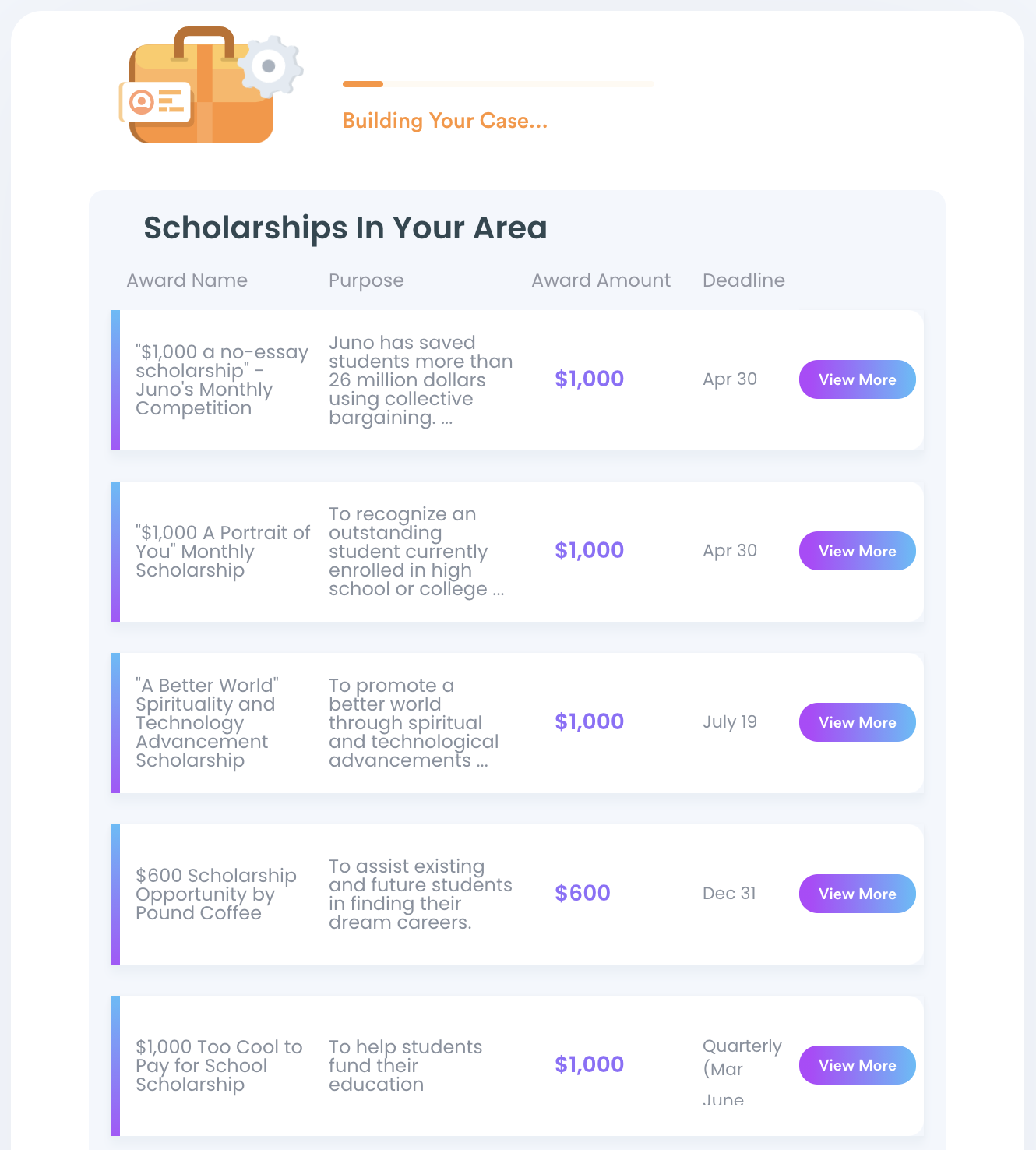 Apply for the Best Scholarships for High School Juniors With DoNotPay
The pandemic has rocked the financial stability of many households, causing countless helpless students to drop out before graduating. Timely scholarships can save the hopes and dreams of many struggling students. DoNotPay is committed to this ideal, now more than ever.
High school juniors can win anything between $500–$60,000 in upcoming scholarships—and you can find the latest list of active scholarships through our app. All you need to do is provide details to our chatbot—like your name, level of study, extra-curricular interests, special qualifications—to get the report ASAP.
Our app can also save you time by applying for all the no-task, no-essay scholarships in your stead. This will leave you with extra time and energy to focus on perfecting your applications for the rest!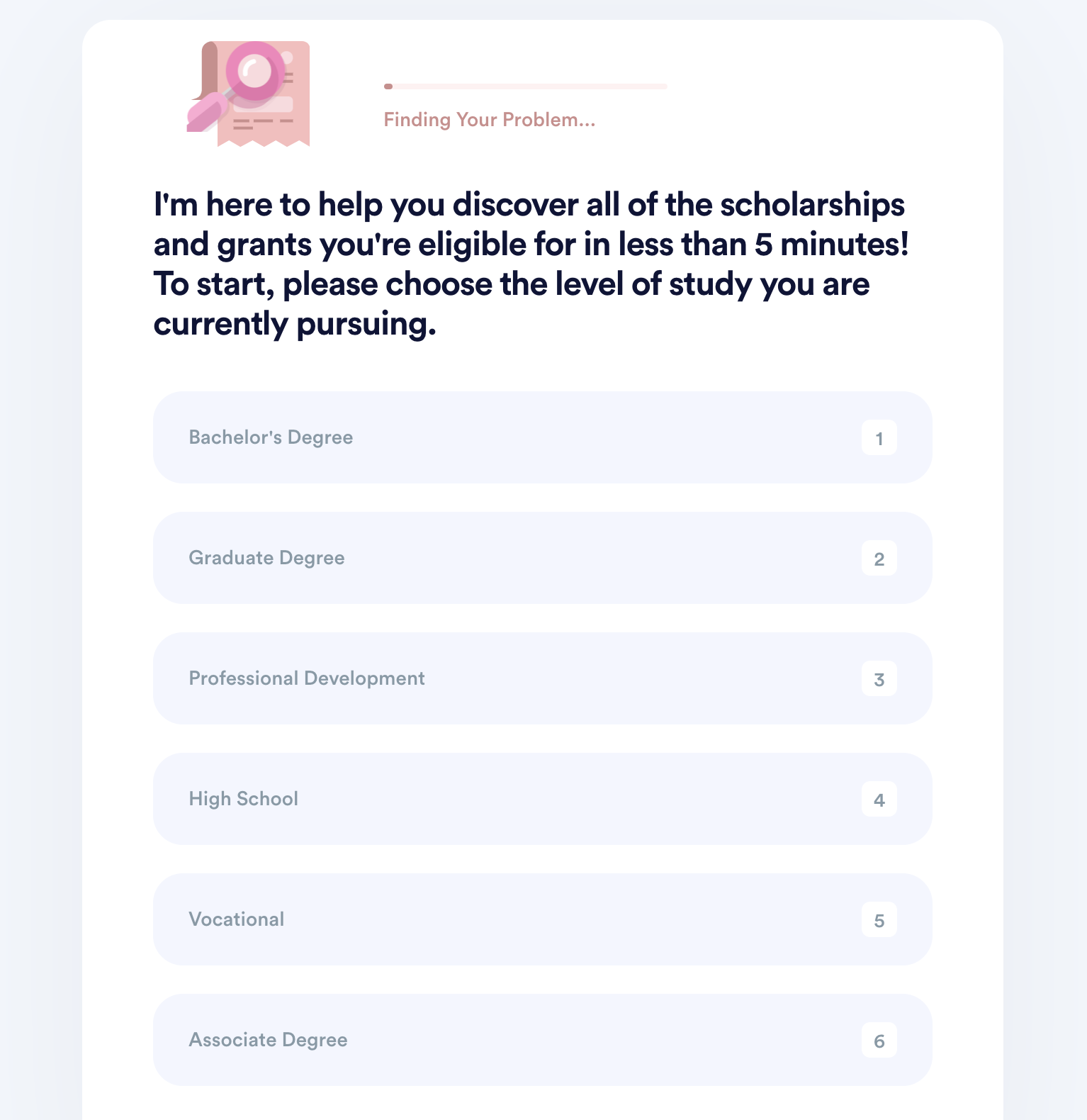 Follow these steps to access our services:
and click on Apply for Scholarships
Enter your details
Choose between the View Scholarships and the Apply Directly options
If you choose to apply directly with our app, we will email you the list of all the scholarships where we have sent your application.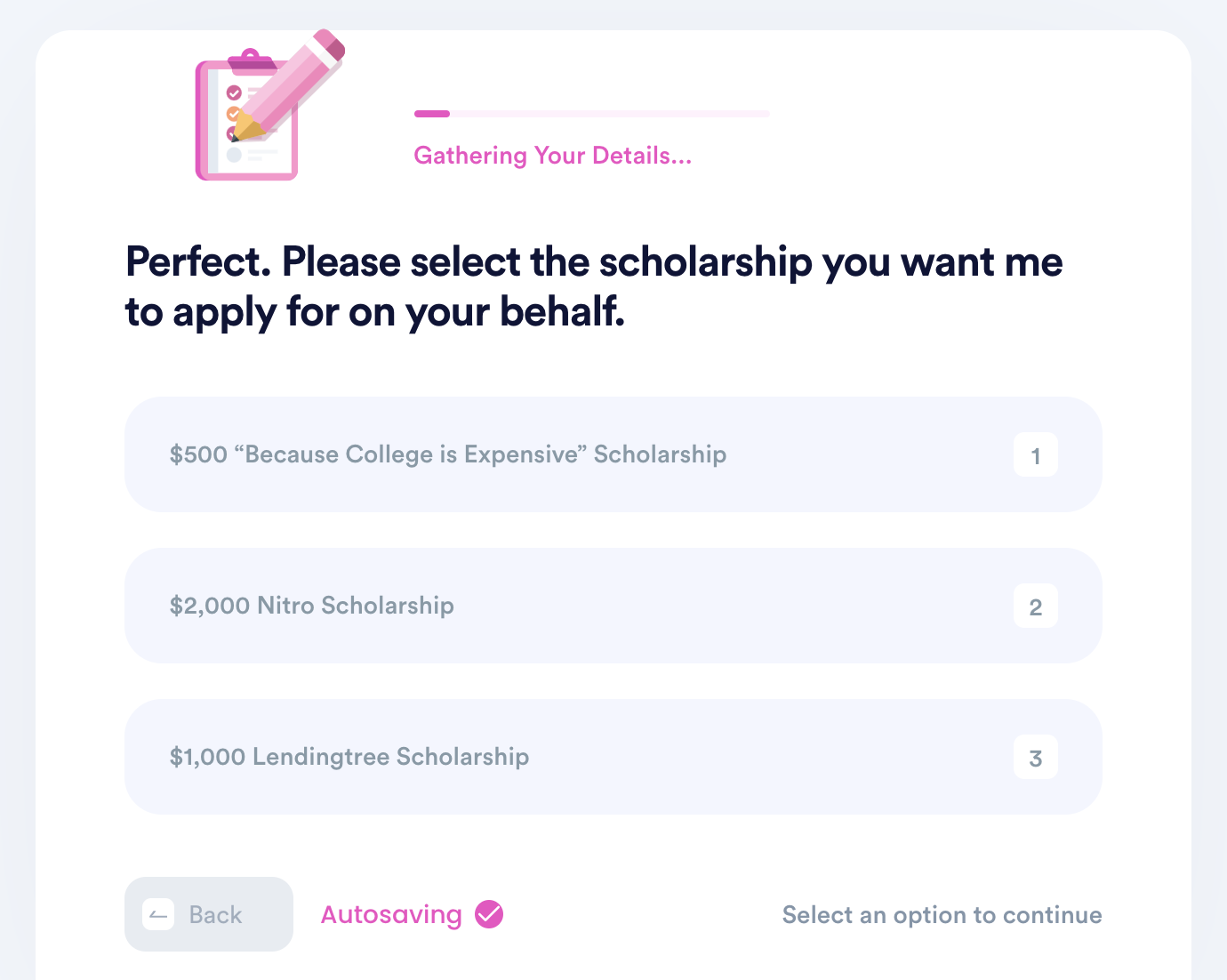 With DoNotPay, you will get a perfect mix of quality and quantity in your quest for the greatest scholarships!
Use DoNotPay To Deal With a Plethora of Bureaucratic Tasks!
Tired of dealing with bureaucracy? We understand the struggle, and that is why our app makes handling administrative tasks a breeze!
Regardless of whether you need to compose a legal document, such as a power of attorney or a child travel consent form, appeal property taxes or your parking tickets, file a financial aid appeal and a FOIA request, or get a document notarized, DoNotPay has got you covered!
In case you also need to submit anonymous HR complaints, our app will provide you with the easiest way to do so!
Go on a Stress-Free Shopping Spree With DoNotPay
Do you like to shop until you drop? With DoNotPay, you won't have to worry about dropping! We'll make sure you can:
If you need more money to continue your shopping spree, let our app help you find any unclaimed funds under your name and enter numerous giveaways and sweepstakes!