A Rundown on the Best Scholarships for Masters in Business Administration (MBA)
MBA programs are very popular among ambitious students who want to climb the corporate ladder and reach that above-average salary. What may deter them from enrolling is sky-high tuition—anywhere from $35,000 to over astounding $100,000 for top-ranking business schools. Fortunately, there are tons of scholarships and grants that can help MBA students cover the cost of their education.
In this easy-to-read guide, you can find the essential info concerning scholarships for masters in business administration.
What You Should Know About Scholarships for MBA Students
Many business schools and private organizations offer scholarships to incoming and current MBA students. While most MBA scholarships are school-specific, some aren't affiliated to a certain business school, such as the scholarships for:
Specific career paths
Academic Honor Society Members
Keep in mind that some scholarships are need-based while others are designed for high achievers.
How To Get a Scholarship for MBA Programs
The best way to get an MBA scholarship is to be exactly what award providers are looking for. In most cases, being a great candidate means having:
A strong undergraduate GPA
High GMAT score
Considerable work experience
What Are Some of the Best Scholarships for MBA Students in the USA?
Some of the best scholarships for masters in business administration available in the U.S. are listed in the table below:
| MBA Scholarship | Award Amount | Who Can Apply? |
| --- | --- | --- |
| Arizona State University W. P. Carey Forward Focus MBA Scholarship | Up to full resident tuition of $59,794 per year | All accepted full-time Arizona State University MBA students, regardless of their financial situation |
| University of Chicago Booth School of Business | Up to full annual tuition | University of Chicago MBA students |
| Government Finance Officers Association | Varies | Students who plan to pursue careers in state or local government finance |
| The Honor Society of Phi Kappa Phi Award Programs | $8,500–$35,000 | Phi Kappa Phi members |
| ESADE Women of the World Scholarship | Up to 50 percent of the tuition fees | Women of all backgrounds and nationalities; Female candidates who demonstrate financial need will be given preference |
| IE Foundation | €10,000–€20,000 | Female candidates |
| LEAGUE Foundation LGBTQ Scholarship | Up to the basic cost of tuition | LGBTQ+ U.S. citizens who are graduating high school seniors |
| Gamma Mu Foundation | $1,000 to $2,500 | Gay men under the age of 35 who have graduated high school (or obtained a GED) by June of the current year and are U.S. citizens |
| Prospanica—The Association of Hispanic Professionals Foundation Scholarship Program | $2,000–$5,000 | U.S. citizens of Hispanic heritage accepted by an accredited program with a GPA of 3.0 |
| The Wellington Management Foundation Scholarship | $5,000 | Black students at UNCF member schools |
| Elliott C. Roberts Scholarship | $1,000 | Second-year graduate students with an ethnically diverse cultural background and a demonstrated desire to be involved in community service |
| AMVETS Scholarships | $1,000–$12,000 | Active military members, veterans, and their children and grandchildren |
How To Apply for Scholarships for Business Schools
After making sure you qualify for a certain scholarship, in most cases, you'll have to fill out an online application before the due date. Besides your application, you will need to submit other documents, such as:
Transcripts (your GPA will have to be at least 3.0 in most cases)
Test scores—GRE or GMAT
An essay that explains your goals
A resume
Proof of low earnings (for need-based scholarships)
If you apply for a need-based scholarship, you may have to fill out the Free Application for Federal Student Aid (FAFSA).
Where To Look for Scholarships for MBA Programs
If you want to apply for a scholarship for masters in business administration, get ready for extensive online research. You will bump into hundreds of MBA scholarships listed on different websites, and it may take days to go through each one.
That's why we're here! Sign up for our service, answer a few questions from our chatbot, and we'll find the best scholarships you qualify for in minutes.
Use the DoNotPay App To Find All Kinds of Scholarships in Minutes!
From MBA to international students, adults, teenagers, Catholics, and teachers—our app helps different candidates to look for financial aid. Seeking scholarships for college or grad school is a complicated task that may give you a headache. Don't stress over it because the whole process can become easy and quick with the help of DoNotPay.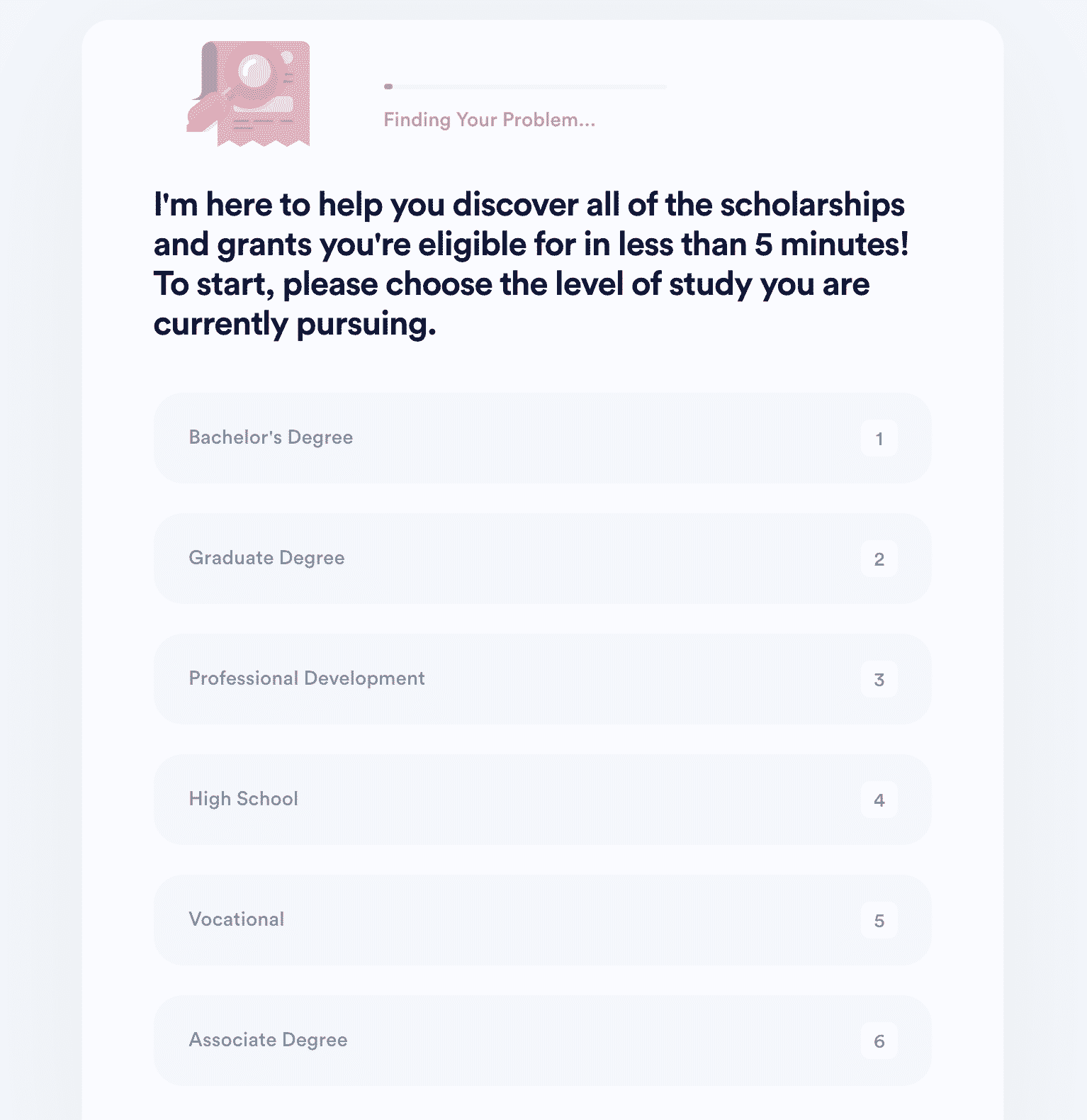 All you have to do is follow four simple steps:
Select the Apply for Scholarships feature
Respond to a few questions regarding your:

Academic interests
Level of study
Career plans
Location
Special social status (if applicable)

Your current school's name
If you are interested in applying for a no-essay scholarship, mention it on our questionnaire, and we'll instantly send your application to the organization or institution in question.

Save Time With DoNotPay
DoNotPay is not done helping you! We offer you assistance in completing a variety of tasks quickly and efficiently, such as:
Canceling Subscriptions Has Never Been Easier!
If you keep getting charged a monthly subscription fee even though you no longer want to use a certain service, don't let your money go to waste! Some companies tend to renew your subscription automatically, but that doesn't mean you have to put up with it—use our app to terminate your membership or subscription in a few clicks!
Do you want to sign up for free trials and create a virtual credit card or a burner phone number to protect your sensitive info? Once you subscribe to DoNotPay, we will walk you through the process of doing all of the above in no time!
You can also count on our assistance if you need to get rid of spam or robocalls.