A Simple Guide to Undergraduate Scholarships
Pursuing a bachelor's degree can be a costly undertaking. Fortunately, there are numerous financial aid options you can utilize to pay for your college education. Scholarships and grants are particularly helpful because you don't have to pay them back. Such programs are available whether you are enrolled or about to enroll at a higher learning institution. Even if you don't get full-ride scholarships, you can receive one or multiple awards to ease your financial burden. Searching for undergraduate scholarships on your own can be exhausting, but using DoNotPay will help you find all the programs you qualify for in a few clicks.
Types of Scholarships for Undergraduate Students
Undergraduate scholarships come from diverse funding sources, such as:
Government agencies
Advocacy groups
Schools
Corporations
Professional associations
All scholarship providers create the rules for the programs they run. As a result, eligibility requirements vary from one program to another. Below are the types of undergraduate scholarships based on eligibility requirements:
Subject-specific scholarships
Student-specific scholarships
Location-specific scholarships
Merit-based scholarships
Need-based scholarships
Subject-Specific Scholarships
These are undergraduate scholarships that zero in on academic majors. Subject-specific scholarship providers usually offer scholarships as incentives to inspire bright students to consider in-demand majors.
Professional associations, for example, provide awards to students within certain fields of study, such as:
Student-Specific Scholarships
Student-specific scholarships target different groups within the student community. Most programs aim to help the under-represented members of the student body, for instance:
Student Group
Scholarships
International students

American University Scholarships
Michigan State University International Scholarships

Veterans

AMVETS Scholarships
Veterans of Foreign Wars (VFW) Scholarships

Students from low-income families

Unmet Need Scholarship
Dell Scholars Program

Military students

The U.S. Army Women's Foundation Legacy Scholarship
The Airman Scholarship and Commission Program (ASCP)

Transgender people

Point Foundation Scholarships
Parents, Families, and Friends of Lesbians and Gays (PFLAG) Scholarship Program

First-generation college students

Farash Foundation First in Family Scholarships
Black Business and Professional (BBPA) First Generation Scholarships
I'm First! Scholarship
Coca-cola First Generation Scholarship

Adults and non-traditional students

Adult Students in Scholastic Transition Scholarship (ASIST)
Imagine America Scholarships for Adults
Returning Adult and Single-Parent Scholarships
Ernest and Charlene Stachowiak Memorial Scholarship

Women

Sharon D. Banks Memorial Undergraduate Scholarship
Women In Transition Scholarships
Toptal Scholarships for Women
Supporting & Promoting Real Opportunities for Women to Thrive (SPROWT) Scholarship for Women
Women In Need Scholarship

Students with disabilities

Daniel and Lois Gray Memorial Scholarship
Disability Care Center Disabled Student Scholarship
ABC Law Centers Cerebral Palsy Scholarship
Wells Fargo Scholarship Program for People with Disabilities

Minorities

American Association for Cancer Research (AICPA) Minority Scholarship
Krist-Reavley Minority Scholarship
Royce Osborn Minority Scholarship
American Meteorological Society scholarships
Location-Specific Scholarships
Some scholarships are awarded based on the student's location. For instance, you need to be a Virginia state resident to qualify for the following programs:
Virginia Museum of Fine Arts Fellowship Program
Virginia State Endowment Scholarship
Merit-Based Scholarships
Merit-based scholarships reward achievements and specific talents, ranging from academic excellence to extracurricular involvement in activities, such as athletics, leadership, and different art forms. Examples include:
American Bus Association (ABA) Academic Merit Scholarship—Open to students who have a college sophomore of greater status and majoring in transportation, travel, and tourism or related fields. The applicant must have a GPA of at least 3.5
Alliance Pipeline Scholarship—Awarded to student-athletes who have a GPA of at least 3.0. The award recipients must maintain that GPA and participate in intercollegiate sports to continue receiving the funds
Baylor University Baptist Scholarships—A number of scholarships are awarded to students at Baylor University who are active members of a Baptist church or whose parents serve in such as church
Need-Based Scholarships
Need-based scholarships are awarded to students who demonstrate a financial need. The programs can also include an academic merit criterion but will always require applicants to prove an unmet financial need.
The following federal grants are good examples of need-based programs:
Federal Pell Grants—meant for undergraduate students who have a financial need and are pursuing their first bachelor's degree
Federal Supplemental Educational Opportunity Grants (FSEOG)—awarded to undergraduates students who have an extreme financial need, especially those who qualify for the Pell Grant
Teacher Education Assistance for College and Higher Education (TEACH) Grants—available to undergraduate, post-baccalaureate, or master's students majoring in teaching. Recipients of the award commit to teaching in areas of serving students from low-income families or a high-demand subject for at least four years after graduation. If a student doesn't honor the commitment, they have to repay the grant amount
Iraq and Afghanistan Service Grants—awarded to children whose parents or guardians died in military service in Iraq or Afghanistan after the events of 9/11
How To Find Scholarships for Undergraduate College Students
Below are some tips that can help you identify available undergraduate scholarships for which you qualify:
Evaluate the undergraduate scholarships offered by various groups associated with your major, for instance, professional associations
Find the opportunities available in your school through the financial aid office or your academic department
Search for programs based on your academic level, for instance, high school senior, college, graduate school, etc.
Check with the federal and state educational agencies
The options are endless, which makes the search overwhelming. Fortunately, our app can help you skip all that by listing all the scholarships you are eligible for in one place. Subscribe to DoNotPay and discover all undergraduate scholarships you can apply for now.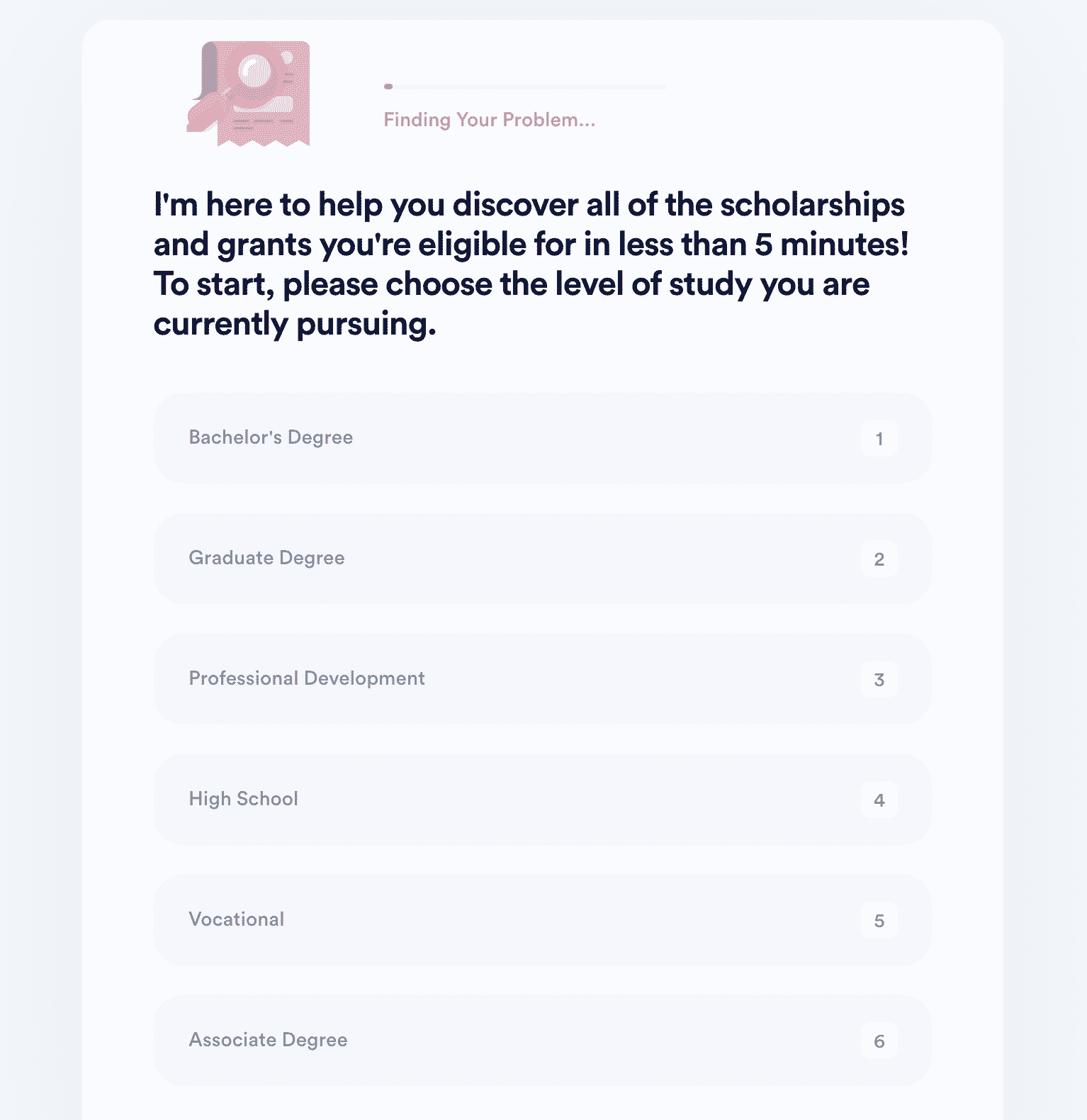 How To Apply for Scholarships for Undergraduate Students
Scholarship programs have different requirements and application guidelines. Most need-based programs (especially federal grants) will require you to complete the FAFSA. Other programs will require essays, personal statements, recommendation letters, and cover letters. Make sure you confirm the deadline for application and prepare the necessary paperwork on time. You can use our guide on preparing for a scholarship interview if you get an invite.
Find Undergraduate Scholarships Within Minutes Using DoNotPay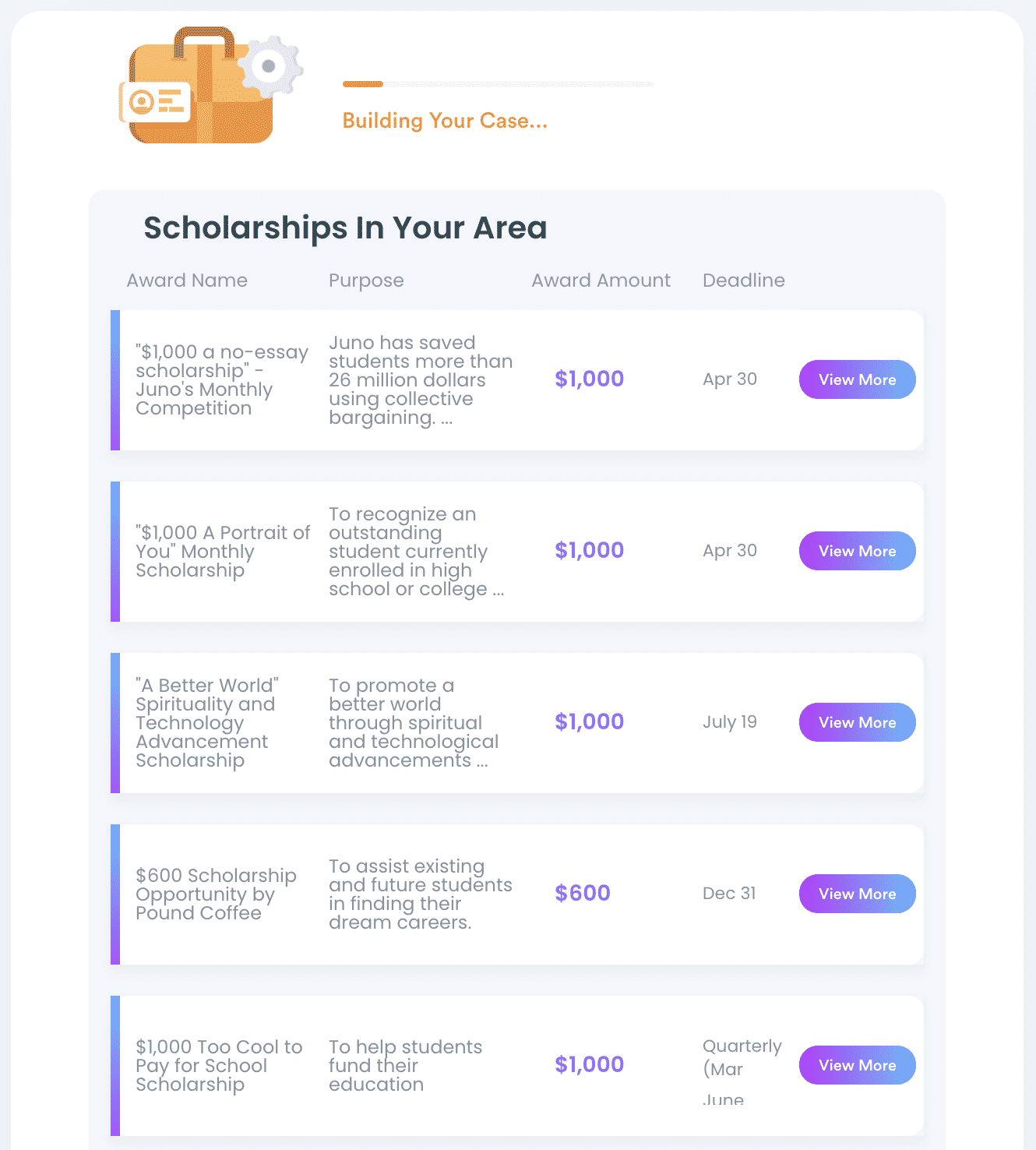 DoNotPay is the fastest and easiest solution for finding scholarships and grants. Once you create your account and complete a few steps, our app will perform a personalized search and give you an extensive list of all the undergraduate scholarships you qualify for. Our scholarships and grants database is updated regularly, so you are assured of finding even the programs that almost no one talks about. Follow these steps to proceed:
Enter Scholarships in the search bar
Select the Apply for Scholarships tool
Choose your level of study and answer a few questions
DoNotPay can also apply for no-essay scholarships of your choice in your stead. Stop searching and start applying for opportunities now.
Resolve Any Other Issue You Have Swiftly With Our Assistance
The world's first robot lawyer is capable of tackling any legal or administrative task in your stead. We can draw up any legal document for you—including a power of attorney, child travel consent form, and divorce settlement agreement, to name just a few—help you sue any company or individual in small claims court, send a letter of warning to your noisy neighbors, help you reduce your property taxes and utility bills, and a lot more.
Sign up now if you want to stop email and text spam, claim any insurance or warranty, appeal parking tickets, schedule a DMV appointment in a flash, mail anything worry-free, find your missing assets, create passport photos, or contact embassies and consulates effortlessly.
Let DoNotPay Guide You Through Any Obstacle
Are you tired of corporations not taking their customers seriously? So are we, and that's why our nifty product will assist you in suing any company or individual in small claims court!
If you don't want to have any online service take advantage of you, you can sign up for any free trial completely risk-free with our virtual credit card's help, cancel any membership on time, and demand a refund or chargeback in a split second. DoNotPay can also draw up an airtight return request and send it to a company of your choice instantly.