Everything You Need To Know About Graduate School Scholarships
The idea of adding graduate school student loans to the list of your financial obligations can seem overbearing. Should the cost stop you from going after that degree? Not when there are graduate school scholarships to help you out.
What may hold you back from applying for financial aid for grad school is the tiring research process. Where to look? How to apply? DoNotPay will tell you everything!
Learn the ins and outs of getting a graduate school scholarship with this simple guide.
Scholarships for Graduate Students—The Basics
Scholarships and grants for graduate students aren't as common as undergraduate scholarships or aid for high-school students, but that doesn't mean they are unattainable. You can finance your graduate studies without taking out a loan if you find a scholarship tailored to your situation.
Scholarships to graduates can be awarded based on:
Merit—Refers to academic achievement
Need—Refers to students' financial need
Field of interest—Refers to the field or industry in which the student is getting the degree
Career choice—Refers to scholarships that companies give to their employees to get a higher education degree
In terms of the institution that gives the monetary help, your benefactors can be:
Government bodies
Non-profit organizations
For-profit organizations
Companies
Schools
The Difference Between Fellowships, Scholarships, and Grants for Graduate Students
When you start looking for non-repayable financial aid for grad students, you will come across:
Fellowships
Scholarships
Grants
Fellowships are awarded based on merit. They are short-term financial support that usually requires a student to do an internship or make a similar contribution.
Students can get scholarships based on different factors—such as academic achievement, demographic, region, veteran status, etc. This type of aid doesn't need to be paid back.
Grants are need-based and often related to a certain field. Like scholarships, they don't need to be repaid.
Types of Graduate School Grants and Scholarships
College scholarships for graduate students can come from different sources and can be delegated for various purposes. The search for grants and scholarships is broad because there is so much you need to consider when deciding what scholarships are optimal for your unique situation.
In the table below, you can find the most common types of scholarships for grads:
Type of Scholarship
Explanation
School-specific scholarship

Schools give their students scholarships to continue pursuing master's or doctoral degrees
The financial aid office at your school will have information about the graduate scholarships you can apply for

Filed-specific scholarship

Professional organizations, foundations, and corporations give scholarships to grads to continue their education in a specific field
The scholarships can be awarded in the fields of counseling,

science

,

education

,

social work

,

music

, and other

Region-specific scholarship

The state or region where you are from can reward you with a scholarship
The candidate pool is typically smaller, which gives you an advantage
Your state's Department of Education has information about region-specific scholarships
International students can also inquire about a scholarship

Demographic-specific scholarship

Foundations, philanthropists, and profit and non-profit organizations are usually the ones who award scholarships to certain populations
Scholarships can be given to:

Physically disabled students

Career-specific scholarship

Corporations, companies, and businesses can cover the expenses of grad school for their employees
The company you work for—or are about to start working for—can offer you this possibility
How To Find Scholarships for Graduate School
The toughest part of getting a scholarship for graduate school is knowing where to look for them. You can search for scholarships online, call your financial aid office, or look on different institutions' websites.
When doing the research, keep the following in mind:
What makes you different?
Which field are you in?
Which school do you attend?
Where do you attend it?
There are also scholarships for specific interests, religious beliefs, or certain hobbies, so look into that as well. For example, you can search for scholarships for Christian, Muslim, Catholic, or Jewish students, those who play soccer, volleyball, or football, or students who dance, cheerlead, or do community service.
The options are numerous, which is why the search can be overwhelming. Wish there was a way to find all scholarships you are eligible for in one place? There is—. Our nifty app will find every scholarship you can apply for in no time.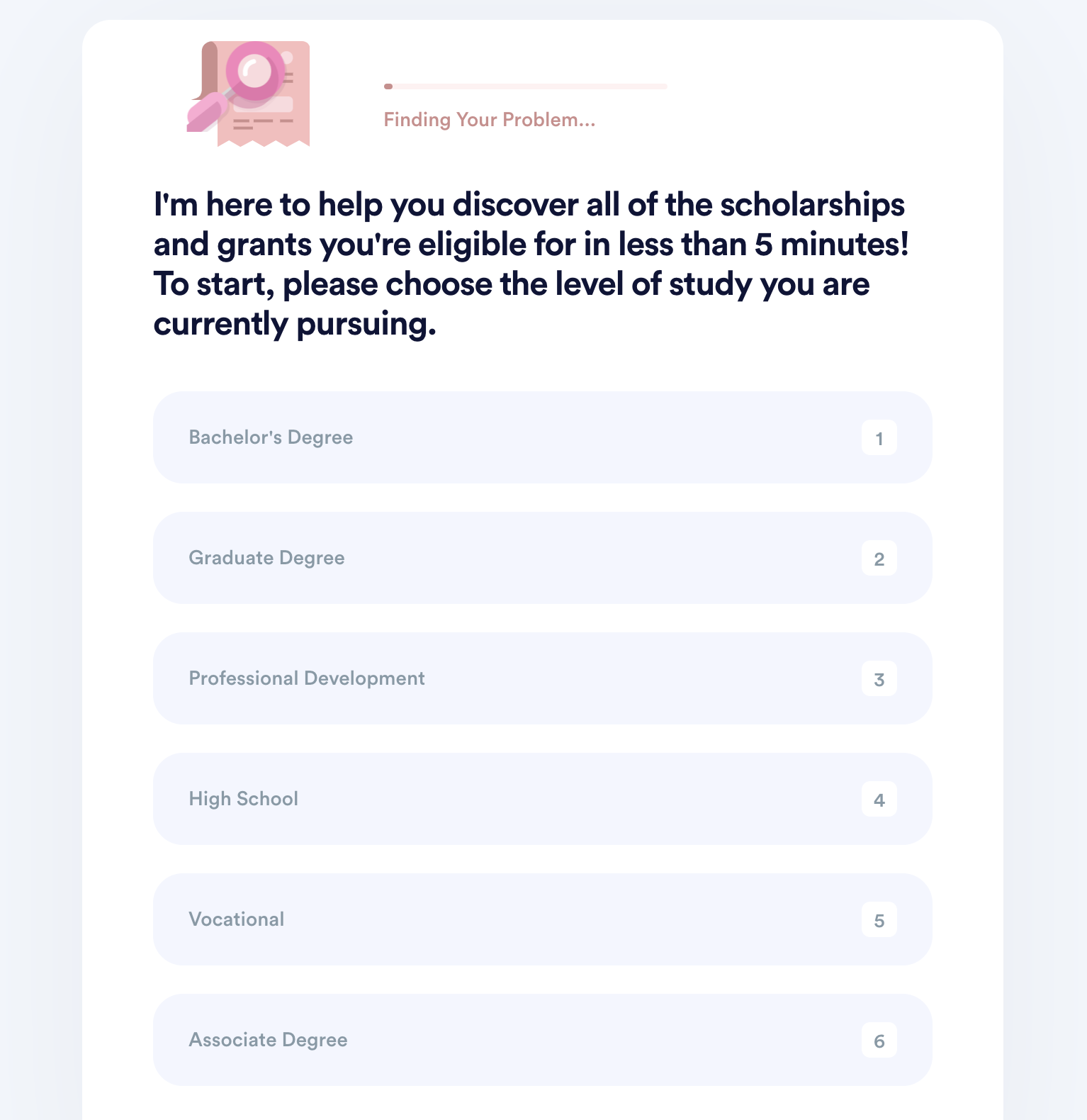 How To Apply for Scholarships and Grants for Graduate School
The requirements and application process for a scholarship for grad school are different depending on your specific case. What you should do when you decide to apply is:
Find all the programs you are eligible for
Contact the representative of the program to find out more about it
Complete the Free Application for Federal Student Aid (FAFSA) form—note that you are considered an independent student
Collect the required documents for different programs
Get the letters of recommendation
Write personalized

scholarship essays

for each program—if necessary
Apply to all programs you are qualified for
To cut down your application costs, find out how you can get a graduate school application fee waiver.
Find Scholarships and Grants for Graduate School Within Minutes With DoNotPay
Do you want to make sure that you apply for every scholarship available to you? , and you will get a comprehensive list of all the ones you're eligible for in less than two minutes.
After you answer a few basic questions, we can pull out the grad school scholarships for which you tick all the boxes. All you need to do is:
Create an account
Find the Apply for Scholarships tool
Fill in the questionnaire
The rest is up to us. You will get a list that includes the name of the scholarship, the purpose of it, the amount you can get, and the deadline. We can even apply for no-essay scholarships on your behalf.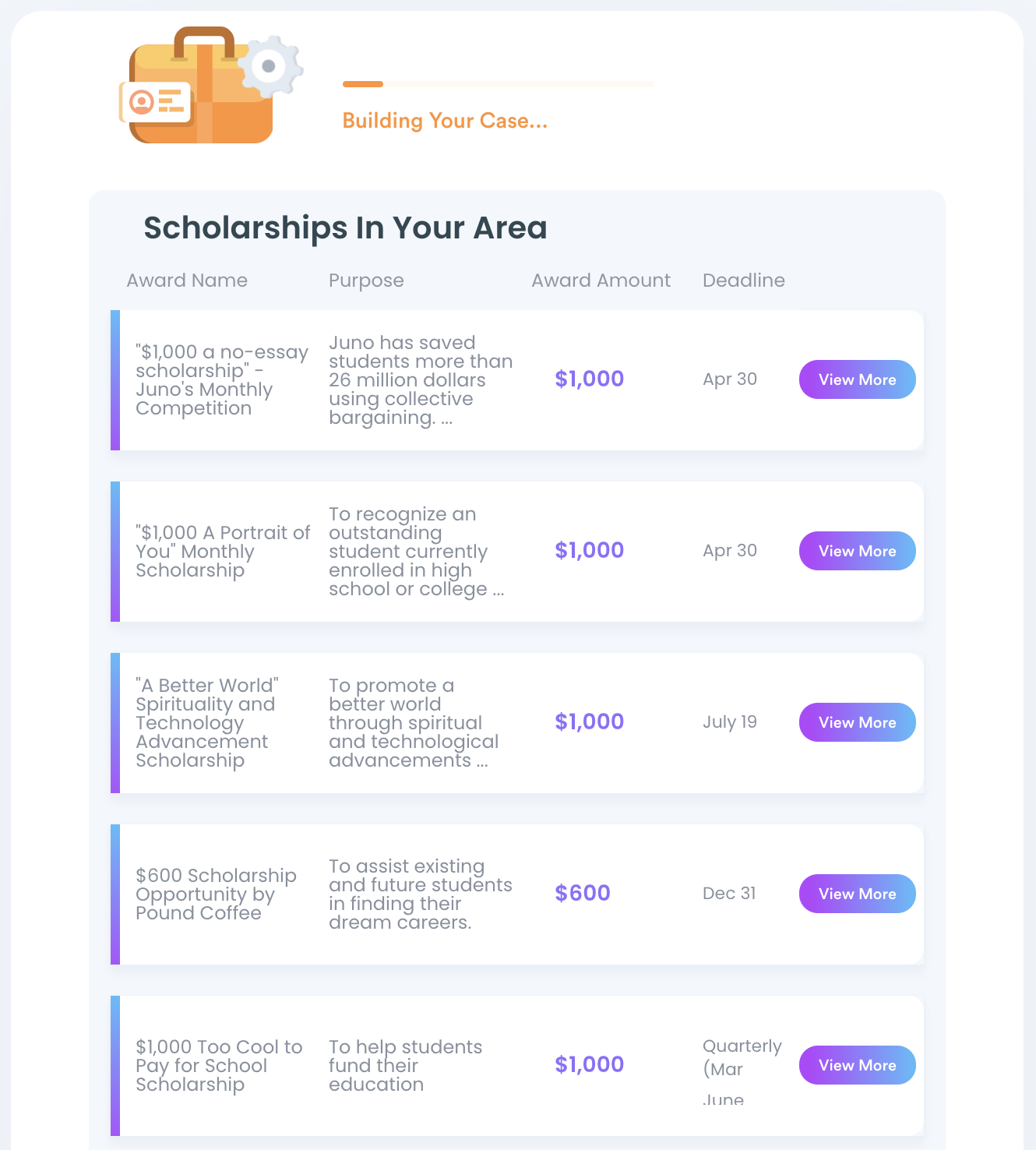 Administrative Issues? We Don't Know Them!
Forget about getting frustrated and overwhelmed by the administrative tasks waiting for you to complete them! With DoNotPay's numerous tools, you can easily resolve such tasks in a heartbeat! All you need to do is sign up for our app, and you'll be able to:
Get
Create
File

Divorce settlement agreements

Powers of attorney
Use DoNotPay To Protect Yourself at All Times
Are pesky robocalls and email spammers working your last nerve? Don't despair—we are happy to help you get rid of them! In a few clicks, you can also stop text spam and avoid the incessant phone buzzing!
You can use our app to protect your privacy by creating burner phone numbers and virtual credit cards. That way, you don't have to disclose personal info when subscribing to online services.
In case you're looking for a way to keep yourself safe from stalkers or work discrimination, we'll help you report the case and walk you through the entire process!
Protecting your work from copyright violation and asking for violent crime compensation in your stead is also something DoNotPay can do!