A Comprehensive Guide to Getting a Critical Language Scholarship
Do you want to hone your language skills? Getting a critical language scholarship can help you achieve that goal!
You can get monetary help to travel abroad and learn one of the critical languages. Sounds tempting? Read our guide to find all you need to know about these programs and figure out how you can get this scholarship.
Why Are Critical Language Scholarships Awarded?
Students who wish to learn languages relevant to U.S. politics, economy, and business—called critical languages—can receive a scholarship. The critical languages are sought after by:
U.S. government
U.S. defense
Intelligence sectors
Private organizations
Non-profit organizations
The funds you receive don't need to be repaid and are there to finance study-abroad programs. Both college and high-school students can apply.
You usually don't even need to have previous study experience in the language of your choice. You can find scholarships for beginner, intermediate, and advanced levels.
Which languages are considered critical? The most commonly listed ones are:
Arabic
Chinese
Indonesian
Indic—Bangla, Hindi, Punjabi, and Urdu dialects mostly
Japanese
Korean
Persian—Farsi, Dari, Kurdish, Pashto, and Tajiki dialects mostly
Portuguese
Russian
Swahili
Turkic
Which Critical Language Scholarship Program Can You Apply For?
There aren't many critical language scholarships—the most popular ones are:
The Critical Language Scholarship (CLS) Program
National Security Language Initiative for Youth (NSLI-Y)
Boren Awards Regional Flagship Language Initiatives
The Critical Language Scholarship (CLS) Program
The Critical Language Scholarship (CLS) Program is the U.S. government program designed to encourage students to learn critical languages through a summer study abroad program.
It covers the tuition, airfare, accommodation, and meal expenses and lasts eight to ten weeks.
The college scholarship is offered for these levels and languages:
Beginner, Intermediate, and Advanced Levels
Arabic
Indonesian
Punjabi
Azerbaijani
Japanese
Russian
Bangla
Korean
Swahili
Chinese
Persian
Turkish
Hindi
Portuguese
Urdu
National Security Language Initiative for Youth (NSLI-Y)
This is a fully-funded, merit-based scholarship awarded by the U.S. Department of State. The scholarship is for high-school students only. All the costs are covered—including travel fare, visa fees, accommodation, three meals, tuition, health care coverage, and similar.
The available languages are:
Arabic
Chinese (Mandarin)
Hindi
Indonesian
Korean
Persian (Tajiki)
Russian
Turkish
Students at every level are welcome to apply. The program can take you to locations such as:
Belarus
China
Egypt
India
Indonesia
Jordan
Korea
Moldova
Morocco,
Russia
Taiwan
Turkey
Ukraine
Boren Awards Regional Flagship Language Initiatives
Boren Awards Initiatives offers study-language-abroad scholarships for undergraduates. Graduate students can apply for Boren Fellowships.
The program can last from eight to 52 weeks. The maximum amounts depend on the duration, as listed here:
8–11 weeks—$8,000 for a summer program and STEM majors only
12–24 weeks—$12,500
25–52 weeks—$25,000
The initiatives and languages this program includes are listed in the table below:
The Initiative
Languages
The African Flagship Languages Initiative (AFLI)

French
Swahili
Akan/Twi
Wolof
Zulu

The Indonesian Flagship Language Initiative (IFLI)
Indonesian
The South Asian Flagship Languages Initiative (SAFLI)
The Turkish Flagship Language Initiative (TURFLI)
Where To Look for Critical Language Scholarships
If you wonder where to look for these scholarships, the answer is on the web. You can revise the listed scholarship websites or look into other foreign language scholarships that aren't tied to critical languages.
Do you want to skip the research process and jump straight into the results? Subscribe to DoNotPay, and we'll make that happen. Based on your input, we'll discover and help you apply for all scholarships that meet your needs!
Our nifty app can apply you for music, women, teacher, veteran, disabled, international, and high school senior student scholarships!
Look into our learning center to find all the info you need about scholarships and grants.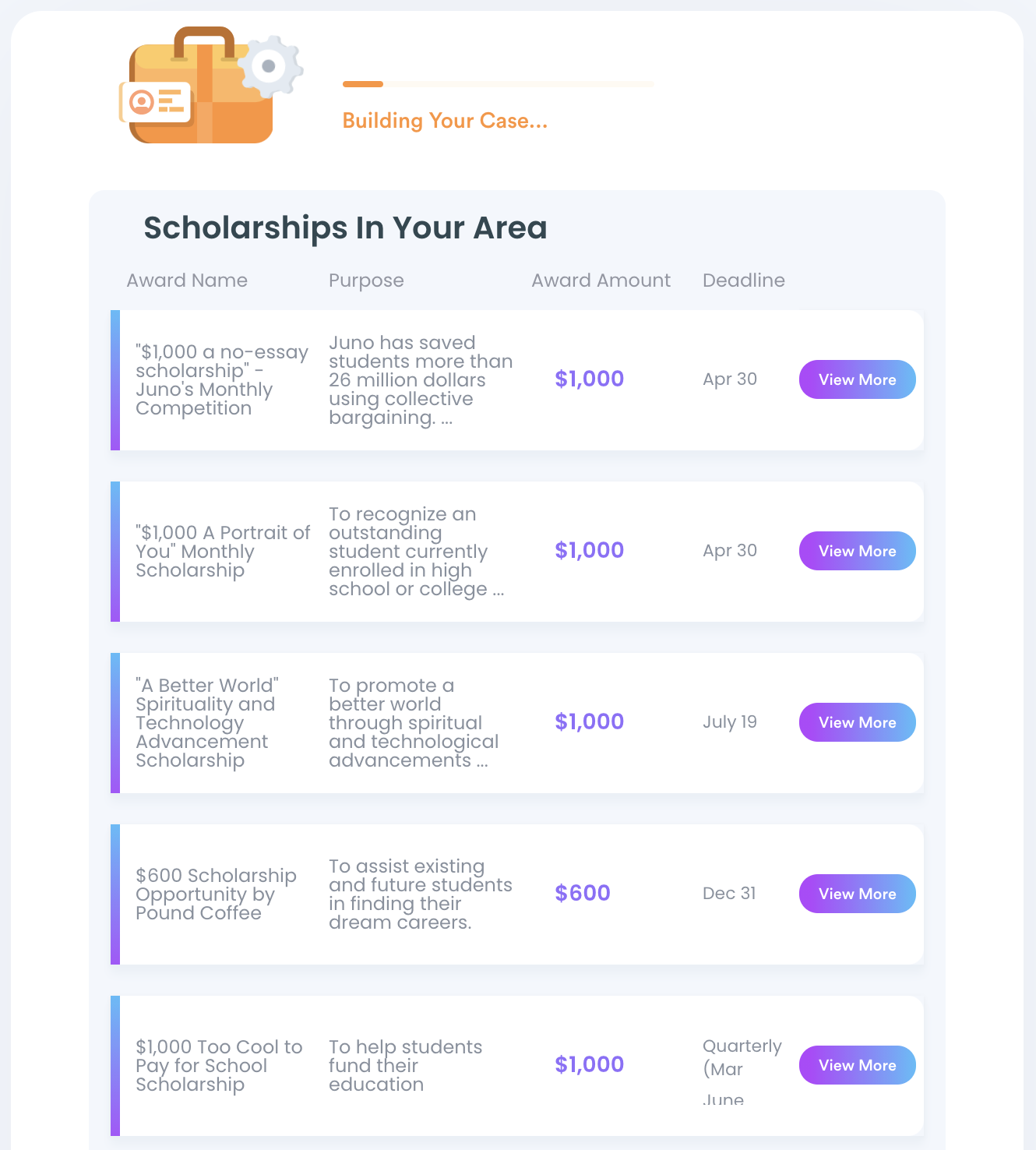 The Critical Language Scholarship Application Process
The application process differs for every scholarship. Find the information about how to apply for a specific program on its website, or contact the advisors. You can get in touch with the staff in the following ways:
Scholarship Program
Contact Information
CLS Program

Email at cls@americancouncils.org
Call at 877-257-9922

NSLI-Y

Email at nsliy@americancouncils.org
Call at 866-790-2086

Boren Awards

Email at boren@iie.org
Call at 800-618-6737
Note that some of these programs may ask for a scholarship essay or a recommendation letter.
What you also need to pay attention to is:
Eligibility requirements
Deadline
What Are the Eligibility Requirements?
You can qualify for these scholarships if you meet the requirements listed in the table:
Scholarship Program
Eligibility Requirements
CLS Program

Be a U.S. citizen or national
Be enrolled in an accredited U.S. undergraduate or graduate study program
Complete at least one year of study—if you are an undergraduate
Be at least 18 years old
Don't have a parent working for the U.S. Department of State or U.S. Agency for International Development

NSLI-Y

Be a U.S. citizen
Have a cumulative grade point average (GPA) of 2.5 or higher
Be between 15 and 18 years of age
Be enrolled in grades 9–12 at the time of the application
Don't be a current or past participant of the U.S. Department of State, Bureau of Educational and Cultural Affairs (ECA) exchanges
Don't have a parent working for the U.S. Department of State or U.S. Agency for International Development

Boren Awards

Be a U.S. citizen
Graduate high school or earn a GED
Be at least 18 years of age
Plan to study in a country that isn't in Western Europe, Canada, Australia, or New Zealand
Don't be a citizen of a country where you plan to study
Be enrolled in an accredited U.S. undergraduate or graduate study program
When Are the Deadlines?
When you need to apply depends on the scholarship you want. These are the deadlines for each program:
Scholarship Program
Deadline
CLS Program
NSLI-Y
Boren Awards

June 1—early deadline
March 1 of the following year—last deadline
Get a Personalized List of Scholarships in a Jiffy With DoNotPay
Do you wish to know which scholarships you are eligible for in a minute or two? Use the DoNotPay app, and you'll get a full list of critical and foreign language scholarships. Follow these steps:
Open the DoNotPay website and log in
Find and select Apply for Scholarships
Answer a couple of basic questions
DoNotPay can help you apply for any no-essay scholarship out there!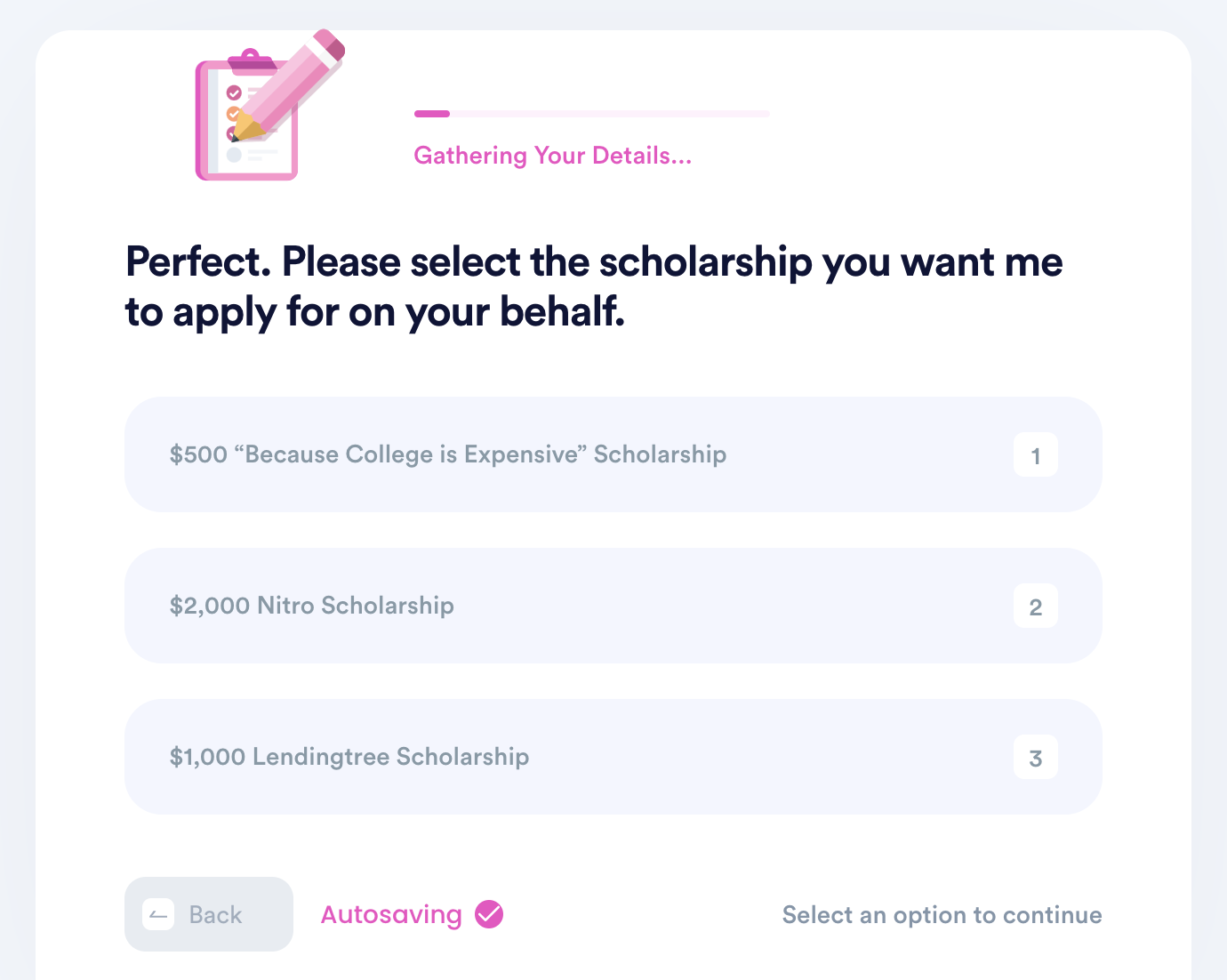 Administrative Issues? We Don't Know Them!
Forget about getting frustrated and overwhelmed by the administrative tasks waiting for you to complete them! With DoNotPay's numerous tools, you can easily resolve such tasks in a heartbeat! All you need to do is sign up for our app, and you'll be able to:
Use DoNotPay To Protect Yourself at All Times
Are pesky robocalls and email spammers working your last nerve? Don't despair—we are happy to help you get rid of them! In a few clicks, you can also stop text spam and avoid the incessant phone buzzing!
You can use our app to protect your privacy by creating burner phone numbers and virtual credit cards. That way, you don't have to disclose personal info when subscribing to online services.
In case you're looking for a way to keep yourself safe from stalkers or work discrimination, we'll help you report the case and walk you through the entire process!
Protecting your work from copyright violation and asking for violent crime compensation in your stead is also something DoNotPay can do!