A Guide to Finding Scholarships for Architecture
Even if you can't afford a college education on your own, you should be able to pursue your dream career and become an architect. This is why scholarships and grants for architecture are created.
Eligibility criteria vary depending on the program, but you should be able to find at least one that matches your profile. The whole search process can be tiring and time-consuming, though. That's why DoNotPay has created a handy product to help you find all available scholarships for architecture you qualify for in a few clicks.
Types of Scholarships for Architecture Students
Architecture majors can get scholarships at different academic levels—from college freshmen and undergraduate to graduate and postgraduate school. Scholarship providers offer scholarships for architecture students on a combination of merit and need basis.
Many architectural organizations offer scholarships for women in architecture to encourage diversity in the field. Other scholarship programs are tailored to specific groups and minorities, such as Black women, Hispanics, Africans, Filipinos, Indians, veterans, etc.
Scholarships for architecture students come from different sources, but mostly from:
Private organizations
Higher learning institutions
Federal grants
Scholarships for Architecture From Private Organizations
The following scholarships for architects are offered by the private sector:
Scholarship Name
Eligibility Requirements
Jason Pettigrew Memorial ARE Scholarship

AIA members
Qualified to take the Architect Registration Examination (ARE)

Diversity Advancement Scholarship

U.S. citizens
High school students with plans to join NAAB-accredited architecture degree programs
Community college students transferring to architecture degree programs
Minimum GPA of 3.0

Yann Weymouth Graduate Scholarship

U.S. citizens with a minimum GPA of 3.0
Graduate students

Charles J. Hasbrouck Memorial Scholarships

Undergraduate students pursuing degrees in architecture

Jim Boyce Memorial Scholarship

U.S. citizens
Enrolled in accredited architecture programs

Soprema Scholarship Program

High school seniors

or enrolled in a postsecondary institution in an architecture degree program
Scholarships for Architecture From Higher Learning Institutions
Most colleges and universities offer need- and merit-based scholarships for their students in specific fields, including architecture.
Here are some of the examples of the types of scholarships architecture students can get through their postsecondary education institutions:
Scholarship Name
Eligibility Requirements
Kate Neal Kinley Memorial Fellowship

Have stellar grades in architecture,

arts

, urban and regional planning,

music

, or theatre studies
Be a graduate of the college of fine and applied arts at the University of Illinois or similar schools of equal educational standards and majoring in arts

Yale School of Architecture Scholarships

Be enrolled at

Yale

School of Architecture as a U.S. citizen or international student
Demonstrate financial need
Federal Grants
The U.S. Department of Education offers a number of federal grants to students enrolling at postsecondary institutions. The federal grant programs include:
Federal Pell Grants
Federal Supplemental Educational Opportunity Grants (FSEOG)
Iraq and Afghanistan Service Grants
Teacher Education Assistance for College and Higher Education (TEACH) grants
The main eligibility criteria for most of these grants is financial need. To be considered, start by submitting the FAFSA form. After submitting the form, your school will inform you how much funds you may receive and when. To continue receiving the federal grants, you must submit the form every academic year.
How To Find Scholarships for Architects
Since scholarships and grants come from different sources, you may need to spend some time searching for all available opportunities. Here are our top tips for finding scholarships for architecture:
Research architecture firms, organizations, and foundations
Visit the financial aid office of your current or prospective school
Consult your guidance counselor
Search online using scholarship search engines
Complete the FAFSA to discover the need-based programs you are eligible for
Search for opportunities targeted to people from your religious group, such as Christians or Muslims
Combining these different approaches can give you great results, but you will need to put in a lot of effort and time. If you would like to discover all the scholarships that you are eligible for in under five minutes, use DoNotPay. Our AI-powered up will use the information you provide about your education and academic interest to give you a personalized list of scholarships—all you need to do is .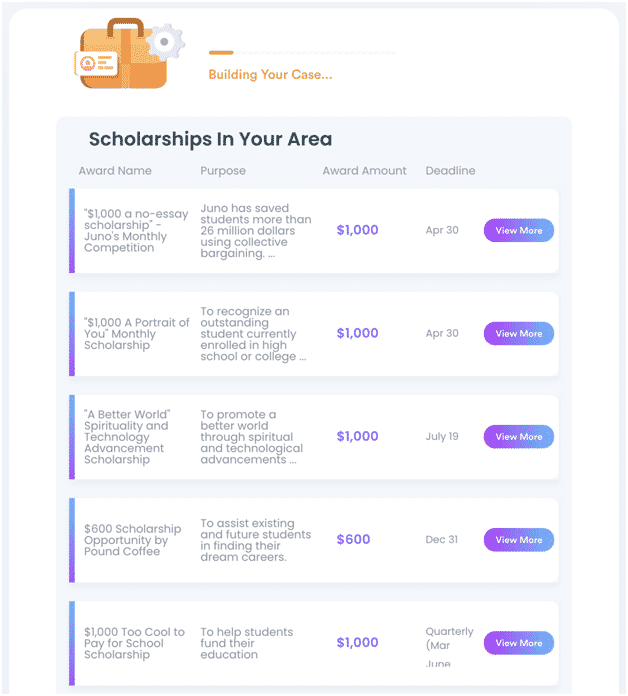 How To Apply for Scholarships for Architecture
Begin by reviewing the scholarship details, such as eligibility requirements, candidate profile, deadline, application guidelines, and provider's mission and vision. This will help you align your application with what the scholarship provider is looking for. To apply for scholarships, you may be required to submit the following:
Essays

High school diploma or its equivalent
School transcripts
FAFSA form
Find and Apply for Scholarships the Smart Way—With DoNotPay
If you'd like to discover all the scholarships available to you without wasting time searching the Internet or visiting various organizations, you should rely on DoNotPay. We will help you find all the scholarships and grants you qualify for in less than five minutes.
All you need to do is:
Go to our Apply for Scholarships feature
Answer a few questions
Once you click on Submit, we will generate a list of the programs you can apply for. We can also send your applications for no-essay scholarships automatically if you decide to apply for them.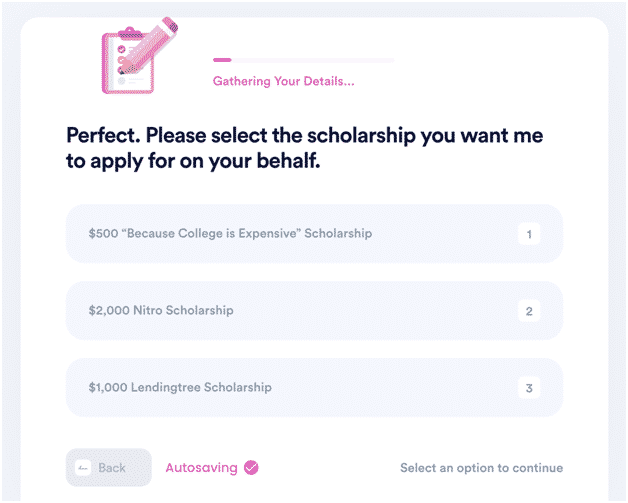 Is Bureaucracy Getting on Your Nerves? We Have a Solution!
We all know that dealing with bureaucracy isn't pleasant, and it often leads to overwhelming frustration. The good news is that DoNotPay has found a workaround! You can now do the following by using our app:
Let DoNotPay Make Your Legal Troubles Disappear!
Drafting contracts and other legal documents isn't a task you should handle on your own. Don't want to spend a fortune on lawyers? That is why DoNotPay—the world's first robot lawyer—is here to take the lead and help you out! Check out the list below to see some of the legal documents that our app can draft for you:
Divorce settlement agreements

Powers of attorney
We don't stop there! Cut through the red tape and let DoNotPay assist you in taking anyone to small claims court, getting your documents notarized, submitting anonymous HR complaints, or requesting crime victims' compensation.